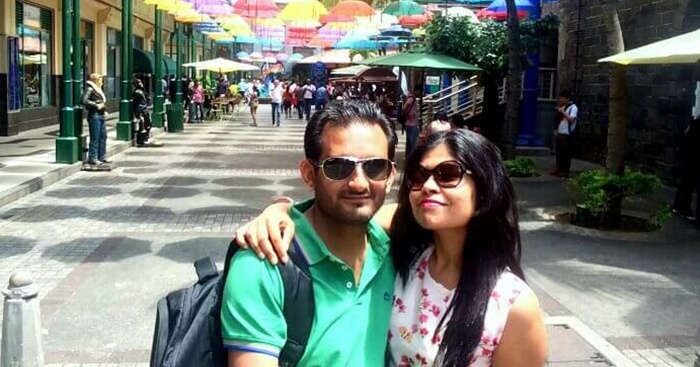 Ramandeep went on a 7 day Mauritius tour and came back with memories that will stay with her for life. She booked a Mauritius tour package for a couple through TravelTriangle. The Mauritius trip package cost her a total of INR 1,80,000, which included her flights, stay in a 5-star resort, two meals per day, her local transport and sightseeing. Join her, as she takes us through her journey.
The monotonous 9-6 routine pushed the traveler in me to take this trip. Having covered many domestic destinations, I thought it was time to reward myself with an exotic international vacation with my husband. Talking of exotic, what better destination than Mauritius could we opt for?
Europe was a close second, but the fact that a trip to Mauritius didn't require a VISA for Indian citizens, and since we were booking at the last moment, the latter definitely won the race.

We browsed through various Mauritius packages and finally selected the one given to us by TravelTriangle. The initial plan included a travel itinerary for two couples, but due to unfavorable circumstances the other couple had to postpone their trip.
Our last minute booking (about 10 days prior to the travel date) and the other couples last minute cancellation resulted in our escalated rates. Our friends had to cut their trip down to just three days and the cancellation was a tedious process, but our TravelTriangle Mauritius Expert, Amit Arora helped us in the process and made sure, we pay minimum cancellation charges. He also took care of all the other issues, big or small.
Things To Do On A Romantic Trip To Mauritius
Some of the best experiences in any place are those that come without stressing on planning and confusions. Here's our Mauritius honeymoon itinerary to know all about this trip.
Day 1:Arrival in Mauritius and Beach walk
Day 2:Visit to Curepipe, Buying souvenirs and visit to Charamel
Day 3:Visit to Port Louis and sightseeing
Day 4:Undersea walk, Parasailing, Water tube ride and Speedboat ride at Ile Aux Cerfs Island
Day 5:Kayaking, Glass boat ride, live belly dance performance
Day 6:Catamaran cruise and Swimming with the dolphins
Day 7:Shopping near Grand Baie and departure
So, it basically came down to my husband and I leaving earlier, as per the schedule and our friends were going to join us later. The plan was sorted, confusions were bidden adieu and it was finally time to fly to the dreamland and go for our much-awaited trip to Mauritius!
Day 1- In Awe of the Beautiful Mauritius!

We reached the Intercontinental Resort Mauritius at around 4:00 PM and were amazed by the luxurious beauty it had in store for all its guests. Tired after the journey, the resort provided us with the perfect ambience to rest our nerves.
Hotel Intercontinental Mauritius, one of the 5-star hotels in Mauritius, is an amazing property and our room had the perfect view to offer. We could see the entire ocean just by laying on our extremely comfortable beds. What a blissful sight! After resting for a while, we went to the hotel beach, and the beauty of the serene blue beaches was just breathtaking.

This was followed by a lavish dinner at the hotel. The food was just amazing and went beyond our expectations, being a vegetarian I wasn't expecting food that would satisfy my needs. Not only did the hotel have enough options but the Aloo Puri, Sambar Chawal and other Indian dishes, didn't let me feel that I was away from home. We didn't have to look for any Indian restaurants in Mauritius because our hotel took care of that. With stomachs full from the delicious meal, and a perfect view in front of our eyes, we retired for the night.
Must Read: Monsoon In Mauritius: A Handy Guide To Gather Experiences Like Never Before!
Day 2- South Tour: Some Touristy Pleasures

The second day was reserved for a visit to the Southern part of the Island. We visited the city of Curepipe where we picked up a few souvenirs. We also picked up a few handmade ships. Post that, we paid a visit to Troux Aux Cerfs, we then visited the high point that offered a mesmerizing view of the entire city. This was followed by a visit to the waterfall and the Charamel seven coloured earth.

These are great spots for getting pictures clicked. We came back to our hotel at around 4 PM and then enjoyed our evening at the swimming pool of the resort, after that we enjoyed a sumptuous meal at the hotel and called it a day.
Suggested Read: 33 Things To Do On Mauritius Honeymoon For A Ultra-Romantic Affair In 2022
Day 3- North Tour: Mauritius with a Bollywood Twist

On our third day, we paid a visit to the Northern part of Mauritius.

In all, it was a very average day, there was nothing exciting as such. We went to the capital city Pourt Louis and Marie Reine de la Paix- a church which played host for the shooting of a few Bollywood movies. We then went to two malls and the Caudan Waterfront.

The waterfront offered a great view. At about 4 PM we were again escorted back to our hotel.
Suggested Read: 10 Seafood Restaurants In Mauritius To Enjoy The Best That The Sea Offers
Day 4- East Tour: Time for Some Adventure

We were desperately waiting for the fourth day of our trip as it had a lot of adventure in store for us. We started the day with a good breakfast meal at our lovely hotel. After that, we left for the undersea walk, parasailing and a water tube ride, I would recommend these activities for all those visiting the lovely Island, especially for a romantic travel to mauritius. I was initially scared, but I am glad I overcame those fears and went for the activities. They proved to be an experience of a lifetime.

Next, was the Ile Aux Cerfs Island, the beach was beautiful and it reminded us of why we prefer beaches over hills. Nothing can ever match the tranquility it brought in our lives. The place had a romantic essence to it, reconfirming the fact that it is a perfect honeymoon destination. This was definitely was one of the best places to visit in Mauritius.

We enjoyed a speedboat ride that moved at 100km/hr. It was an amazing feeling to be in the center of nowhere and speeding away in the serene blue waters of Mauritius. We then went to see the waterfall, after which we were dropped off at the hotel.
A good thing about the hotel was that they had special performances every day after dinner. They arranged special events with live performances. We experienced the African dance, Bollywood dance and a local Mauritius dance. The guests were allowed to join the dancers and have a gala time, and we did just that.
Suggested Read: 5 Exciting Things To Do In Benares Savanne To Have An Awesome Time In Mauritius
Day 5- Water sports in Mauritius

Day five was all about relaxing and enjoying the luxuries that the resort had to offer. We made a few friends in the hotel premises and enjoyed their company. We took advantage of the time we had to ourselves and went for a spa, enjoyed the Jacuzzi and a few water sports like kayaking, glass boat ride and a few other activities offered by the hotel.

While most of our day was spent enjoying the beautiful view from the resort, the evening was full of laughter and fun, as the other couple, our friends joined us in the second half of the day. We enjoyed a great meal which was followed by a live belly dance performance, and the performance was damn good!
Suggested Read: Blue Safari Submarines In Mauritius: A Guide For Exploring The Local Attraction
Day 6- Para- Para- Paradise

An escape into the black river area. We had planned to invest our entire day on the Catamaran cruise. We reached there about 8:30 in the morning. Our breakfast and lunch were included in the plan. It was a mind- blowing experience, we were in the middle of the sea and were then taken to a point where we could swim with the Dolphins. I had never seen such a beautiful sight before.

To add to the beautiful experience, it started raining and the entire view of the sea all around and rain pouring over us was something that one can only see in movies. Witnessing it live was just mesmerizing.
People can also opt for scuba diving but since I did not know swimming, I wasn't allowed to do it. After spending the day there, we came back to the hotel and enjoyed a local dance performance organized in the hotel.
Suggested Read: 5 Splendid Beaches Near Port Louis Mauritius To Have Some Fun Under The Sun In 2022
Day 7- The Longing For More..

It was the last day and we were to fly back home, hence I was very sad. Mauritius does this to youWe went to the Grand Bay area, which is a popular tourist spot. We enjoyed the beach and shopping for a while before leaving for the airport.

Mauritius is a great destination for couples. It is rightly called the perfect honeymoon destination. People wanting to escape the daily hustle of the office routine must plan a trip there. My trip to Mauritius will stay with me forever. Go there and the Mauritius beaches will never disappoint you! This Mauritius 7 day itinerary has everything that you must try in this land on your next trip!
Highlights: Parasailing, underwater sea walk, water tube ride and Catamaran cruise.
Low Points: Missed out on the Casela Nature Park and drinking water was very costly.
Weather In Mauritius In November

The month of November is just the beginning of summer season in Mauritius and while you're packing clothes, make sure the average temperatures are bound to rise a few degrees as the days go by. So, you should pack accordingly. The expected maximum temperature during this time is 24 degree Celsius and minimum is around 20 degrees.
Tips To Future Travelers
Don't miss any of the water sports in Mauritius.
Do visit the Casela nature park.
Mauritius is not meant for solo travel.
Do learn swimming before going for a trip to Mauritius, otherwise you will have to miss out on a few good water sports Mauritius.
Thinking of a trip to Mauritius? Don't hold back,book your package through TravelTriangle NOW!
Frequently Asked Questions About Mauritius
Which part of Mauritius is best for honeymoon?
Trou Aux Biches in the north during winters, and Le Morne in the south are the best for a honeymoon vacation in Mauritius. These places offer a pleasant weather at this time.
Which is more expensive Maldives or Mauritius?
Maldives is more expensive as the average cost of drinks and meals is higher in Maldives than in Mauritius.
What part of Mauritius is best to stay?
The west coast of Mauritius has the perfect beaches and is considered to be ideal for a stay.
---
Looking To Book An International Honeymoon?
Book memorable honeymoon on TravelTriangle with 650+ verified travel agents for 65+ domestic and international destinations.
---
People Also Read:
One Week In Mauritius Trip To Mauritius In April Adventure Activities In Mauritius For Couples