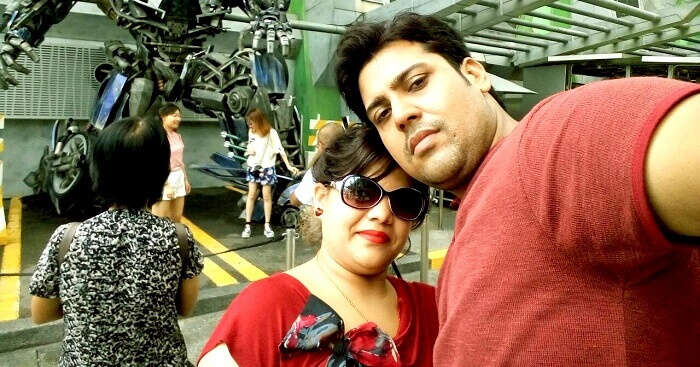 From cruising in Singapore, to island hopping in a cable car in Malaysia, and then enjoying state-of-the-art theme parks. Ravi and his wife redefine luxury travel with an exotic trip to Singapore and Malaysia. Their trip cost them a total of INR 1,80,000 and included their flights, transfers, accommodation, sightseeing, cruise, and breakfast. Let us read their account.
My wife and I had Singapore and Malaysia on our bucket list for a long time. Once an opportunity presented us, we wasted no time in trying to plan a romantic trip to Singapore & Malaysia.
I came across the TravelTriangle Facebook page and was really intrigued by their way of providing customized travel to each of its customers. After reading plenty of positive reviews, I gained enough confidence to inquire with TravelTriangle regarding a tour package to Singapore and Malaysia.
A TravelTriangle representative reverted back to my request and understood the requirements for my trip. He connected me to various agents who provided me with multiple offers for the itinerary I wanted. I finally selected the package given to me by 'Youngistaan Travellers' agency.
A well deserved break from work, and a chance to spend some memorable days with my wife got me excited for our trip. The packing of our bags couldn't have been done any sooner. We were eagerly waiting to fly out and enjoy in South-East Asia.
Day 1: Arriving in Singapore and a unique Night Safari
After taking an early morning flight from New Delhi, we arrived in Singapore at 9 am. After clearing customs, the driver was present to receive us and take us to the hotel. We checked into the hotel at noon. After having lunch, we explored the hotel property and facilities, and it was fantastic.
At 4:30pm, the driver came to pick up and take us to the Night Safari. As soon the sky became pitch dark, the Night Safari started at 7.30 pm. It was fascinating seeing all the wild nocturnal animals in their natural habit. Once the safari ended at 10.30 pm, we were dropped back at the hotel.
Day 2: Magical Sentosa Island
Suggested Read: 25 Free Things To Do In Singapore We Bet You Didn't Know About
Tired from the flight and late night safari yesterday, we woke up a bit later than usual and had brunch at the hotel. At 2 pm, we departed for Sentosa Island via cable car. Having covered all sorts of means of transport in my life, a cable car was a first.
We visited the world renowned Madame Tussauds Museum. Seeing a significant number of Indian celebrities in the museum made us feel proud. Next up, we saw the excellent pyrotechnic, music and live act show called Wings of Time. My wife and I were stunned on seeing such a colorful show of lights, water, and music. After the show, we returned back to Singapore at 9.30pm. Post dinner, we went to the hotel and called it a night.
Day 3: Thrill of a lifetime in Universal Studios
The most exciting day of our trip was upon us. Post breakfast, we moved on to visit the best amusement park in the world I've seen. I was really keen on visiting the Universal Studios in Singapore and taking the amazing rides over there. As we got in, and explore a little, the park certainly left me starstruck and exceeded my expectations.
My wife and I covered a lot of rides and 4D shows inside the park. Few of my favorite rides were Battlestar Galactica, Far Far Away Castle, and The Mummy Returns. Also worth mentioning were the great 4D shows of The Lost Word and Madagascar.
We left the Universal Studios at 7 pm and proceeded back to the hotel absolutely thrilled with the day we just had. Later on, we had dinner and decided to call it a night.
Day 4: Leisure time at Marina Bay
Suggested Read: Reasons Not To Miss Sentosa Underwater World On Your Singapore Trip
A day for us which I kept specifically to do nothing but relax. I love having such days in a trip where I can do things own pace and not adhere to a schedule. After all, that is what is a vacation is all about.
After having lunch at the hotel, we walked out to the Marina Bay to witness the evening live show. Later on at 8 pm, we decided to test our luck James Bond style by visiting Casino Royale. Clearly, we didn't walk out millionaires Bond style, but the experience for a day was certainly worth it.
Day 5: Cruising in the Oriental Heartland
The next morning, we checked out of Singapore to begin the second part of our trip. Along with our bags, we went on for short half day Singapore City Tour. In the city tour we covered all the major hot-spots in the city like Chinatown, India Town, Singapore Flyer and Gardens by the Bay.
The tour got over at 2 pm and after which we were straight away transferred to the cruise. We checked into the cruise and it's journey began at 6 pm. The cruise was lively and beaming with young energy of people all around the world.
Day 6: Cruise party and a touch of magic
It was like we woke up and nothing had changed. The only difference was, that the sun was out. People in our cruise came in a serious party mood with no intention of stopping. People we met at the cruise were friendly and welcoming.
In the afternoon, the cruise had a show by the name of Queen of the Earth. Followed by which, there was a magic show which completely wowed the audience with it's neat magic tricks and expert showmanship.We ended the night at the cruise with a Bollywood Disco night. It was fun hanging around and partying with a lot of Indians in Singapore.
Day 7: De-board and Malaysia bound
After having breakfast, we checked out of the wonderful party cruise at 12 noon. We circled back and deboarded at the same harbour where we started the cruise journey from. After deboarding, we were directly transferred to the airport from where we were due to fly to Malaysia.
We took a flight from Changi International Airport, and arrived in Kuala Lumpur at 6 pm. Upon our arrival, the driver was present to take us to the hotel as checked in at 8 pm. After having a light dinner, we decided to rest for the night.
Day 8: Genting Island and Batu Caves
We woke up early morning and got ready for the sightseeing. First up, we witnessed the diversity in culture in Malaysia by taking blessings at the Hindu temple at the Batu Caves.
Batu Caves is an ancient pilgrimage site enroute Genting Island. From Batu Caves, we took a cable car again to Genting Highlands. Almost like an oasis in the desert, the next destination we visited in Genting was a miracle if we think about it.
Snow World is an indoor ski and winter theme park. Who would've thought that we would be lucky enough to see snow in Malaysia during rainy season. After enjoying making snow men, and pelting snowballs at each at -4 degree celcius, we headed back to Kuala Lumpur. After arriving back at the hotel, we immediately went to sleep as we felt pretty exhausted.
Day 9: Kuala Lumpur City Tour
This day we were scheduled to have a Kuala Lumpur city tour. We had breakfast and got ready for the tour at 9 am. The tour started with a visit to the iconic twin towers of Malaysia. On of the most recognizable buildings in Asia, it was a memorable moment going to the top of the towers and walking the bridge that connects them.
It was followed by a trip to the National Monument and National Museum. To finish up, we visited the Independence Square, which was a good place to click pictures. The tour ended at 2 pm and we went for shopping in the evening in the central market in Kuala Lumpur.
Day 10: To wind up with a splash of fun
The next day, we were scheduled to visit the Sunway Lagoon Theme Park. An amusement park known for it's enjoyable water rides and a wide variety of water activities. We were driven to the theme park at 10 am.
One of the most creative, dangerous, and thrilling water rides I've ever seen in my life can be found here. We spent the day enjoying rides, drinks, and food at the theme park. As the sun set on yet another beautiful day on our romantic trip to Singapore and Malaysia, we moved back to the hotel in Kuala Lumpur.
Day 11: Saying goodbye to an epic adventure
Finally the day came when we had to return home and say goodbye to this wonderful place. We woke up late in the morning and focused on packing our bags for the flight home at 5pm.
In the past two weeks, I've witnessed so many awesome things and countless stories to tell. I feel lucky to have experienced so many new things with my wife. There are some parts of your life you would never forget, and surely this trip planned by TravelTriangle is one of them.
High Points:
Universal Studios Singapore is a dream come true.
Bollywood Disco night on the party cruise was a fun experience
Tips for Travelers:
Try and visit Universal Studios on weekdays to avoid big rushes on popular rides
Visit Sunway Lagoon Theme Park if visiting Malaysia
Experience the luxury and charm of Singapore and Malaysia Spend a vacation having fun and adventure with your loved ones! Book your package now for the adventure of a lifetime!