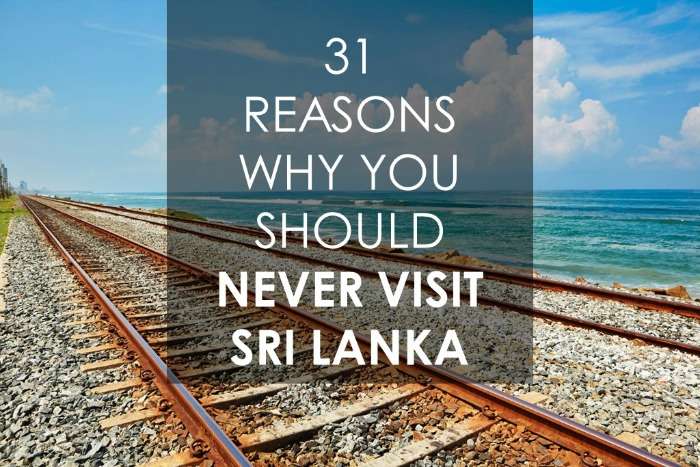 What's all this fuss about Sri Lanka being an awesome tourist destination? Well, I beg to differ, I think there's nothing special about the place that'll make me want to go there or anyone else. And, you agree with me on that, just keep reading! Apart from being boring and unpleasant here are some of the reasons why you should never visit Sri Lanka
31 Reasons Why You Should Never Visit Sri Lanka
Here are 31 reasons why you should never visit Sri Lanka for vacation. Keep scrolling down and read along!
1. To begin with the scenery is a big turn off

Must Read: 19 Photos that will make you wish you were in Sri Lanka Right Now!
---
Sri Lanka Holiday Packages On TravelTriangle
Book your Sri Lanka trip from TravelTriangle: Inclusive of Hotels, Sightseeing, Transfers, & Meals. Best Prices Guaranteed. Get Customizable Package & Free Guidance From Destination Experts. Book Now!
---
2. Yep, the place is a dump!

3. The capital city, Colombo doesn't even have a decent skyline.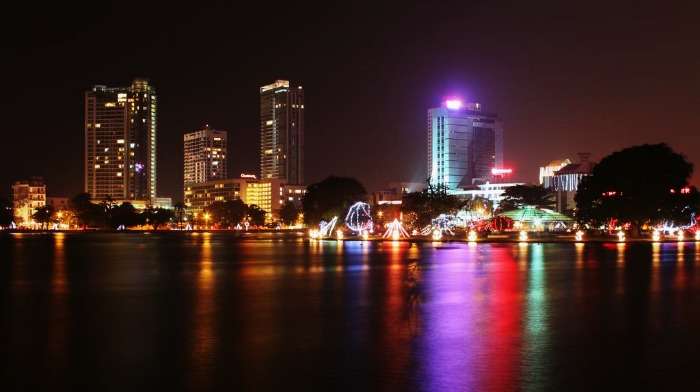 Must Read: 10 Reasons Why Sri Lanka Should be Your Next Holiday Destination
4. This small island country is so disconnected from the entire world that you've no other option but to swim through the Arabian Sea to reach there!

Must Read: Enjoy Nightlife In Sri Lanka At These 17 Clubs & Casinos
5. Also, why would you want to go to a war stricken country with rampant terrorism? It's scary!

Suggested Read: Snorkeling In Sri Lanka: 15 Spectacular Spots To Take A Dive
6. I mean there's no peace and harmony at all – Zilch!

Suggested Read: Snorkeling In Sri Lanka: 15 Spectacular Spots To Take A Dive
7. There is no place to spend sometime in peace and tranquility.

8. The beaches are swarmed with people and so damn filthy!

Must Read: 3 Romantic Beach Resorts in Sri Lanka to Melt Your Hearts Away
9. And what's all the fuss about profound spirituality in Sri lanka?

10. With the presence of all these temples and religious places you can only imagine how overly religious and conservative the Sri Lankans are.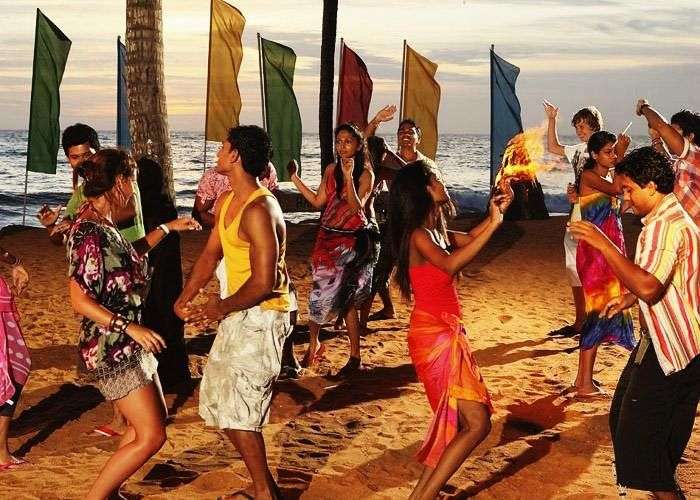 11. So, obviously foreigners are treated with suspicious eyes

12. Wonder who on earth finds those gigantic Asiatic elephants cute to visit their orphanage?

13. Can't see why people would want to climb up a big ol' ancient rock to check out a not-so-spectacular view

Must Read: 18 Amazing And Most-Visited Sri Lanka Tourist Places For Your Next Trip
14. Oh and the lion entrance guarding it can't be more lame

15. Besides, what's so awesome about the culture and tradition of Sri Lanka that everyone's been talking about?

16. People dancing in giant masks on the road can't possibly be fun!

17. Nothing cool about the lanterns at Vesak Festival either!

18. Nope, nothing at all

19. The wildlife expeditions are just unimpressive

20. You wouldn't find anything you don't see in your day to day life.

21. It's absolutely sick to touch and play with those rare sea turtles!

22. All that hype about duty free shopping isn't that impressive either!

23. Also, there's just nothing to do other than visiting temples and shopping.

24. You'd wonder what young people do to keep themselves occupied out there.

25. Sri Lankan food?! Trust me, you wouldn't want to put it inside your mouth!

Must Read: Top 15 Food Paradises of Sri Lanka To Visit On Your Next Trip
26. Especially vegetarians- there's nothing for you to eat in Sri Lanka!

27. Not to mention the horrible accommodation options

28. To all the honeymooners, it's a big No-No for you

Plan A Romantic Honeymoon To Sri Lanka With TravelTriangle.com!
29. So, what's so great and unique about Sri Lanka?

Well, their style of fishing for one…
30. Why go there and get bored out of your mind?

Plan An Adventure Trip To Sri Lanka With TravelTriangle.com!
31. So, just stay home and scratch it off your bucket list! Sri Lanka is just not the place for you…

But your heart says otherwise, doesn't it? Now that all your inhibitions are cleared you can jump on to the next flight to Sri Lanka.
Further Read: 44 Soul Satisfying Things To Do In Sri Lanka
And, if you still want to visit the country, we can't help it. Plan your vacation in Sri lanka with Travel Triangle with Travel Triangle and get ready to be disappointed. Like the article? Share your views in the comments section below.
People Also Read:
Is Sri Lanka Safe 7 Days In Sri Lanka Traveling Sri Lanka On A Budget
---
Looking To Book An International Holiday?
Book memorable holidays on TravelTriangle with 650+ verified travel agents for 65+ domestic and international destinations.
---