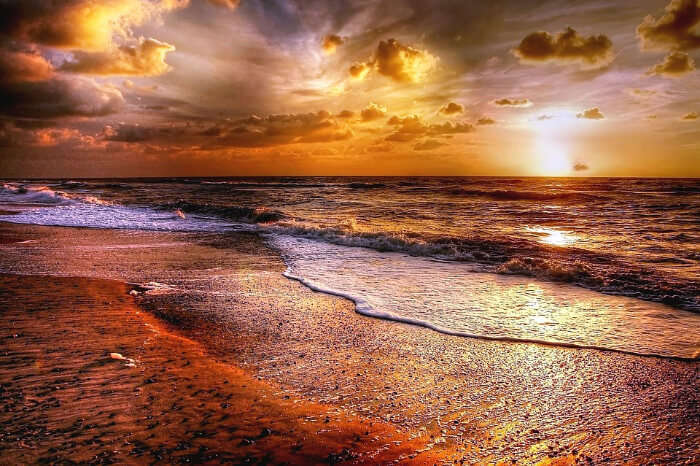 Beach holidays are a popular option for relaxing, enjoying with family or friends, water sports and for basking some some. And whenever we think of beach holidays, we think of golden sand and pristine waters. But their are some uniquely beautiful red beaches we don't know much about. Red sand beaches are formed when there is a high content of iron in that sand that causes rust and gives the beach its red colour. There are numerous beautiful red sand beaches around the world that you could visit on your next beach vacay.
Best Red Sand Beaches Around the World
A Red Sand Beach gets as enticing as the beautiful landscape painted by nature. The beauty cannot be described in mere words. It needs to be experienced. Why not visit one for yourself!
1. Rabida Island
This island in Galapagos island in Ecuador is known for its animal species and wildlife that can be found on the island which include sea lions, pelicans, flamingos, pelicans and more which can be seen either on the beach or around the 5km island, the red sand beach is located on the coastline and is full of volcanic rocks and craters which makes the sand look very red. This beach is not ideal for lazing around or relax in as it is more of a sightseeing attraction and to walk on also it is not recommended to swim in the water. You can book tours of the island which you can get to by boat and then take a hike around the island as well.
Must Read: Galápagos National Park: A Complete Guide For An Exhilarating Ecuadorian Travel
2. Kaihalulu Beach
This red sand beach is located on a island of Maui at Ka"uiki Head and though it is a bit hard to get since no roads that actually reach the beach and you will have to walk or hike down a steep cliff and the sand is a bit rough but the overall view and experience is amazing and due to it being isolated the beach at times turns into a nude beach where tourists come to get rid of their tan lines, The beach no facilities nearby and it is recommended to come prepared and not litter at the beach.
3. Legzira Beach
This beach is located in Morocco and is 8km long and the beach is really famous for its two stone arches one of which collapsed in 2016 due to the high and rough waves and the other one also might collapse soon, the beach is a bit rocky but very expansive and many tourists and locals come here for para-gliding, surfing, swimming and even hold festivals and parties, there are also two hotels near the beach where you can stay and you can reach the beach by car or bus and is close to Sidi Ifni.
Suggested Read: Make Your Morocco Honeymoon A Dreamy Affair With This Detailed Guide
4. Santorini Beach
Red beach Santorini is among one of the most attractive and recognized Santorini beaches, it is also known as Kokkini beach and is located on Santorini Island in Greece. This beach is famous for its turquoise water that contrasts with the red volcanic cliffs which plunge directly into the water, there is also a strip of sandy beach where you can relax and later go for a swim in the water. You can either reach the beach by boat or a walk which can be a bit dangerous, the place is also known to be prone to landslides but crowds of visitors still go to see the beach.
Suggested Read: 10 Most Beautiful Beaches In Greece That Are Straight Out Of Heaven!
5. Cavendish Beach
This is a red sand beach which is located in Prince Edward Island which is in Canada, one of the most popular red beach sand in the island here you can relax and go for a swim or lie under the sun and get a tan, you will see people playing in the sand and going for swims and the beach is also a great place for campfires and camping in general. Prince Edwards island has numerous red and white sand beaches but Cavendish beach is the best red sand beach you can visit, if you take a tour of Prince Edward Island or just go to the island by boat then you can visit this island aling with numerous other ones as well.
Suggested Read: 13 Things To Do In Niagara Falls, Canada In 2022: An Experience Below A Majestic Waterfall
---
Planning your holiday but confused about where to go? These travel stories help you find your best trip ever!
Real travel stories. Real stays. Handy tips to help you make the right choice.
---
6. Ramla I-Hamra
This beach is located in Xaghar in Gozo and is the best beach in the whole island, this red sand beach is expansive and the turquoise water is shallow and perfect for children and there is deeper water for the adults, this beach is very popular during the summer when you can relax under the sun and have drinks as well. This place is also a sanctuary for wildlife and vegetation and you can reach this beach either by boat or take a bus or car from Victoria City and then a 5 minute walk to the beach itself.
7. Porto Ferro
This beach is located in the north western Sardinian coast in Italy and is a two kilometre long red and yellow sand beach which gets its colour due to the iron, volcanic residue, limestone ad coral pieces in the sand, the beach is ideal for surfing and wind surfing due to the amazing waves and wind or you can just go for a swim or relax on the beach thought part of the beach has been authorized for practicing naturist tourism. The beach can be accessed by road and is just 15km Alghero airport, there are also many hotels near the beach where tourists can stay.
Suggested Read: 8 Cozy Homestays In Italy For Truly Home Away From Home Experience
8. Vermelha Beach
This beach also known as the Red Beach which is located in Guanabara Bay in Rio De Jeneiro, Brazil and is enclosed by the Sugarloaf and Urca Mountains. This is a popular red sand beach among the locals though tourists also visit the place to relax at the beach, go for a swim and take a ride in the Sugar Loaf Cable car, there are also shops, restaurants and other facilities around. The beach can be reached by boat or you can take a bus or car to General Tiburcio Square and the beach is located opposite the square.
Further Read: Brazil Wildlife: A Mini Guide To Explore The Enchanting Carnival Land Of South America!
There are many red sand beaches around the world and this article lists some of the world's most beautiful red sand beaches that you can visit, it is ideal to visit these locations during the summer but if you want to avoid the crowd then it is best to visit during an off season like early or late summer. So, plan an exotic international vacation and spend some time at any of these red sand beaches.
---