Ready to tie the knot but still undecided on where to plan your honeymoon? Perhaps the beaches of Seychelles would be wonderful. But so would be the Alps of Switzerland. Why not pick a destination that delivers everything? What we are talking about is a honeymoon in Morocco. We knew that you were going to doubt our suggestion. So, we came prepared with a short list of arguments in support of a Morocco honeymoon. Have a look for yourself.
Why A Morocco Honeymoon?
Here is why you must surely consider Morocco as one of the top destinations while planning your honeymoon:
1. Sunrises And Sunsets

The beautiful landscapes of Morocco make the best and splendid locations to witness the breathtaking sunsets and sunrises. This, for sure, will be an extremely romantic and magical moment to witness with your partner.
2. Moroccan Spring

Infact, spring season (mid-March – May) is the best time to visit Morocco. The valleys are lush & green and make for some romantic as well as adventurous hiking.  Another wonderful time to go for a Morocco honeymoon is autumn (September – October). The weather is pleasant and the streets look beautiful.
Must Read: Dream Honeymoon Destinations Of Popular Travel Bloggers
3. Vivid Landscapes

Morocco's diverse topography includes beaches along the North Atlantic Ocean & the Mediterranean Sea in the North, the Sahara desert in the South, and a mountainous region in the center will snow-capped hills of the Atlas Mountains.
4. Chauffeur-Driven Car Tours

Every time you take a public transportation on your honeymoon, you wish you could enjoy the privacy of your car! But how to make that happen in a foreign land? Well, a private tour allows you to a have a rented car with a personal driver to take you throughout the country. Often, he would double up as a guide and share his knowledge about the nation. Furthermore, you can stop and explore the places whenever you like!
5. Homely Hospitality

You'll feel at home while trying a bunch of activities on your Morocco honeymoon. Some of the most romantic activities are listed below.
Romantic Places To Visit In Morocco
Here are some of the most romantic and tranquil locations in Morocco that you must surely visit on your honeymoon:
1. Asilah

Beaches have always been a favorite among the couples. And the seaside Asilah on the North Atlantic coast of Morocco has established itself a reputation of a hot summer spot. And it is not just its beaches. Its art gallery and city walls covered with colorful murals are just as famous.
Best beaches in Morocco: Saidia beach, Legzira beach, Agadir beach, and Asilah beach
2. High Atlas

The beauty of Morocco lies not in its individual tourist places, but in the varied topography that changes from beaches to Africa's highest mountain range – the High Atlas – in a span of few kilometers.
The hills of Atlas that run diagonally across Morocco are wonderful for trekking. And there are viewpoints, ski resorts, and colorful valleys that couples must not miss out on their honeymoon in Morocco.
Other tourist attractions of Atlas region in Morocco: Ait Ben Haddou, Ouarzazate, Tifoultoute, Ouzoud Waterfalls, Dades Valley, Todra Gorge, and Draa Valley
3. Chefchaouen

The blue city of Chefchaouen is set amidst the Rif Mountains. Its blue & white painted houses present a romantic landscape complementing the one in the backdrop of the hills. There's also the fascinating waterfall of Ras El Maa that adds to the romantic appeal of the city.
But this city is not alone. There are several other imperial cities in Morocco that house historical & religious places and are just as romantic.
Other cities to visit in Morocco: Meknes, Rabat, Casablanca, and Marrakech are some of the best places to visit in Morocco. These are known for their historical sites, religious places, and other tourist attractions.
4. Sahara Desert

The great Sahara desert that runs along the southern boundaries of the country is yet another topographical variation that the honeymooners will see in Morocco. From camping to camel riding and from star gazing to sunset views, the desert provides it all. But the best way to experience romance in the Sahara is by opting for night camping in the desert. And the desert camps are not the only romantic accommodation options in the country for the honeymooners. There are resorts and riads as well.
Romantic Things Do Do In Morocco
The romantic places in Morocco go way beyond the beach cities. Here are some of the most romantic things to do in Morocco on a honneymoon:
1. Sahara – Star Gazing

The Sahara Desert is immensely romantic. The clear skies ensure a great star gazing experience. Couples can camp in the Berber tents on their Morocco honeymoon. And the views of sunrise & sunset in the desert are splendid.
But for those looking for a little more thrill, the desert offers the experience of camel trekking through the sand dunes of Sahara. And the experience is at its romantic best at the time of sunsets.
---
Planning your honeymoon but confused about where to go? These honeymoon stories help you find your best honeymoon trip ever!
Real honeymooners. Real stays. Real opinions to help you make the right choice.
---
2. Moroccan Souks – Wandering

If the city is more your style, walk through the souks of Morocco. There are small and large markets in every city that sell a wide range of products. However, the handicrafts sold here are the most famous.
Suggested Read: 10 Bahamas Travel Tips That Will Come In Handy To Travel Enthusiasts
3. Marrakech – Hot Air Balloon Ride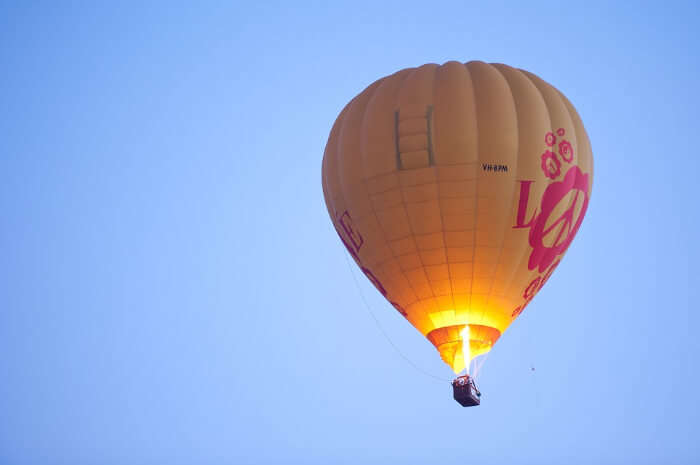 Take a romantic hot air balloon ride over the city of Marrakech with your significant special on your honeymoon in Morocco. To further increase the romantic quotient, choose the sunrise hot air balloon ride.
Suggested Read: 40 Exotic Honeymoon Destinations In The World All Romantics Must Go To In 2022
4. Moroccan Rooftop Restaurant – Romantic Dinner

A honeymoon in Morocco is incomplete without a romantic dining experience. Most of the riads & the hotels serve dinners on rooftops. This allows the couples to eat under the stars with a view of the city.
Suggested Read: 12 Cottages In Bahamas Where You Should Plan Your Stay
5. Moroccan Beaches – Long Walks
Wake up to the wind blowing gently in through your open window or to the sound of the waves crashing into the shore. Romantic, isn't it? Morocco has miles of coastline in the north that is lined with some amazing beaches. Asilah, Essaouira, Agadir, and Mirleft are the most prominent seaside locations.
Suggested Read: Desert Adventurous Honeymoon: Experience The Combined Thrill Of Romance & Adventure!
Morocco Honeymoon Resorts And Riads

In addition to hotels and resorts in Morocco, there are traditional houses called Moroccan Riads where one can stay. Here are some of the best places to stay in Morocco during your honeymoon:
Some riads in Morocco: Riad Palais Khum, Riad Jnane Sherazade, Riad Dar Chrifa, Lunetoile, Riad Baraka, Riad Zahraa, Kasbah Tamadot, and Kasbah Bab Ourika
Further Read: Pick From Hottest Honeymoon Trends To Explore Offbeat Themes & Unique Ideas Of Romance
Morocco welcomes thousands of newlyweds each year for a romantic vacation. What's your inspiration for a Morocco honeymoon?  Plan your honeymoon to Morocco rightaway and witness some of the most romantic experiences with your beloved.
Frequently Asked Questions About Morocco Honeymoon
Is it safe to travel to Morocco?
Morocco is quite a safe place to visit which experiences small crimes like pickpocketing and scams.
Why is Morocco a popular tourist destination?
Morocco Honeymoon is the best as the city is famous for its attractive tourist attractions which are offered at a low price. Alongside that it is also close to Europe.
Do they speak English in Morocco?
In Morocco, the locals mostly speak the Moroccan Arabic followed by Spanish. But with time English has also emerged as the third language to be used by the people.
What is so special about Morocco?
The country is relatively safe, peaceful, and stable. Moroccan people, both Arabic and Berber, are also noted for their warm hospitality and warm, friendly nature.
What is Morocco best known for?
Morocco is known for its delicious cuisine and the flavors of the Tajine, Couscous and also the mint tea.
How much money do you need a day in Morocco?
Food, however, is extremely inexpensive in Morocco, and you can easily get by spending around $12-15 per day.
What are some interesting facts about Morocco?
Some of the common facts about Morocco are – – The official name of Morocco is the Kingdom of Morocco. – Morocco is about the same size as the state of California. – There are over 32 million people living in Morocco (32,649,130) as of July 2013. – The capital city of Morocco is Rabat, although the largest city is Casablanca with nearly 4 million people.
People Also Read :
Honeymoon In Africa South Africa Honeymoon Cape Town Honeymoon
Comments
comments