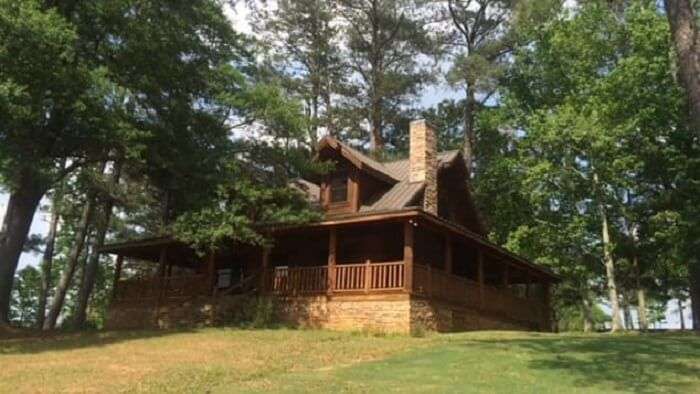 If you are still not over Iron Man's demise in Avenger's Endgame, then here is a chance for you to reenact the scenes from the movie and pay one last tribute to the beloved character. You can now rent Tony Stark's cabin on Airbnb and live like the Iron Man.
The iconic lakeside cabin where Tony Stark and his family resided in the movie while he was planning his last move for the endgame. However, you will have to bring your own Iron Man suit because the property does not provide one.
Suggested Read: World's Largest Ferris Wheel Will No Longer Be In Las Vegas Because It Is Coming To Dubai
The three bedroom cabin with three bathrooms on an 8,000-acre farm accommodates six people at a time. So, you enjoy a sleepover with Hulk, Captain Marvel, and Ant-Man and relive the good ol' days before Thanos destroyed half of the humanity.

Image Source
A genius, billionaire, playboy, and philanthropist, Tony Stark sure knew how to spend his life in luxury and comfort. And this cabin in the woods is proof. A single night in the cabin will cost you whopping $800 per night with a three-night minimum. So, you are looking at a handsome bill of $2700 including service and cleaning fees.
That's not it. The cabin comes with a fireplace and the pond where Tony Stark's wreath was set afloat. Clandestine in the woods of Fairburn, Georgia, it takes a 20-minute drive from Atlanta Airport to reach here. The property prohin=bits smoking and partying but who needs that when you can literally smoke people with jealousy by posting pictures of your stay.
Suggested Read: Love Train Journeys? The First Railway Line In Andaman & Nicobar Islands Is A Dream Come True
Would you find the Captain America bench from the movie too? Well, it is unclear. You may have to book a holiday in the USA and rent Tony Stark's cabin on Airbnb to find it out. Bring your friends along who are as crazy for Marvels Cinematic Universe as you are, otherwise, how else would you reenact the scenes.
Featured Image Courtesy: cnn.com