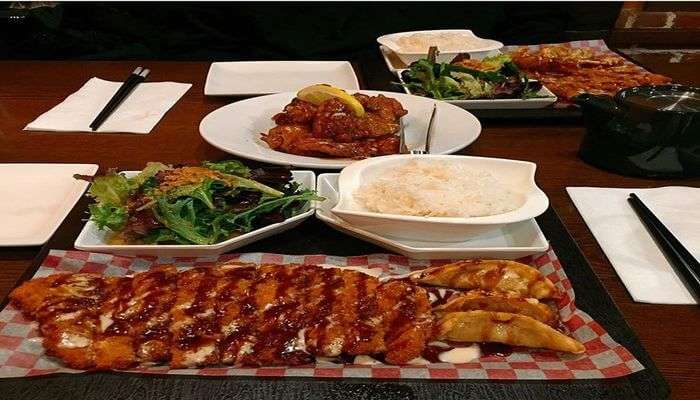 With an estimated population of around 120,000 people, Abbotsford is the largest city in British Columbia's Fraser Valley. Abbotsford is a quaint and peaceful city that offers a lot of recreational activities to the tourists who visit here.And, the restaurants in Abbotsford bring to you great dishes that have a mix between classic American taste and Canadian style of cooking. Are you planning to visit Abbotsford?  We have listed the most popular and best restaurants in Abbotsford you need to visit during your stay here.
Restaurants You Cannot Miss in Abbotsford
Here are the restaurants you cannot choose to miss when you are in Abbotsford even for a few days! These are the must visit places:
1. Restaurant 62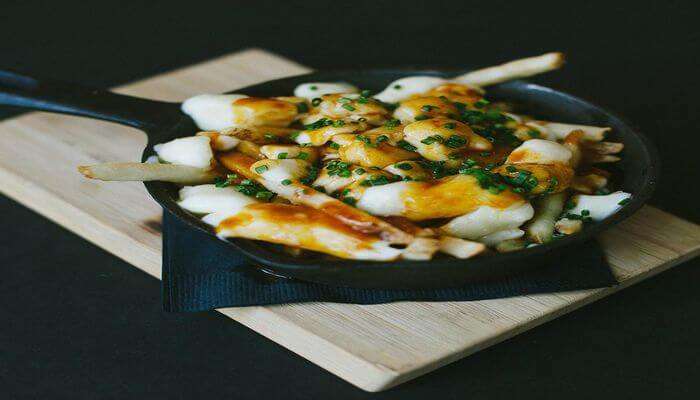 Image Source
Styled according to the modern and contemporary standards, the Restaurant 62 is a very popular name in Abbotsford. This fantastic restaurant has a serving that will satisfy the taste of everyone you bring with yourself. They have a wide range of different items hailing from the Pacific North-west cuisine, classic American dishes as well as traditional Canadian delicacies. Their Duck breast, Sablefish, Beef Tenderloin Mussels and the chicken steak are surely going to water your mouth. Restaurant 62 also serves great desserts as well that includes chocolate cake and pudding. The interior is warmly lit which offers a great sense of comfort. There is ample seating arrangement inside the restaurant, so a big group at anytime of the day won't be a problem. If you are a wine lover, then the restaurant also serves some amazing wine.
Location: 110 – 33559 Marshall Rd, Abbotsford, BC V2S 3N5, Canada
Timings: Monday to Friday – 11:00am to 10:00pm. Sunday and Saturday – 3:00pm to 10:30pm.
Must Read: 40 Best Places To Visit In Canada In 2022 That Will Leave You Spellbound!
2. Brodeur's Bistro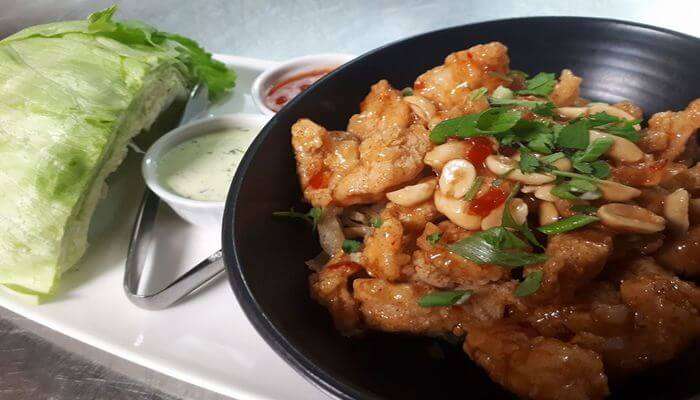 Image Source
Brodeur's Bistro is Abbotsford favorite location to hang out when people want to try out some delicious French-Canadian delicacies. This wonderful restaurant also features a full bar for the people. At Brodeur's Bistro you'll have a wonderful list of items to choose your favorite food from. The tourtière, Baker's chicken wings, Pierre's Cuban and the Montreal smoked meat are some of the most popular dishes that are ordered in this restaurant. The seafood options on the menu promises a tasty affair as well. The extensive list of appetizers will surely get you going with a bottle of beer or a glass of wine at anytime. The interior is well decorated with an urban style and aura which reflects professionalism. The bar menu is attractive and will surely help you get over the weekday blues you are suffering from.
Location: 3550 Mount Lehman Rd, Abbotsford, BC V4X 2M9, Canada
Timings: open all days 11am to 10pm.
Suggested Read: Toronto Casinos: Catch A Game In The Canadian Province Ontario In 2022
3. Duft and Co. Bakehouse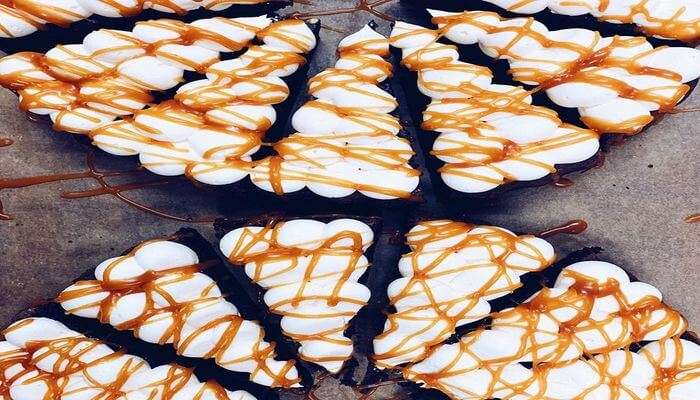 Image Source
If you have a sweet-tooth and want to start or end your day with a sweet note, then Duft and Co. Bakehouse is the place you need to visit. The atmosphere around the bakery is filled with the fresh smell of cakes and breads which are prepared here. The soothing aroma welcomes you with an inviting gesture and makes sure that you get the best confectionery items in Abbotsford. The Lemon Sugar Bun, Almond Croissant, Blueberry Lemon Pastry and the flavorful doughnuts are some of the must try items that you need to check out. If you are conscious about your health but don't want to miss out on the delicious edibles, check the Gluten-Free menu they have. If you are low on budget, then this is one of the best budget restaurants in Abbotsford you can visit.
Location: 2636 Montrose Ave #103, Abbotsford, BC V2S 3T6, Canada
Timings: Closed on Sunday and Monday. Other days 9am to 2pm.
Suggested Read: 6 Cool Water Parks In Toronto You Must Visit For Topsy-Turvy Rides!
4. Vi-La Palace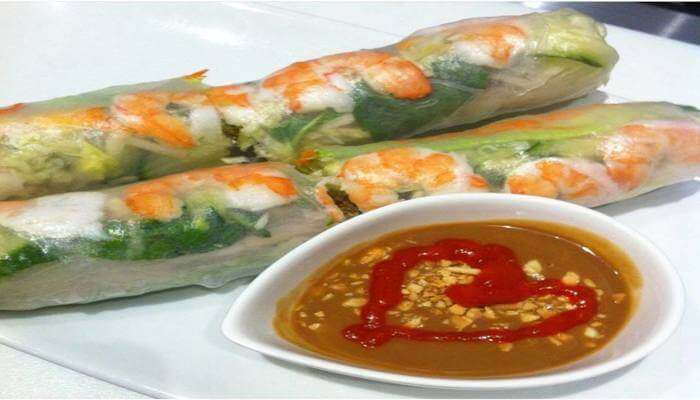 Image Source
Abbotsford do have some of the best eateries around and Vi-La Palace is a solid proof that it does. A restaurant which is running for almost a decade now, the Vi-La Palace offers mouthwatering Vietnamese and Canadian items. Plus, the full bar available here is like an icing on the cake. If you ask us, then the Pork Fried Rice, Beef Soup, Sweet Sour Pork and Phos are a must try items that you need to taste. The interior offers a homely feel and the warmly lit seating area allows you to sit with convenience. Turn the pages of the menu and you will come across some really interesting Vietnamese Bowls. The menu is reasonable and that is why this is a pocket-friendly option year-round.
Location: 3240 Mount Lehman Rd #107, Abbotsford, BC V4X 2M9, Canada
Timings: 11am to 8:30pm, Sunday closed
Suggested Read: Skydiving In Canada: A Must-Have Experience On Your Canadian Holiday
---
Planning your holiday but confused about where to go? These travel stories help you find your best trip ever!
---
5. Milestone Grill and Bar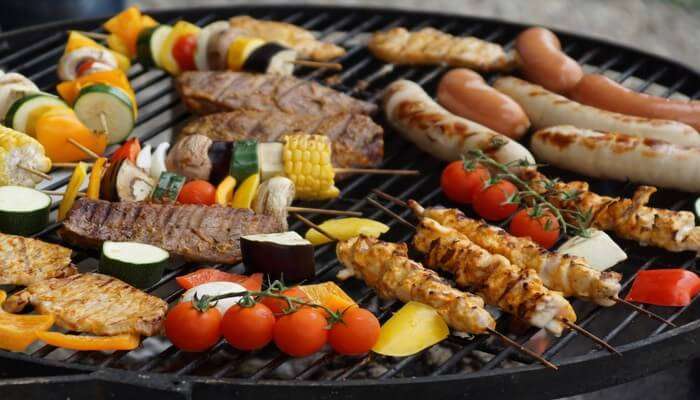 Image Source
A popular and luxury restaurants in Abbotsford, the Milestone Grill and Bar is the perfect place to go for a date or spend some quality time with your friends. This restaurant is desired in the locality because of its globally inspired menu which includes dishes from various cuisines and the lip-smacking cocktails which will surely be worth your money. The ambience is nice with low key music playing in the background to set the mood right. Old Fashion Burger, Butternut Squash Ravioli, Grilled Chicken Caesar Salad and Salmon Fillet are quite a few of the items which you must try if you visit this Milestone Grill and Bar. The bar menu available here is lucrative with amazing selection of cocktails and drinks which are prepared by professional bartenders.
Location: 3122 Mount Lehman Rd Unit E110, Abbotsford, BC V4X 2M9, Canada
Timings: Monday to Friday – 11am to 12am. Sunday and Saturday – 10am to 12am.
Suggested Read: 8 Best Indian Restaurants In Vancouver Loved By Epicures In Canada
6. Greek Islands Restaurant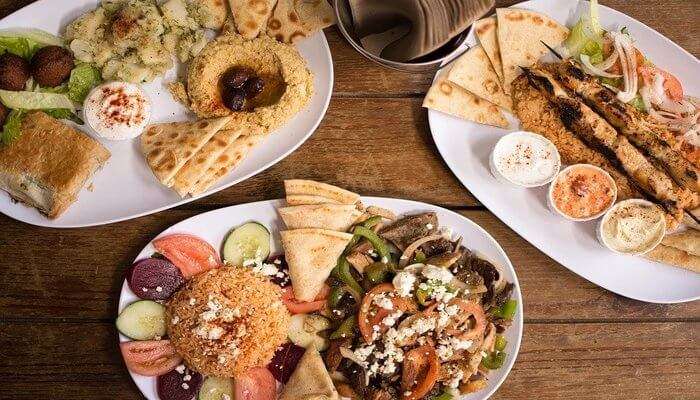 Image Source
Situated right at the turn of Langdon Street, the Greek Islands Restaurant is the for those who want to get their hands on delicious Greek cuisine. It is one of the highest rated restaurants in Abbotsford and that is for a reason. Their food is so delicious that you will genuinely feel that you are holidaying in some parts of Greece. Their cooks leave no stone unturned to satisfy your taste buds and provides with a blast of flavor in each dish. Some of the most popular dishes include Saganaki Flame, Greek Lasagna, Greek Baby Back Ribs, Greek Island Schnitzel, and the Beef Souvlaki. All the dishes served are hot and cooked according to your preferences. The interior is well decorated with good seating. Also, don't forget to try out their cocktails because they taste super good as well.
Location: 2686 Langdon St, Abbotsford, BC V2T 3L2, Canada
Timings: closed on Sunday and Monday. Other days 11am to 10pm.
Suggested Read: 6 Surreal Lakes In Calgary You Must Check Out On Your Trip To Canada
7. KoJan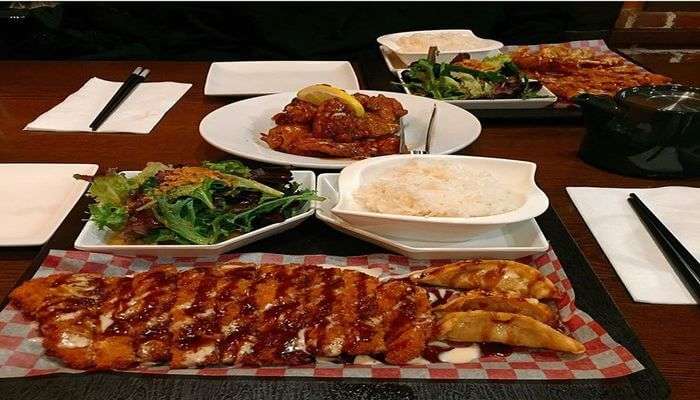 Image Source
The last check in on our list, the KoJan is one of the only few places in British Columbia which serves Japanese and Korean food of the highest quality all the time. The interiors are well polished with superb design that makes it a delight to sit inside this restaurant. The furniture are styled in Japanese and you will also see cherry blossoms over your head in here. The menu contains more than a 100 different items for you to choose from, but out of all that you can choose the California Rolls, Rainbow Roll Combo, Lobster Roll, Chicken Teriyaki, Salmon Sushi, and Korean Spicy Chicken. If you are looking for pure and authentic Ramen, Donburi and Sashimi of the Japanese and Korean style, then KoJan is the place you need to head to.
Location: 33640 S Fraser Way #103, Abbotsford, BC V2S 2B9, Canada
Timings: Wednesday closed. Other days 11am to 10:30pm.
Further Read: 9 Best Beaches Near Toronto For A Unique Beach Experience In Canada
So, these are the best restaurants in Abbotsford which need to take note of. All the restaurants that we have talked about are easily accessible in Abbotsford. Head on a culinary journey on your vacation in Canada and taste all kinds of cuisines to experience rich new flavors.
---