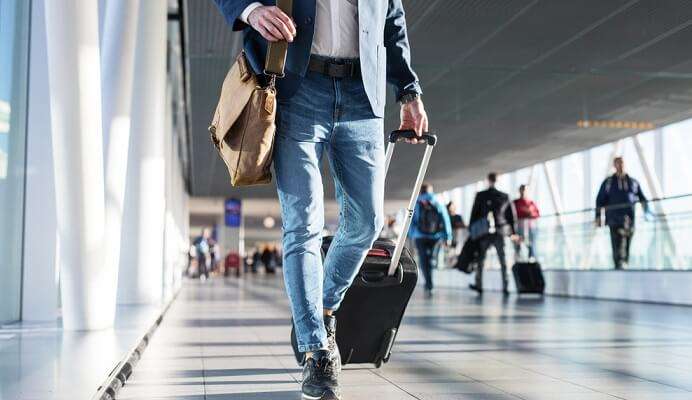 Since the COVID outbreak, many of us have felt compelled to leave our homes and go to far-flung locations in order to rest our minds and souls. When you don't know how to take care of yourself, travelling during this COVID times can be a risk. It is vital to learn how to stay healthy while travelling in order to travel happily and without the worry of contracting an illness or being ill. And in order to stay fit while travelling, you need to follow certain travel tips to ensure you don't get sick. Whether you're seeking ways of avoiding getting sick while travelling or simply would like to stay healthy and fit, here are a few pointers to consider.
How To Stay Healthy While Travelling
When the COVID situation clears up, most of us will be planning vacations as soon as possible. Many frequent travellers remember that staying fit allows them to travel anyplace. Here are some suggestions for how to stay healthy when travelling, especially in these days of masks, hand sanitizers, and social exclusion.
1. Stay Hydrated

It's easy to become dehydrated while travelling because water may not be available everywhere or you may become distracted and forget to drink. Water will keep you hydrated and prevent dehydration, especially if you're visiting a hotter climatic region. It could also be the key to eliminating harmful pollutants. So make it a goal to always have a portable water bottle with you, to drink water on a regular basis, and to fill it up whenever possible. Furthermore, carrying a bottle of water is a good idea to avoid drinking unfiltered water, which is an issue in many parts of the world.
Follow These International Travel Tips For An Epic Overseas Holiday!
2. Be Ready for Any Allergy Reactions

Unanticipated allergy reactions, environmental conditions, or your travel history may occur suddenly. Colds, stomachaches, and allergies are unpleasant, but they continue to occur and are unavoidable, even on vacation but that shouldn't stop you from travelling. In order to travel comfortably, it is always safe to carry tablets with you. Keep in mind that in some countries, you may not be able to purchase your preferred over-the-counter drugs, so it's best to keep all of your essential prescriptions and a travel first-aid kit in your handbags and luggage bags so they're conveniently available throughout your trip. With these, no one can stop you from travelling anywhere and everywhere!
3. Get Quality Sleep

It is possible to become exhausted while travelling. You may be travelling between time zones, lugging your luggage, or rushing from one location to the next. Sleep deprivation weakens your immune system, and lack of sleep raises your chances of becoming ill. Try to obtain a decent night's sleep a few nights before your vacation and keep a regular sleep routine as much as possible while you're away. You can achieve this by limiting your coffee and alcohol intake. Avoid using electronic gadgets like smartphones and laptops for at least an hour before going to bed, and wear an eye mask and earplugs if it suits you.
15 Most Essential Things To Carry While Travelling To Hill Station
4. Stay Active

While you certainly deserve some rest on your holiday, it's crucial not to neglect physical activity totally. And besides, consistency is key to physical and mental well-being. Staying active keeps you well on your journey and helps you recuperate when you get back home. You can always carry books with you to read, listen to music and podcasts to keep your brain active when travelling. This is one of the easiest ways to stay fit while travelling.
5. Mindful Eating

Maintain a regular eating schedule and use your plate appropriately. Most countries have their own cuisine, and exploring new places and indulging yourself in the native local delicacies is half the fun of visiting a new area. It is advisable to not eat oily and heavy fast foods a lot while travelling. Many people bring nutritious snacks on planes, buses, and trains, but it's also crucial to have a supply of nutritional foods to enjoy after you reach your destination. It is important to know how to eat healthy while travelling. Maintaining a balanced diet will keep you healthy throughout the year, but especially while travelling. A well-balanced diet rich in whole, immune-boosting foods makes a big difference toward strengthening the immune system and battling infection.
India Travel Tips: Remember These Things Before Planning A Vacation To This Country!
6. Get a Flu Shot and Avoid Crowded Places

Getting vaccinated is the best approach to avoid any disease. The flu vaccine is the single most effective approach to minimise your chances of contracting and spreading the virus. The flu vaccine strengthens your immune system to help your body 's ability to fight flu viruses. The majority of infectious bacteria or viruses are spread by touching a contaminated surface. Merely touching your eye, nose, or mouth with the doorknob of the aeroplane bathroom is enough to make you sick. Alway wear masks and wash hands regularly.
7. Include Days for Decompression

When we travel, we tend to get caught up in all the things we want to see and do, and we become exhausted only in the middle of the journey. It's critical to give yourself room to decompress, and even to incorporate it into your holiday plans. The activities you participate in throughout your trip must be balanced. When you return home, you may need to use some decompression days. This can help you avoid the post-vacation blues and is also one of the finest approaches to stay active while travelling.
It's becoming increasingly crucial to know how to stay healthy while travelling in order to get the most out of your trip. Furthermore, it is critical for your entire body to maintain hygiene and stay active throughout the day by exercising regularly, adding more fibre to your diet, exercising your brain, and enhancing your mental health.
People say they travel to clear their minds of stress and work pressures, but in order to travel, you must first be free of these things. And for that, you need to follow these tips on how to stay active while travelling. So, while keeping in mind these essential elements, plan a trip to the destination of your choice while checking out the best tour packages offered by TravelTriangle. A memorable holiday awaits you.
For our editorial codes of conduct and copyright disclaimer, please click here.
Frequently Asked Questions about How to Stay Healthy While Travelling
How do you stay active on a road trip?
On a road trip, you must always wear comfortable clothes and sneakers. You must also stop at places regularly to stretch your legs and get some fresh air. Carry a book to read, listen to music and also carry some snacks on the way.
Is it safe to travel anywhere due to the COVID outbreak?
It is safe to travel during this covid situation, however, you need to wear your mask at all times, sanitize your hands regularly and avoid going to crowded places. It is also important to get vaccinated and/or carry a negative RT-PCR test wherever you travel, and read the state guidelines on COVID before travelling.
How to maintain weight while on vacation?
You must drink water regularly, exercise regularly on the trip, eat healthy foods and don't stuff your stomach. Always carry a bottle of water and some nutritious snacks during the trip to not stay hungry and be active. Prefer walking or riding a bicycle rather than using public transport in places.
What foods are good for travelling?
You must always carry light snack foods during the trip and not heavy filling food as it can cause uneasiness in between your vacation. Avoid eating oily and fried items and add more fibres to your food-list. You can carry popcorn, chips and dips, rolls, snack bars, dry fruits, nuts and pretzels.
What should I avoid eating while on a road trip?
Avoid any oily-fried items, avoid eating raw eggs, raw meats and avoid drinking unfiltered water. Always drink bottled water when you're travelling. Avoid eating stomach-filling foods such as rice, lentils and meats.
How can I diet while travelling?
Always plan what you're going to eat on your trip. Add more fibre and protein in your diet, consume beverages and alcohol to limits, ask or read the nutritional information before buying or ordering any foods, avoid empty calorie foods and ask for substitutes.