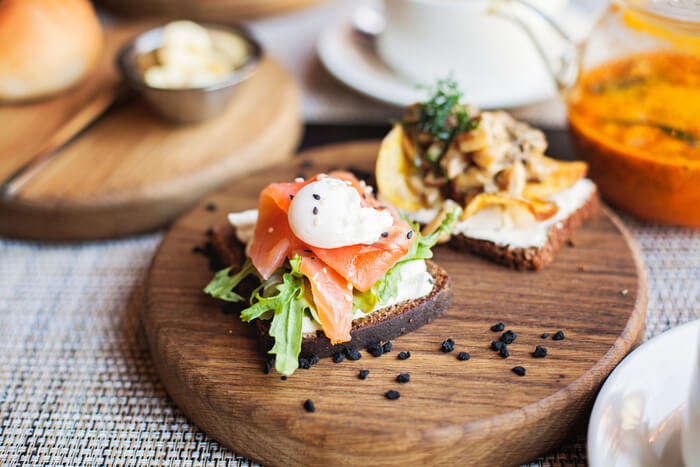 What's an enjoyment of a tour to any location if you haven't indulged in the authentic food of that specific country or city? After all, calories don't count when you are on a vacation mode. So, just like any other place, Denmark will also satisfy you with meals like Kartofler, Pølser, Æbleskiver, Wienerbrød, and more to name some of its specialties. With this blog post, we're going to share some of the best restaurants in Denmark ranging from a belly-busting brunch to a fine dining experience, and sweet delights. These locations will be a hit with foodies on a trip to Denmark.
8 Best Restaurants In Denmark
Here are the best restaurants in Denmark that one should definitely eat at while on their trip to this beautiful Nordic country. Go ahead and have a look.
1. Restaurant Sushi Nørregade
2. Amass
3. Mortens Kro
4. Manfreds
5. Bæst
6. Copenhagen Diner 'n' Steak
7. Pasfall
8. The Oxford House Inn
1. Restaurant Sushi Nørregade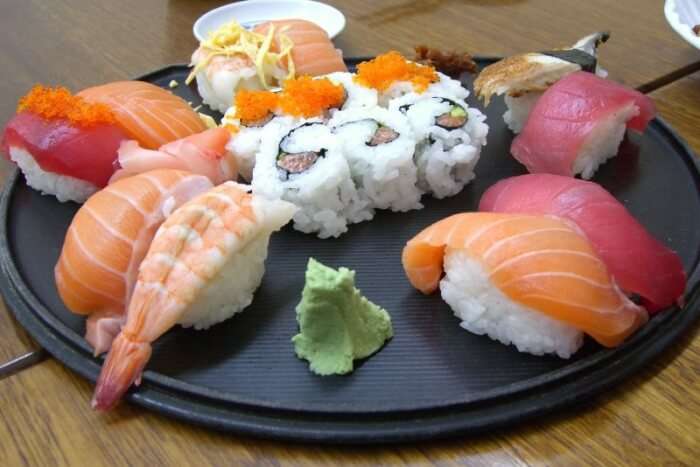 Sushi lovers are very much aware that finding the convenient place where their cherished Japanese dish would be cooked in legitimate ways isn't simple, particularly while voyaging. But Sushi Nørregade is one of those spots where every Sushi lover should head to. It is situated in the core of the downtown area, just a five-minute walk from Nørreport station.
The restaurant's veneer might not be extravagant, yet the meal is flavorful and it is a real taste of Sushi that you'll get in Denmark. Also, the servers continually are ready to assist you in choosing the right meal that will fill your heart with joy.
Must Try: Sushi
Location: Nørregade 34, 1165 København, Denmark
Cuisines: Japanese
Google Rating: 4.2/5
Website
Must Read: 12 Best Beaches In Denmark To Rejuvenate Your Mind & Soul
2. Amass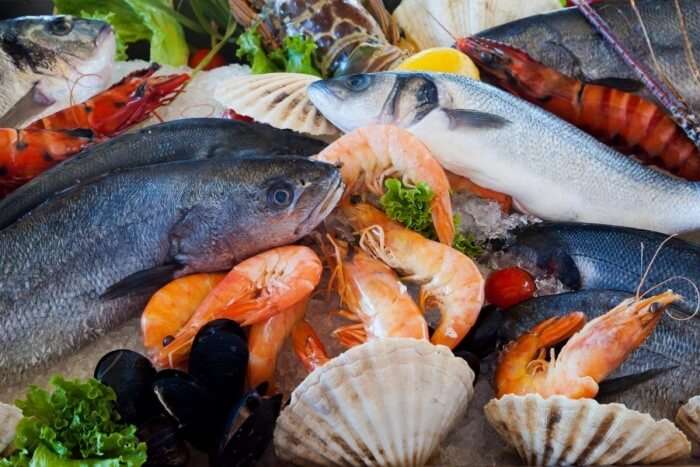 Amass is set up by Matthew Orlando and offers the high grade of all, the food, style, and environment. It is a high-ceiling space with graffiti painted walls, and enormous windows facing the old docks. Amass, situated on the harbor front in Copenhagen presents its visitor with creative impromptu dishes, such as pollock with dark lime and burnt birch. Once in a while, the staff lights a bonfire before the eatery in the private garden so visitors can relax while relishing their supper. A spacious restaurant, it is out of the city and has a modern, and urban feel. Authenticity and prices of dishes are the central elements here, and the cooking style is modern Danish.
Must Try: Seafood, tomato bread
Location: Refshalevej 153, 1432 København, Denmark
Cuisines: Scandinavian, Danish
Google Rating: 4.6/5
Website
3. Mortens Kro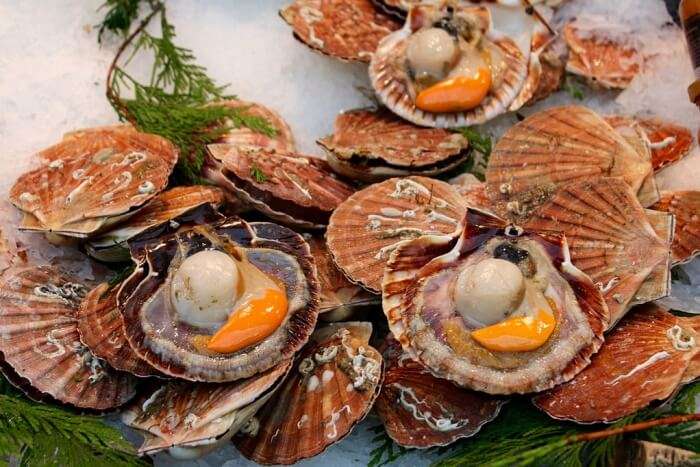 Mortens Kro which means "Mortens Inn" in English as of now marked 21 years of the gastronomy picture of Denmark and is viewed as standout restaurants in Denmark situated in Aalborg. The restaurant is owned by Morten Nielsen since 1997. It's a fine dining restaurant with a diverse range of menu consisting of Scandinavian cuisines and international food dishes, all cooked with ingredients of high-quality by Morten Nielsen who is the culinary master and proprietor of this chic eatery.
There is a wide range of menu packages ranging from starters and mains, right to tasting desserts. Guests shouldn't pass up a great opportunity of checking this beautiful restaurant to enjoy the most delectable food and ambiance here.
Must Try: fish and shellfish
Location: Mølleå 4, 9000 Aalborg, Denmark
Cuisines: Scandinavian, Danish, International
Google Rating: 4.6/5
Website
Suggested Read: 11 Best Castles In Denmark To Witness The Unparalleled Beauty Of The Country
4. Manfreds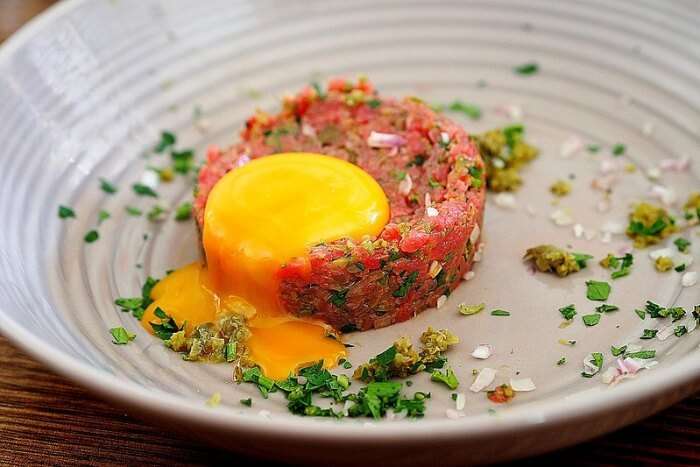 This is an easygoing eatery that serves a seven-course family-style food at an exceptionally affordable cost. The menu is in every case loaded with basic and filling meals, yet the beef tartare is what will leave you drooling. Made with poached egg mayo, rye breadcrumbs, and longspun strands of spicy cress, it generally wins the show. It is offered independently from the vegetable-substantial tasting.
A meal at Manfred's eatery will be a pleasant experience. This place is all about food, the recipes are superbly well cooked, and presented originally. However, the best part of the food is the flavors in every meal which gives a refreshing feel.
Must Try: Salads, vegetarian dishes
Location: Jægersborggade 40, 2200 København, Denmark
Cuisines: Danish, European, Scandinavian, Vegetarian-Friendly, Vegan, Gluten Free Options
Google Rating: 4.2/5
Website
5. Bæst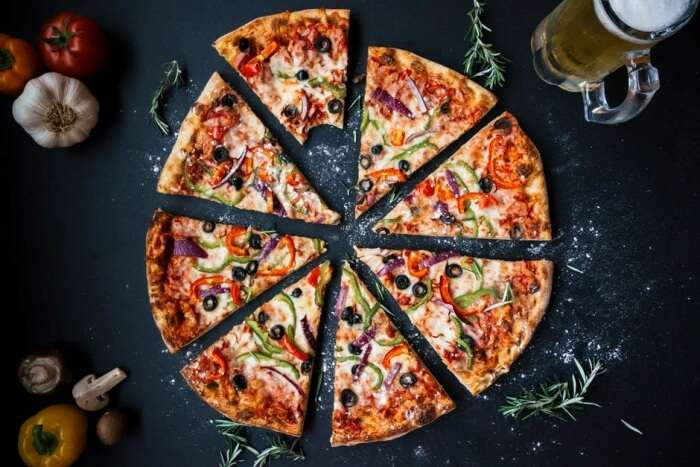 Relæ's Christian Puglisi returns to his Italian legacy with this particular restaurant. The burrata and charcuterie are prepared in-house, and the pizza gets popped up in a Neapolitan oven. They make in-house mozzarella too to use in their pizzas. You won't discover something like this in any other restaurants in Denmark, Copenhagen.
Additionally, the restaurant blends the best Danish, local, organic, and sustainable ingredients with the Italian mastery to offer an unusual dining experience. If you're going to Denmark for Christmas holidays, then this restaurant also arranges Christmas and New Year events to enjoy with your family and friends.
Must Try: Pizzas
Location: Guldbergsgade 29, 2200 København, Denmark
Cuisines: Danish, Italian, European.
Google Rating: 4.2/5
Website
Suggested Read: Shopping In Denmark: All About The Places To Shop For Best Danish Goods!
6. Copenhagen Diner 'n' Steak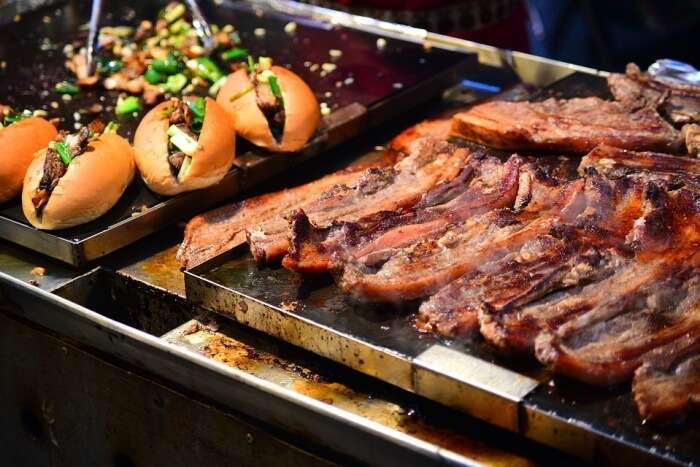 Copenhagen Diner 'n' Steak is another eatery settled at Illum rooftop. This restaurant consists of a dining room, banqueting rooms, and lounge zones. The dinner division will be a Nordic interpretation of the vintage diner, with an entire day of eating of healthy servings of mixed greens, fresh sandwiches, and burgers. The restaurant also offers the takeaway option. At night the restaurant opens the steak arena for top-notch food with fresh meat in the middle.
Guests can book the table in both its sections, i.e. the steak arena and dinner arena. This cozy establishment is suitable for a perfect family time to enjoy a big dinner party while appreciating the spectacular landscape from its rooftop.
Must Try: Barbecue, steak
Location: Østergade 52, 1100 København, Denmark
Cuisines: American
Google Rating: 3/5
Website
7. Pasfall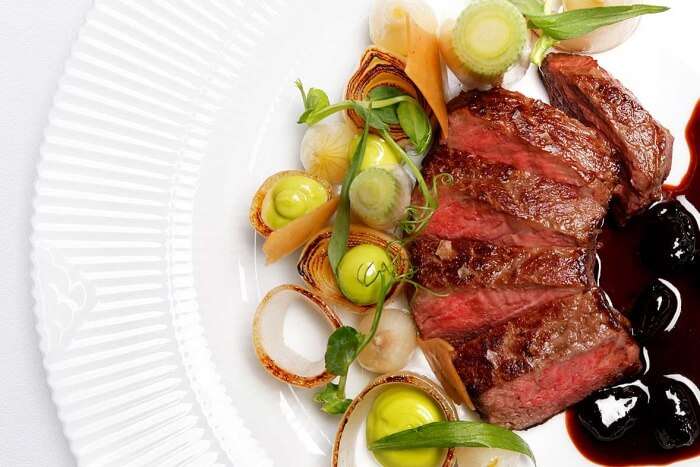 With its incredible menu and easing ambiance, the Pasfall restaurant in Denmark has genuinely earned a place in the local's hearts. This restaurant has also secured a position in the Michelin Guide 2017. With such a large number of achievements in Thomas Pasfall profession, along with the title of "The Chef of The Year" in 2000, it does not shock anyone that the gourmet eatery serves classy and brilliant dishes. The chef who is also the owner of the restaurant is a true artisan as he positively considers details and matches it in his food ingredients. Rush here for authentic Scandinavian cuisine!
Must Try: foie gras, tasting menu
Location: 31 Brandts Passage, Odense, 5000, Denmark
Cuisines: French, European, Scandinavian
Google Rating: 4.6/5
Website
Suggested Read: Denmark In Winter: 11 Things To Do To Witness The Wintery Magic Of The Country
8. The Oxford House Inn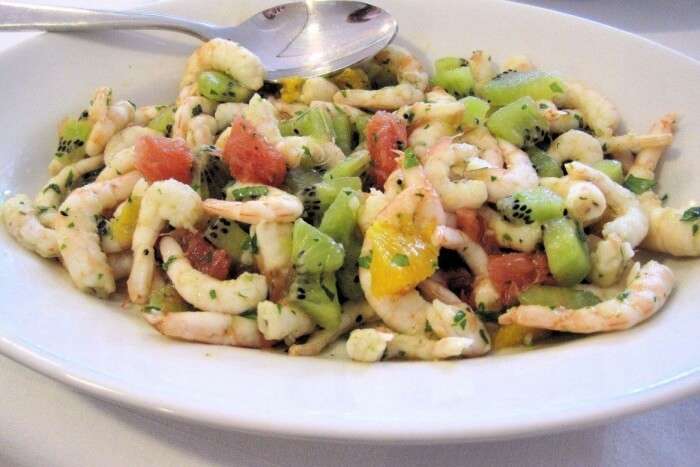 From the minute you walk in, the environment will seem welcoming, and cozy for your evening meal. The staff here is super accommodating, and the food is on point, thus, making the place a perfect selection for this list. There are plenty of food options to choose from like steak, chicken, and fish. It also serves vegetarian food to satisfy its vegetarian guests, the best being its considerably filled roasted pepper.
Must Try: Steak frites, lobster carbonara
Location: Fryeburg, ME
Cuisines: American
Google Rating: 4.6/5
Website
Further Read: Christmas In Denmark: 13 Places To Enjoy The Christmassy Vibes In Europe!
Hungry yet? Book your trip with TravelTriangle to this Nordic beauty and enjoy the culinary scenes of the country. The restaurants in Denmark would surely leave your taste buds content and happy! Know of more interesting places to eat at? Mention them below.
---
Looking To Book An International Holiday?
Book memorable holidays on TravelTriangle with 650+ verified travel agents for 65+ domestic and international destinations.
---