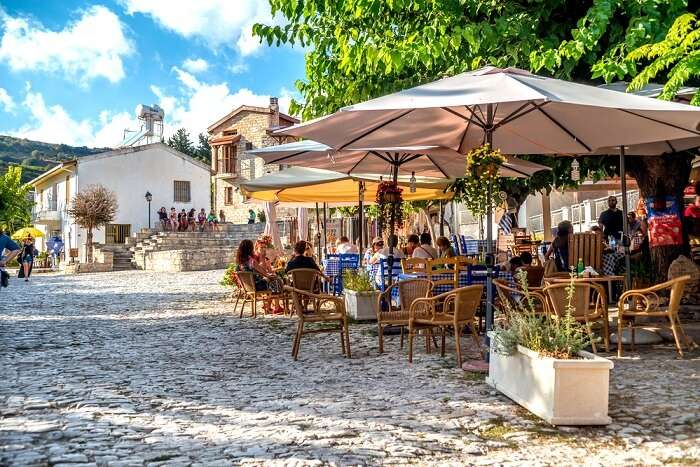 From the traditional Meze plates to Kleftiko, seasonal vegetables, and fish to moussaka the assortment of other dishes is ready to satisfy your appetite in Cyprus. You can really hog on something new every day here. It's not a secret to anybody that Cyprus is a gastronomical paradise for foodies. Natives of Cyprus are exceptionally enthusiastic and solemn about their food. So, Cyprus restaurants are available in pretty much every corner to fulfill everyone's taste and wallet, from traditional meals to five-star gastronomic delights at exotic locations.
Which Cyprus Restaurants You Must Visit?
Here's our full manual to help you find precisely what you are searching for in Cyprus to relish the famous food and restaurants.
1. Piatsa Gourounaki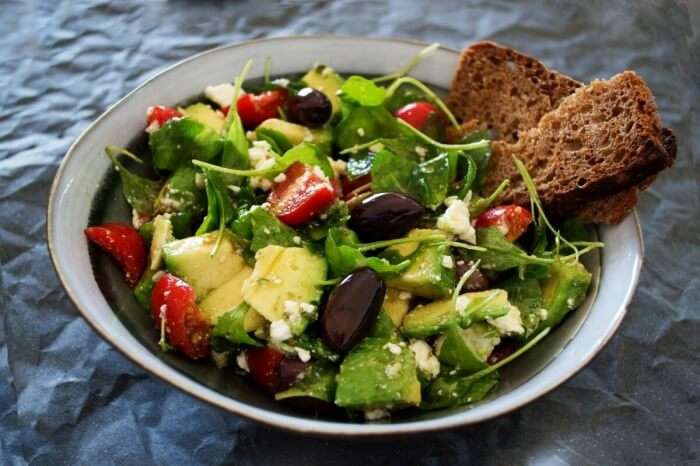 Fantastically famous, and all for good, the contemporary-style Souvlaki recipe meals are offering the absolute fresh Greek taste in the town, with welcoming hospitality to boost further the notoriety of the restaurant.
You can choose from the quantity of amazingly grilled meat skewers and after that head out to the tasty meze and sides, from Bouyiourdi, a broiler cooked feta and vegetables, and pickled peppers to Tirokafteri spicy cheese dip.
Must Try: Meat platter, Greek salad, souvlaki
Location: Faneromenis 92, Nicosia 1011, Cyprus
Cuisines: Mediterranean, Barbecue, Greek
Google Rating: 4.6/5
Website
Must Read: 10 Amazing Things To Do In Cyprus You Cannot Miss Out On!
2. Hill View Restaurant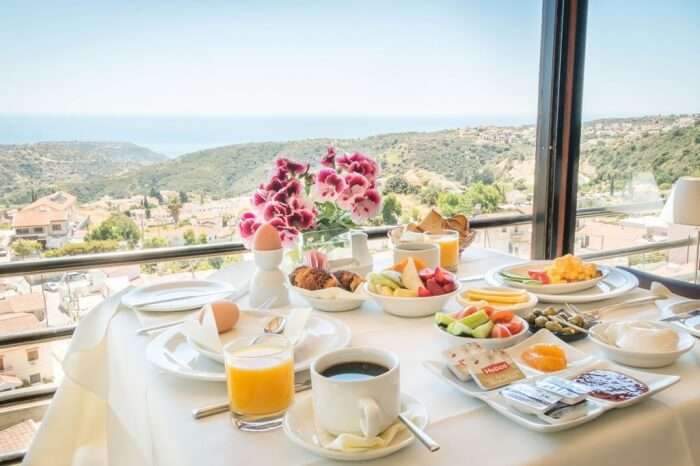 The Hill View restaurant is in the town of Pano Pissouri, high in the mountains over the sea, which as the name recommends gives surprising perspectives of the small countryside town, the encompassing slopes, and the sea. Apart from this, the meal here is second to none and has won various honors for its top grade and marvelous local flavors. Head to this restaurant for amazing food and views.
Must Try: Lamb shank pie, soup, Sunday roast
Location: Pissouri Pissouri CY 4607, Pissouri, Cyprus
Cuisines: European, British, Greek
Google Rating: 4.7/5
Website
3. Sienna Restaurant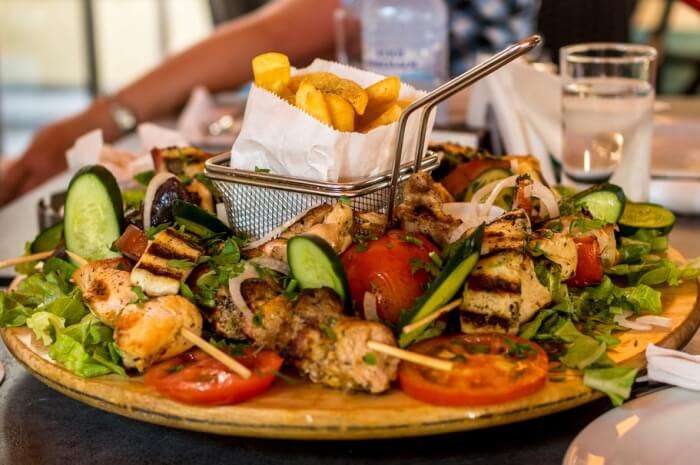 The Sienna Restaurant is one of the best eateries in Paphos, giving a relaxing environment with its warm welcome. It serves both international cuisine and traditional Cypriot food. Situated somewhere near the Coral Bay, facing the shining Mediterranean Sea, it is an ideal area to appreciate the eating ordeal at Paphos restaurant.
The best ingredients, the best cuts, and the freshest foods are utilized to serve high-class meals. The Sienna is apparently the most exceptional restaurant compared to other restaurants in Paphos as it serves food for all the events, from a large family get-together to a romantic dinner for two.
Must Try: profiteroles, kleftiko
Location: Stadiou 60, Pissouri 4607, Cyprus
Cuisines: Mediterranean, European, Greek
Google Rating: 4.6/5
Website
Suggested Read: Cyprus Travel Guide: All About The Historical Places To Visit In The Famous Country!
4. Ladi and Rigani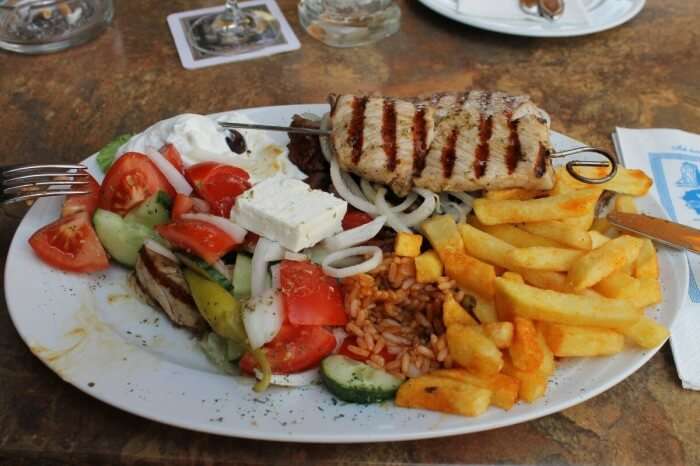 This authentic Cypriot Kebab House, arranged in the village square is a family-friendly open-air eatery serving a selection of kebabs and Cypriot Souvlaki. Appreciate the variety of typical Greek dishes here, consisting of the home-marinated chicken Gyro, Sheftalia, pita Souvlaki, and considerably more in its menu.
The mixed barbecue "gyros" that's served here as a plated meal includes fries, a small salad, "tzatziki," and Greek pita bread. It's really a tasty food encounter.
Must Try: Doner Kebabs, Pita Souvlaki, Chicken Gyro
Location: Prevezis 15 Nicosia CY, 1065, Cyprus
Cuisines: Greek
Google Rating: 4.5/5
5. Baths of Aphrodite Restaurant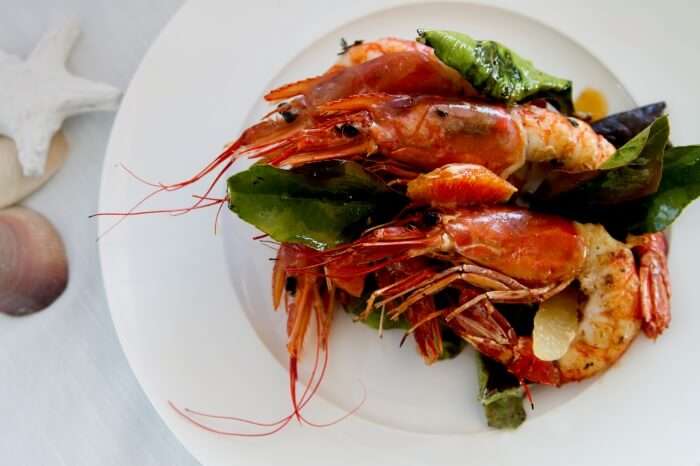 Flaunting of an astounding area, ideal by the legendary Baths of Aphrodite, on the border of the Akamas Peninsula, the Baths of Aphrodite Restaurant offers guests probably the most unusual perspectives of the west shore of the island from Latchi all over to Kato Pyrgos, Pomos, and past.
The eatery offers delicious local fish and traditional Cypriot meze dish. It additionally, makes an ideal stop for a strong Cypriot coffee or ice-cold Keo, after the descend to the baths and back up. This spot is extremely prevalent with voyagers and also makes for a magnificent place to watch the dusk behind the Akamas.
Must Try: Cypriot coffee, seafood
Location: Rd To Fontana Amoroza, Neo Chorio, Cyprus
Cuisines: Seafood, Mediterranean, European, Greek, Vegetarian-Friendly
Google Rating: 4.2/5
Facebook Page
Suggested Read: 10 Stunning Beaches In Cyprus For An Outrageously Fun Vacation!
6. Hobo Cafe & Restaurant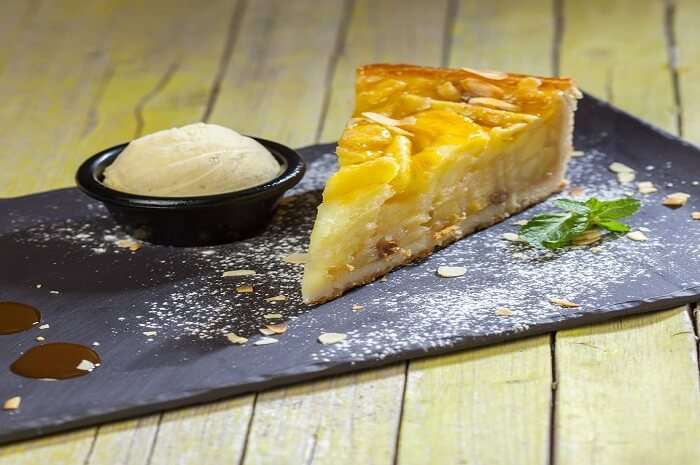 The Hobo eatery in Paphos is looking over the Mediterranean mansion and the Paphos harbor. So, if you are not terrified of pelicans waiting by your plate, sit down on its patio, and try a regular serving of salad or any of the traditional European meals from the menu of this restaurant. It is a perfect venue while seeing the magnificent sunset over the sea.
Must Try: Steak
Location: Αθηνών avenue, Cyprus 14, Larnaca 6022, Cyprus
Cuisines: European
Google Rating: 4.2/5
Facebook Page
7. Maqam Al-Sultan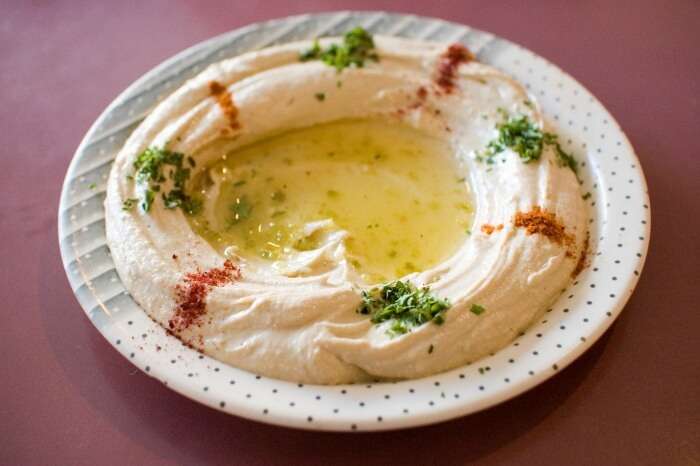 What could be superior to venturing off a shoreline and right into an eatery catering to a great quality and endearing meals? The spot of Maqam Al Sultan couldn't be better, directly before the Phinikoudes shoreline. It's an enthusiastic zone with a stunning view. On the broad menu is the thing that you would find in a Lebanese eatery, hummus, shawarma, moussaka, and falafel.
The lamb and chicken dishes are particularly suggested to try here. Lebanese food is known for fulfilling tastes without being overwhelming in flavorings, so, Maqam Al Sultan hits that one note. The staff is also cordial and welcoming. A visit here will surely win everyone's heart.
Must Try: vegetarian mezze, fattoush, hummus
Location: Agkiras 7 | Phinikoudes Seafront, 2026 Larnaka City, Cyprus
Cuisines: Lebanese
Google Rating: 4.6/5
Website
Suggested Read: Shopping In Cyprus: 10 Best Places To Shop Your Heart-Out!
8. Kanalli Fish Restaurant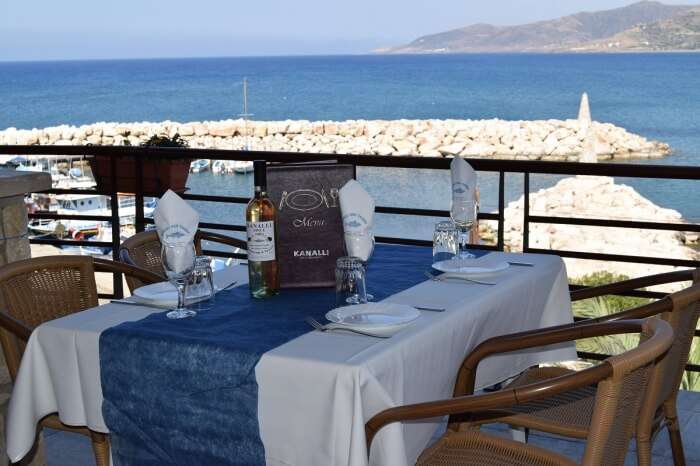 Kanalli offers a beautiful holiday view spot from its rooftop, the turquoise inlet and the little, updated harbor with forested peaks out there. It is an ideal location for romantic people to relish the meal while enjoying the sunset. The cuisine specializes in fresh fish, in particular, sea bass, red snapper, bream, and red mullet, presented with freshly prepared chips.
The handmade sweets are great as well, especially take delight in the moist carrot cake served at the restaurant.
Must Try: Seafood, salad
Location: E704, Pomos 8870, Cyprus
Cuisines: Mediterranean, Greek
Google Rating: 4.2/5
Website
9. Fuamo Steakhouse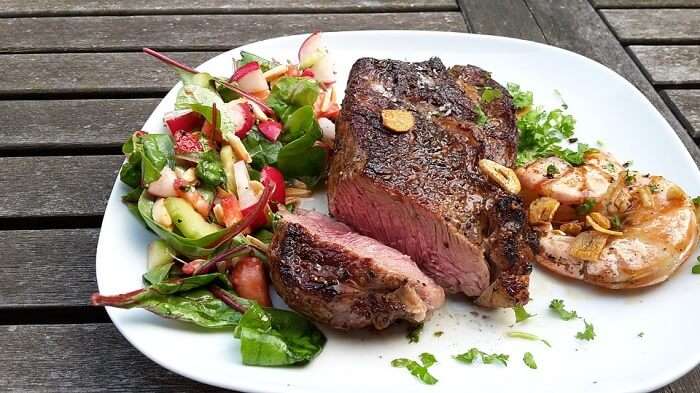 Presenting steaks and barbecues from a wide range of varied cuts, Fuamo Steakhouse is a meat eater's treat with filet, T-bone steak, and rib-eye, all on offer beside the variety of the burger menu. With all the meat cooked in-house, cuts are marinated deliberately to suit every guest's preferences and are broiled to ensure the most extreme volume of juices to remain inside the meat.
Every Saturday you can additionally enjoy live music here, the scene is a social, and fun experience.
Must Try: Steaks, starters, desserts
Location: Αθηνών avenue, Cyprus 14, Larnaca 6022, Cyprus
Cuisines: Steaks
Google Rating: 4.2/5
Website
Suggested Read: Scuba Diving In Cyprus: 10 Best Places To Dive That Will Make Your Heart Skip A Beat
10. Artisan's Burger Bar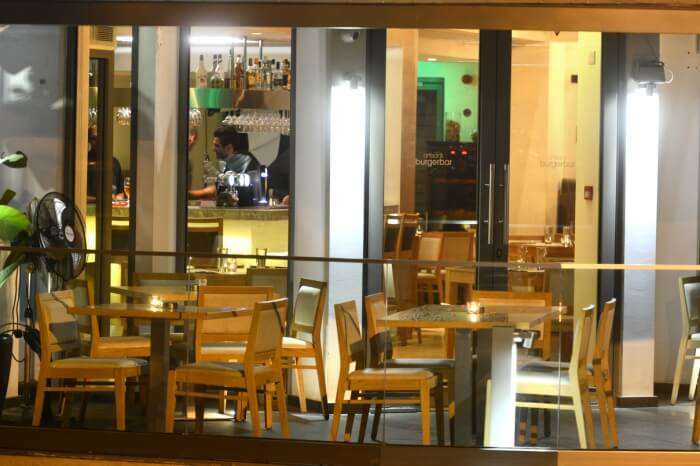 Burgers have at no other time been related to the fine dining or high-class charge. However, Artisan's Burger Bar plans to switch that propaganda with its chic, sleek eatery that wouldn't look strange in a flourishing city, for example, Paris or London. This eatery is situated in the causal zone of inland Cyprus.
A state-of-the-art way to deal with the preparation of the small burger includes ingredients like melted blue cheese or figs that show up along the menu of progressively standard sauces that have traditionally asserted some authority in burger bars worldwide.
Must Try: Burgers, beef, fries
Location: Stasandrou 20, Nicosia 1060, Cyprus
Cuisines: American, vegetarian
Google Rating: 4.3/5
Website
11. La Maison Fleurie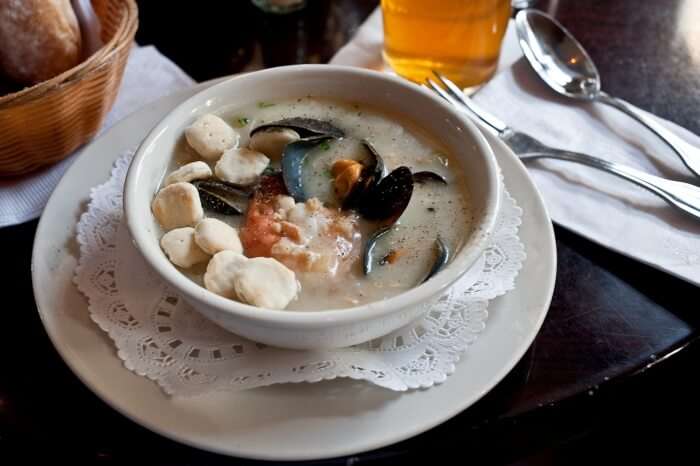 This tremendous French eatery has been portrayed by some as a tad of France in Cyprus. There is a genuinely French environment spot when you venture through the entryways, and it will give a feel like you are at the center of Paris encompassed by great French cuisine, that perfectly speaks of French food.
In case that you are thinking to visit the La Maison Fleurie, the scallops with wild mushrooms and the lobster soup are a must to relish here!
Must Try: Oyster, duck, lobster soup
Location: Christaki Kranou 18, Limassol, Cyprus
Cuisines: French, European
Google Rating: 4.5/5
Facebook Page
Suggested Read: 10 Amazing Villas In Cyprus For A Home-Like Stay In The Beautiful Country
12. Pyxida Fish Tavern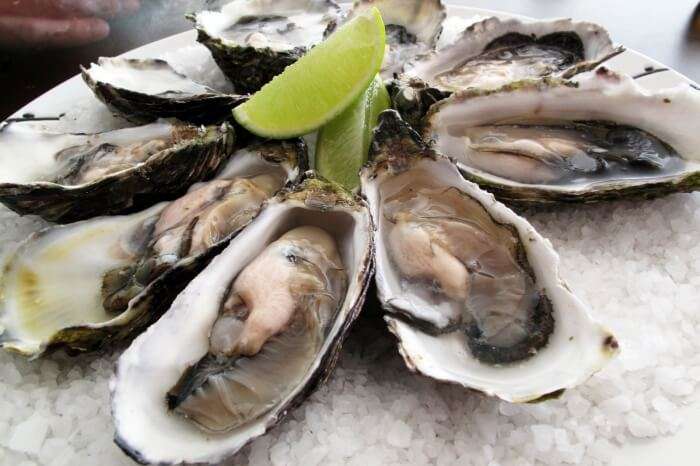 Perceived as the best fish specialty eatery in central Nicosia, Pyxida is convenient for lunch. You can find here non-farmed or frozen scaly fish, for example, sea bass or a fish mezé that's served with perfect style. This location is a change over the 1930s house. Continuously busy, even the economic atmosphere and genuinely high costs have not even dithered its success all thanks to the delectable food on offer here.
Must Try: Oyster, sushi
Location: Menandrou 5, Nicosia, Cyprus
Cuisines: Seafood, European
Google Rating: 4.5/5
Website
13. Stou Roushia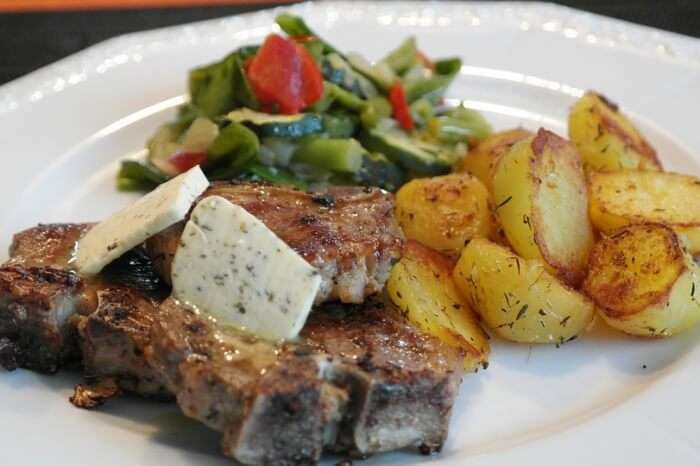 Stou Roushia is one of the first and also amongst the best-priced Cyprus restaurants in the city. Their menu offers a couple of starters like Cypriot ravióli loaded with haloúmi cheddar, liver(meat or chicken) a cooked dish of the day, pulse-based soups, and quality barbecued foods like sheftaliá.
It's not very reasonable but the servings are liberal, so worth the penny. Pick to sit between the charming wood-and-stone styled interior or shaded open-air tables on the adjoining path.
Must Try: Lamb chops, ravioli, sheftalia
Location: Nikoláou Laníti 26, old Larnaca
Cuisines: Mediterranean, Greek, Vegetarian, Vegan
Google Rating: 4.1/5
Further Read: Greek Island Cruises: 11 Cruises To Explore Greece On Waters
Eager to visit these Cyprus restaurants yet? Plan your trip with TravelTriangle and enjoy the scintillating and appetizing food in this Middle Eastern country. Also, do not forget to share it with your friends. Know of more delightful places in Cyprus? Share with us in the comments below.
---
Looking To Book An International Holiday?
Book memorable holidays on TravelTriangle with 650+ verified travel agents for 65+ domestic and international destinations.
---
Comments
comments