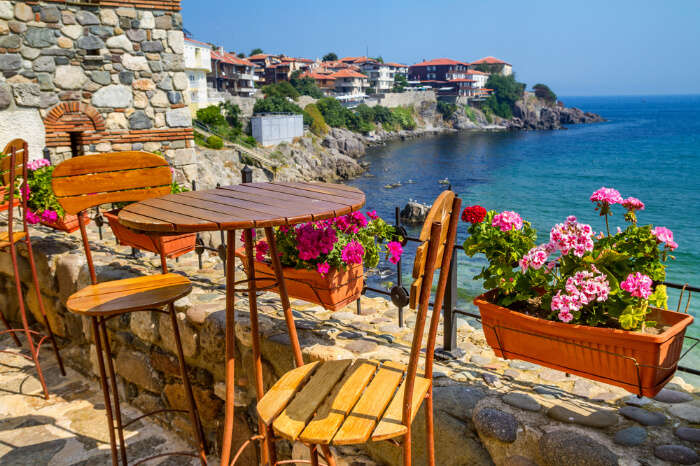 An eclectic mix of Mediterranean cooking, the marriage of spices, and the Maltese cuisine is a result of a long term blending of the islands and the rich civilisations that lived and prospered in them. Whether it is the Lampuki pie (fish pie) or the Gbejna (sheep or goat cheese), the streets of Malta offer a wide range of delicacies, vibrant colours, warmth and is a general thrill for foodies. And therefore, exploring the restaurants in Malta is like a ritual you cannot afford to miss, if you are a true traveler.
11 Best Restaurants In Malta
If you are in Malta, Italy and wish to relish some of its culinary delights, we have curated a list to help you find the best places. Here are the top 11 places we recommend for you to treat yourself to!
1. Giannini Restaurant
Situated above the St Michaels bastions with views of Manoel Island, this is the perfect place for a great culinary experience. Casual and discreet atmosphere, with delightful ambience and food that is to die for! Fusions of flavours and colours with bewildering dishes whether it be the hot, saucy pastas or the freshly made fish that gives you the entire wow factor.
Location: 23 Windmill Street, Valletta City
Cuisines: Italian, Asian, Mediterranean
Contact: +356 21237121
2. One Portomaso
A complete state of art dining experience awaits you. It provides you with an exclusive feel, classy interiors and stylishly delicious food. With a wide range of recipes that will give you the full circle experience of flavours and aesthetics, this place has the unique concept of it being home to a 'crudo' and stir fry sections with live cooking. With a wonderful outdoor and indoor experience, wafting smells of freshly made hot straight out of the pan eatables and the feel of a perfect night is what awaits you here.
Location: Portomaso Business Tower, St Julian's
Cuisines: Italian, Mediterranean
Contact: +356 2137 1238
Must Read: 6 Museums In Italy Across 6 Cities. Which One Will You Choose For Your European Adventure?
3. Barracuda Restaurant
one of the longest running consist top quality food provider, this place is full of character and light. The seafood will blow you away and pair it with their all time classic deserts and you're ready to go. Located in a prime up market area on the popular St Julian's sea front, housed in one of the most picturesque historic buildings, this place also gives you benevolent and top notch service with the tastiest menus around and a magnificent meal primarily involving the octopus carpaccio for appetizer, linguine tossed with sea urchins for starters and a whole fresh cooked lobster for mains.
Location: 194/5 Main Street St Julian's
Cuisines: Mediterranean (Primarily Seafood)
Contact: +356 21331817
Suggested Read: 6 Venice Restaurants For Finger Lickin' Good Food In The City
4. Zest Restaurant
A top eastern menu dining with wondrous twists in the menu. Splendid decor and the kindest service accompanied by extraordinary cooking styles and spices with a hint of culinary journeys through Thailand, Japan, Malaysia and the Mediterranean. From sushi to French lamb sous vide! From open wine cellars to a live cooking sushi bar followed by wonderful music and dim lighting, this place has it all in it to feed your stomachs and win your hearts.
Location: Hotel Juliani, 25 St George's roads, St Julian's
Cuisines: Mediterranean, Thai, Sushi
Contact: +356 2138760
Suggested Read: Shopping In Czech Republic: For Adding More Charm To Your Wardrobe With A European Touch
---
5. Piccolo Padre
Casual and classy all at once, this eatery gives you a delightful combination of your favourite food. Right on the terrace perched over the picturesque bay, giving you the perfect summer breeze with the mild taste of sea salt, rustic and charming interiors and taste bud exploding grills, pastas and pizzas.
Location: 194/5 Main Street, St Julian's
Cuisines: Italian, Mediterranean
Contact: +356 2134 4875
6. Da Marina Restaurant
Dining al fresco on its large patio with a smoothing and refreshing evening sea breeze, casual and cheery atmosphere and wonderful recipes of dishes that only upon hearing will make your stomach crave cultures and flavours within no time. Part of the five star hotel Corinthia Hotel on St George's bay, it has impeccable taste when it comes to ambience, service and the general vibe. One place you must try out. This is one of the best restaurants in Malta with a view.
Location: Corinthia Hotel, St George's bay, St Julian's
Cuisines: Italian, Asia, Mediterranean
Contact: +356 2370 2826
Suggested Read: 35 Best Places To Spend Christmas In Europe 2022: Where Festivities Breathe Magic Into The Air!
7. Ta`Cassia
A tiny family-run restaurant offering a classic consistent good selection of meats and fresh fish. With a certain kind of homely appeal, this place will make you feel warm and cozy in no time, with service that will never make you want to leave and what better than an old style farmhouse with a lovely garden to dine in. Trust me, if you wish to treat your family and yourself to a splendid evening of feasting and feeling, this place is it.
Location: Triq-il-Kakatakombi, Salina, Malta
Cuisines: Seafood, Mediterranean
Contact: +356 21571435
8. La Stanza Bar & Restaurant
This beautiful place is run by an amiable couple, Stephan and Melissa, who welcome people with open arms. It specializes in Mediterranean food with a heavy Italian influence. A well-rounded menu for all moods and exquisite dishes for all tastes is the specialty of this restaurant. Located within a centuries-old building which highly compliments the distinctive character and food of the extraordinaire that is this place! Its food is finger licking good and before you know it, you'll be back. This is one of the best restaurants in Malta for lunch.
Location: 56, Triq I imghallem, Victoria- Rabat, Gozo-Ghawdex
Cuisines: Mediterranean, Italian
Contact: +356 2155 8047
Suggested Read: 10 Cafes In Prague: Enjoy Croissants, Sausages And More In A Perfect European Fare
9. Rampila
Historical fortifications of the capital city as its foundation, a remarkable location and atmosphere and a mix of Maltese and Mediterranean cuisines served with a creative twist appealing to the eye and the appetite. Wonderful cooking, underground vaults, soulful music and soft lighting, just writing about this place makes me want to go there. And I'm sure once I'm in, I'm never leaving.
Location: 1, St Jones cavalier, Valletta City
Cuisines: Maltese, Mediterranean
Contacts: +356 21226625
10. Cuba-Bistro,Pizzeria & Cafe
Want a quick bite with an upbeat atmosphere? Craving some classic Cuban food capturing its contagious and energetic aura? Also want something soothing to the eye, catering to the aesthetics? If yes, you've come to the right place then. It is perfect for a first date, a family lunch or even a business meeting. Injecting high spirits and good vibes everywhere and anywhere, with its original Neapolitan pizza being one to die for! (Tip:Eat it!)
Location: The Strand, Sliema
Cuisines: Italian, Cuban, Mediterranean
Contact: +356 20101313
11. French Affaire
A stylish cafe that occupies a tight spot at Pjazza Tigne with its gorgeous and artistic ambiance associated with Paris of yesteryear. Whether it's for a quick bite of a laid back drink with friends, whether you're on a romantic spree or whether you just had a sudden craving for the sweet miracle of deserts. This cozy, dim light place and food that is impeccable looking with mouthwatering dishes. All you'll take away from here is romance, happiness, a happy heart, a fully satisfied appetite and also your parcel (Yes they do offer takeaways)
Location: Pjazza, Tigne point, Silema
Cuisines: French, Italian
Contact: +356 79629262
Further Read: 10 Churches In Netherlands Which Offer A Glimpse Of The Ancient Structures Of Europe!
Plan a trip to Europe and head to Malta, to step out for a grand dining experience with a universe of cultures, delicacies, hues and flavours imploding inside your mouth, blowing your mind. Beautiful locations, classy ambiences and a complete positive atmosphere, a journey through various time zones and time periods, only to present to you the best of the best. Bewildering and creative feasts await you so take you chance while you have it. So dig in and Dig deep. Happy feasting!
---
Looking To Book An International Holiday?
Book memorable holidays on TravelTriangle with 650+ verified travel agents for 65+ domestic and international destinations.
---