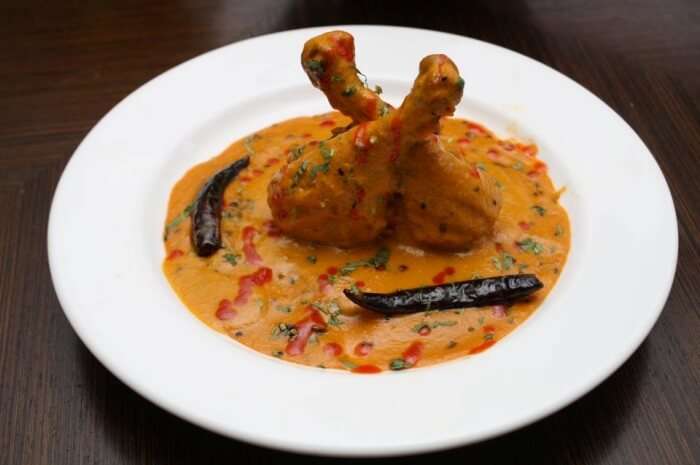 A major port city in Karnataka, Mangalore manages to attract a decent amount of tourists. There may not be a lot do here, but there is one thing you should definitely do for sure and that is trying out Mangalorean cuisine. The restaurants in Mangalore will offer you just a brilliant opportunity. From seafood to vegetarian, typical South Indian to Continental, you will find a variety of places where foodies can experience cuisines and flavors of all kinds. If you too happen to be in the coastal town, get your lunch and dinner scenes sorted at these restaurants in Mangalore.
10 Restaurants In Mangalore
Looking for fine-dining places in the city? Here are a few excellent options for restaurants in Mangalore where you can enjoy sumptuous Mangalorean cuisine and more.
1. Machali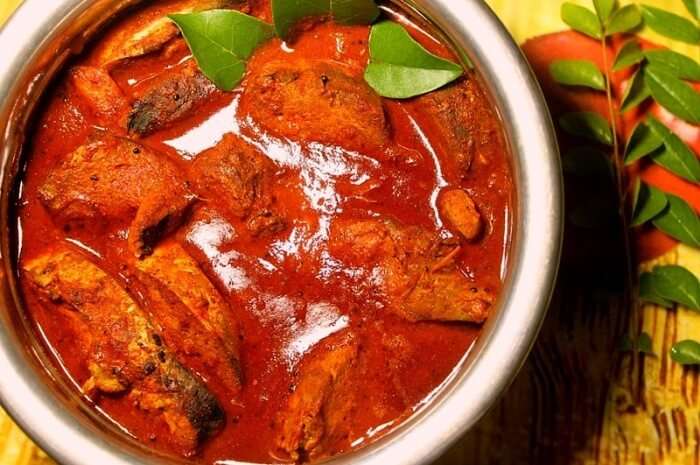 Do you love seafood? If yes, then you should head to Machali. It is one of the most popular restaurants in Mangalore where you can taste free delectable seafood and the authentic taste of Karnataka. It is so famous that you may have to wait in line to get a table and it is all worth it. The fish curry and rice combination prepared in pure desi ghee is really appetizing and full of flavors. The hotel is small and the staff limited but you know how they say good things come in small packages.
Address: Behind Ocean Pearl, Sharada Vidyalaya Rd, Kodailbail, Mangaluru, Karnataka 575003
Timings: 11:30 AM to 3:30 PM; 7:00 PM to 10:00 PM
Must Read: 5 Museums In Mangalore That Are A Must-Visit For Witnessing Mind-Boggling Curios
2. Pallkhi Restaurant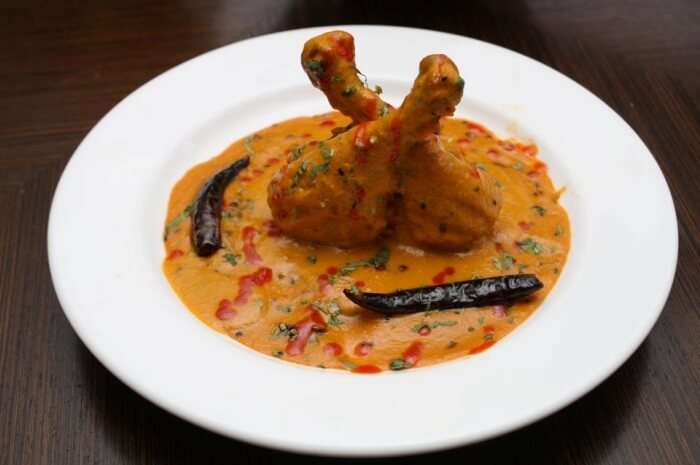 Another one of the famous restaurants in Mangalore is Pallkhi restaurant. It is a traditional Indian restaurant where you will have a rendezvous with authentic Indian cuisine and its flavors. Eve the interiors and decor will give you the same feels. The ambiance of this place is amazing and the staff is also courteous. The restaurant provides you options of alfresco dining and hall dining. The award-winning restaurant serves multi-cuisine food. This place is two decades old. So, you can judge its popularity from its long-running success.
Address: 3rd Floor, Tej Towers Balmatta Road, Opp. Jyothi Cinema, Next to KMC, Mangaluru, Karnataka 575001
Timings: 11:30 AM to 3:30 PM; 7:00 PM to 11:30 PM
Suggested Read: 10 Awesome Resorts In Mangalore To Experience The Coasts And The Forests
3. Sagar Ratna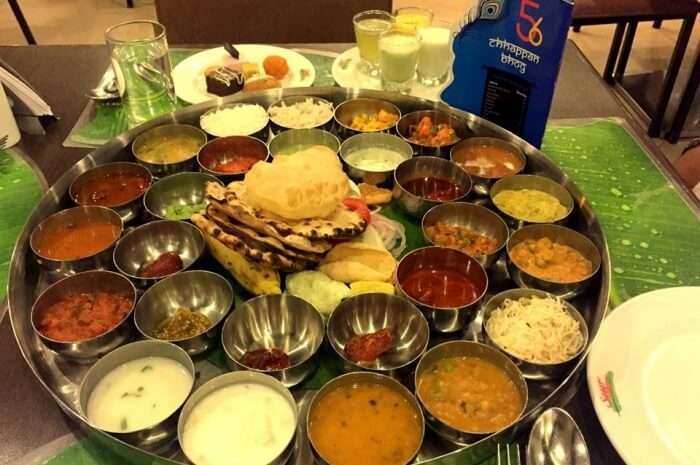 If you are a hardcore vegetarian, let Sagar Ratna come to your rescue. A popular food chain, it is one of the famous restaurants in Mangalore. This is one place where vegetarians will have a variety of things to choose from. Try the Paneer Ghee Roast and other delectable dishes from the menu. The portions are generous and prices are reasonable too. Apart from that, the ambiance of the restaurant is also amazing. The place is always fully booked. So, you better make your reservations in advance.
Address: Opp. Passport Office, The Ocean Pearl, KS Rao Road, Navabharth Circle, Kodailbail, Mangaluru, Karnataka 575003
Timings: 7:00 AM to 11:00 PM
Suggested Read: Top 16 Things To Do In Mangalore That Lets You Soak The Goodness Of This Port City!
4. Kudla Family Restaurant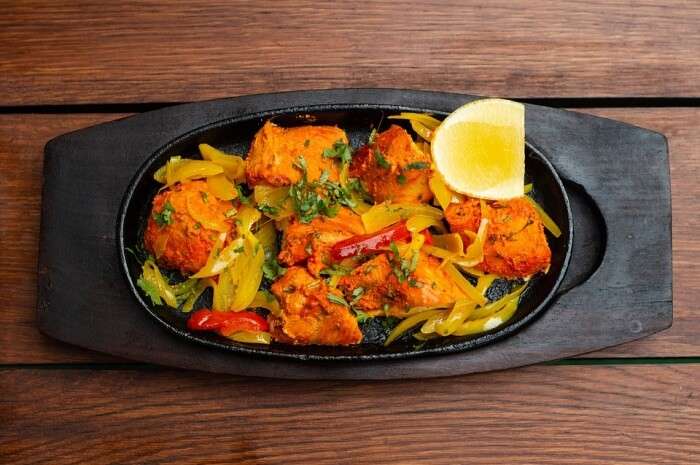 As the name indicates, this place is one of the family-friendly restaurants in Mangalore where family groups can enjoy a fine-dining experience. It is the best place in town to try the typical Mangalorean food on your trip. The restaurant has a variety of vegetarian and non-vegetarian dishes on the menu and all of them are delectable and mouth-watering. The warm, cozy, and comfortable ambiance make it one of the best places to enjoy dinner.
Address: Sharavathi Building, Jyothi Circle, Balmatta Rd, Hampankatta, Mangaluru, Karnataka 575001
Timings: 11:30 AM to 3:15 PM, 6:30 PM to 11:00 PM
Suggested Read: 23 Mesmerising Places To Visit In Mangalore For A Peaceful Sojourn
5. Sizzler Ranch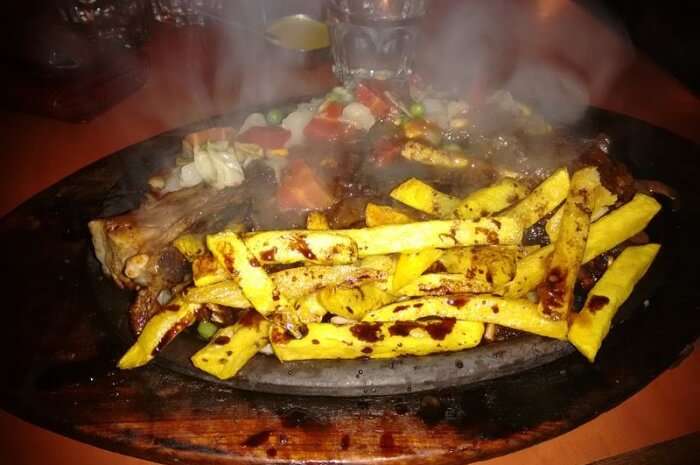 If you thought Mangalore food scene is all about traditional food, then let this place prove you wrong. Sizzler Ranch is where you can enjoy hot sizzling western cuisine. The place has a variety of inauthentic sizzlers to choose from. You cannot leave this place out if you totally love sizzlers. Both staff and service are excellent. It is a nice place to bring your family for an evening out. It is an exclusive sizzler outlet in Mangalore and highly recommended too.
Address: Ground Floor, Beatle Apartment, Nehru Ave Rd, Lalbagh, Mangaluru, Karnataka 575003
Timings: 12:00 PM to 3:30 PM; 6:30 PM to 10:30 PM
Suggested Read: 15 Hill Stations Near Mangalore That Are Too Good To Miss
6. Thyme Family Restaurant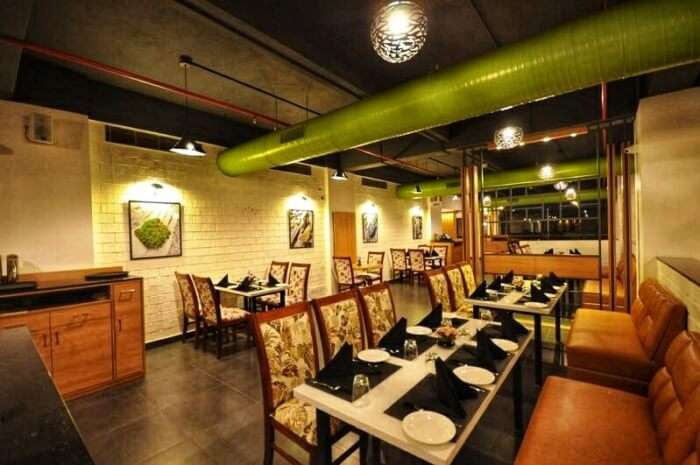 Thyme Family Restaurant is one of the highly acclaimed restaurants in Mangalore where you can look forward to having a great time with your family and loved ones. It is a multi-cuisine restaurant located inside Bharath Mall where you have a lot of variety to choose from. You have got Chinese, Indian, Continental, and Fusion. The ambiance of the place is cozy and inviting, the staff is attentive and hospitable too. The food is delicious and preparation is enticing too. You are going to enjoy having dinner here with your family or friends.
Address: 4th Floor, Bharath Mall, Bejai Road, Opp KSRTC Bus Stand, Mangaluru, Karnataka 575004
Timings: 11:30 AM to 3:15 PM, 7:30 PM to 11:00 PM
Suggested Read: 6 Best Adventure Sports In Mangalore Which Will Definitely Lift Your Spirits Up
7. Giri Manja's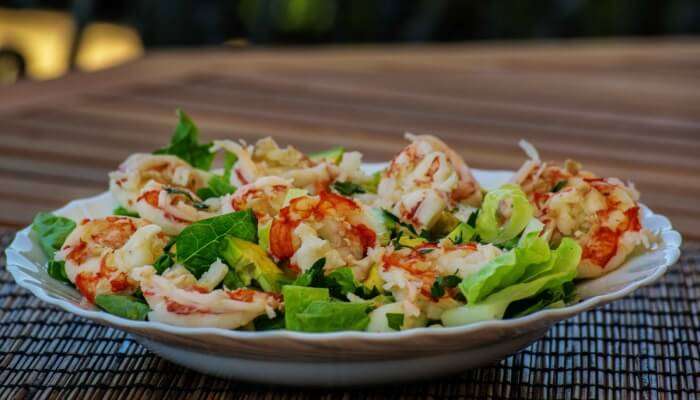 Image Credit: Dana Tentis for Pxhere
Seafood is available in most of the restaurants of the city but Giri Manja's can be considered as the best seafood restaurant in Mangalore. This is an old house that has been transformed into a restaurant serving some of the most delicious dishes. However, the ambience is still very homely. So when looking for the best options in seafood, do come to this one.
Address: Bhavathi, Bunder Mangalore, Karnataka, 575001, India
Timings: 11:30 AM to 3:30 PM
Suggested Read: 7 Road Trips From Mangalore That Will Give You Wings And Promise An Exciting Time
8. Maharaja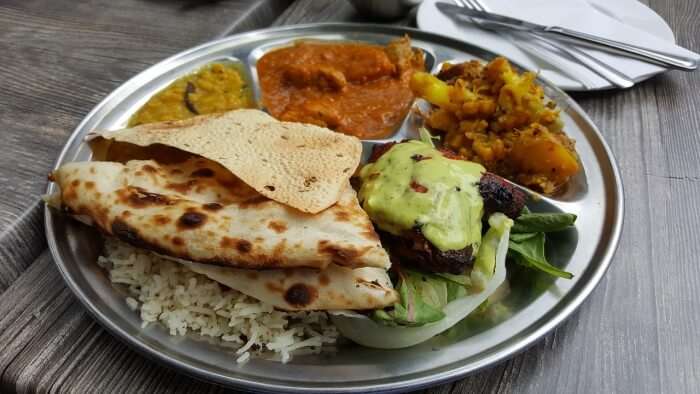 Image Credit: TravelAdvisor for Needpix.com
This is one of the best family restaurants in Mangalore that is quite affordable as well. This restaurant also has an outdoor seating arrangement where everyone can have a great time dining. The restaurant is also admired for quick service and hospitable staff. Moreover, you'll get some of the most lip-smacking options in North Indian cuisine here. When looking for some of the best cheap restaurants in Mangalore.
Address: Bunts Hostel Road, Hampankatta Mangalore, Karnataka, 575003, India
Timings: 11:30 AM to 3:00 PM; 6:30 PM to 11:00 PM
Suggested Read: Picnic Spots Near Mangalore: 7 Relaxing Spaces Of Beaches, Forts, Parks & More!
9. Gajalee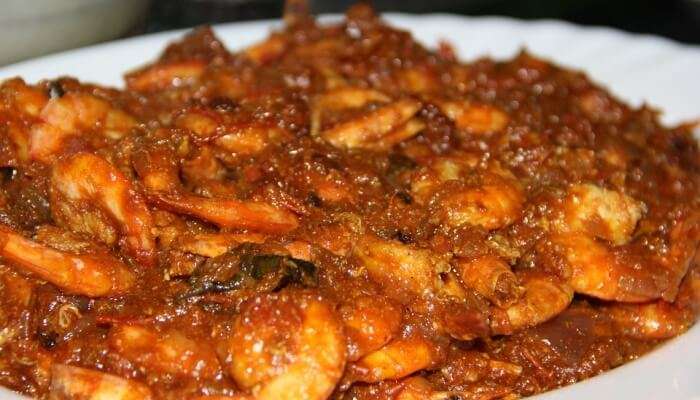 Image Credit: Thacreations for Pixabay
Not only is this restaurant popular in Mangalore, it also holds a prominent position in the entire country. Located atop a hill, Gajalee is one of the best restaurants in Mangalore. This once used to be a circuit house during the colonial era. The ambience is quite endearing with French style widows and white walls.
Address: Circuit House Compound Kadri Hills Vasanth Vihar, Kadri Mangaluru, Karnataka 575004
Timings: 10:30 AM to 3:00 PM; 6:30 PM to 11:00 PM
Suggested Read: 5 Remarkable Cottages In Mangalore For A Luxurious Staycation
10. Hotel Narayana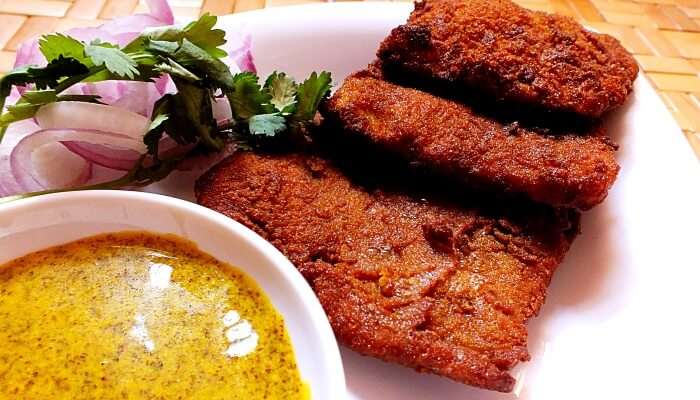 Image Credit: Riya Chattopadhyay for Wikimedia Commons
It is one of the most visited restaurants that serves delicious food. This dainty restaurant is essentially known for its fish fry. Located close to the old port, Hotel Narayana was initially opened for those working at the port but became quite popular throughout the city and now is one of the best restaurants in Mangalore
Address: Mukhyaprana Temple Road, Bunder Mangalore, Karnataka, 575001, India
Timings: 12:00 PM to 3:30 PM; 7:00 PM to 9:30 PM
Further Read: 15 Best Romantic Places In Mangalore For A Perfectly Rejuvenating Vacation
There is no dearth of restaurants in Mangalore. It turns out that people who live here are big-time foodies. If you are planning a trip to Karnataka and have plans of visiting Mangalore too, then food is one thing you need not worry about. These famous food joints have got your back.
Frequently Asked Questions About Restaurants In Mangalore
What food is Mangalore famous for?
Fish is the staple diet of almost all locals in Mangalore. Different fish curries served with rice is the most famous food item in Mangalore. Other popular dishes that you can try are Sanna-Dukra Maas, Pork Bafat, the Mutton Biryani, and Sorpotel.
What can I buy in Mangalore?
While you are shopping in Mangalore, you can buy ayurvedic medicines, spices, jewelry, cashews, nuts, and seafood. Some of the popular markets where you can shop are Central Market, Seafood Market, Badangupet Market, and Hampankatta Market.
Which are the best places to visit in Mangalore?
From serene beaches to pristine temples, Mangalore is home to a plethora of stunning tourist attractions. Some of the places to visit in Mangalore that you cannot miss out on your vacation are Panambur Beach, Kudroli Gokarnath Temple, New Mangalore Port, Kateel Shri Durga Parameshwari Temple, and Someshwara Beach.
Which sweet is famous in Mangalore?
Chiroti is the most famous sweet dish in Mangalore and all dessert lovers must give it a try on their vacation.
What is the specialty of Mangalore?
Mangalore has a lot of delicious specialties that all foodies must try on their food spree. Some of the best snacks and dishes are Chicken ghee roast, patrode, Bangude Pulimunchi, uppu munchi, Neer dosa, puli kodel, and Kadubu.
How safe is Mangalore?
Mangalore is one of the most frequented cities in Karnataka Mangalore is one of the safest cities to visit in India and so it attracts a lot of tourists every year. All you need to take care of is your belongings and try avoiding dark places at night.
What is the old name of Mangalore?
Mangalore is known as Kodiyal in Konkani and in Malayam it is referred to as Mangalapuram. In 2014, the government of Karnataka changed the name of this city to Mangaluru.

People Also Read
Restaurants In Bangalore Romantic Restaurants In Mysore Restaurants In Thekkady
---
Looking To Book An International Holiday?
Book memorable holidays on TravelTriangle with 650+ verified travel agents for 65+ domestic and international destinations.
---