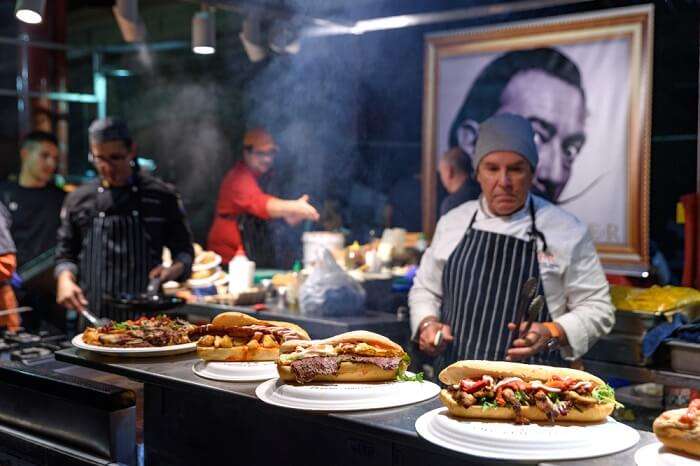 With the Pacific Ocean and the Coral Sea lying to the east of Queensland, the state not only has a coastline that extends to 7000 kilometers, it is also home to some of the most diverse array of plant and animal species that are native only to Australia and can't be found anywhere else in the entire world. This Australian state is the third most populous and second largest state in the entire country and welcomes lots of tourists each year. One major attraction here is the food. Australian cuisine includes a mix of Western-inspired and indigenous dishes. Here are some of the best Restaurants in Queensland
12 Best Restaurants In Queensland
Some of the dishes that are part of the Australian cuisine are Emu, Anzac biscuits, Wicthetty grubs, Weet-Bix, Pea and Ham Soup, Lamb Leg Roast, Salt and Pepper Calamari, Lamington cake, Damper, Macadamia Nuts, John Dory fillets, Pavlova, Barbecued Snags, Balmain Bugs, and so on. There are many restaurants in Queensland that serve these dishes and much more. Listed below are some of these extravagant joints that you must visit.
1. Rick Shores
This chic establishment is known for its Asian flavors. So much so that it was even rewarded by The Australian's Hot 50 Restaurant Awards in 2016 as "One of the most likable restaurants to open anywhere in the past 12 months in Australia". It offers an exquisite view of the beach and balances it with soft interior décor and some polished wooden furniture.
Specialties: King Prawn Yellow Curry, Lamb Belly Bao, Ricks fried bug roll, Sriracha and Lettuce, Ocean Trout Tartare, Fried Egg Mayo with Kimchi Peas
Address: 3/43 Goodwin Terrace, Burleigh Heads QLD 4220, Australia
Google Rating: 4.3/5 | Trip Advisor Rating: 4.5/5
Must Read: 10 Most Iconic Places Near Australia That'll Leave You Absolutely Spellbound
2. Stokehouse Q
This is a high-end establishment with a splendid view of the river and filled with a refreshing breeze to complement the feast their seafood specialties offer for your palate. The service is impeccable and the staff is friendly. It's a perfect place to spend with a partner for an exquisite evening meal and an extravagant view of the capital city. Check this place out on your trip to Queensland.
Specialties: Romesco sauce, Dried Lime XO, Green Tomato, Fremantle Octopus, Tofu, Saltbush Dumpling, Charred Onion Dressing, Seaweed Dashi, Lemon Myrtle, Pineapple, Macadamia, Eucalyptus Caramel, Lime Semifreddo
Address: Sidon St, South Brisbane QLD 4101, Australia
Google Rating: 4.4/5 | Trip Advisor Rating: 4/5
3. Nu Nu
The head chef of this elegant joint is Nick Holloway who offers some of the best Tropical North Queensland flavors. It is set in a lush neighborhood in Palm Cove and has splendid views of the beaches along the Coral Sea out its window. Have an amazing meal here with the most splendid views of the city. Their ginger broth is a must try along with Jasmine rice.
Specialties: Ginger Broth, Market Greens, Chilli Tamarind, Cinnamon Roast Victorian Lamb with oil and seed, leaf, pumpkin custard, branch, and caramelized yogurt, Wok Fried North Queensland Mud Crab, Jasmine Rice, Sweet Pork
Address: 1 Veivers Rd, Palm Cove QLD 4879, Australia
Google Rating: 4.3/5 | Trip Advisor Rating: 4/5
Suggested Read: Shopping In Queensland: 10 Best Places To Splurge & Treat The Shopaholic Within
4. The Fish House
A posh and exquisite eatery, Fish House is a perfect place for a romantic evening with the partner for its glorious view of the beach and the city building embellishing its windows. Subsequently, the ambiance is rather cozy and the staff is well trained and will leave you with no room for complaint. They are known for their delectable seafood and comprehensive wine selections. It has been given two awards at the Queensland Good Food Guide in 2018. The best choice on the menu is the Chef's Selection that costs around $110.
Specialties: Patagonian Fishtooth, Lemony Fish Soup, Sydney Rock Oysters, Red Claw Yabby Risotto
Address: 50 Goodwin Terrace, Burleigh Heads QLD 4220, Australia
Google Rating: 4.4/5 | Trip Advisor Rating: 4.5/5
5. Ochre Restaurant
A gorgeous beachfront vista, a staff that offers extravagant service, Australian native food with the most authentic flavors, and an ambiance that will force one to come back for more, the Ochre Restaurant is one of the most sumptuous establishments in Cairns Harbour Lights. The Marina offers a perfect view for one to enjoy the native food with family and friends.
Specialties: Scallops, Pork Belly, Davidson and Kakadu Plums, Red Claw Lobster, Roo Wallaby, Green Ant Gravalax, Seafood Platter, Crocodile, Barramundi with Soba Noodles, Riberry Mayo
Address: 1 Marlin Parade, Cairns City QLD 4870, Australia
Google Rating: 4.2/5 | Trip Advisor Rating: 4.5/5
6. Coast Restaurant & Bar
The food at this eatery is made with utmost precision and freshest ingredients. According to their own admission, "If love was edible, this is what it would taste like." The staff and service are excellent. The warm interior décor provides a soothing atmosphere. The beachfront view also offers a great view. Watch out for whales because you might just get lucky. Hervey Bay, after all, is known for being frequented by Humpback whales.
Specialties: Scallops, Pork Bun, Octopus, Lamb Shoulder, Asparagus with Beans, Korean Chicken, Hay Market Smoked Fish, Beef Ribs, Prawns
Address: 469 Charlton Esplanade, Torquay QLD 4655, Australia
Google Rating: 4.4/5 | Trip Advisor Rating: 4.5/5
Suggested Read: 10 Best Queensland Theme Parks For A Funtastic Day Out With Your Loved Ones!
7. The Long Apron Restaurant
The Long Apron Restaurant offers one of the finest dining experiences. This chic and modern establishment is perfect for romantic dinners. The kitchen prepares their dishes with fresh ingredients and also caters to specific dietary requirements. Nothing more can be suggestive of a staff that is accommodating of their customers' every need. They also provide with great service. It is a Chef Hatted joint that is quite popular among locals.
Specialties: Suckling Pig, Sashimi, the entire Tasting Menu
Address: 68 Balmoral Rd, Montville QLD 4560, Australia
Google Rating: 4.2/5 | Trip Advisor Rating: 4.5/5
8. Nautilus Restaurant
An upscale eatery, Nautilus Restaurant comes equipped with tasting as well as à la carte menus and a cozy outdoor setting where you can enjoy a meal as well. This is one of the most exquisite restaurants in the Tropical North. Locals frequent it for its fine dining experience and sumptuous dishes. The ambiance is rather tranquil and comforting, service is just amazing and the menu not only offers a wide range of Australian dishes but also various vegan and vegetarian choices as well.
Specialties: Twice Cooked Pork Belly & Seared Scallops, Pan-Roasted Duck Breast, Sugar cane cured Barramundi, Daintree Curry,
Address: 17 Murphy St, Port Douglas QLD 4877, Australia
Google Rating: 4.3/5 | Trip Advisor Rating: 4.5/5
Suggested Read: 17 Things To Do In Queensland That Will Add Excitement To Your Trip
9. A Touch of Salt
A Touch of Salt offers some great Australian cuisines as well as vegan and vegetarian choices. The eatery has a very relaxed atmosphere and an outdoor setting as well. It is a great place for family and friends as the staff will cater to your every need, leaving you no room for complaint and ensuring that you leave with a smile on your face eager to come back again whenever you are visiting Queensland next.
Specialties: Harissa Lamb, Confit Ocean Trout, Miso Roasted Pork Belly, Goats Cheese Gnocchi, Garfish Schnitty, Slow Roasted Ox Cheek, Seared Octopus
Address: 86-124 Ogden St, Townsville City QLD 4810, Australia
Google Rating: 4.7/5 | Trip Advisor Rating: 4.5/5
10. Gerard's Bistro
Gerard's Bistro has a couple of awards to its name from the Queensland Good Food Guide in 2017 and 2018. The dishes you will come across in the menu take inspiration from cuisines all over the world such as Northern Africa, Europe and the countries in the Middle East. The head chef is very friendly and his culinary skills were developed on his travels around the world. The staff is great, the ambiance exquisite and what more could you need for a wholesome dining experience.
Specialties: Smoked Lamb Sweetbreads, Suckling Pig, Noosa Spanner Crab and Watermelon, Piquillo Pepper and Rosewater, Fossilised Pear
Address: 14/15 James St, Fortitude Valley QLD 4006, Australia
Google Rating: 4.5/5 | Trip Advisor Rating: 4.5/5
Suggested Read: 10 Best Queensland Villas That Are Perfect For Your Holiday
11. Otto Ristorante
If you are looking for Italian restaurants in Queensland then Otto Ristorante is popular for its Italian cuisines and is located right neat the Brisbane River. It's chic interiors and sumptuous homemade pasta attracts a lot of locals as well. The staff is really friendly. All in all when you feel like eating Italian in Brisbane, head over to Otto. Do try their homemade pasta as it is one of the tastiest plates of pasta you'll taste.
Specialties: Gnocchi with Gremolata and Braised Rabbit, Prosciutto e Fichi, Homemade Pasta, Fritto Misto
Address: 4/480 Queen St, Brisbane City QLD 4000, Australia
Google Rating: 4.4/5 | Trip Advisor Rating: 4.5/5
12. Gauge
This chic joint has won the 'Restaurant of the Year' at the Queensland Good Food Guide in 2017. People often frequent Gauge for a sumptuous brunch. Its sleek ambiance and modern furnishing giving it warm interior tones for its décor go a long way in providing a wholesome dining experience. Head here for a meal on your next trip to Queensland. The Kangaroo Tartare is their specialty.
Specialties: Lamb Neck with Warrigal Greens, Kangaroo Tartare, Blood Taco, Almond Tofu with Caper Leaf and Eggplant
Address: 77 Grey St, South Brisbane QLD 4101, Australia
Google Rating: 4.2/5 | Trip Advisor Rating: 4/5
Further Read: Queensland Nightlife: 10 Scintillating Spots To Experience It's Wild And Decadent Side
There's obviously too much on your plate when it comes to trying out all these restaurants, but it is well worth in the end for your palate as well as your stomach. So much so that you might just want to come back to Queensland, primarily for its restaurants. Book your trip to Australia with TravelTriangle and have a great time exploring the food scenes here!
---
Looking To Book An International Honeymoon?
Book memorable honeymoon on TravelTriangle with 650+ verified travel agents for 65+ domestic and international destinations.
---