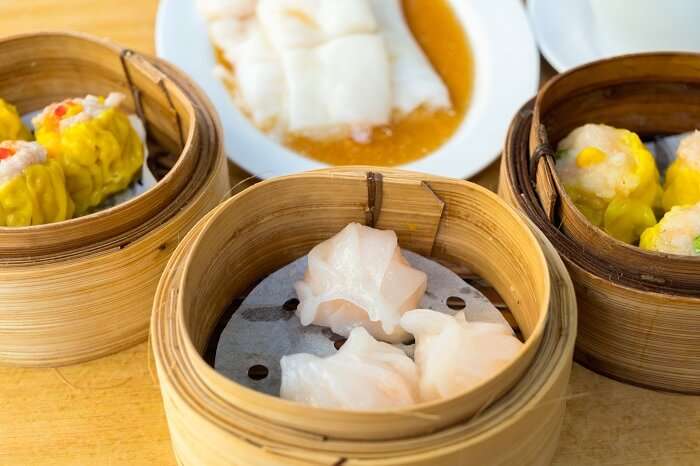 Arab Street is one of the most happening areas in Singapore. Not just a street, it is a big neighborhood including Bussorah Street, Haji, and Bali Lanes and Muscat Street. It is known as one of the most creative spaces of Singapore vibrant with youthful energy. You will find plenty of good restaurants near Arab Street if you happen to be in the neighborhood and hungry.
Masjid Sultan Mosque lies in the heart of the city and is as old as 200 years. The charming lane where the Masjid is located is lined up with restored shop houses, boutiques, and street arts. This is why it is known as the creative hub of Singapore. Enjoy shopping at Kampong Glam Heritage Trail where you will find a variety of textiles, bags, brightly colored fabrics, and hand-knitted Persian rugs. The aroma of fresh spices lingers in the air when you cross this street.
The Projector is another gem of this street that you ought not to miss. Not your usual cinema, The Projector is run independently by a dedicated team of volunteers where they run both local and international films. It is a movie experience you will not find anywhere else. If you enjoy unconventional cinema, you are going to love this place. It definitely is a must visit for all the movie buffs.
Go shopping at Soon Lee which is not your usual fashion store. If you are a woman or shopping for a woman, you will find an array of feminine collectibles in this store. The place has got clothing, books, bags, and jewelry from both, local and international, designers. It is an unconventional fashion place that offers quirky items on display. Whether you are looking for corporate, casual and fun, this place has something for everyone. The place does not run any sales though and you can find their collection on Facebook.
Restaurants Near Arab Street
Find the best restaurants, cafes, and delis in the vicinity where you can enjoy mouthwatering cuisine. Take a look at the best places to eat near Arab street.
1. Laksa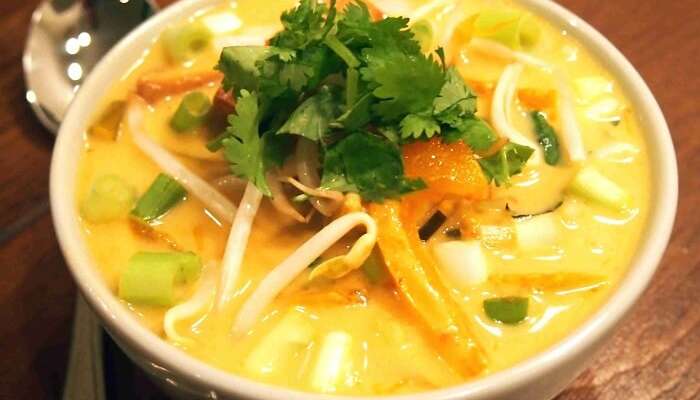 Laksa among Singapore foods, is a peculiar dish in every way, be it the taste or presentation. The laksa paste is cooked with noodles till the time, the juice enters the noodles completely, and that is why it gives you a wow experience. The spices and the aroma would not let you leave this dish till you empty the bowl. Keep it in your list of the best foods near Arab street.
Cuisine: Chinese
Where to try: YWQ Vegetarian Bistro
Cost for two: INR 550
Read More: Best Dishes Of Singapore Cuisine
2. Rang Mahal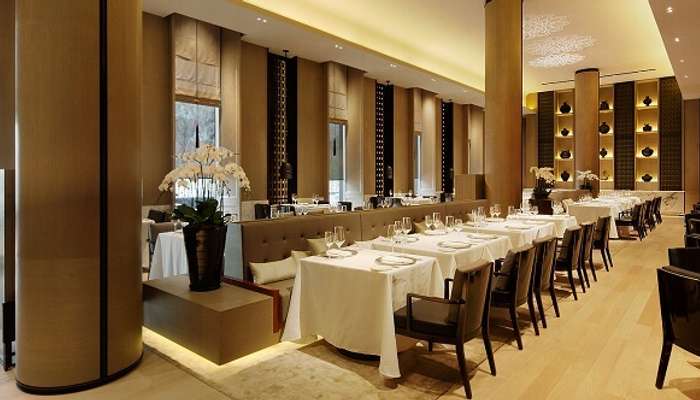 Established in 1971, Rag Mahal is one of the best fine dining Indian restaurants near Arab street Singapore. It serves Northern, Southern, & Coastal Indian cuisine and has won numerous awards for its service and culinary masterpieces.
Cuisine: Indian
Must Try: Quinoa Upma, Samarkand Prawns, & Tandoori Lobster
Cost for two: INR 2700 – INR 10000
Location: Raffles Blvd, Singapore 039595
Tripadvisor Reviews
Read More: Best Indian Restaurants In Singapore
3. Mtr Restaurant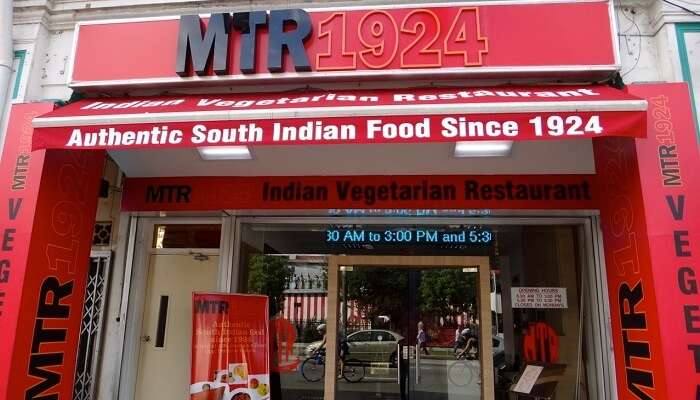 A delight for all the South Indian food lovers, MTR, despite its rather ordinary appearance, serves flavourful food that will instantly uplift your mood. Serving authentic cuisine in a foreign land is tough but MTR manages it quite easily. Do not forget to add it in your list of best restaurants near Arab street.
Cuisine: Indian
Must Try: Ravi Idli and Pudi Dosa
Cost for two: INR 1000
Location: 438 Serangoon Rd, Singapore 218133
Tripadvisor Reviews
Singapore Holiday Packages On TravelTriangle
4. Kampong Glam Cafe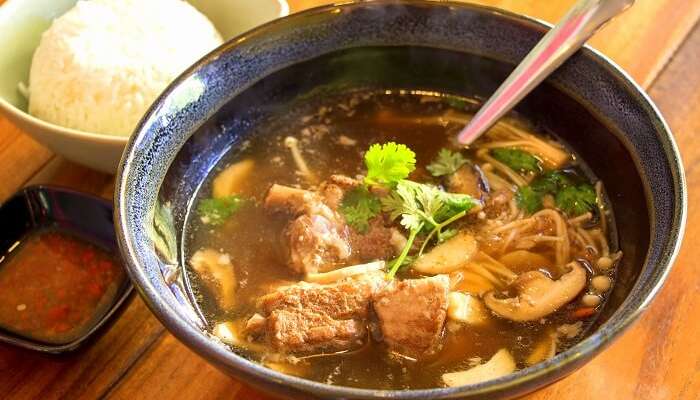 Kampong Glam Cafe is one of the must-visit places when you are in the neighborhood. This is where you can have authentic Singaporean, Malay, and Indonesian food. If you are a foodie, you won't be able to resist this place. It is an old school cafe where you can enjoy a meal under $20 Singaporean dollars. Mee Siam and Mee Badung are highly recommended dishes of this cafe. If you like spicy you are going to love this and count it in the top restaurants near Arab street.
Cuisine: Western
Must try: Mee Siam
Location: Kampong Glam Cafe, 22 Baghdad Street, Singapore Singapore
Timings: 8 AM – 2 AM daily
Tripadvisor Reviews
How To Reach Singapore
Singapore is one of the most amazing destinations you must visit once in your life. It is home to heart-throbbing experiences and picturesque places. It boasts some of the most luxurious structures and skyscrapers in the world. Some of the best places to visit in Singapore are Universal Studios, Marina Bay sands, Merlion park and more. It is a place that is suitable for family holiday, trip with friends and a honeymoon. Apart from this, it boasts a scintillating nightlife that will add to the fun.
If you are thinking how to reach Singapore, then let us tell you there are several ways to do so like airways, roadways, railways and waterways. The best way to reach the country is by air. Changi airport is the main airport into which all the international airlines fly. If you are going by road or rail, then it is well connected with the cities like Kuala Lumpur. There are several cruise lines that will take you to Singapore.
Arab Street is full of surprises for the tourists who visit this place for the first time. It is the hip and happening neighborhood where everything seems calm and peaceful yet there is a lot going around. If you are going on a holiday in Singapore, then you should check this place out. Don't forget to visit these amazing restaurants near Arab Street for an amazing culinary affair.
Frequently Asked Questions About Restaurants Near Arab Street

Q. What are the best restaurants near Arab Street in Singapore?
A. The best restaurants near Arab street in Singapore are Rang Mahal, Laksa, Kampong Glam Cafe, MTR restaurant etc.
Q. What is the best time to visit Singapore?
A. The best time to visit Singapore is from the month of February to the month of April. Though people visit Singapore all through the year but this time happens to be the dry season in Singapore and this is the time
Q. Why is the MTR restaurant so famous among Indians in Singapore?
A. MTR restaurant is really famous in Singapore as it is an Indian restaurant which has its delicacies as Ravi Idli and Puri Dosa. The people who visit this restaurant always give great feedback about the authentic taste of Indian food which is rare to find in a foreign place.
Q. What is the national dish of Singapore?
A. The national dish of Singapore is Hainanese chicken rice. This dish is enjoyed by the tourists and the locals alike.
Q. Why Arab street is a famous place in Singapore?
A. Arab Street is a famous place in Singapore as it will serve you with some great options for food, entertainment and culture. This street got its name from an Arab merchant who once owned this area. While on a trip to Singapore, you must not miss out on this place. Also, this street is often called as 'Muslim quarter because of a large number of Muslims living in here.
Q. What hotels are near the Arab Street?
A. The hotels near Arab street are JW Marriot Hotel Singapore Beach, Andaz Singapore, Intercontinental Singapore, Conrad Centennial Singapore, The Vagabond Club etc.
---
Looking To Book An International Holiday?
---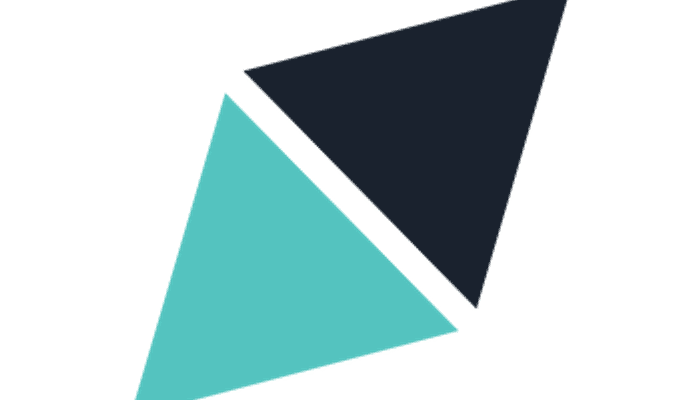 Comments
comments