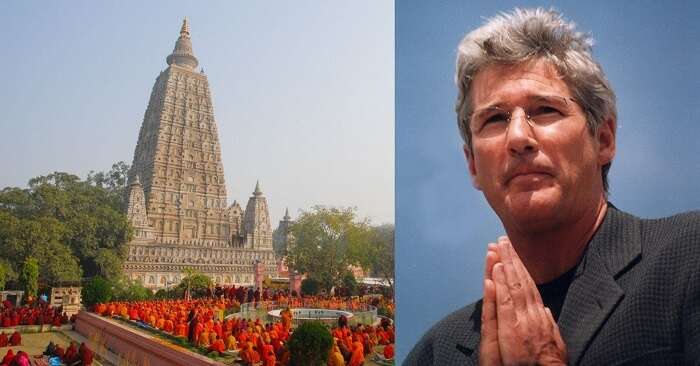 Richard Gere was here in India and not in search of 'Pretty Woman' as you would think. The famous Hollywood actor decided to ring in the new year by attending the sermons of His Holiness the Dalai Lama.
While normal people like us make new year resolutions only to break them later, the 70-year old veteran actor went ahead for spiritual cleansing. He landed in Bodh Gaya earlier this week to attend the Kalachakra sessions led by the Dalai Lama from January 2 to January 6.
He can be seen praying and chanting mantras in the photos that have been doing the rounds on the internet. He was also spotted interacting with Buddhist monks and fellow visitors.
Suggested Read: Alexander Palace In Russia Will Be All Set For Tourists To Witness Royalty
Bodh Gaya in Bihar is an important religious site since it is where Buddha attained enlightenment. Mahabodhi Temple Complex dominates the region with its colossal and cosmic presence. It sounds like a great place for peace and enlightenment if that's what you are after.
Richard Gere was not the only Hollywood actor who came to India for spiritual cleansing. The Ugly truth actor Gerard Butler also decided to spend his New Year in Rishikesh, Uttarakhand with his girlfriend. 
If sources are to be believed, Daenerys of House Targaryen, the First of Her Name, The Unburnt, Queen of the Andals, the Rhoynar and the First Men, Queen of Meereen, Khaleesi of the Great Grass Sea, Protector of the Realm, Lady Regent of the Seven Kingdoms, Breaker of Chains and Mother of Dragons a.k.a Emelia Clarke was also spotted on the Jaipur airport with her mum. 
Further Read: Time To Pack Our Bags As Indians No Longer Need Visas To Travel To Brazil
While we Indians prefer to take an international vacation in the new year, the who's who from Hollywood take retreat in India given their fascination with the land of sages and snake-charmers. 
What's your New Year's resolution this time? And, what all destinations have you decided to strike off from your list?