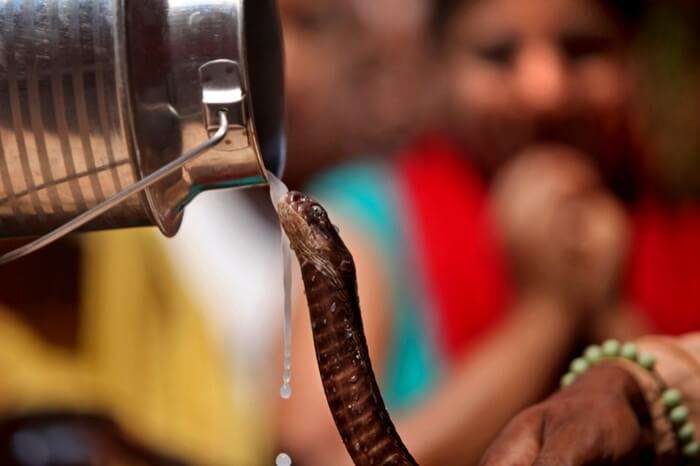 The diversity of Indian culture is reflected in different languages, traditions, customs, and festivals. Every day in this country is a festival, but some of them are a little weird. Despite their weirdness, unusual festivals in India are still celebrated with a lot of enthusiasm.
But no matter how positive the intent is, celebrations that include practices such as inflicting pain and fighting animals are borderline crazy. Still, these practices are alive and thriving. Of many such bizarre and uncommon festivals of India, here are the 15 craziest that are still popular and practiced. Read on to know if you really wanna attend them.
15 Unusual Festivals In India
Here's a list of the most uncommon and unusual festivities that take place in different parts of the country. Make sure you visit these unknown festivals of India to be part of the local culture and relish the heritage of these states in India. Each festivals holds a significant religious importance that are being depicted beautifully by the tribal people of these states. Take a look!
Lathmar Holi – Vrindavan, Uttar Pradesh
Rural Olympics – Kila Raipur, Punjab
Bhagoria Festival – Khargone & Jhabua, Madhya Pradesh
Snake Boat Race Festival – Kerala
Theyyam – Kerala
Thimithi – Tamil Nadu
Thaipoosam – Tamil Nadu
Jallikattu – Tamil Nadu
Muharram – Pan India
Nag Panchami – Pan India
Puli Kali – Kerala
Madai Festival – Chhattisgarh
Mim Kut Festival – Mizoram
Sekrenyi Festival – Nagaland
Sume-Gelirak Festival – Odisha
1. Lathmar Holi – Vrindavan, Uttar Pradesh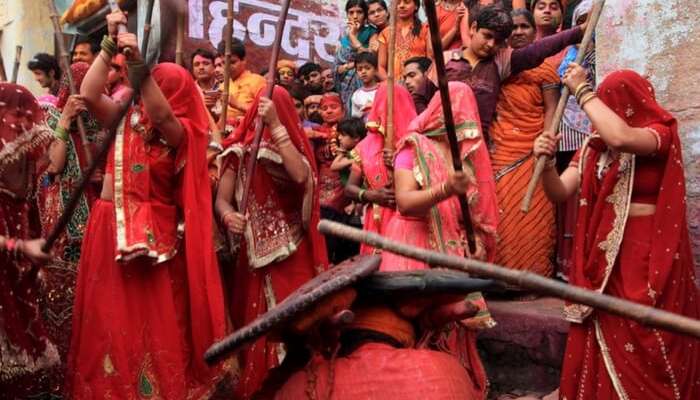 What is unusual about it?
One of the most unique festivals of India, the women of Barsana beating men of Nandgaon with lathis is the highlight of the festival. The unfortunate men who get caught are made to dress like a woman and dance in public.
The legend of Lathmar Holi
Lathmar Holi is rather an easygoing confrontation between men of Nandgaon (Krishna's village) and women of Barsana (Radha's village) near Vrindavan. The legend has it that during the days preceding Holi, Krishna visited his beloved Radha and ended up teasing her friends. The women of Barsana reacted by chasing down Krishna with sticks (lathis). Since then men and women of these villages recreate the famous event every year as women beat up men with long sticks.
When is Lathmar Holi celebrated?
4-5 days before Holi in Vrindavan, Nandgaon, and Barsana
Suggested Read: 15 Winter Festivals In India You Must Attend
2. Rural Olympics – Kila Raipur, Punjab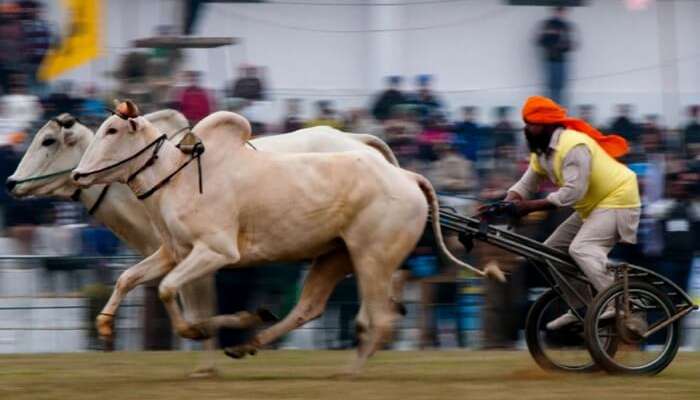 What is unusual about it?
Competitors lifting an entire stack of bricks with teeth, pulling vehicles with hair, and lifting plows with mouth are some of the bizarre activities that make this event unusual.
Games at Kila Raipur Sports Festival
Popularly known as Kila Raipur Sports Festival, this grand confluence of events and activities takes place in the Kila Raipur village, some 20 km from Ludhiana. The festival takes place every year with a massive participation from villagers in the nearby areas. The rural Olympic includes various games and sports activities like horse racing, aerobatics, bullock cart race, and other rural sports.
When is Rural Olympics festival celebrated?
Tentative dates for this year are 3, 4, 5 February 2017
Suggested Read: 18 Kickass Free Experiences You Can Have ONLY In India. No Where Else!
3. Bhagoria Festival – Khargone & Jhabua, Madhya Pradesh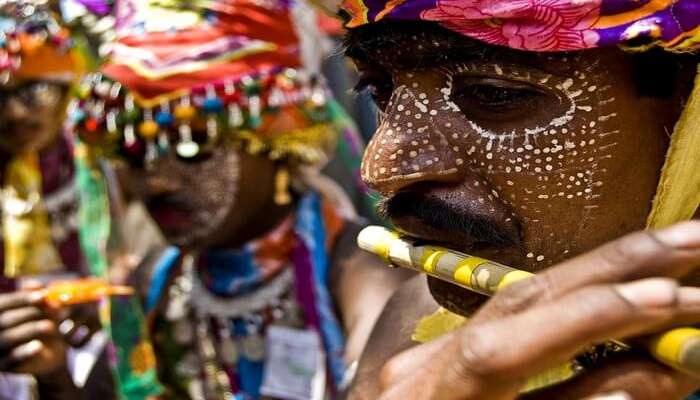 What is unusual about it?
Marriage fair is conducted on a large scale where youngsters choose their partner and elope with them only to be accepted by the society later and pronounced as man and wife.
About Bhagoria Festival
One of the most popular tribal festivals in India, Bhagoria is mainly celebrated in Khargone and Jhabua district of Madhya Pradesh. Mostly participated by the Bhil and Bhilala tribes, the festival has big haat set up, which acts as a marriage swayamvar where young people go partner hunting. The weeklong festival also marks the advent of the spring season and is participated by a huge number of crowd.
When is Bhagoria Festival celebrated?
March, 4-5 days before Holi
Suggested Read: 15 Tourist Places In Madhya Pradesh That You Should Be Visiting Right Now!
4. Snake Boat Race Festival – Kerala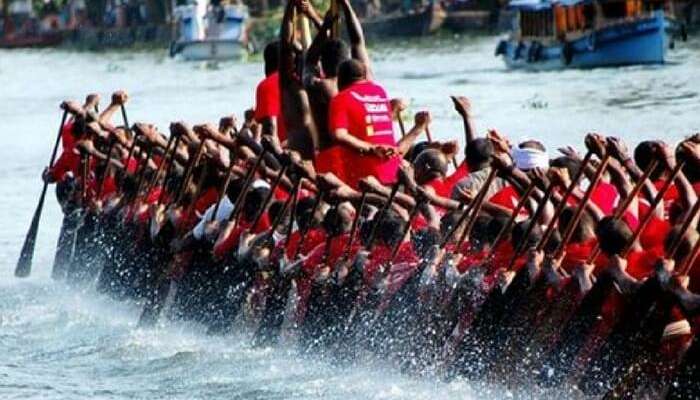 What is unusual about it?
The format, the extreme competitive spirit witness, and the insane popularity of the Snake Boat Race are traits that make it one of the unusual festivals in India. The race is not just a sport, it's a fiercely fought battle.
History of Snake Boat Races
The popular boat races of Kerala has existed for close to 400 years and is undoubtedly the most popular festival in the South Indian state. The boat races that were once used while fighting wars in water are now a celebrated as a carnival and the amount of energy and intensity generated by this festival makes it popular. Organized in the backwaters of Kerala, these snake boats are known because of their distinct canoe shape.
Nehru Trophy Boat Race, Champakkulam Moolam (Snake) Boat Race, Aranmula Vallamkali Boat Race, and Payippad Boat Race are some of the most popular snake boat races.
When is Snake Boat Race Festival celebrated?
During Onam, depending on the phases of moon
Suggested Read: Nehru Trophy Snake Boat Race 2017: The Perfect Excuse To Escape To Alleppey Now
5. Theyyam – Kerala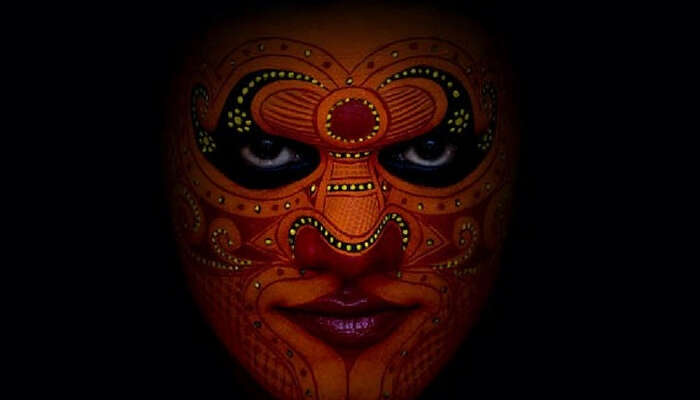 What is unusual about it?
Theyyam sees people perform dangerous feats dedicated to the divine power making it one of the most unique festivals of India. These feats include dancing while wearing a crown of hair of length 10-12 meters, walking fire embers, wearing coconut fronds, and performing with burning wicks of wire tied around the waist. Despite being exposed to flames and burning heat the performer has to walk with all the heavy dress around.
Theyyam Celebrations
A popular as well as unusual Indian festival celebrated in most of the parts of Kerala, Theyyam celebrates the ancient rituals and traditions of Kerala that are almost 800 years old. Theyyams are the upper caste people and are also recognized as head of their village. Devotees come to seek blessings from these well-dressed and decorated men.
The festival involves a variety (close to 400 types) of traditional dances. Theyyam exhibits the ritual of spirits and wonderful artwork by beautifully adorned devotees who dance, and worship gods and celestial bodies.
When is Theyyam celebrated?
October – May every year
Must Read: 7 Festivals In Kerala To Experience The Rich Traditions Of God's Own Country
6. Thimithi – Tamil Nadu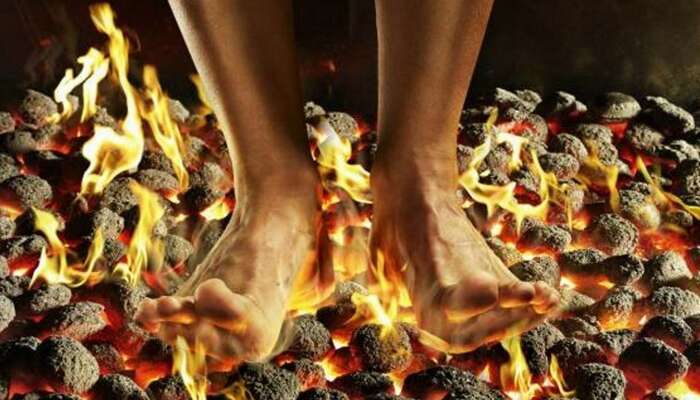 What is unusual about it?
To commemorate Draupadi, worshippers walk barefoot on burning coal to honor their goddess which makes it an uncommon festival of India.
The mythological reference
According to the Hindu epic Mahabharata, after the battle of Kurukshetra, Draupadi proved her innocence by walking the bed of fire and coming out unscathed. In Tamilnadu, there are temples dedicated to her, where devotees offer their respect by walking on burning coal.
When is Thimithi celebrated?
During October – November
Suggested Read: Top 10 Summer Festivals In India You Shouldn't Miss In 2019
7. Thaipoosam – Tamil Nadu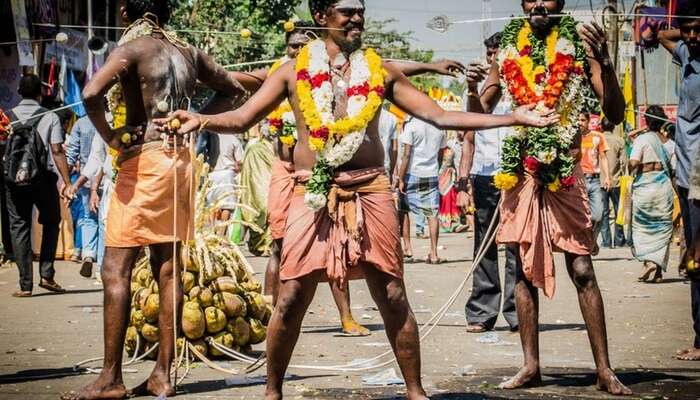 What is unusual about it?
Ardent devotees of Lord Muruga pierce their lips with spears, pierce mouth with sharp metal objects, and hook their skin to chains as they try to pull the chariot in order to pay regards to the deity.
History & highlights of Thaipoosam
One of the most unusual festivals in India, Thaipusam is celebrated in Tamil Nadu mostly in the temples of Lord Muruga. The priests and other chosen ones are required to perform activities like walking on burning coal.
To mark the celebrations, devotees bathe and smear themselves in turmeric. Priests carry the decorated images of deities over their head along while the colorful umbrellas sheltering them are carried by other devotees. There are lots of attractions to watch out for during the course of the festival.
When is Thaipoosam celebrated?
February; date for 2017 is 10 February
Suggested Read: 10 Festivals In June That Will Draw You To India Instantaneously In 2020
8. Jallikattu – Tamil Nadu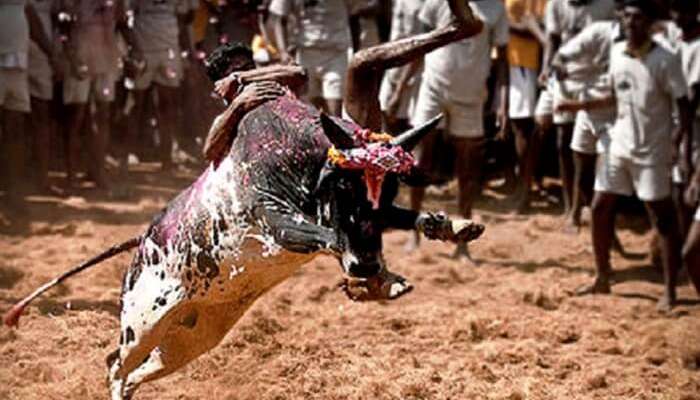 What is unusual about it?
Jallikattu is about controlling bulls, wherein sometimes humans succumb to fatal injuries and even animals suffer injuries.
The age old tradition of Jallikattu
Recognized as one of the most unusual festivals in India, it is celebrated in Tamil Nadu as a part of the Pongal celebrations, Jallikattu is rather a dangerous, centuries-old tradition in the South India. For this event, bulls are specially trained by people of the village who later represent the village's entire cattle family.
This festival is about bundles of money or gold tied to a bull's horn. The objective is to tame the bull and pluck the valuables tied to their horns. For this festival, bulls are reared and raised in a way so that they can compete at the highest level and come out as a winner.
Note: In May 2014 the Supreme Court of India put a permanent ban on JalliKattu citing issues relating to animal welfare.
Suggested Read: 14 Festivals In January In India That Reflect The Country's Rich Culture (2020)!
9. Muharram – Pan India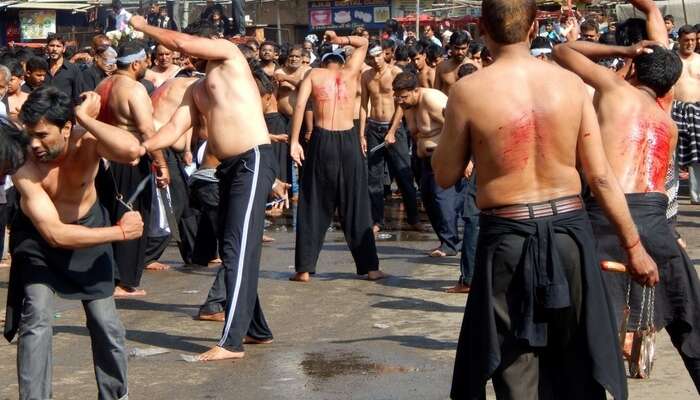 What is unusual about it?
To mourn the death of Imam Hussain Ali, Shia Muslims inflict wounds by cutting themselves with sharp objects.
Muharram – A day of mourning
It is one of the most popular festivals in September in India that is celebrated on the 10th day of the first month of Islamic calendar, Muharram is another unusual festival of India celebrated across the country by Shia Muslims. The festival indicates mass mourning over the death of Hussain Ali- the third Imam of Shia community. The death of Imam symbolizes the struggle against tyranny and injustice.
When is Muharram celebrated?
September or October (1 October 2017)
Suggested Read: 30 Most Famous Festivals Of India You Must Experience In 2020
10. Nag Panchami – Pan India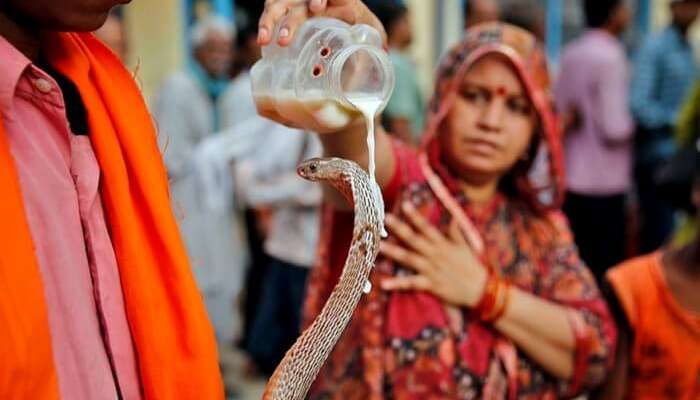 What is unusual about it?
Devotees offer milk and turmeric to snakes on Nag Panchami.
Nag Panchami Practices
Amongst the most popular festivals in July in India, Nag Panchami is a festival observed by Hindus across the country. During this festival, the serpentine gods are worshiped and people seek blessings for their family and well-wishers. Though the festival is celebrated across the country, it is popularly observed in Bengal, Maharashtra, and South India.
The tradition of worshipping snakes dates back to ages, even before the arrival of Aryans. As Nagas are said to be directly associated with Lord Brahma and hence are considered auspicious. Celebrated in the month of July or August (Shravan month) this is another unusual festival of India that is peculiar in its own way.
When is Nag Panchami celebrated?
July or August (27 July 2017)
Suggested Read: 15 Must-Attend Events And Festivals In December In India: Block Your 2020 Dates & Head Out!
11. Puli Kali – Kerala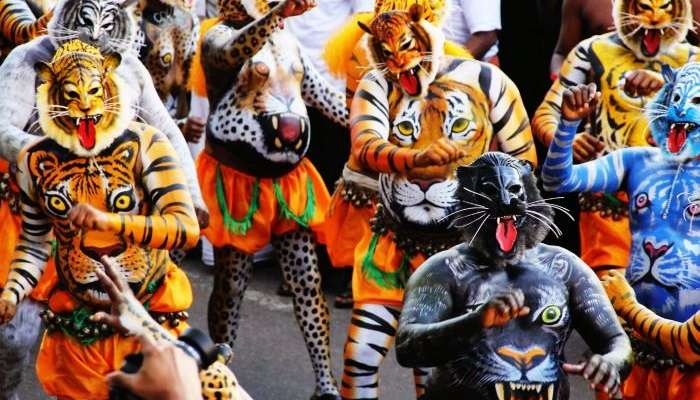 What is unusual about it?
One of the most unknown festivals of India, this festival depicts a theme of huntings tigers where performers are dressed in costumes of hunters and their faces are painted like tigers in yellow and balck. They dance along and enact as the wild beasts along the beats of the drums. 
History of the festival
One of the most popular festivals in August in India, the festival originated around 200 years back when a Maharaja of Cochin decided to celebrate Onam retracting the wild and macho spirit of the force. This festival is a feature of the popular festival of Kerala, Onam.
When is it celebrated?
During August to September
Suggested Read: 11 Spectacular Indian Festivals In March 2020 You Should Be A Part Of
12. Madai Festival – Chhattisgarh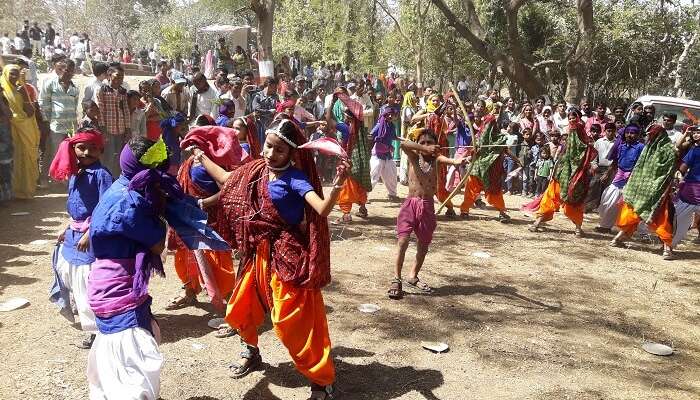 What is unusual about it?
It's a tribal festival in Chhattisgarh that is very unique and relevant in the state. It has various ritualistic performances like folk dance and sacrifices of goats take place. 
Highlights of the festival
During the festival, vibrant shops are set up where you can buy several handicrafts and tribal items. You can relish delicious authentic food at several food joints.
When is it celebrated?
December to March
Suggested Read: Celebrate These 8 Indian Festivals In April, 2020 And Rejoice In The Good Vibes
13. Mim Kut Festival – Mizoram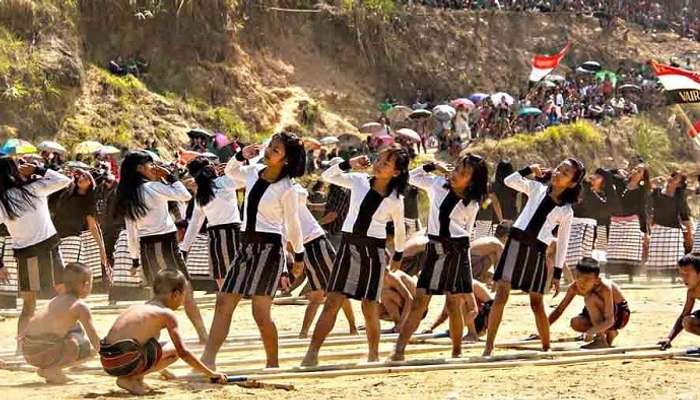 What is unusual about it?
It's one of the most popular and vibrant harvest festivals of India and Mizoram. It is a musical fiesta and an amalgamation of beautiful folk dance performances where you can sip on the local beer made out of rice while witnessing a spectacle of these dance performances.
How is it celebrated?
Feast on tribal meals and feel like a local at this festival. Drink the local rice beer and enjoy your time at this festival that is full of joy and talent.
When is it celebrated?
August to September
Suggested Read: 15 Festivals In November In India That Call For An Early 2020 Winter Vacay
14. Sekrenyi Festival – Nagaland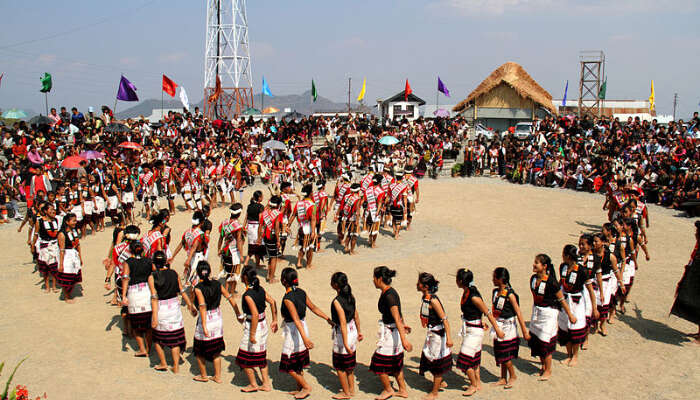 What is unusual about it?
It's a harvesting festival of Nagaland that attracts many travelers to the state. It's a festival of purification along with singing, dancing and several ritual performances with the jamboree.
How is it celebrated?
The men go for a bath at the village well and several tribal dance performances take place by the Angami folks during the festival. There is also a unique feature of bridge pulling that allows people to visit the village and witness the festival.
When is it celebrated?
February
Suggested Read: 10 Famous Festivals In October In India In 2020: Mark Your Calendar Now!
15. Sume-Gelirak Festival – Odisha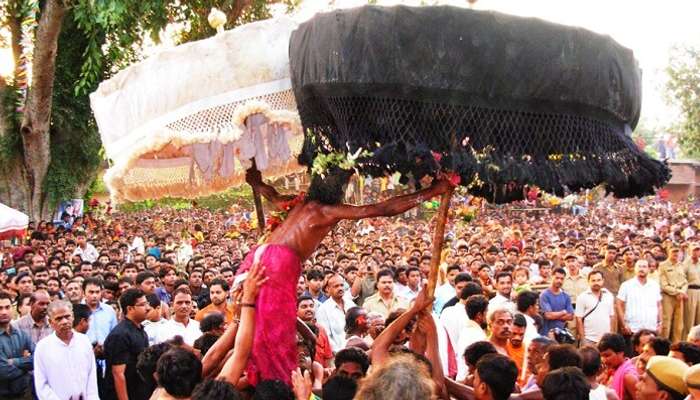 What is unusual about it?
The most unique part of this festival is that while women who dance at the festival, they can choose their life partners. It's a festival that has a ritual of sacrificing birds and animals to appeal to the tribal deities with liquor  being one of the most significant parts of the festival.
How is it celebrated?
It is one of the most important festivals of Odisha, a 10 day affair that has several ritual practices along with folk dances and songs by local tribal men and women dressed in traditional attire.
When is it celebrated?
January
Further Read: 10 Global Festivals You'd Never Want To Attend
Of all the celebrated festivals in India these 10 are weird and strange in their own way, but they all represent goodwill and bonhomie. The best part is that people celebrate all these festivals (except Muharram) with utter joy and glee, no matter how weird it is!
Disclaimer: TravelTriangle claims no credit for images featured on our blog site unless otherwise noted. All visual content is copyrighted to its respectful owners. We try to link back to original sources whenever possible. If you own the rights to any of the images, and do not wish them to appear on TravelTriangle, please contact us and they will be promptly removed. We believe in providing proper attribution to the original author, artist or photographer.
Please Note: Any information published by TravelTriangle in any form of content is not intended to be a substitute for any kind of medical advice, and one must not take any action before consulting a professional medical expert of their own choice.
Frequently Asked Questions About Unusual Festivals In India
How many festivals are there in India?
There are various religions followed in the Indian nation and therefore there are numerous festivals celebrated here. Essentially, you'll see about 20-30 festivals that are joyfully celebrated in the different regions of the country.
Why is India called a land of festivals?
Since there are different languages, religions, and cultures in the country, it is natural that there will be a huge number of festivals celebrated in India. Each festival is a reflection of the cultural as well as religious aspect of that region in India.
Is Muharram national holiday?
Considered as the first month in Islam and one of the four holy months of the year, Muharram is celebrated for 10 days. The last day of this festival is sanctioned as the gazetted holiday in India.
Why do we celebrate Nag Panchami?
Nag Panchami is celebrated on the fifth day of fortnight of Shravan month. The festival involves worshipping snakes and has a lot of importance in the Hindu religion.
What is the meaning of Theyyam?
Theyyam is celebrated as a great festival of dance in various regions of the Indian state of Kerala like Kasargod. Theyyam means Dance Gods and this name has been derived by combining two words – Deviam (God) and Aattam (dance).
What are national festivals of India?
The festivals that are celebrated across the country of India are – Independence Day, Republic Day, and Gandhi Jayanti, as they remind people of the historical struggle for independence.
---
Looking To Book An International Holiday?
---
People Also Read:
Festivals In August In India Festivals In September In India Festivals In October In India