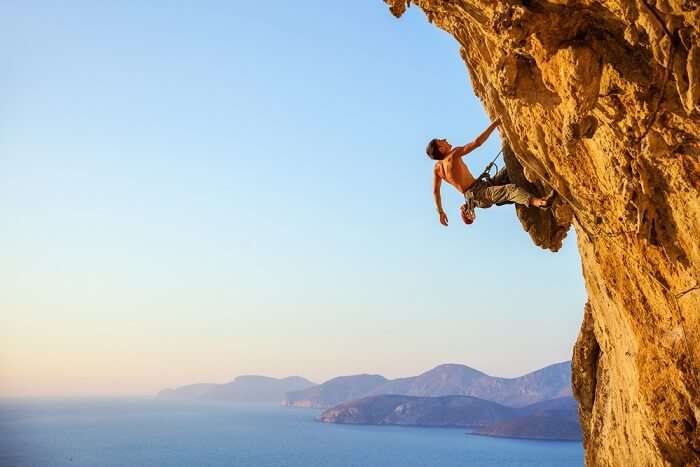 With a plethora of dry canyons, green valleys and desert rocks spread across the regions of Israel, it is nothing but common to cultivate outdoor activities such as rock climbing and rappelling in the country. Rock climbing in Israel is best done in the areas of Jerusalem, Golan Heights and Negev Desert. Though some of the regions in Israel are strictly under the archaeological survey, it doesn't hinder the adventurous spirit of those looking for a day out in the boulders.
Best Time To Visit Israel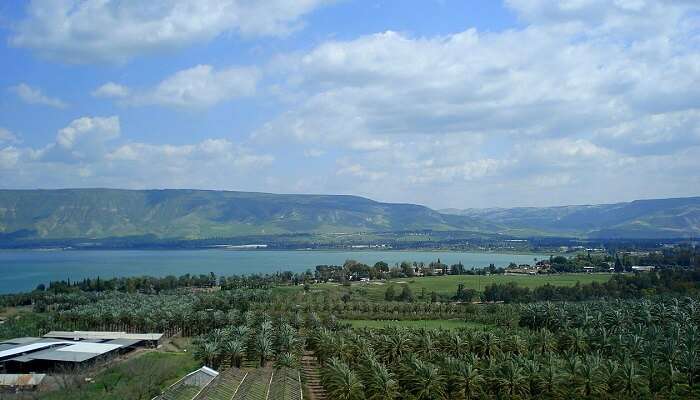 Image Source
If you are planning a trip to Israel then you might as well do it the right way and in the right months. From December to April, the weather in Israel remains cool and moderate for activities which is why the place receives a heavy footfall during these months. If you are planning to indulge in rock climbing on your vacation then the best time to do in would be in March and April when the temperatures are moderate – neither too cold nor too hot for the activity. You can also opt for this activity during the off-season (October-November) if you are looking for saving some bucks. 
Best Places For Rock Climbing In Israel
Here is a quick guide to the cliffs and caves where one can go rock climbing during their trip to Israel with friends and family.
1. Shilat Cliff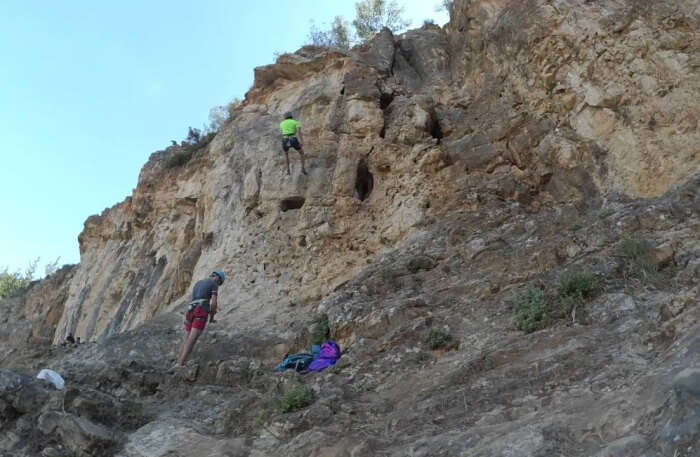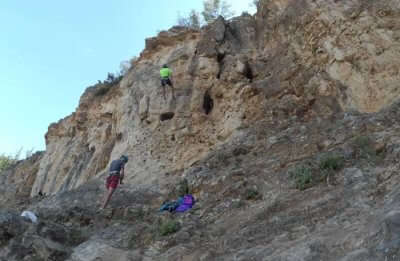 Shilat Cliff is situated in the central region of Israel just half an hour away from Tel Aviv. Located right in the middle of Ben Shemen Forest, this cliff provides a perfect spot to both beginners and seasoned climbers to go rock climbing, rappelling or zip lining in the area. The tour to this site lasts for 3-5 hours. A picnic venue is set up on top of the 30-meter high cliff to help the climbers rejuvenate. The site is safe for both children and adults alike. The best time to go rappelling or rock climbing in Shilat Cliff is during the spring and summer as one can experience the smell of the pine trees or catch a glimpse of the lake at the base of the Benyamin mountains.
Location: Central Israel near Tel Aviv
Must Read: Israel In January 2022: All You Need To Know Before You Plan A Holiday
2. Luzit Cave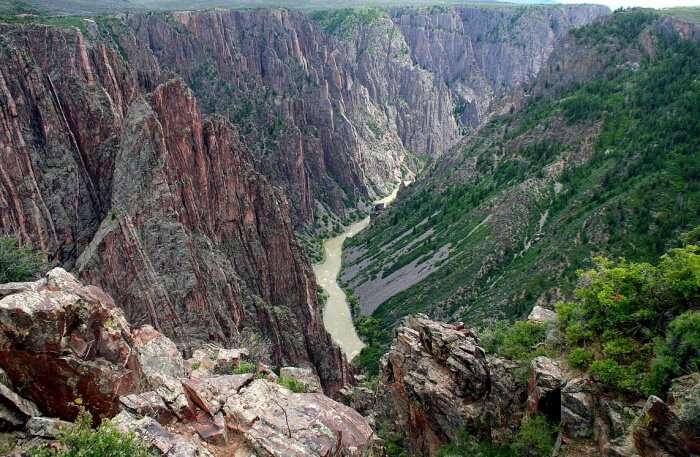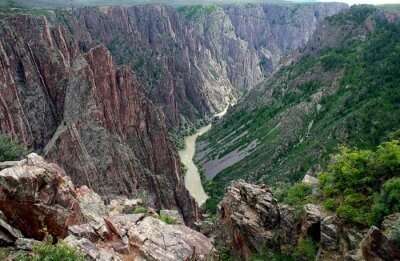 Located in the central region of Jerusalem, Luzit Caves are the interconnected tunnels of limestone carved during the Bar Kochba revolt. This rock climbing in Jerusalem, Israel is highly recommended for children. One can either choose between rappelling down into the caves or enter the caves by foot and then opt for rock climbing. The duration of this activity for kids is 3-5 hours and the seasons of summer and autumn are recommended for it.
Location: Luzit, Jerusalem, Israel
Cost: INR 4000 per person
Timings: 9 AM – 6 PM
3. Black Canyon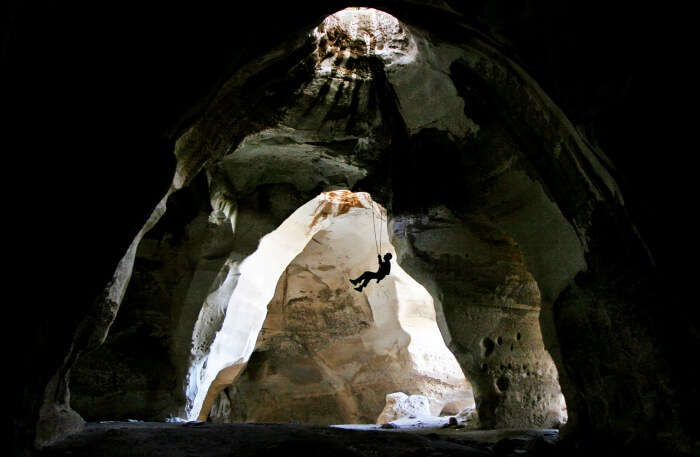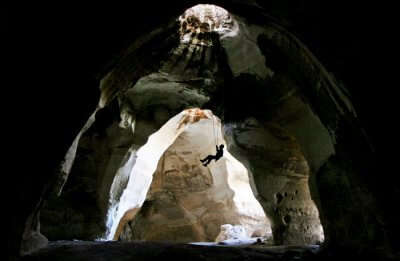 Black Canyon or Nakik Shachor as it is called in Hebrew is a canyon formed due to volcanic activity in the northern Golan Heights region of Israel. The canyon is abundant with greenery, wildlife and water sources which is why the maximum part of the hiking or canyoning happens near or in the waters. A cliff rising over a deep pool is a popular choice for rock climbing in the Black Canyon. The hike and climbing in the canyon are strenuous and thus takes about 6-8 hours. It is not recommended for children. Summers are the most recommended time to go rock climbing in the canyon.
Location: Golan Heights, Israel
Cost: INR 2300
Suggested Read: Top 8 Incredible Things To Do During Christmas In Israel
4. Yonim Cliff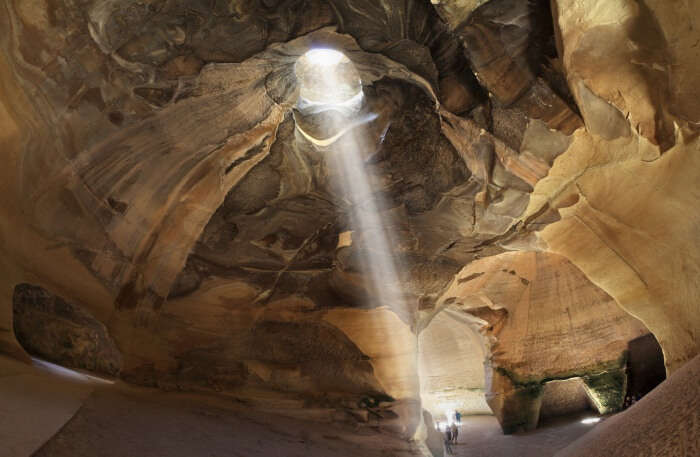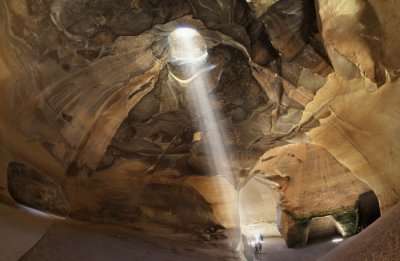 Yonim Cliff stands majestically on a 25-meter vertical cave in Northern Israel. The vertical cave is called karstic cave and is made out of limestone. Its most distinctive feature is that the shape of the cave resembles a bell. There are lots of climbing routes near Yonim which makes it a popular choice amongst both beginners and advanced rock climbers. From the top of the cliff, one can look out for a panoramic view of the Haifa Bay and the Carmel Mountain. The hike and the climb to Yonim Cliff take anywhere between 3 to 6 hours and is best avoided in summers.
Location: Galilee, Israel
Suggested Read: 10 National Parks In Israel That All Adventure Seekers Would Love For Sure!
5. Ein Fara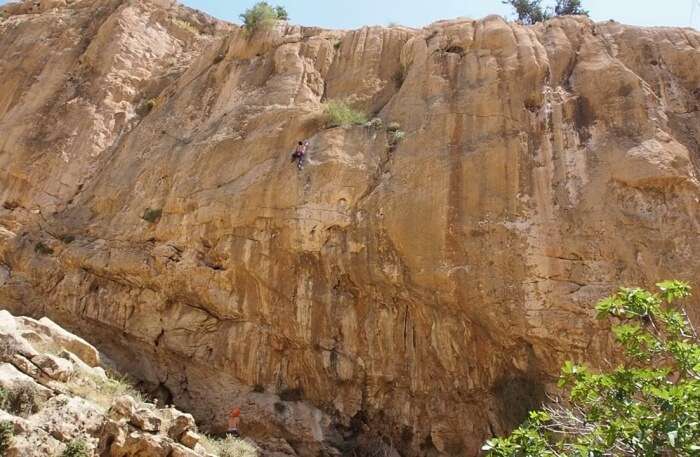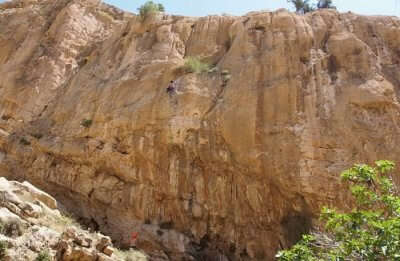 Ein Fara is situated in the Judean Desert in Central Israel. It is a naturally formed canyon and also has a number of freshwater springs in the region. Ein Fara climbing is a great recreational activity for kids and adults alike. The Ein Fara canyon has two popular Wadi Qelt cliffs( North and South) meant for rock climbing. It is most suitable for beginners and the cliffs also have an assembly of monks living in one of them. It is a 15-minute drive from Jerusalem and the day tour to Ein Fara takes about 6-8 hours.
Location: Dead Sea Region, Israel.
---
Planning your holiday but confused about where to go? These travel stories help you find your best trip ever!
---
6. Zanoach Cliff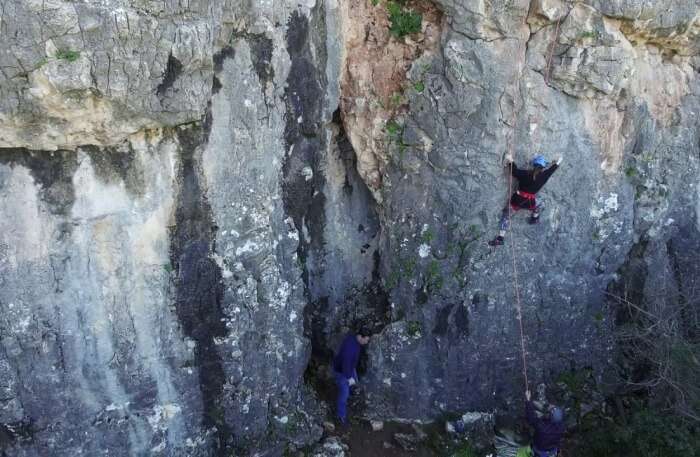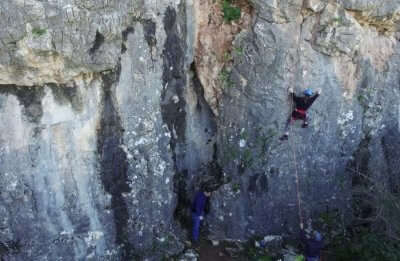 Another spot for rock climbing in Israel is the Zanoach Cliff in the Judeau Mountain Range. The cliff is surrounded by the Yehuda mountains and lush greenery. The duration for the climb or rappelling over the cliff takes about 4 to 6 hours and is best suited for beginners and children. Private tours would have already pegged their spots onto the rocks which makes it easier for the climb. While the climb in itself is not so strenuous one has to hike for about 45 minutes to get to the base of the Zanoach cliff.
Location: Beit Shemesh, Jerusalem
Suggested Read: Shopping In Israel: Top 10 Places To Drop By For An Unbeatable Retail Experience
7. Matzok Gitta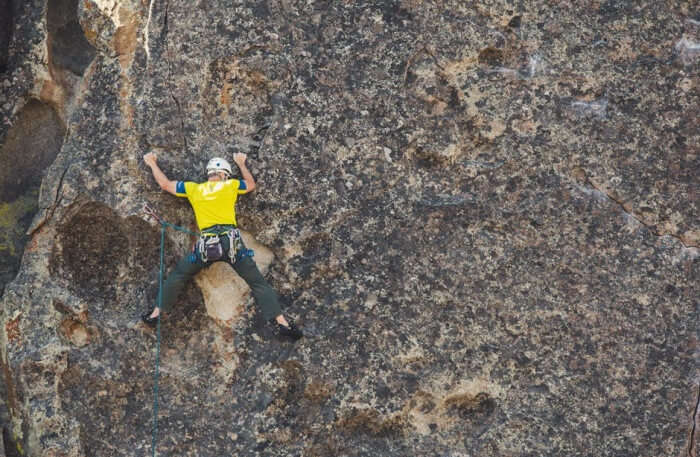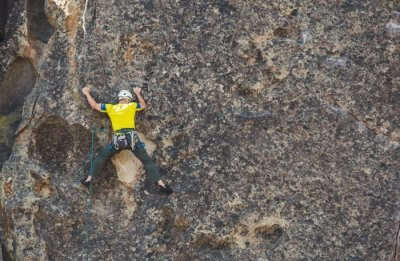 The Gitta Cliff is the only spot in Israel that favors the Italian form of adventure climb called Via Ferrata. It offers the best climbing in Israel and is undoubtedly the biggest cliff used for rock climbing in Northern Israel. The rock climbing in Gitta Cliff is unique as it is done on a narrow iron ledge fixed to the rocks and has all the safety ropes and cables attached to it. It is perfectly safe for young kids and is a popular sport all year round in Israel. The climb up the hill and rappelling down takes about 3 to 6 hours depending upon the experience level of the climber.
Location: Galilee, Israel
8. Performance Rock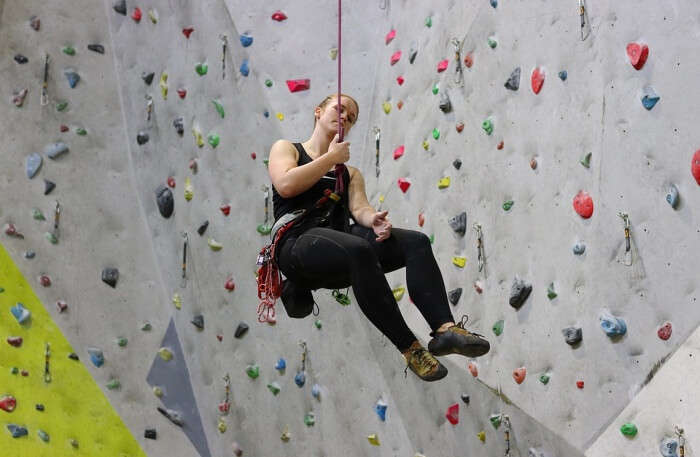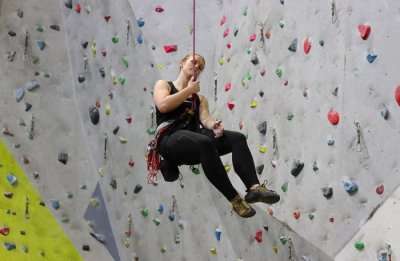 Performance Rock is an indoor rock climbing site in Israel that mainly focuses on the bouldering method. It is one of the earliest indoor activity zones to be created in Israel. They offer more than a hundred climbing and bouldering routes in their gym that is suitable for both beginners and advanced climbers. Kids from age 5 can try their hand at rock climbing here. The gym also comes with a cafe where one can take a break from the laborious climb.
Location: Rivel 3, Tel Aviv, Israel
Timings: 7 AM – 11 PM
Entry Fee: INR 1800
Suggested Read: Snowfall In Israel: Best Things To Do To Make It A Fun Affair
9. Upper Galilee Canyon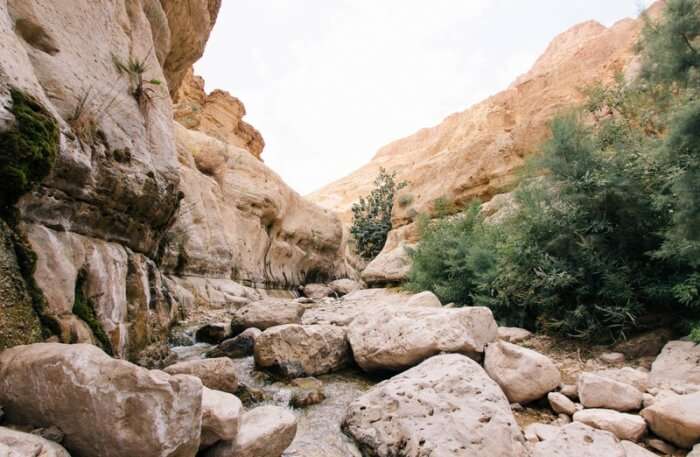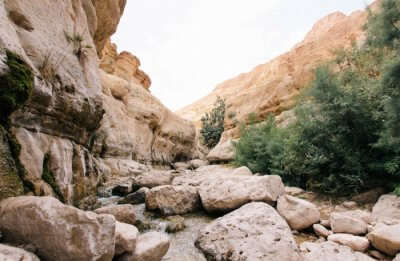 The natural canyon in the Upper Galilee region of Israel is surrounded by lush greenery with oak trees and waterfalls every few kilometers. The rock climbing experience in this canyon is unique as it involves a series of hiking, rappelling and down climbing through three major waterfalls. The rock climbing finally starts from the base of the third waterfall and one has to climb opposite the limestone walls. The zone also serves a stunning view of the regions below the Galilee such as Mount Hermon, Hula Valley, and Golan Heights. The climb is not recommended in the rainy season while generally, the climb takes about 4-6 hours.
Location: Upper Galilee region, Israel
10. Haifa Boulder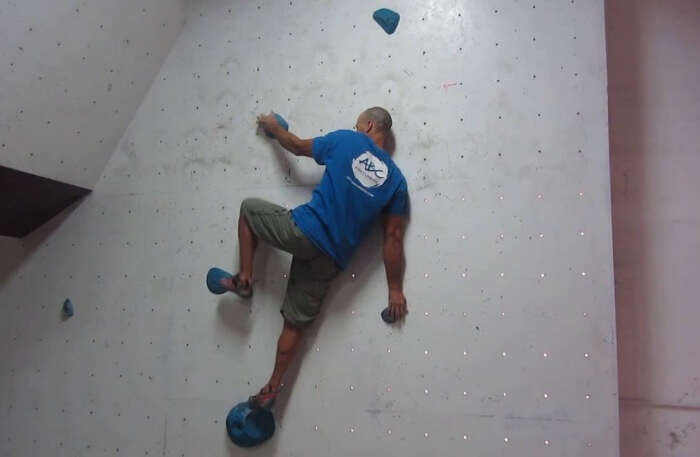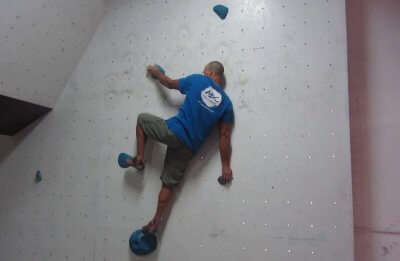 Another indoor rock climbing gym in Israel is located in Haifa Bay called Haifa Boulder. As the name suggests, this gym also specializes in the bouldering activity and is open for both children and adults alike. Other than offering kids the thrill of rock climbing without the accompanying danger, it also provides as a training platform for amateur climbers.
Location: Yokhanan Hasandlar street 18, Haifa, Israel
Timings: 8 AM – 7 PM
Entry Fee: INR 1000
Tips For Rock Climbing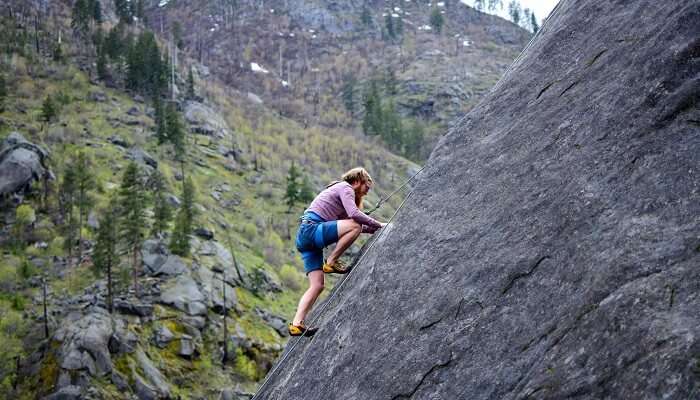 Image Source
Here are some tips for rock climbing in Israel that you might want to keep in mind for safe activity. Check them out: 
Before heading for the activity, make sure that you warm up first and stretch your body a little bit. It improves blood circulation as well as flexibility in the body which will help your muscles to get ready for the exercise. 

Take a thorough look at the climbing route before starting your journey if you are not an expert. Make mental notes of your moves and steps that you will take. 

Make sure that you check the strength of your grip every time. Over-gripping might wear you out easily and vice versa might lead you to a fall. 

The main technique that is required in this activity is balancing so try out some balancing exercise on your toes.

Learn the climbing techniques that your trainer teaches you as they will help you out for a smooth climb. 

Last but not least is to watch & learn. If at any point you are confused, look around and see what the experts are doing. 
Do's & Don'ts During Rock Climbing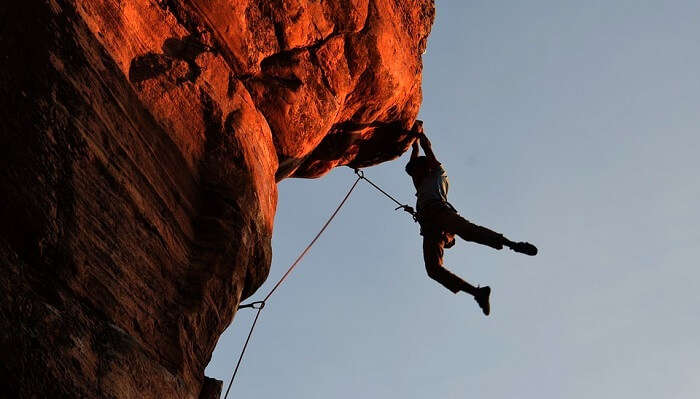 Do's:
Strength is not the only thing that is required in this activity. Technique and balance are the two crucial factors that you should keep in mind.

Your hips should stay parallel to the wall not facing it. This will make your climb easier. 

Make sure that you warm-up and stretch a little before going for the activity. 
Don'ts:
Do not climb with bend arms as they will overstress your forearm muscles which will wear you out easily. 

Do not just look towards the top. A rock climber must take a 360-degree look around themselves to watch out for opportunities. 
What To Pack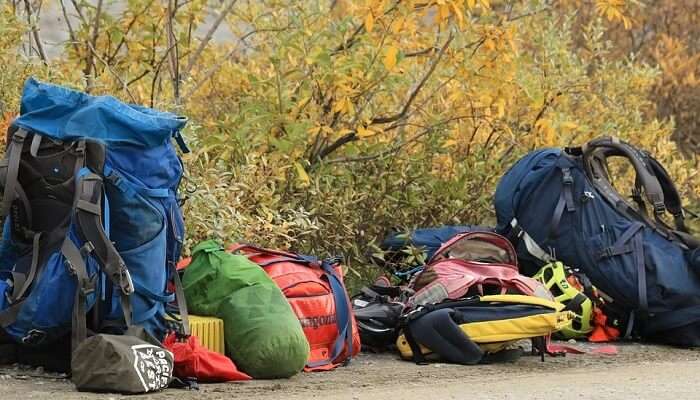 Image Source
On top of your packing list of rock climbing should be a water bottle then a backpack for essentials, synthetic t-shirt or a hoodie, rain jacket, shorts, yoga pants, hiking socks, and hiking shoes. Apart from this, also pack a headlight, climbing gear, camera, sunscreen, and OTC medicines. To keep yourself full of energy, keep some snacks and bars that are full of proteins and nutrients. 
How To Reach Israel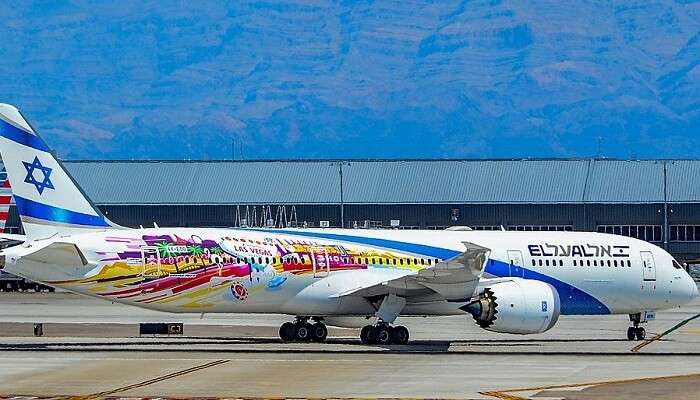 Image Source
There are several ways to reach Israel like air and road. Here are the details of how you can reach the place via all the ways. 
By Air: The best way to reach Israel is by taking a flight to its main airport – Ben-Gurion International Airport which is located in Tel Aviv. From here you can take a bus or a taxi to reach the desired destination. 
By Road: There are around 5 crossings on the Israel border from one can travel. 3 lie on the Jordanian border while the rest are on the Egyptian border. You will have to take permission for traveling through the roads.  
Further Read: 10 Villas In Israel For Your Private And Luxurious Vacation With Family
Rock climbing is an extreme sport that not only gives one an increased physical strength but also helps in developing one's cognitive skills and peace of mind. These places famous for rock climbing in Israel are sure to give one a boost to strap on their hiking shoes and get to the Holy Land at once. Plan your trip to Israel today to the land of extreme sports with TravelTriangle and satisfy the adventurous soul in you!
---
Looking To Book A Holiday Package?
---
People Also Read:
Rock Climbing In Singapore Rock Climbing In Europe Climbing In Munich