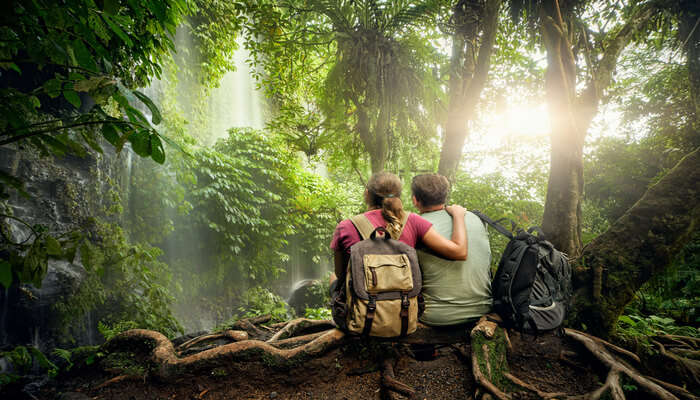 Jakarta can be described as the expansive capital of Indonesia, which is also an immensely romantic tourist destination. Apart from being a well-developed city that might look like quite bustling, Jakarta can surprisingly be a great choice for couples and honeymooners looking for a memorable travel experience. There's a lot to explore and experience in this part of Indonesia for couples, as there are numerous romantic places in Jakarta visiting which your excitement would know no bounds!
Amalgamating different cultures into its social setup, Jakarta is one of the most vibrant cities in the country of Indonesia. Two of the major aspects through which this eclectic culture is reflected include the lifestyle of locals as well as the variety of cuisines served in the numerous restaurants. The wide number of awe-inspiring tourist attractions in this city is also one of the major reasons this Indonesian city is one of the most popular destinations in the world.
7 Most Romantic Places In Jakarta
Listed below are some of the most amazing and romantic places in the city of Jakarta where you'd simply want to lose yourself!
1. Lara Djonggrang Restaurant
Inspired by the ancient folklore princess of the same name, Lara Djonggrang builds a mystical, ethnic, and romantic atmosphere that goes with the imperial traditional meals. Many of the interior pieces are authentic too, from ancient artifacts, materials from old temples, grand statues, and more. If that doesn't make you feel like a Javanese royal already, wait until they serve you the regal feast from centuries-old recipes with theatrical presentation and authentic, luscious taste.
Must Read: 15 Places For Shopping In Jakarta That Will Give You A Shopaholic's High!
2. Kota Tua
If you want to spend romantic time with your partner amidst beautiful historic sites, then this is the place for you! Kota Tua is a neighborhood comprising the original downtown area of Jakarta, Indonesia. The site contains Dutch-style structures mostly dated from 17th century, when the port city served as the Asian headquarter of VOC during the heyday of spice trade. It spans 1.3 square kilometres within North Jakarta and West Jakarta. The largely Chinese downtown area of Glodok is a part of Kota Tua.
Suggested Read: 10 Jakarta Beaches That Are Bound To Make Your Indonesia Trip All The More Fun
3. Pulau Bidadari
Among the constellation of 110 isles in Jakarta's Thousand Islands, Bidadari or Angel Island is among the easiest and nearest to reach from Jakarta. Just a 30-minute speedboat ride away, tourists can find themselves on an exotic small island boasting powder-white smooth sands and clean, translucent water. Bidadari Island makes a perfect destination for either a short day trip or a long weekend spent in one of its waterfront cottages. Beyond the idyllic beaches that surround the island, Bidadari Island also offers a fun exploration on land, where tourists can bike around the island or venture to find wartime ruins from the colonial era.
Suggested Read: 27 Places To Visit In Jakarta In 2022 That Showcase The Other Side Of Indonesia
4. Tanjung Lesung Beach
This beach is named after a traditional instrument to grind rice grains (lesung), which represents the shape of the indented coastline. The 15 km unspoiled white-sand coast is now getting ready for major makeover led by the government, as this beach was appointed as one of Indonesia's 'New Bali'. Between pristine shades of blues, stunning calm lagoons and tall shady coconut trees, tourists can also immerse themselves in local culture by interacting with the fishing community and watch traditional performances.
Suggested Read: 11 Best Things To Do In Jakarta In 2022: The Indonesia Capital Buzzing With Life!
5. Dragonfly Club
A favourite nightspot in South Jakarta, the long-running, multilevel Dragonfly Club welcomes clubbers to its chic and modern interiors with high ceilings and elegant wooden backlit walls in leaf motifs and bamboo-like panels. You also need to 'dress-up' to be admitted here. The dance floor is quite small and gets packed early so it's best to get a bottle and find a counter table for your group. Nightly, Dragonfly's resident DJs spin a good mix of house music, RnB and electro beats. Famous DJs have done their gig here, the likes of David Guetta and Grant Nelson.
Suggested Read: Step By Step Guide On How To Get An Indonesia Visa For Indians
6. Ancol Beach
Covering the northern shores of Jakarta, this beach has both the natural charms of a coastline and continuing development of an urban area. The charming beach is lined with restaurants, shopping malls, and different amusement parks for the urban dwellers. That means a whole day of fun at Ancol may include a fantastic ride at Dunia Fantasi, lazing the day away with your feet in the sands, shopping for locally made crafts at the art market, having a scrumptious meal at the pier while enjoying the sunset view, and more.
Suggested Read: Indonesia Is On The Lookout For A New Capital City. Any Suggestions?
7. Alam Kotok Island Resort
A peaceful impression of Kotok Island is common. It has several unique characteristics such as traditional and sultry. Once you have arrived at the island, the locals may offer you a fresh coconut drink. It is quite refreshing! In the seashore, there are mangroves and several types of trees. Not to mention there are some exotic animals, too. These include lizards, birds, and much more. When it comes to the beach, the sand is soft and comfortable. It creates an amazing and romantic nuance. If you love diving, you can enjoy nautical beauty likes colorful corals.
Further Read: Cruises In Indonesia: 6 Enriching Small Ship Cruise Tours For A Vacay In 2022
If the two of you are planning a vacay in Indonesia, then you should make the most of it by including a visit to this interesting city of Jakarta in your itinerary. Beautifully depicting the Indonesian culture, the city is known for its different tourist attractions that will ensure you undergo a memorable travel experience. The romantic places in Jakarta listed above will make your overall visit worthwhile, bringing you two closer.