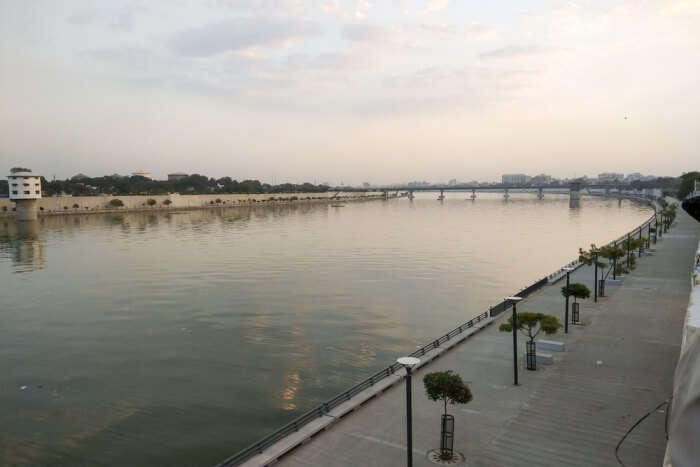 Often passed for being a historical place and a pilgrimage site, travelers often missed out on the romantic side of Ahmedabad which is what we've tried to uncover in this blog. From exotic bird sanctuaries to architectural marvels, it is a must for the love birds to explore these ten romantic places near Ahmedabad. These places make for great day excursions. Take a look!
Top 12 Romantic Places Near Ahmedabad For Couples
If you are looking for couple places near Ahmedabad, then here are some of the best spots. Have a look at these places before you plan an excursion.
Nalsarovar Bird Sanctuary
Parimal Garden
Sabarmati Riverfront
Kankaria Lake
Adalaj Step Well
Thol Bird Sanctuary
Sarkhej Roza
Victoria Garden
Vastrapur Lake
Zanzari Waterfall
Bhadra Fort
Kamala Nehru Zoological Garden
1. Nalsarovar Bird Sanctuary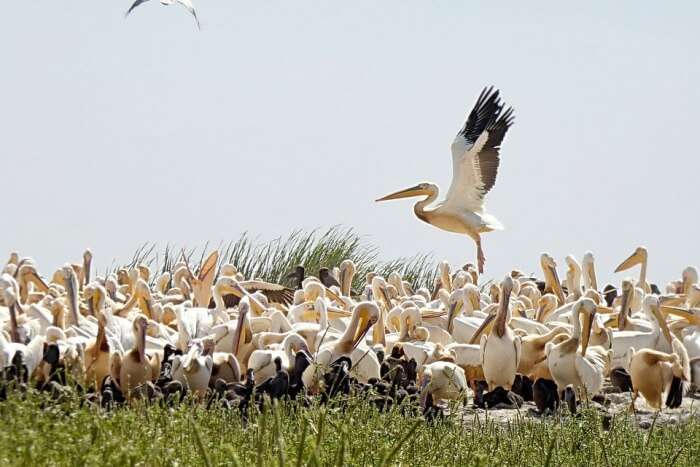 Settled on a massive wetland of more than 120 square kilometers, Nalsarovar Lake Sanctuary is famous for being the largest water bird destination in the whole of India. Popular for being the most romantic place for couples near Ahmedabad, one can indulge in boating, cultural programs, and bird safaris here. Undoubtedly, visiting the Nalsarovar Bird Sanctuary is one of the best things to do in Ahmedabad.
Location: Near Sanand Village
Distance: 61 kilometers from Ahmedabad
Timings: 6 am to 6 pm – Everyday
 13 Awesome Reasons Why Ahmedabad Will Ruin You For Life
---
Gujarat Holiday Packages On TravelTriangle
Spot lions in their natural habitat at Gir national park, relax on the beautiful island of Diu, or go on a religious tour to Somnath and Dwarka. Book a memorable holiday to Gujarat inclusive of airport transfers, cab, resort, sightseeing, and meals on TravelTriangle.
---
2. Parimal Garden

As far as the romantic places near Ahmedabad are concerned, Parimal Garden undoubtedly tops the charts when it comes to nature parks. Enjoying a central location in Ahmedabad, Parimal Garden is best explored when the flowers are in full bloom.
Location: Parimal Cross Road, Ambawadi, Ahmedabad
Timings: 6 am to 12 noon and 2 pm to 10 pm – Everyday
Average Time Spent: 2 hours
 16 Playful Picnic Spots Near Ahmedabad To Have Some Leisure Time With Your Family
3. Sabarmati Riverfront

Image Source
Renowned to be one of the famous rivers that originated from Udaipur in Rajasthan, its riverfront is indeed one of the best options for one day picnic near Ahmedabad for couples. Offering picturesque views and serving as a great site for the couples to relax and unwind, Sabarmati Riverfront is a must visit place for the nature lovers.
Location: Sabarmati Riverfront Walkway W, Rabarivas, Usmanpura, Ahmedabad
Timings: Sundays Only – 12:15 am to 6 pm
Average Time Spent: 1 to 1.5 hours
 15 Romantic Restaurants In Ahmedabad That'll Fill Your Dinner Date With Love!
4. Kankaria Lake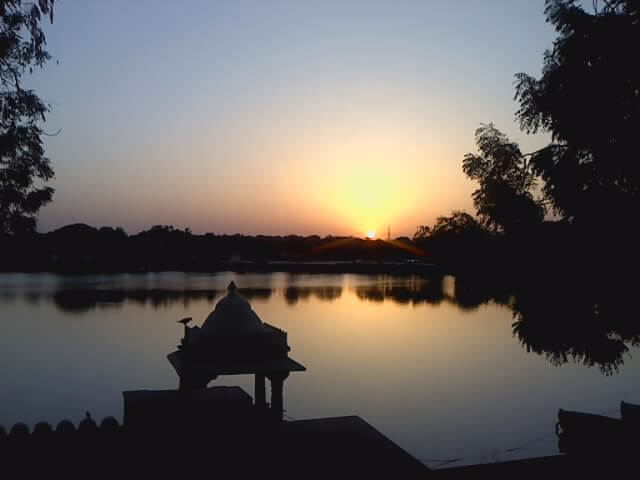 Located in the south-eastern part of Ahmedabad, Kankaria Lake is very famous in the city for its fantastic light show. Apart from being one of the most romantic places near Ahmedabad, couples can also enjoy activities such as balloon safari, and leisure activities.
Location: Himmatnagar Village, Maninagar Area, Ahmedabad
Length Of The Shore: 3.15 kilometers
Timings: 9 am to 10 pm; Mondays Closed
5. Adalaj Step Well

Built by the great Mahmud Begada for his queen Rudabai, Adalaj Step Well was created to celebrate love. Bound to be romantic by nature and exotic in its appearance, Adalaj Step Well showcases the beauty of Indian architecture ever since it was built in 1499.
Location: Adalaj, Gandhinagar, Ahmedabad
Timings: 6 am to 6 pm – Everyday
Average Time Spent: 1 hour
 20 Amazing Resorts Near Ahmedabad: Guide To Your Next Vacation Hotspots
6. Thol Bird Sanctuary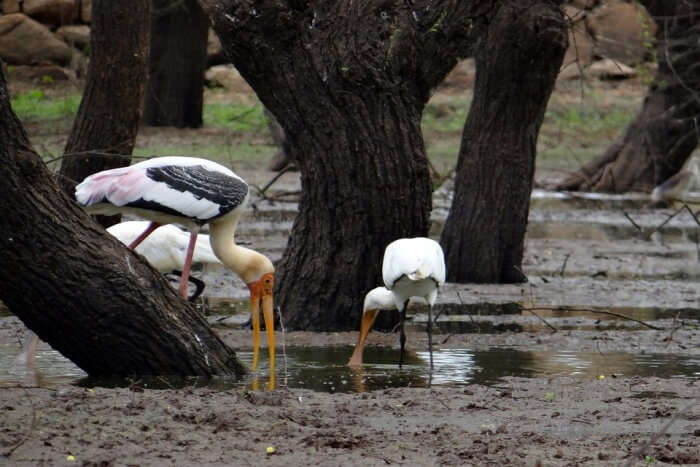 With dense forests and marshes encircling it from all the sides, Thol Bird Sanctuary is a lesser known gem which is composed of freshwater. Home to a wide range of species of birds, the long-legged cranes are spotted often in the surrounding of Thol Bird Sanctuary, which is a must visit place for all the couples.
Location: Thol Bird Sanctuary Road, Thol, Gujarat
Distance: 25 kilometers from Ahmedabad
Timings: 6 am to 5 pm – Everyday
Average Time Spent: 1 hour
Entry Fee: INR 50 per person.
7. Sarkhej Roza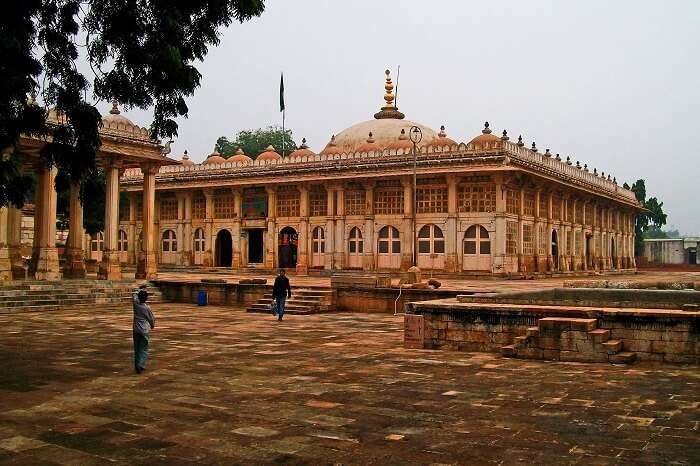 Located in the village of Makraba, Sarkhej Roza is an architectural marvel which reflects nothing but elegance and sophistication. Being one of the best places to visit near Ahmedabad for couples, the monument also holds a great historical significance which keeps the essence of Ahmedabad alive.
Location: Makraba, Gujarat
Distance: 7 kilometers from Ahmedabad
Timings: 6 am to 8 pm – Everyday
Average Time Spent: 1 to 1.5 hours
Entry Fee: Free.
 Ahmedabad's Real Poseidon Is The First Underwater Restaurant In India
8. Victoria Garden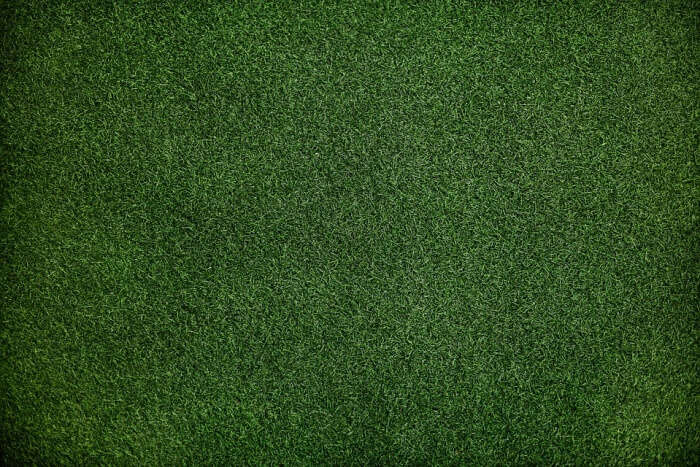 A historical garden built to honor Queen Victoria of England, Victoria Garden in Ahmedabad is a lush property that spreads the joys of greenery all around. Featuring a statue of Queen Victoria, most of the couples flock to the garden to relax and revive in the natural beauty of its surroundings. It is the best place to visit near Ahmedabad for couples.
Location: Bhadra, Ahmedabad
Average Time Spent: 1 to 1.5 hours
9. Vastrapur Lake

Located in the busy western side of Ahmedabad, Vastrapur Lake is not only one of the most romantic places near Ahmedabad but is also one of the best picnic spots in the city. The lake also boasts to have been encompassed by a park, and an open-air theater, which also serves as the main grounds for all important cultural events. It is certainly one of the most prominent tourist places in Ahmedabad.
Location: Vastrapur, Ahmedabad
Timings: 8 am to 10 pm – Everyday
Average Time Spent: 1 hour
 3 Impeccable Resorts Near Gujarat That Are Perfect For A Luxurious Staycation!
10. Zanzari Waterfall

If you are looking for beautiful romantic getaways near Ahmedabad , then Zanzari Waterfalls make for a great place to visit with your partner. Located at a distance of around 74km from Ahemdabad, they make for a great day trip. 
Location: Dehgam
Timings: 6am–7pm
Average Time Spent: 2 hour
11. Bhadra Fort

Image Credit: Tejaherwal for Wikimedia
Built in the 15th century by Ahmad Shah, Bhadra Fort is the ancient charm of Ahmedabad. With stunningly carved pillars, courtyards, towers and mosques, this historic beauty reflects the fine architectural design of an ancient era. Immerse yourselves within the mystical aura of this fort, discover the magnificence of the fort with your partner, and capture the romanticism of the place.
Location: Jijabai Marg, Bhadra
Distance: 1.2 km from Ahmedabad
Timings: 9:00 am to 5:00 pm
Entry Fee: No entry fee
 These 10 Incredible Places To Visit In Gujarat In May Are Rich In Culture And Heritage
12. Kamala Nehru Zoological Garden

Image Credit: Emmanuel Dyan for Wikimedia
With a wide variety of species, Kamala Nehru Zoological Garden is one of the most fun places in Ahmedabad. A popular tourist attraction, with lush greenery, peaceful environs and a variety of exotic species, including rare reptiles, mammals and birds, this is the ultimate destination for a thrilling date with your sweetheart. You can simply stroll around while spotting some real fascinating animals. Certainly, this place is one of the most exciting couple places in Ahmedabad.
Location: Kankaria
Distance: 4.3 km from Ahmedabad
Timings: 9:00 am-6:15 pm, from March to October, and 9:00 am-5:30 pm from November to February.
Entry Fee: ₹ 20 per person
Interesting isn't it? Gear up to explore the romantic side of Ahmedabad on your next visit to Gujarat. Also, if you know of any other romantic near Ahmedabad, then do share it with us in the comments below.
For our editorial codes of conduct and copyright disclaimer, please click here
Frequently Asked Questions About Romantic Places Near Ahmedabad
Is it safe to travel to Ahmedabad during COVID times?
You need to follow all the mandatory guidelines mentioned by the government such as maintaining social distance, wearing a mask at public places, washing or sanitizing hands after entry & exit, etc.
What is famous in Ahmedabad?
Ahmedabad is the largest city of Gujarat and is the former capital of the state. The city is situated on the banks of Sabarmati river and is famous for a couple of things, including cotton textiles, diamond cutting and street food places.
How can I spend 2 days in Ahmedabad?
If you have 2 days to spend in Ahmedabad, you can visit some of the most popular tourist destinations of the city. You can visit the Sabarmati Ashram, Swaminarayan Temple, Jhulta Minar, Law Garden Night Market, Manek Chawk, Lal Darwaza, and Alpha One Mall.
What can I buy in Ahmedabad?
There are a plethora of things to buy while shopping in Ahmedabad. One can buy Khadi, handloom, handicrafts and so much more in the city.
Is Ahmedabad costly?
No, Ahmedabad isn't very costly for tourists but per day cost depends on the kind of accommodation one chooses.
Is alcohol allowed in Ahmedabad?
There are a couple of hotels in Ahmedabad where one can buy liquor legally.
---
People also read:
Romantic places in Hanoi Romantic places in Pune Places to visit in Singapore for honeymoon