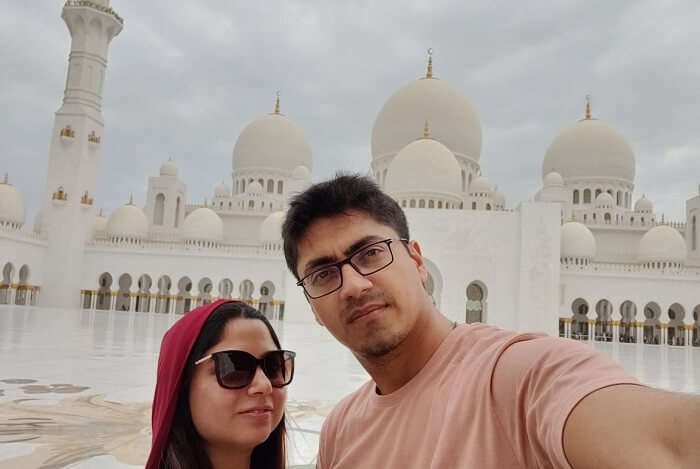 Iconic architecture and spectacular manmade-wonders, Dubai is a glamorous city which will sweep you off your feet! Known as the Land of Superlatives, Dubai has a lot in store for all travelers. Whether you are up for a romantic getaway or a solo vacay, the city is absolutely perfect for a laid-back vacation. The spectacular shopping festivals, the food scenes, the intoxicating nightlife, and the friendly locals make Dubai a land made for an ever so enthralling vacation! All lured by the charming city? How about a romantic escapade to the Land of Superlatives? We think its time for you to take a break from your tiresome and monotonous life and head to the scintillating city with your beloved for a memorable romantic trip to Dubai! If you are wondering what Dubai has to offer for your dreamy vacation, take a look at our recent traveler's rendezvous with the impressive city in the United Arab Emirates!.
Time flies away so quickly and you realize it when you complete an entire year with your spouse fully lost in love and admiration of each other. It was our first wedding anniversary and we were all excited to celebrate it at the Land of Superlatives! We wanted to travel to some country which is not that far away, so we chose Dubai. Dubai is famous for its desertscapes and skyscrapers which lured us. This city has a lot to offer to all the couples who are looking forward to cherishing their love and bond. We were all bored out of hill station or beaches, we wanted to have the rush of city life and Dubai turned out to be a great destination. The locals in Dubai were all warm and friendly. Their exquisite life stunned us a little but they were quite hospitable. When the city is an epitome of beauty and grandeur, how can you not have an excellent trip? Go through our experiences and go enliven your dream vacay on your romantic trip to Dubai as we did!
 10 Cruises From Dubai To Explore The Country In The Most Luxurious Style Ever!
Details Of Our Romantic Trip To Dubai
Trip Type: Romantic Trip To Dubai
Cost: INR 56,000 – 70, 000 per person approx
No. Of People: 2
Duration: 8 Nights 9 Days
Inclusions: Breakfast, Dinner, Airport Transfer, Cruise Rides
Exclusions: Lunch, Airfare, Dinner
A Glimpse Of Our Customized Itinerary To Dubai
Day 1: Arrival and Dhow Cruise
Day 2: Grand Mosque and Ferrari World in Abu Dhabi
Day 3: Ski Dubai and Global Village
Day 4: Dubai city tour and Desert Safari
Day 5: Bollywood theme park
Day 6: Miracle Garden and Burj Khalifa
Day 7: Transfer to Atlantis and Aquaventure and The Lost Chambers
Day 8: Aquaventure and The Lost Chambers
Day 9: Transfer to Airport
Best Experiences We Had On Our Romantic Trip To Dubai
1. Cruising Around The City Of Lights




The highlight of our romantic trip was the Dhow Dinner cruise. Our chauffeur dropped us at the Lotus Mega Yacht. The Dhow Dinner Cruise takes you around Dubai Marina while you enjoy the lavish buffet prepared for you. Exploring the city at the night while soaking in the stunning view of the Dubai skyline added the charm to our vacation. You should totally opt for the open seating area to have the best of your cruise experience. The double-decker yacht was really beautiful and comfortable. The buffet has dishes from various cuisines like Indian, Chinese, Italian, Mexican. From the food served to the Tanura Dance show, we loved everything on the cruise.
2. Exploring The Shopping Paradise!





Dubai is a paradise for all shopaholics and if you are looking for luxury brands, you can find all of them in the grand Dubai Mall. On the second day of our trip, we visited Abu Dhabi dates market, where we bought date chocolates with dry fruits on a wholesale rate. I am not a big fan of malls but I love shopping from the street markets. We also visited the famous markets like Gold Souk, Spice Souk and Naif Souk in Old Dubai where you can buy souvenirs like fridge magnets. Another shopping spot which we absolutely loved was the Global Village. The Global village is a spot where you can find all sorts of items from all around the globe. Global Village was beyond our expectation and we were so excited to see crafts and food from all around the globe. We bought some home décor items from the stalls and our family really loved them when we came back. From the gold market to the dates market, all the shopping lovers must explore the street markets in Dubai!
3. Experience The Marvelous Attraction Of Dubai And Abu Dhabi





On the second day of our trip, we visited Abu Dhabi which was around 1.5 to 2 hours ride away from Dubai. First, we visited the mesmerizing beauty in white called the Sheikh Zayed Grand Mosque. All the ladies were asked to put on an Abaya which was available in various colors.
Now it was time to add the fun element in our day and so we visited the Ferrari world which awakened the adventure junkie. Clicking pictures of the grand Ferrar World is an experience you ought to have. We clicked some pictures and then went inside to enjoy the thrilling rides. You should try Flying Aces, Fiorano GT Challenge and Formula Rossa.
On the fifth day of our vacation, we visited a fun spot called the Bollywood theme park. We spotted the cafe themed on the Rockstar movie and the action set of Dabangg which made us realize that after all these years, we still are fans of Bollywood movies.
4. Witness Snow Amidst The Dessert City Or Go On A Desert Safari!





Ski Dubai is a popular name all around the world as it is the largest refrigerator in the world. All the adventure junkies can indulge in zorbing and skiing in slopes. We also had an encounter with the adorable Penguins. The next day we left for our Desert camp and we reached it just before the sunset. After the sunset, delicious foods and refreshing drinks were served to us. We enjoyed ourselves at this desert camp as there were a live fire show, a Tanura dance show and a belly dance show performed in front of us while relished our food and Sheesha. Our day was packed with amazing entertainment and food.
 Dubai Marina: The One Stop Destination For Breathtaking Panorama And Unparalleled Luxury!
5. The Big Anniversary Day Spent At The Atlantis


Finally, on the day our anniversary, we were transferred to Atlantis and we were given a room with an ocean view. What can be more romantic? Later we took out our swimming costumes and head to the Aquaventure and the Lost Chambers. We tried all kinds of activities at these spots and later enjoyed a warm bath in our room. And in to end our special day perfectly we had dinner at Saffron. The buffet had dishes from the Indian, Chinese, Japenese and continental cuisines.
Do's & Don'ts For Visiting Dubai
Always use a good sunblock even if it is a cloudy and windy day.
Dress modestly.
ever be late or keep someone waiting. Folks in Dubai do not like to wait!
Tips For Future Travelers
Carry a light jacket if you are visiting Dubai in the months of February – March, as it gets cold and windy after sunset.
Always be ready before the scheduled pick up time by the chauffeur.
Grab your meals in the food trucks, If you want to cut down the daily expenditure during your stay in Dubai. On the day of your Desert Safari, have your meal well in advance. Sand dune bashing can be very bumpy and many people tend to throw up during dune bashing. Also, carry a sickness bag with you. People, there are all about cleanliness and hygiene.
Do not buy water bottles from hotels or restaurants. A bottle of water costing 3dhs in a supermarket might cost around 10-15dhs in hotels or restaurants. Dubai has plenty of supermarkets in every nook and corner of the city.
Souvenir shops can be found in every tourist attraction in the city. However, the same souvenirs of the same quality will be much cheaper in old Dubai- gold souk, spice souk, naïf souk. So, try shopping in Old Dubai.
Our Experience With TravelTriangle
Very satisfying. We received some great quotations for the trip. Vanshaj was really very patient throughout our planning since we changed the plan a lot of times and finally, he managed to curate a plan with all our requirements within our budget. Looking forward to many more trips with Travel Triangle in the future.
 World's Largest Ferris Wheel Will No Longer Be In Las Vegas Because It Is Coming To Dubai
A whole year spent loving and pampering your beloved, should be celebrated in a grand way. Shouldn't it? Dubai is a land of all the magic which will make your trip a memorable and unforgettable one. So, don't wait anymore, surprise your beloved by planning a romantic trip to Dubai with TravelTriangle and leave right away!