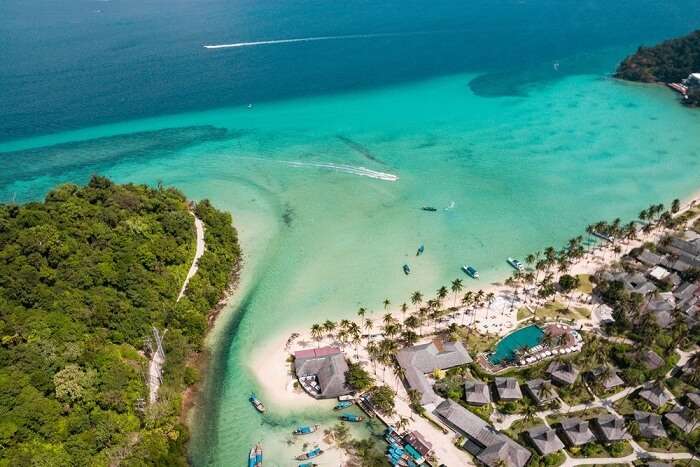 Rosario Island is a small archipelago of 27 odd rocky islands surrounded by crystal clear turquoise water and the richest coral reefs of the world. In fact, this small cluster of islands has been converted into a National Park since 1977 with the purpose of protecting the coral reefs in the Colombian Caribbean Coast and the marine life therein. The beautifully designed human habitat against the vegetation on one side and the sprawling blue all around looks like a perfect heaven. The first look at this island gives you the feel of eternal tranquility. No wonder, it has become a favorite among people with a love for sun and the sea.
How to Get to the Rosario Islands
Rosario Islands in Colombia is located near the coast of Cartagena around 100 kilometers apart and can be reached from Cartagena within an hour's time by speedboats. Ferries are also available but are a wee bit crowded. Rosario Islands are usually covered in as a day trip from Cartagena.
Must Read: The Ultimate Guide To Sri Lanka's Dambulla Cave Temple
Where to Stay on Rosario Islands
Though Rosario Island is mostly covered in a day trip, there are several resorts in Isla Grande. Mostly tourist visit this place as a day trip to Rosario Islands and end up visiting the Oceanerio Aquarium, some hurried scuba diving and carry on with their journey ahead. In order to enjoy a real Caribbean experience in Rosario Island, it is truly recommended to spend a day or two here. You can book your reservation in any of the ocean facing resorts and visit the other islands from there.
Rosario is still a virgin travel destination that is yet to experience a heavy influx of travelers. There are many affordable hotels which offer packages which includes the traveling expense to reach there. It costs around $20-$30 per person. A night stay will surely offer a true blue Caribbean hospitality and a delectable cuisine.
Some of the lodging options in Rosario Islands include Cocoliso Island Resort, Eco Hotel Los Erizos, Ecohotel Casa Blanca, Gente de Mar Resort, Las Palmeras Eco-Hotel, Arte y Aventura, Eco Hotel La Cocotera, Baru Playa Eco Beach Resort, Las Islas and many other luxury and budget hotels.
Things to Do in Rosario Islands
Rosario Islands make up for a perfect heaven for people who love to experience the serenity of nature in an undeterred atmosphere. Complete with an extremely picturesque view and some really enthralling water sports, Rosario Islands offer a really quite a sumptuous experience. In order to explore and fathom the kind of holiday, we can expect from Rosario Island, first, let us take a tour of the main islands of the archipelago.
Suggested Read: Ceylon Tea Museum: The Perfect Spot To Relish The Taste Of The Authentic Sri Lankan Tea!
1. Exploring Islands
Isla Grande–The largest land mass in Rosario Islands, Isla Grande has some of the most mesmerizing beaches and a beautiful lagoon.
Isla Fuerte – Exuding a true blue Colombian holiday experience, Isla Fuerte offers some of the most enchanting beaches and a vivid bio-diversified environment that gives a real feel of nature to the tourists.
Isla Del Pirata–Just a peck of a landmass, Isla del Pirata starts and finished within a mile or so. However, it offers a peacefully secluded heaven, some water sports, and awesome local cuisine.
Isla Majagua–Still waiting to be explored, Isla Majagua offers a beautiful beach and a completely tranquil environment to relax and drown yourself in the lap of nature.
Isla San Martin de Pajarales–Home to the most popular tourist attraction of the Rosario Islands – the Oceanario Aquarium and some of the most picturesque beached, Isla San Martin de Pajaralesattracts a lot of footfall of tourists from all over the world.
Suggested Read: Arugam Bay In Sri Lanka: A Guide To The Mesmerizing Beach On The Coast Of Sri Lanka
2. A Mecca for Snorkelers
The vivid and vibrant underwater life, the rich coral reserve makes Rosario Islands the best place for snorkeling. You stay in Rosario Islands will not be worthwhile unless you go for a snorkeling expedition. It is surely proving to be real treasure trove that will fill your heart. Isla San Martin de Pajarales is particularly famous snorkeling particularly for the warm water, better visibility and the breathtaking aquatic life under water.
Suggested Read: Viharamahadevi Park: A Handy Guide To Explore This Nature's Paradise In Sri Lanka!
3. A Paradise for Scuba Divers
There are several scuba diving institutes that offer excellent diving experience. Dive into the colorful world of corals, crabs, starfish and a lot more. Isla Grande and Isla Fuerte are best spots known for scuba diving as it offers warm waters and an excellent visibility. The tropical climate, with no strong winds, makes it very conducive for experienced as well as amateur scuba divers to take a dive without any fear.
Suggested Read: Sri Lanka In January: Best Places To Visit & Stay In 2022
4. Kayaking Excursions
If you move inward leaving the ocean behind, an equally beautiful landscape dotted with a few resorts are waiting to be explored. As mentioned earlier, the Rosario Islands are made to be national parks with a purpose to protect the biodiversity in the region, it can be best experienced through a kayaking expedition across the swamp in the mangrove forest.
Whether it is a family trip, a romantic trip or a solo trip, Rosario Island provides the perfect ambiance for every traveler. Swim, snorkel, dive, or just laze around under the sun, this is the most relaxing experience you could ever ask for. There are plenty of activities for kids as well as adults. Hence instead of planning a day trip to the Rosario Islands, it is better to plan a stay and experience a really enthralling island vacation.
Such small specks of land make you feel like you are almost floating on the ocean. You can experience being a part of the excellent biodiversity that is a rarity in the rest of the world. With a vibrant underworld just a dive away, you can feel one with the beautiful aquatic life and wonder at the marvel of nature. How vividly different and amazing the world is under the ocean which is so different and unique than the world that is established above the ground.
Further Read: 11 Top Villas In Hikkaduwa To Enjoy In The Beachy Paradise Of Sri Lanka!
Rosario Islands tour proves to be a rejuvenating holiday for people who are seeking a break from the noise and rush of urban life. If you think you are in a dire need o a vacation to some far away places, take an international trip and fill your hearts with enough fresh oxygen and your soul with a soothing balm of nature in this island holiday.
---
Looking To Book A Holiday Package?
Book memorable holidays on TravelTriangle with 650+ verified travel agents for 65+ domestic and international destinations.
---
Comments
comments