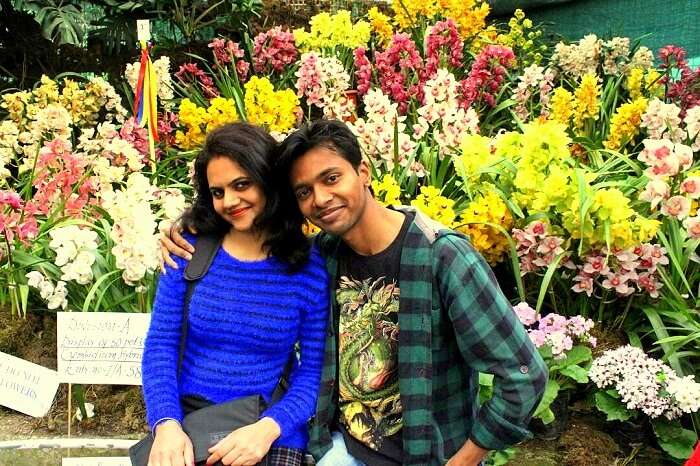 "We wanted to get relief from the heat and humidity of Mumbai. Sikkim and Darjeeling offered us charming weather, picturesque hills, and perfect reviews for a romantic vacation we needed the most."
Trip Cost: INR 31,000
Trip Duration: 4 nights/5 days
Agent Name: Woodstock India
Month of Travel: March 2017
Inclusions: Transfers, accommodation, meals (excluding lunch), sightseeing, and taxes
Exclusions: Lunch, flight and train tickets.
 Sanjay's Honeymoon Trip To Sikkim & Darjeeling Gives Adventure And Love A Whole New Meaning!
For a long time, a vacation to the Himalayan mountains was on the cards. My wife and I wanted to visit a place that has untouched natural beauty and stunning landscape. After narrowing down our options to Ladakh, and Sikkim and Darjeeling, we started searching for holiday packages.
After searching on google for travel companies, I found TravelTriangle as a viable option, from where I could buy a customized package. We learned from our TravelTriangle representative that most of the places in and around Ladakh are inaccessible at this time of the year. Therefore, we thought it would be best to book a 4 nights/5 days trip to Sikkim and Darjeeling.
After our friends and family got to know about the fact the we were visiting Sikkim and Darjeeling, they applauded our choice by giving extremely positive reviews. We couldn't wait for our refreshing retreat to the mountains to begin.
Day 1: On Cloud 9 In Darjeeling
 Conquering Adventure Sports In Land, Air, & Water: Arunav & His Friends Did It All In Sikkim & Darjeeling
We took a train from Mumbai and arrived at the New Jalpaiguri railway station at 4 am. The driver picked us up from the station, and we proceeded to Darjeeling. The view on the way was really pleasant as we crossed a lot of lush tea gardens in the morning. All that beauty tempted us to stop our car and click some pictures along the way.
The rain gradually converted into a lighter drizzle as we moved up the hill. The spray of water across my face, as I stuck my head out of the car window, felt really nice. It was remarkable how different the Mumbai and Darjeeling rains felt. I guess the purity of the hills and the lack of pollution had a major part to play.
We arrived at the Omega Residency Hotel and faced a bit of inconvenience as the hotel room we had booked wasn't yet available. However, after calling Shiva from TravelTriangle, the confusion was cleared up quickly and we got our room at noon.
Post lunch, we stepped out of the hotel for sightseeing in Darjeeling. We purchased some woolen clothes at very economical prices from the local bazaar. Afterwards, we had dinner at the hotel ending the first day of our trip to Sikkim and Darjeeling.
Day 2: Lots to see in Darjeeling
 Pankaj's Family Trip To Sikkim & Darjeeling Was Definitely A Memorable Experience
The next day, we didn't wake up at 4 am for the sunrise at Tiger Hill due to the constant overnight rain. It was disappointing but understandable since there was no point in waking up for just rain and grey clouds. Later in the morning, we had breakfast and proceeded for a day of sightseeing in Darjeeling.
The first place we saw was the Peace Pagoda. The structure was so beautiful and serene that I was compelled to stare at the marvellous creation for a long time. Next up, we visited a buddhist monastery, where the statue inside was incredible. The detailed craft work done on it was probably the best I'd seen in a Buddhist temple.. After that, we stopped by at a few places like the War Memorial, Batasia Loop, and the local zoo.
We ended the day by visiting the lush green tea gardens of Darjeeling. The panoramic view of the tea fields was incredible, as the lush green tea plantations were spread out as far as the eyes could see. I bought a few bags of the finest tea in the world, shared a cuppa with my wife, and said thank you to the good lord for this amazing experience.
Later, we returned to the hotel and had a delicious dinner to end yet another memorable day on our honeymoon trip to Sikkim and Darjeeling.
Day 3: Driving to Gorgeous Gangtok
 Experiencing The Sweet Delights Of North East India: A Beautiful Family Trip To Sikkim & Darjeeling
After breakfast, we checked out of Darjeeling and departed for Gangtok at 10 am. On our journey through the hills, we followed the Teesta river into Sikkim and arrived in Gangtok at 3 pm. Our hotel, Chitrakoot Residency, was 10 km outside the city and a bit too far from the main market for our liking.
In the evening, we had just enough sunlight to do a bit of sightseeing in Gangtok. We started with Hanuman tok- a hindu temple located at a very high altitude managed by the army. After that, we ended a hectic day of traveling by visiting the flower show, and cottage industry exhibition.
Evenings in Gangtok, with the cold weather, felt like a reprieve. It gave us a much needed break from the relentless and draining summer weather back home.
Day 4: Loads of snow in paradise
 Experiencing Blissful Vibes Of Clouds & Mountains On A Honeymoon To Sikkim
This day, we were scheduled for a visit to Tsomgo Lake. The best place to visit was indeed saved for last, as the driver picked us up from the hotel and drove us to Tsomgo Lake.  Located at an altitude of 12000 ft, Tsomgo Lake and its surroundings were covered with snow. Being from Mumbai, this sub zero weather was an experience we would give anything for. The only two seasons we came across in our lives in Mumbai were either summer or monsoon. We liked the place so much, that I told the driver that we would spend an extra few hours at Tsomgo Lake.
On our way back, we asked the driver to drop us off at MG Road for some shopping. After buying a few souvenirs, my wife and tried some local delicacies for dinner. The food was really tasty, as we savored on some authentic Chinese food to cap off an unforgettable day on our trip to Sikkim and Darjeeling.
Day 5: Heading back home with refreshed minds
A Honeymoon Trip To Sikkim & Darjeeling That Shows How To Make The Best Of What You've Got!
On the morning of our departure, we checked out of Gangtok and boarded the cab to leave for Bagdogra. My wife and I reflected on the best moments of our trip to Sikkim and Darjeeling as we headed towards the airport for our flight to Mumbai.

The people we met on our trip to Sikkim and Darjeeling were incredibly warm and welcoming. As we said goodbye to the last of them- our driver, we thanked him for taking us to such beautiful places, and guiding us to the best of his capability. I'm grateful I got a chance to witness this paradise with my wife, as Sikkim and Darjeeling, to my amazement are still not overly commercialized. We went back home with a pledge, to visit this place once again which now occupies a special place in our hearts.
High points:
Visiting the Tsomgo Lake was really memorable.
Seeing rare animals like black panther, and pandas at the Darjeeling zoo was a nice experience.
Tip to travelers:
Darjeeling is better and more economical for shopping than Gangtok.
Low points:
The coordination between the hotel and the agents should be better in the case of an early pick up
Hot water wasn't easily available in either of the hotels.
A few hidden gems in the North-east are priceless. Book your Sikkim Romantic package and unfold the mystic treasures of Sikkim!
---
Looking To Book Your Honeymoon Package?
Book memorable honeymoon on TravelTriangle with 650+ verified travel agents for 65+ domestic and international destinations.
---