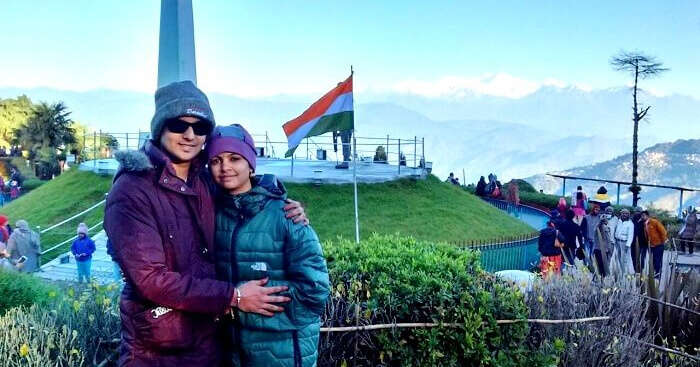 An adventure that began a new chapter in their life. Read about the charming and scenic account of Sanjay as he travels on a honeymoon trip to Sikkim & Darjeeling fortifying his love for his better half and mother nature. Their trip cost them a total of INR 28,500 which included their transfers, sightseeing, accommodation, and breakfast.
My wife and I were always fantasized by the North-east. What better time and opportunity to go than our honeymoon. A friend of mine told me about TravelTriangle a while back and how he had a great experience with them. As soon as he told me about their concept of giving the travelers a customized itinerary, I was sold on the idea.
I submitted a query with TravelTriangle and got a call from their representative. Naina from TravelTriangle connected me to various agents providing me multiple offers for the tour package I wanted. I selected the best deal given to me by 'I Am Himalaya Tours and Travels'.
Just like that, we were booked and ready to explore the mystical Sikkim & Darjeeling. We were really excited to witness and experience a culture which is completely unknown to us.
Day 1: Arriving in Darjeeling
Off we went, to begin a new story in our lives. We boarded the flight from Chennai and arrived in Bagdogra at 3 pm. The driver was present to receive and drive us to our first destination Darjeeling. Right from the moment we stepped out of the airport, the vagabond inside me was coming out in leaps and bounds.
Chasing the clouds, dissecting the sun rays, and zig zagging around hills we finally arrived in quaint and charming Darjeeling at 7 pm. We checked into the hotel to a warm welcome and proceeded to have dinner. After dinner, as we were tired, we called it in early.
Suggested Read: 48 Places To Visit In Sikkim: Extraordinary Realms In The North East!
---
Sikkim Gangtok Darjeeling Honeymoon Packages on TravelTriangle
Visit Sikkim and explore Yumthang valley, Tsomgo Lake, Gangtok, Nathula Pass, and Pelling. Spend exclusive time with your other half in peace and tranquility while exploring Buddhist monasteries, snow-capped mountains, and wildlife sanctuaries.
---
Day 2: An epic sunrise over Tiger Hill
The next morning began really early for us, as we wanted to catch the sun rising over the third highest peak in the world – Mt. Khangchendzonga. We started at 3.30 am from the hotel in the cab assigned to us. We arrived at a vantage point at 5 am and waited for the sun to rise. It was a magical experience seeing the sun paint the mountain range canvas orange before rising up to its shining glory.
On our way back, we stopped by at the enchanting Ghoom Monastery. We arrived back at the hotel at 7.30am and had breakfast. Later, we left for the Darjeeling city tour at 10 am. First up, we visited the impressive Zoological Park which had the entire diaspora of the animal kingdom. Afterwards, we drove towards the famed Tea Gardens of Darjeeling. Seeing the endless hills covered with tea leaves was really refreshing and a treat for sore eyes.
Post lunch, we were graced with blessings from the divine at Peace Pagoda and Japanese Temple. The sightseeing tour ended at 4 pm as the driver dropped us at the main market in Darjeeling. We returned to the hotel at 7 pm, content and tired from a satisfying day of travel, and called it a night.
Suggested Read: A Honeymoon Trip To Sikkim & Darjeeling That Shows How To Make The Best Of What You've Got!
Day 3: Driving to Gangtok
The next morning after breakfast, we checked out of the hotel and headed for Gangtok at 8 am. My wife and I really enjoyed the picturesque drive from Darjeeling entering into Sikkim. We arrive at the hotel in Gangtok at noon. After having lunch, we immediately proceeded to wander around the city.
The city tour started with a visit to the magical stupa of Droul Chorthen. There's always something about a Buddhist Monastery that brings your mind to a state of zen and tranquility. The next few places we covered were the Flower Show and Directorate of Handloom to finish up the sightseeing. After having dinner at a restaurant, we returned back to the hotel and called it a night.
Suggested Read: 7 Lakes In Sikkim Which Are No Less Than A Magical Dream Of A Traveler
Day 4: Stunning weather and thrill at Changu Lake
We had seen the hills of Sikkim from afar, it was time we drove up one of these daunting peaks and see them from above. We departed for Changu Lake at 7 am in the cab booked for us. It took us almost four hours to reach the Changu Lake. The weather and the conditions kept getting visibly tougher as we neared the lake at 12000 ft.
Upon arriving, we saw the scenic lake situated in the backdrop of a mountain. The sheer force of the gusty winds made our stay adventurous and tough to endure. Moving on, we drove further uphill to visit Baba Mandir. A temple made in the remembrance of soldier who died while protecting the nation. We left Changu Lake and arrived back in Gangtok around 4 pm.
To wind up our stay in Gangtok, we shopped for a little while in the evening at MG Road and ultimately proceeded back to the hotel at 10pm and called it a night.
Suggested Read: 20 Things To Do In Darjeeling That You Won't Find In Any Travel Guide!
Day 5: Farewell Sikkim & Darjeeling
Next morning, after breakfast, we got ready to depart for Bagdogra Airport at 8 am. We arrived at the airport at noon at Bagdogra, from where we boarded our flight back to Ahmedabad.
The north eastern part of India, is a special place in the country that begs to be explore. The time I spent with my wife right from the beginning of the trip to the returning flight was spectacular and unforgettable.
High Points:
Changu Lake Trip was our personal best on the trip so far
Low Points:
The hotel in Gangtok could've been much better. Food and service quality weren't upto the mark.
Tips to Travelers:
People traveling from Southern India should try and arrange a cab driver who speaks in English.
Further Read: 10 Best Resorts In Sikkim You'll Never Want To Leave When You Visit
Witness the beauty and charm of Sikkim and Darjeeling. Get packed and explore The mystic hills await, book your package to Sikkim now!
---