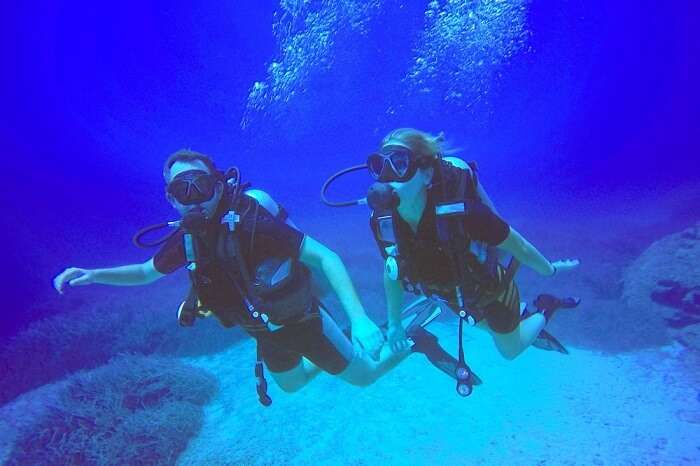 Cyprus is just one of those places that seem to find its way on our to visit list, no matter how different or weirds our preferences are. Besides the famous beauty that everybody speaks of, there is another reason for Cyprus being a famous spot for scuba diving, both for lessons and intermediate diving experiences. This reason is that out of all the surrounding areas, Cyprus is probably the most diver friendly. One facet of this fact is that the locals quite like the divers, along with the second part being that there are many easy to navigate wrecks available near the shore. Keep scrolling to learn more about our top picks for the top 10 scuba diving in Cyprus locations.
Scuba Diving In Cyprus: 10 Best Places
Here is a list of 10 best places for scuba diving in Cyprus that will you a jaw-dropping experience you won't forget ever. Take a look!
1. White River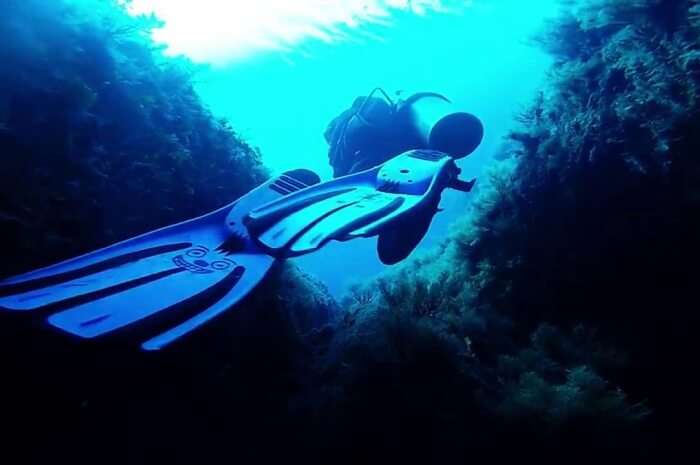 This is by far one of the most well-known diving spots in the entirety of Cyprus. Recommended by diving instructors as a simple yet quite fulfilling dive and swim, this uninterrupted stretch of diving land is located just into the Akamas Peninsula, where a cove is clearly marked with flags and other bright markers. This is done by veteran divers to make the entrance of the cove easier to locate for other divers. Once through, one enters the White River stretch, where one can find some of the most exotic fish. Also, if one is lucky, they make get to see some quite large turtles.
Location: Akamas Peninsula
Must Read: Belgium Travel – Cockpit Of Europe: A Mini Guide To The Unique Side Of Belgium
2. Protaras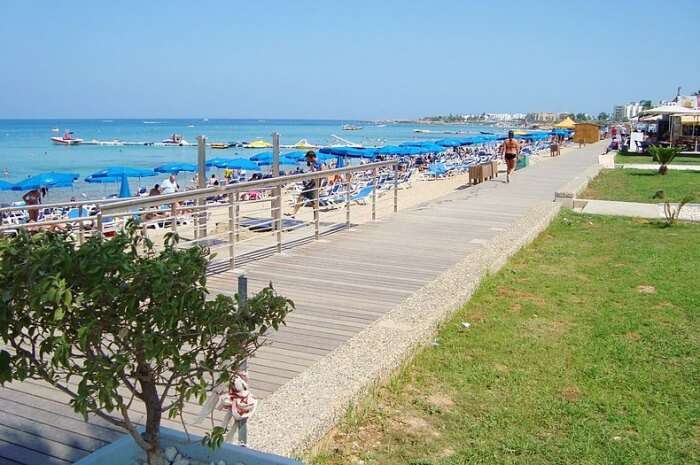 Known throughout the entire world of scuba diving as some of the best scuba diving in Cyprus, the reefs near Cyprus do not disappoint: indeed, they live up to expectations and then some. These reefs can be found around the eastern end of Cyprus, near Ayia Napa, and are not of single color, being red, green and some other popular colors of reefs. One can also find some quite dazzling underwater caves filled with cuttlefish, lobster three times the size of one's hand and several types of other fish.
Location: Near Ayia Napa
---
Europe Holiday Packages On TravelTriangle
Explore the most beautiful places to visit in Europe, from Paris to the Venice canals and from the Greek islands to the Swiss alps. Book customized packages by expert agents on TravelTriangle. Inclusive of airport transfers, cab, resort, sightseeing and meals. Best holiday experience Guaranteed. Book Now
---
3. The Zenobia Wreck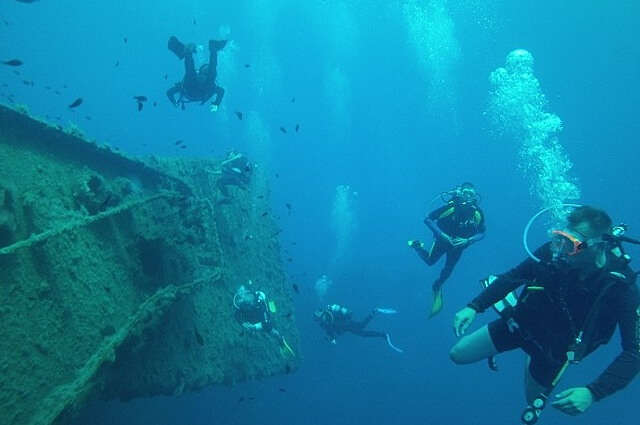 Image Source
The Zenobia Wreck is by far the most famous diving spot in Cyprus. It sunk just out of the harbor in 1980, along with quite a bit of cargo and stored items. The total length of the ship s 585 feet, an extraordinary length, which when combined with the fact that there are floating and unseen wooden shrapnel pieces, means that this is no ordinary dive. Strictly patrolled and watched by guards on water and on land, nobody is allowed to go without having learned advanced diving, and definitely not without a guide! It is one of the most enjoyable scuba diving places in North Cyprus.
Location: Just Off Harbor
Suggested Read: Christmas In Denmark: 13 Places To Enjoy The Christmassy Vibes In Europe!
4. Manajin Island

This island is located very near Paphos, the birthplace of Trojan War Hero, Theseus. The site around the island is strewn with old masonry, statues, and other artifacts, making it a favourite of underground photographers. The bottom of the island itself is rocky and offers a lot of opportunities for swim-throughs. The fish, the masonry and the underwater scene make this site very popular. One should definitely visit this place is they are on scuba diving holidays in Cyprus.
Location: Off the Shore of Paphos
5. George's Island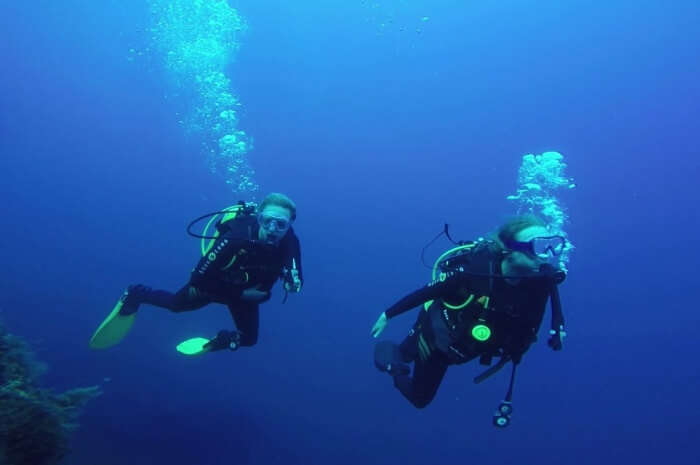 This diving spot is quite near to the famous Akamas Peninsula, a fact that makes it easier for beginners. This site is famous among veteran diving instructors as it is frequently used to offer diving courses for the total novice and beginner. Quite a lot of marine life, such as octopi and giant turtles, can be found here, hiding behind natural walls or overhangs to avoid the light of one's torchlight. This combination of factors makes it absolutely perfect for beginners.
Location: Near Akamas Peninsula
Suggested Read: 7 Days In Spain: Witness The Splendid Sceneries Of The Second Largest European Country!
6. B2 Canberra Wing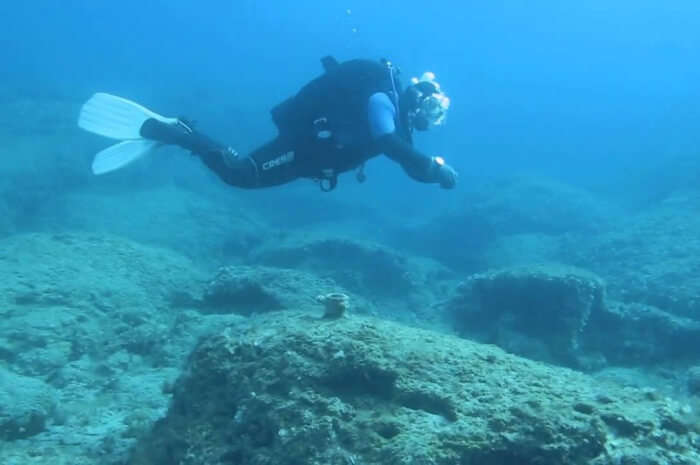 Unlike most other entries on this list, this is not the dilapidated, torn wreck of a ship: rather, it is the wreck of a single plane that crashed into these waters. However, even the year of this wreck is a mystery, as nobody remembers seeing or hearing anything strange. This place is famous for its marine life, as it has just about every single type of fish and other residents of the deep that one can hope to view.
Location: Jubilee Shoals
7. The Copper Wreck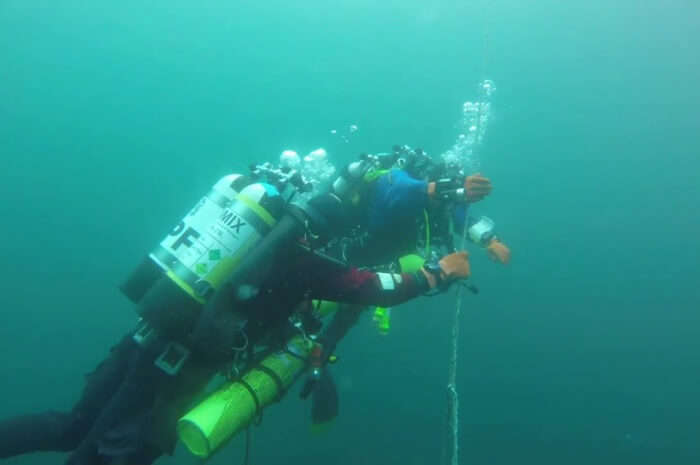 Another ship that managed to get itself wrecked off the Akrotiri Peninsula, the Copper Wreck is still near the surface, with some actually sticking out of the water. The fact that the wreckage is not sturdy and is capable of falling to bits makes it dangerous, as people can get septic and worse from rusted metal. However, scuba diving lesson providers use this spot to conduct diving lessons, and the place is usually found filled with first-timers.
Location: Off the Akrotiri Peninsula
Suggested Read: 35 Best Places To Spend Christmas In Europe 2021: Where Festivities Breathe Magic Into The Air!
8. The Lady Thetis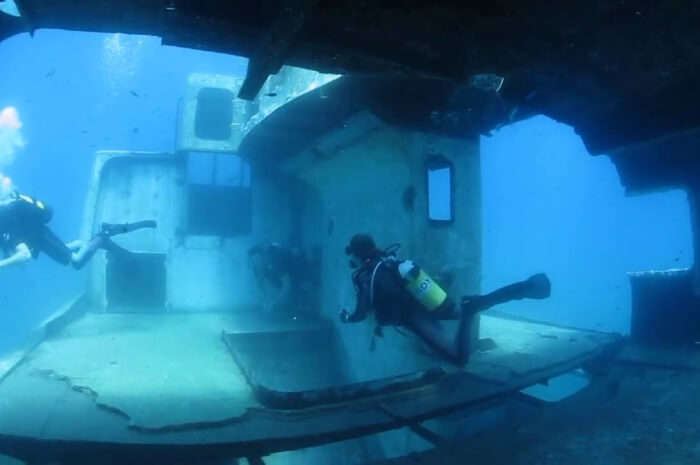 Another famous wreck, this was a German recreational boat that managed to start treading water and eventually sunk, taking quite a significant bit of cargo and stored items on board with it. Over the years, many areas have been cleared by teams of divers to make it safe for future divers, with the most popular places being the engine room and saloon, both of which is a large room, and the bridge, which is not quite as large as the other two.
Location: Off Limassol, Cyprus
9. The Chapel Dive Site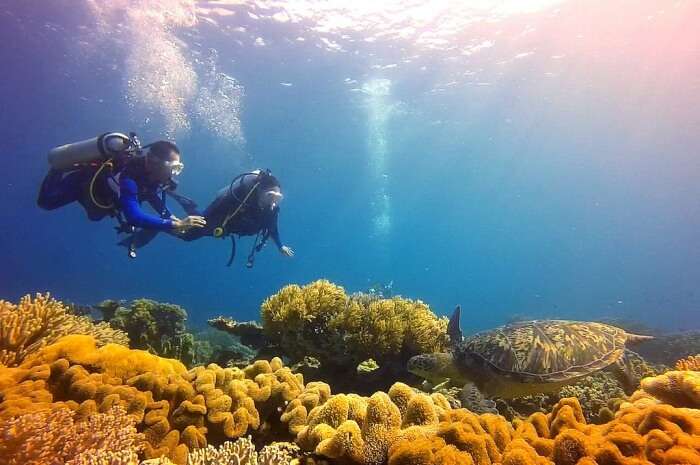 This is a dive site that is closed off to beginners and novices, as over the years many beginners have managed to get themselves lost. Known as the Chapel, the site is located just east of Ayia Napa, and is famous among scuba diving enthusiasts for letting the intermediate diver view a wide and varied range of exotic fish, such as scorpion fish, sponge fish, and others. Night dives are also held, as that is when the larger specimens of octopi come out to feed.
Location: A Cave Under the Coast
Suggested Read: 17 Spots For Snorkeling In Europe Every Underwater Enthusiast Must Visit
10. The Amphorae Caves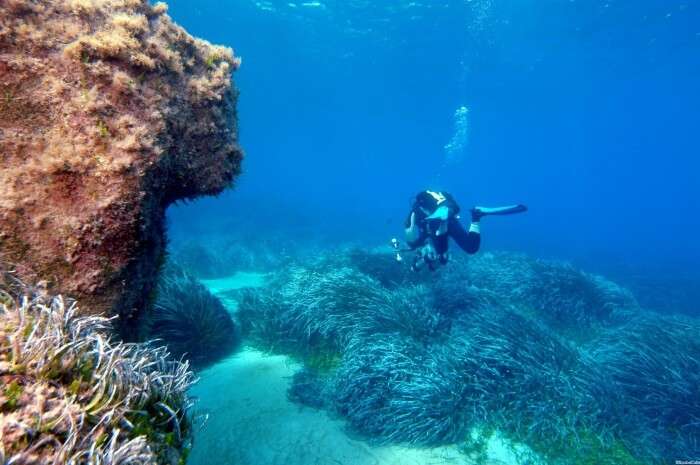 This is a scuba site that has done the impossible: it has convinced hardcore history buffs to abandon their books and don the wetsuit of scuba divers, as this is one of the only underwater places in the entire world to have displays of intact ancient pottery. Perhaps from a Greek or Roman time, nobody has been allowed to move these, as the sudden movement may cause them to break.
Location: Near Paphos
Further Read: 13 Frolicsome Beaches In Europe For All The Excited Beach Bums Across The Globe
As we have seen, Cyprus is one of the very best places for scuba diving, as it provides plenty of places, wrecks, reefs, shoals, caves, coves, and other interesting spots that cater to a wide variety of divers, including both the learning beginner, the somewhat knowledgeable intermediate scuba diver and the veteran who doesn't flinch, no matter what the challenge is. One should not baulk at the scuba diving at Cyprus prices, as they remain continuously low throughout the year. So, plan a trip to Europe and head to cyprus for the ultimate experience!
Frequently Asked Questions About Scuba Diving In Cyprus
What is Cyprus known for?
Cyprus, a city known for its heavenly beauty and breathtaking sceneries is also called the "Jewel of the Mediterranea" and is said to be the birthplace of Aphrodite, the ancient goddess of love and beauty, and the city of Cyprus, the closest representation of her beauty.
Is Cyprus good for scuba diving?
Cyprus is blessed with amazing marine life, clear waters and a constant water temperature of 25 C which makes it the ideal condition for scuba diving.
What is there to do in Cyprus?
Here are a few things to do in Cyprus which are worth a try on your upcoming vacation: 1.Explore And Enjoy The Weather Of Mountains 2. Enjoy The Famous Fasouri Water Park 3. Explore Stunning Beaches 4. Visit Local Temple & Church 5. Try Cyprus Beer And Wines
Which is the best time to visit Cyprus?
The months of May and June are the driest months when you can enjoy clear weather and slightly warm temperature, hence the best time to visit Cyprus.
Is scuba diving in Cyprus safe for first-timers?
If you know the guidelines of scuba diving properly and learn a few of its techniques, scuba diving is perfectly safe even for first-timers.
Do you have to be certified to scuba dive in Cyprus?
Yes. A diving certificate form an authorized organization is necessary for scuba diving in Cyprus, but if you don't have one yet, you can easily get it from any of the local diving centers in the city.
Is scuba diving in Cyprus expensive?
Mostly scuba dives in Cyprus are priced from INR 3228 ($ 45) + taxes which is not very expensive.
Which are the famous dive centers in Cyprus?
A few popular dive centers in Cyprus are: 1. Dive Point Cyprus 2. Scuba Tech Diving Centre, Cyprus 3. Zenobia Divers & Scuba Diving 4. Lucky Divers 5. Abyss Dive Center
---
Looking To Book An International Holiday?
Book memorable holidays on TravelTriangle with 650+ verified travel agents for 65+ domestic and international destinations.
---