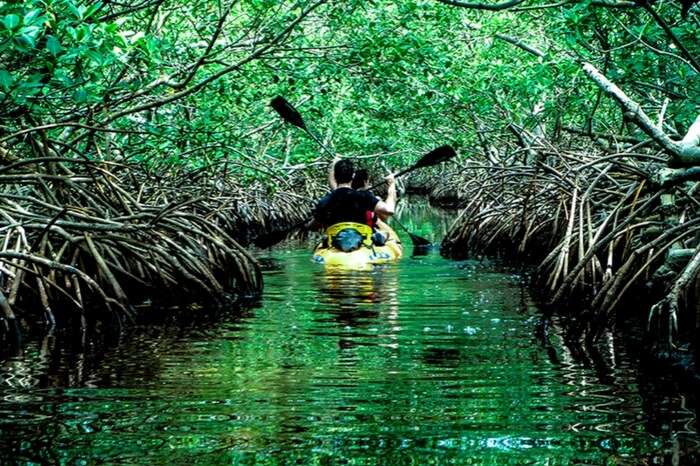 Far into in the unfrequented suburb of Andaman & Nicobar lies Baratang Island– a spectacle of nature tailor-made for nature fanatics, photographers, and explorers. Located towards the north & middle Andaman district of Andaman & Nicobar Islands, Baratang cuts the picture of an untarnished beauty that longs for her true admirer.
About Baratang Island's Tribe

Baratang Island is also home to the Jarawa tribe – one of the oldest existing human races, who are still are far from modern civilization. Their settlements are spread along the Great Andaman Trunk Road, particularly in the Jarawa Tribe Reserve region.
Earlier there used to be a human safari that allowed tourists to have a look at these tribal people from a distance. However, after video graphic revelations of exploitation of the tribals by tourists, the Supreme Court has banned human safaris in Andaman.
Must Read: 14 Interesting Secrets Of Andaman Islands: All About The Scenic Destination!
---
Andaman Holiday Packages On TravelTriangle
---
Top 9 Places To Visit In Baratang Island
Clearly, Baratang Island is not for luxury seekers. It is a place for those who love solitude and nature. Here's what you can look forward to on your tour to Baratang Island – a perfect place for a digital detox in the Andaman Islands.
1. Mangrove Creeks – Ride Through The Mangrove Tunnel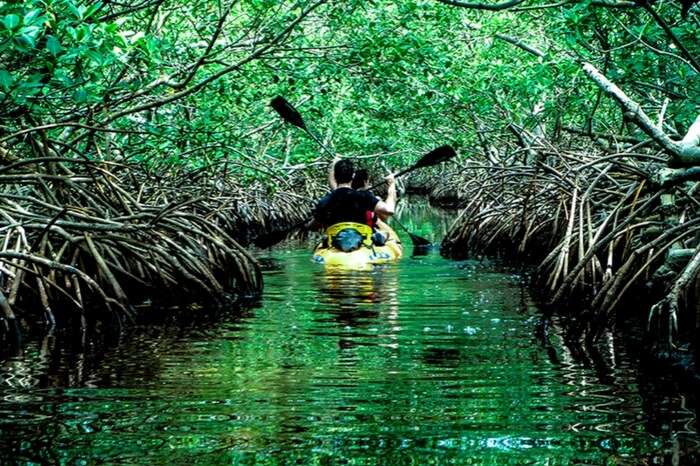 There's a lot of greenery surrounding the entire island. The mangroves along the creek leading to Baratang Island look like a beautiful tunnel. If you are out on a honeymoon, there couldn't be a more quaint place to romance with your partner while your ferry sails past these hushing environs.
Famous For: It makes one of the most romantic rides amidst the secluded creeks
Suggested Read: Kerala Vs. Andaman: Which Is The Best Coastal Travel Destination?
2. Active Mud Volcanoes – Not All Volcanoes Have Molten Lava

The mud volcanoes of Andaman are the only mud volcanoes in India. They are found in Baratang and Diglipur, which lies 300 km north of Port Blair. The site of active mud volcanoes in Baratang Island is located 4 km from the jetty and can be easily reached by boarding a shared taxi that charges around 400 bucks for a round trip (rates may vary).
Famous For: Mud volcanoes are a rare sight and Andaman brings you the best of this natural wonder
Note: You might come across huge deposits of dry mud but don't let that sight dishearten you as there are quite a few volcanoes in the area located in the range of 1-2 km. Keep looking for them and you'll be delighted at the sight of a live volcano with silky grayish mud oozing out of the openings.
Suggested Read: Andaman Vs Lakshadweep: Which Of The Two Is The Best Coastal Destination?
3. Limestone Caves – Among Nature's Finest Architectures

Located between mangrove forests and Baratang Island, the prehistoric limestone caves are a must-visit attraction in Andaman. A 30-minute drive from Baratang followed by a 30 minutes trek (2 km) into the jungle brings you to limestone caves in Baratang Island.
The boat takes you all the way through the beautiful channel with looming mangroves setting up the way during the entire course of the journey.
Famous For: Deep in the mangroves of Andaman, lies nature's perfect cave marvel forged out of limestone
Note: You need permission from the Forest Department at Baratang to explore the limestone caves. Mostly, your tour operator gets permission for you.
Suggested Read: A Spur Of The Moment Trip To Andaman That Turned EPIC With Friends
4. Parrot Island – Parrots Have A Home Too!

Known for being home to exquisite varieties of parrots, Parrot Island is an exciting place to be at. Birders from across the world turn up to catch the great view of thousands of parrots returning home at the time of sunset.
Take a boat from Baratang Jetty, which will take you through mangroves and narrow creeks to the beautiful island. Total ride time is 45 minutes.
Famous For: It is one of the world's largest habitats of parrots
Suggested Read: Say Good-Bye To Your Virtual Society: 7 Places For An Internet Free Vacation
---
Planning your holiday in Andaman but confused about what to do? These Andaman travel stories help you find your best trip ever!
---
5. Lalaji Bay Beach, Long Island – A Haven In North & Middle Andaman

Long Island is a rather deserted yet picturesque attraction located in the close proximity of Baratang. An ideal place to take up snorkeling, Lalaji Bay Beach boasts of calm and tranquilizing beaches. Make sure you take out some time to explore Lalaji Bay Beach – one of the finest and most pristine beaches in Andaman.
Frequent ferries commute from Rangat Bay (Rangat Island) & Baratang in Middle & South Andaman. It takes around 45 minutes to 1 hour to reach the island by ferry.
Famous For: It is a quaint beach with lots of unexplored places
Suggested Read: Scuba Diving In Andaman: 15 Unexplored Sites To Unravel The Colors Of The Ocean!
6. Baludera Beach – Tranquility Is Its Second Name

Image Credits: Adrianna Calvo for Pexels
Baratang Island is famous for its tranquil environment and the Baludera Beach only adds to the peace. This is one of the most stunning beaches that one can visit in Andaman. For those who wish to escape the crowds and enjoy some isolated space can consider Baludera Beach as an option to visit.
Baludera is one of the pristine beaches that takes every traveler in a trance by virtue of the serenity that exudes from various corners of this beach. There are various activities that one can try out when visiting the Beach.
Famous For: Its well-preserved beauty of nature.
Suggested Read: Andaman Travel Tips: Know About The Do's And Don'ts Before Planning Your Vacation
7. Guitar Island – The One With A Peculiar Shape 

Image Credits: Bryan Ricke for Pexels
As the name suggests, Guitar Island boasts about its shape and for being away from any sort of commercialisation. This island is home long, white stretches of glittering sand, surrounded by nodding palm trees on one side and the cerulean calm waters on the other.
Guitar Island is idyllic for those who wish to get an insight into the variety of sea creatures and various types of shells on the beaches. The peculiar shape of this island is what has made it earn its well-deserved popularity.
Famous For: It is famous for hermit crabs and other sea creatures.
Suggested Read: 14 Thrilling Water Sports In Andaman That All Adventure Enthusiasts Must Try
8. Strait Island – Wilderness Of Andaman

Image Credits: Harvinder Chandigarh for Wikipedia
Strait Island is another one of the stunning islands located just a few kilometers from Baratang and can be visited as a day trip from the Island. This Island in Andaman is not only attractive for every nature lover out there but also happens to call out to the wildlife admirers who wish to witness the various species that Andaman houses.
There are plenty of various deers that one can witness when visiting the Island. It is nothing less than heaven on earth for bird watchers all thanks to the several species of birds that this Island has to offer.
Famous For: It is famous for being home to exotic wildlife.
Suggested Read: Kayaking In Andaman: 4 Places For Sailing Through The Serene Blue Ocean
9. Merk Bay Beach – Shimmering White Sands

There is no dearth of shimmering beaches in Baratang Island. Merk Bay Beach is home to shimmering white sands, pristine blue waters, and the magnificent lush greens that makes everyone fall in love with nature. This beach is sitting along the North Passage Island and boasts about the isolated spaces.
With no sense of commercialization to affect, Merk Bay Beach is ideal for nature and adventure lovers both. If you wish to witness the stunning underwater world that Andaman has to offer, this is the place to be.
Famous For: It is famous for various water sports like scuba diving, snorkeling, and more.
Suggested Read: Verinder's Family Tour In Andaman Was Exactly What He Had On His Mind For A Beach Vacation!
Top 5 Things To Do In Baratang Island
Baratang Island is a destination that has plenty to offer. Here are a few thrilling and exciting things that one should definitely do on their trip to Andaman this year around.
1. Trekking

Image Credits: rawpixel.com for Pexels
While we have already discussed how stunning the limestone caves are, another thing that appeals to travelers about this destination is that it gives one a chance to engage in some trekking. Just imagine passing through the glorious mangrove vegetation in order to reach the stunning caves.
Trekking is a sport that satiates one's need for thrill and their need to get closer to mother nature. The intricate designs and the rugged formations of limestones is nothing less than a rewarding experience for many thrill-seekers.
Tip: Make sure you wear comfortable shoes when planning to trek.
Suggested Read: Maldives Vs Andaman: Which One Will Make The Cut For Your Vacation?
2. Hiking

Image Credits: jimgor33 for Pixabay
Hiking is another one of the adventure sports that one can try out in Andaman. This sport is great for those who are either just starting out their journey of thrill or wish to notch down a little and go for soft adventures. One can try out hiking in Andaman when visiting the mud volcanoes.
Mud Volcanoes are the finest examples of how magnificent the wonders of mother nature can be. Hiking to these mud volcanoes makes one realise the magnificence that mother nature possesses and hides under her blanket.
Tip: Make sure you follow the trail that has clear signs. Do not take an unmarked route when hiking.
Suggested Read: 7 Churches In Andaman That Will Add More Excitement To Your Trip
3. Sea Walking

Andaman is a destination that is home to some of the most calm, clear, and pristine azure waters. The underwater life on this island never fails to impress a human being. Sea Walking is a water sport that makes any vacation to Andaman and Nicobar islands complete. The best spot to try this out is the North Bay Island which is located just a few kilometers away from the Baratang Island.
This gives one a chance to witness the spectacular aquatic life that the massive ocean nurtures beneath. Just imagine walking on the soft wet sand while there are beautiful sea creatures swimming around you.
Tip: Avoid disturbing the sea creatures when you are underwater.
Suggested Read: Hemant's Family Trip For 7 Days In Andaman And Nicobar Was Something To Treasure!
4. Coral Gazing

Image Credits: Luboshv for Pixabay
Like said earlier, Andaman is an island destination that has a plethora of beautiful and colorful corals that can make anyone fall in love with the underwater world. Croal Gazing is a new adventure water sport that has been added for the divers to take part in. The best spot to witness the most fascinating corals is in Mohwa Dera.
This unique activity takes place when the tides are in the favor and the water is calm. The swaying colorful florals and the magnificent marine life just passing by makes it one of the most beautiful sports to be a part of.
Tip: If this would be your first time, make sure you have certain professionals tagging along.
Suggested Read: 15 Places To Visit In Havelock That Make Andaman The Ideal Tourist Destination
5. Scuba Diving

Image Credits: AshwiniShinde for Wikipedia
Another one of the most amazing things to try out when visiting the Baratang Island is scuba diving. Scuba Diving gives one a chance to not only interact with the water creatures that are near to the surface but also helps one get deeper into the ocean and explore the mysteries that are hidden underneath.
Scuba Diving is a sport that leaves one's heart pumping. If you have watched the Bollywood blockbuster Zindagi Na Milegi Dobara, it is safe to say that the experience of scuba diving, floating with the sea creatures simply cannot be described in words.
Tip: Make sure you have proper training before going for the water sport.
Suggested Read: Karmatang Beach: A Guide To Know What To Do At This Turtle's Paradise In Andaman
Duration Of Stay

Before you start planning a trip, let me tell you that though it has a lot to see and explore, Baratang is not exactly a place to stay. There are only three guesthouses – APWD Guest House, Forest Guest House and Panchayat Guest House – and a private resort, Dew Dale. While the guest houses are mostly booked, staying at Dew Dale Resorts can be an expensive affair with little options to eat out.
Suggested Read: Red Skin Island: A Charming Seascape In Andaman That You Can't Afford To Miss
How To Reach Baratang Island

Public Transport
First reach Port Blair, which is well connected with major airports across India and the world. Around 100 km to the North of Port Blair lies Baratang. Travel by road straight to reach Nilambur Jetty, the place from where you get a jetty to Baratang. A ferry at the jetty will take you across the narrow creek to the island. Government and private buses ply from Port Blair to the jetty. The total time taken to reach Baratang is 2.5 hours.
Driving To Baratang
You can also drive all the way to Baratang. The road is full of dense forests and there is a no-overtake zone through Jarawa Reserve Forest. Overall, the road from Port Blair to Baratang is quite exciting and takes around 3.5 hours.
If you are traveling on your own, make it a point to explore the best of evergreen dense forest along Great Andaman Trunk Road as you head from Port Blair to Baratang. Also, Baratang doesn't boast of too many restaurants and food joints except for a few near Baratang jetty where you mostly get fish fry. You are therefore advised to carry your own food items.
Further Read: 47 Most Amazing Things To Do In Andaman That Travelers Cannot Miss!
A stay at Baratang Island is a treat for explorers. Get your backpack and lenses sorted and head to this pristine land robed in the lush green of mangroves and the glimmering turquoise of clear water. No way you can miss this beauty on your trip to Andaman.
Disclaimer: TravelTriangle claims no credit for images featured on our blog site unless otherwise noted. All visual content is copyrighted to its respectful owners. We try to link back to original sources whenever possible. If you own the rights to any of the images, and do not wish them to appear on TravelTriangle, please contact us and they will be promptly removed. We believe in providing proper attribution to the original author, artist or photographer.
Please Note: Any information published by TravelTriangle in any form of content is not intended to be a substitute for any kind of medical advice, and one must not take any action before consulting a professional medical expert of their own choice.
Frequently Asked Questions About Baratang Island
How do you get to Baratang Island?
From Port Blair, travelers should take the local bus or a cab in order to reach the jetty that is at the closest distance. In this case, Nilambur Jetty is located the closest. From here, board a ferry to reach Baratang Island. Traveling via ferry from Port Blair would be less time consuming than traveling via bus, saving around 15-20 minutes.
How to plan a single day at Baratang Island?
In order to make the most of your experience in Baratang island in a single day, you must begin your day in the wee hours, at around 3:00 am. If you're starting from Port Blair, it will take you about 10 hours to reach, spend quality time and come back to the city. This will give you a good enough time to have a fulfilling sightseeing experience at the island.
Why is Baratang Island famous?
If you are a nature lover and lush-green tropical forests easily steal your heart, then this place is definitely a must visit! The mesmerising natural setting and epic views will make you never want to leave this place. Boat riding amidst the greenery will definitely ensure a memorable travel experience.
Who shouldn't go to Baratang Island?
People who are dealing with severe back or knee problems, should avoid visiting this island. There are more than one reason for this. Firstly, the road that takes you towards this island is quite bumpy and therefore you won't be comfortable. Secondly, there's a trek inside the cave and people with back or knee problem won't be comfortable trying it out.
What to pack when going for Baratang Island trip?
When packing for your trip to Baratang Island, you must keep a mosquito repellent, sunglasses, flip-flops, umbrella, sunscreen lotions, and hats.
---
Looking To Book A Holiday Package?
---
People Also Read: