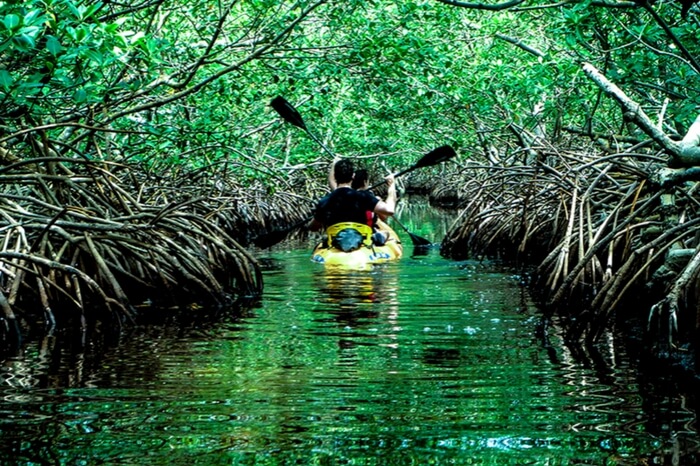 Far into in the unfrequented suburb of Andaman & Nicobar lies Baratang Island– a spectacle of nature tailor-made for nature fanatics, photographers, and explorers. Located towards the north & middle Andaman district of Andaman & Nicobar Islands, Baratang cuts the picture of an untarnished beauty that longs for her true admirer.
About the Jarawa Tribe of Andaman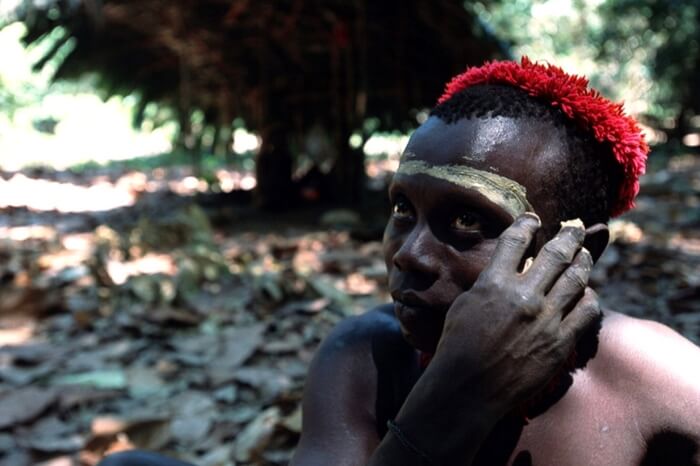 Baratang Island is also home to the Jarawa tribe – one of the oldest existing human races, who are still are far from modern civilization. Their settlements are spread along the Great Andaman Trunk Road, particularly in the Jarawa Tribe Reserve region.
Earlier there used to be a human safari that allowed tourists to have a look at these tribal people from a distance. However, after video graphic revelations of exploitation of the tribals by tourists, the Supreme Court has banned human safaris in Andaman.
Suggested Read: 15 Secrets That Andaman Has Been Keeping To Itself
---
Andaman Holiday Packages On TravelTriangle
Indulge in snorkeling or scuba diving to see magnificent coral reefs or stay in beach resorts at Havelock island. Visit Port Blair, Ross Islands, Neil Islands, Gandhi marine park, and Cellular Jail. Book memorable holiday packages on TravelTriangle.
---
A day trip or a longer stay?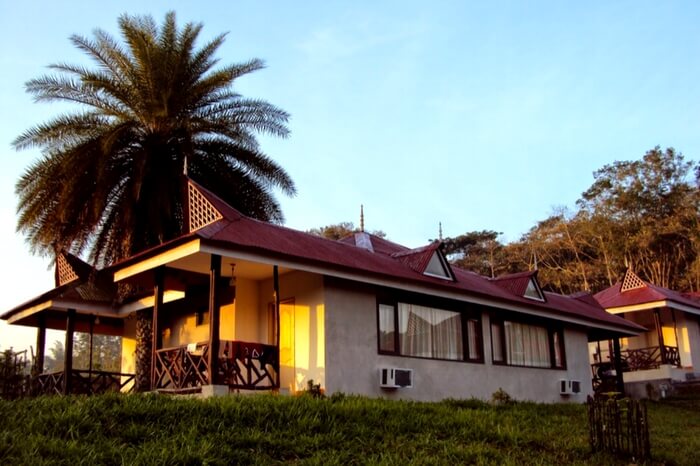 Before you start planning a trip, let me tell you that though it has a lot to see and explore, Baratang is not exactly a place to stay. There are only three guesthouses – APWD Guest House, Forest Guest House and Panchayat Guest House – and a private resort, Dew Dale. While the guest houses are mostly booked, staying at Dew Dale Resorts can be an expensive affair with little options to eat out.
The most beautiful places to see in Baratang Island
Clearly, Baratang Island is not for luxury seekers. It is a place for those who love solitude and nature. Here's what you can look forward to on your tour to Baratang Island – a perfect place for a digital detox in the Andaman Islands.
1. Mangrove creeks – A ride through the mangrove tunnel!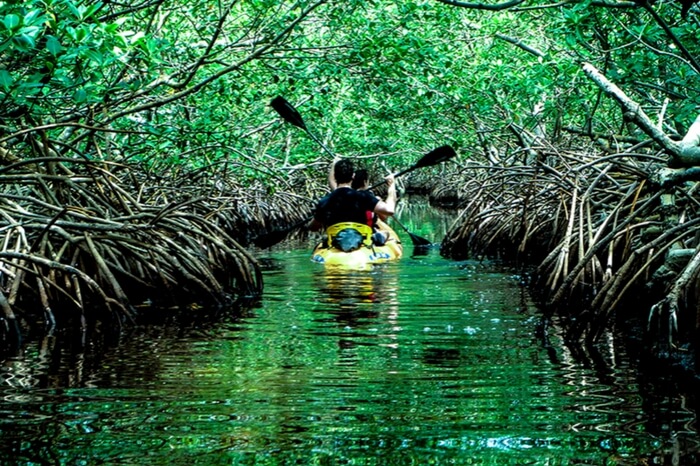 Because: It makes one of the most romantic rides amidst the secluded creeks
There's a lot of greenery surrounding the entire island. The mangroves along the creek leading to Baratang Island look like a beautiful tunnel. If you are out on a honeymoon, there couldn't be a more quaint place to romance with your partner while your ferry sails past these hushing environs.
2. Active mud volcanoes – Not all volcanoes heave molten lava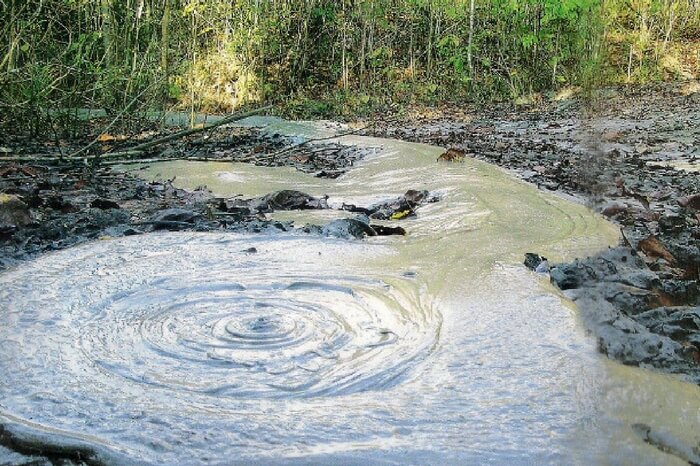 Because: Mud volcanoes are a rare sight and Andaman brings you the best of this natural wonder
The mud volcanoes of Andaman are the only mud volcanoes in India. They are found in Baratang and Diglipur, which lies 300 km north of Port Blair. The site of active mud volcanoes in Baratang Island is located 4 km from the jetty and can be easily reached by boarding a shared taxi that charges around 400 bucks for a round trip (rates may vary).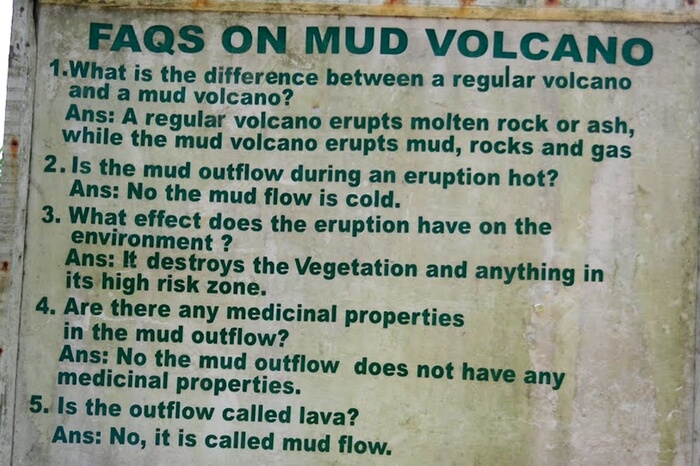 Note: You might come across huge deposits of dry mud but don't let that sight dishearten you as there are quite a few volcanoes in the area located in the range of 1-2 km. Keep looking for them and you'll be delighted at the sight of a live volcano with silky grayish mud oozing out of the openings.
3. Limestone caves – Among nature's finest architectures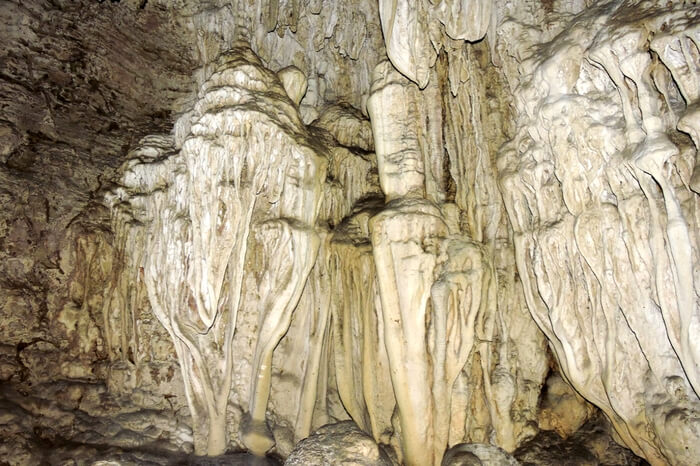 Because: Deep in the mangroves of Andaman, lies nature's perfect cave marvel forged out of limestone
Located between mangrove forests and Baratang Island, the prehistoric limestone caves are a must-visit attraction in Andaman. A 30-minute drive from Baratang followed by a 30 minutes trek (2 km) into the jungle brings you to limestone caves in Baratang Island.
The boat takes you all the way through the beautiful channel with looming mangroves setting up the way during the entire course of the journey.
Note: You need permission from the Forest Department at Baratang to explore the limestone caves. Mostly, your tour operator gets permission for you.
Suggested Read: A Spur Of The Moment Trip To Andaman That Turned EPIC With Friends
4. Parrot Island – Parrots have home too!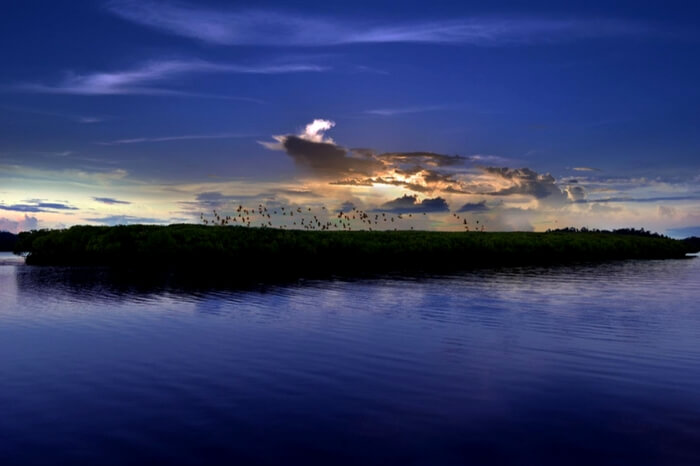 Because: It is one of the world's largest habitats of parrots
Known for being home to exquisite varieties of parrots, Parrot Island is an exciting place to be at. Birders from across the world turn up to catch the great view of thousands of parrots returning home at the time of sunset.
Take a boat from Baratang Jetty, which will take you through mangroves and narrow creeks to the beautiful island. Total ride time is 45 minutes.
Suggested Read: Say Good-Bye To Your Virtual Society: 7 Places For An Internet Free Vacation
---
Planning your holiday in Andaman but confused about what to do? These Andaman travel stories help you find your best trip ever!
Real travel stories. Real stays. Handy tips to help you make the right choice.
Category:
Destinations