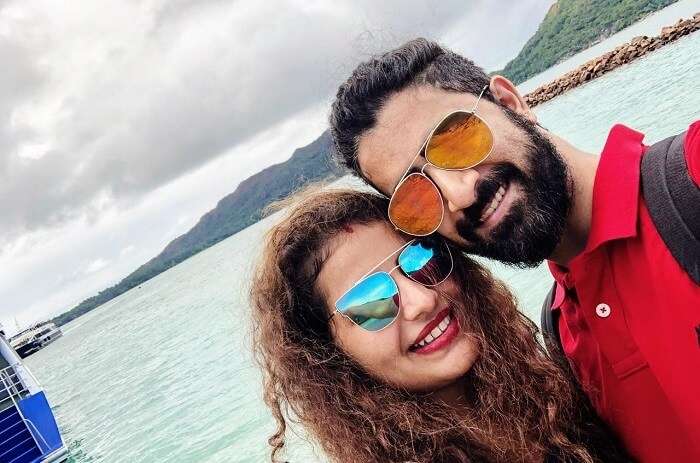 Kartikay and his wife Cheshta's honeymoon to Seychelles in April is what dream vacations are made of. This fun-loving couple sets fantastic fun relationship goals for all the lovebirds out there on their honeymoon and also provides amazing tips on how to have a blast on your honeymoon.
As for every newly married couple, one of the most difficult tasks is to look out for the best destination for their honeymoon. We too faced a similar challenge. Since most of our friends were visiting the same places for their honeymoon like Bali, Singapore, Malaysia, Sri Lanka, Dubai, etc, we decided to head to a place which was not yet explored by anyone we knew in our circle. The first name that came to our mind was Seychelles, a place which is on the list of many but visited by very few.
Both of us love the sound of waves and ironically, both of us don't know how to swim. So, just to add a little adventure in our honeymoon, we chose Seychelles since it is well-known for its world's most beautiful beaches – a perfect combination of natures beauty and serenity surrounded by mesmerizing sound of waves on the ocean with a picturesque view.
Our Seychelles Honeymoon In April Trip Details
Trip Type: Honeymoon
Trip Cost: INR 143,500
Trip Duration: 6N/7D
Inclusions: Airport Transfers, Ferry Transfers, Breakfast in Mahi-Praslin hotels, Hilton Seychelles Labriz Resort & Spa, Accommodation
Exclusions: Lunch, Dinner, Airfare
11 Days Itinerary Details Of Our Seychelles Honeymoon
Day 1: Mahe – Praslin
Day 2: Praslin – La Digue
Day 3: Praslin
Day 4: Praslin – Hilton
Day 5: Hilton
Day 6: Silhouette Island
Day 7: Mahe
Must Read: One Week In Seychelles In 2022: Take Tips From This Duo's Honeymoon Trip
Places To Visit In Seychelles In April For Couples
Here are some of the best places to visit in Seychelles for couples. Have a look.
1. Mahe Island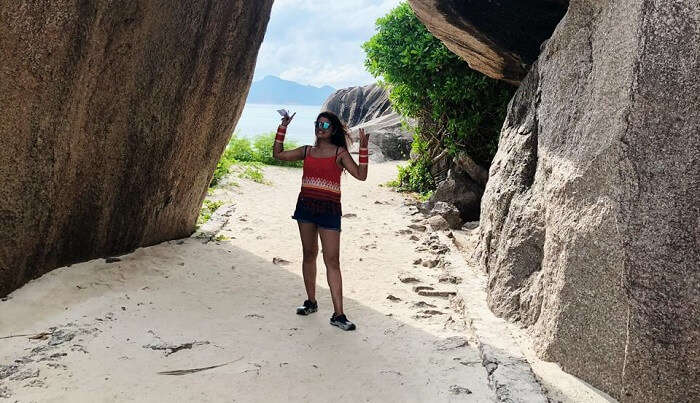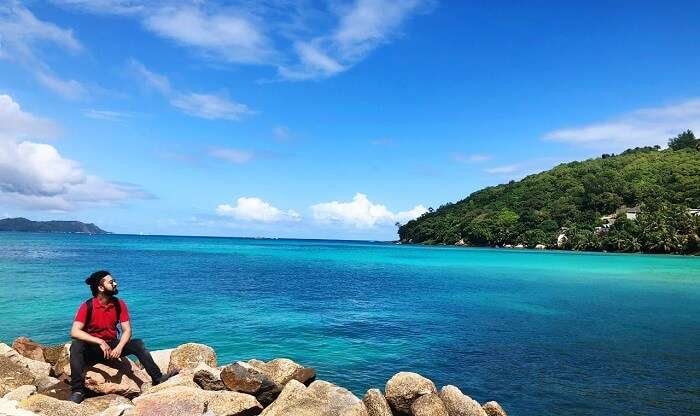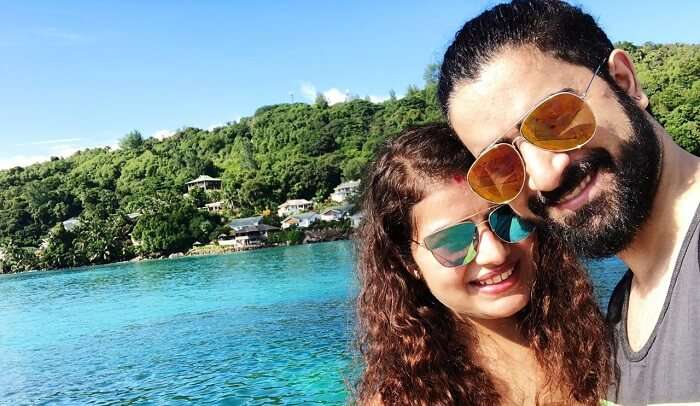 Mahe Island is where our honeymoon in Seychelles began. The white sand beaches and the granite peaks took our hearts away in an instant. It was one of the most bustling islands in the Seychelles archipelago. We mostly enjoyed shopping and exploring local delis here. It was absolute fun.
Suggested Read: 10 Mahe Island Resorts That Redefine Luxury & Classy Holiday Experience
2. Anse Lazio Beach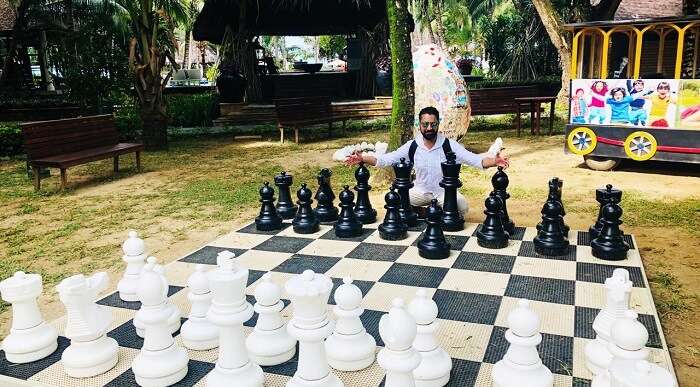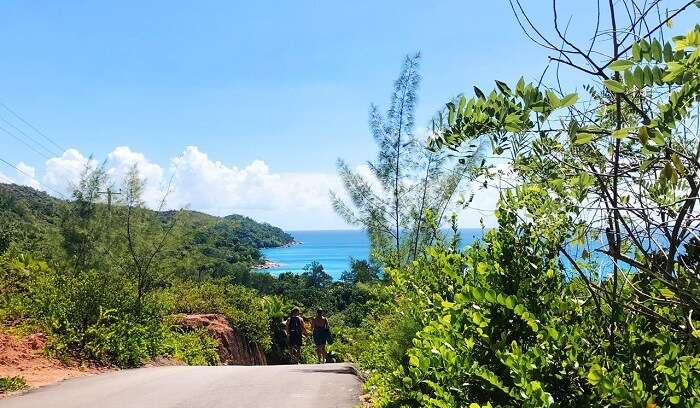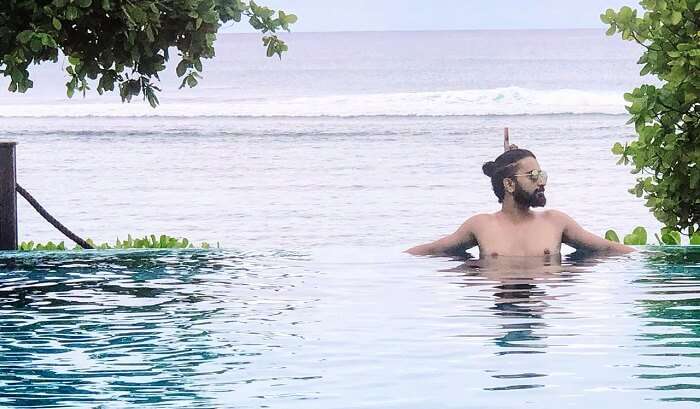 Anse Lazio Beach in Praslin has a huge role to play in giving us so many beautiful memories from our trip. Not only we found it to be the best beach in Praslin but also the best of Seychelles. The 1-km walk from bus stand to the beach gives a mesmerizing view of the ocean. It appeared as if the land had touched the sky.
Suggested Read: 4 Zoos In Seychelles: Satiate The Wildlife Enthusiast In You With These Places
3. La Digue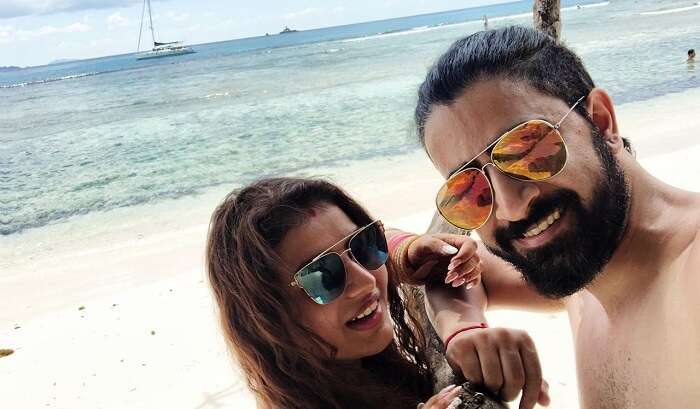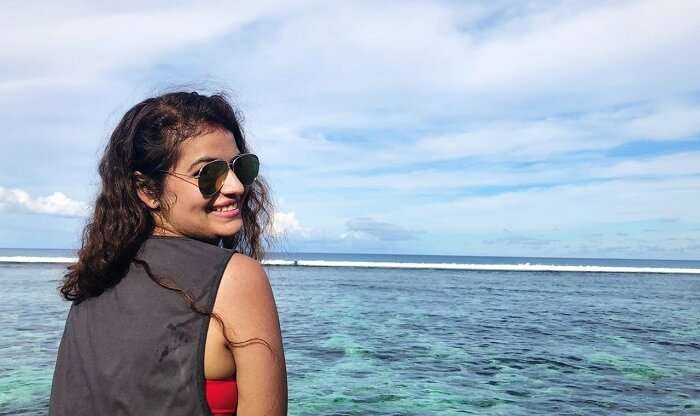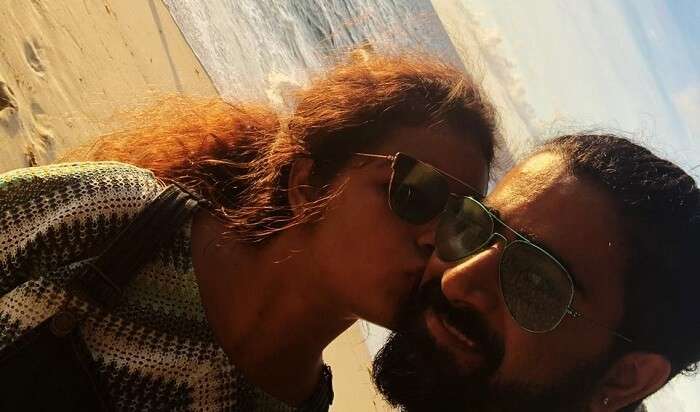 The beaches in La Digue were clean, pristine, and beautiful. We enjoyed the bike and the boat tour. Unfortunately, my wife got minor injuries in La Digue. Apart from that, our time on the island was superb.
Suggested Read: Summer In Seychelles 2022: A Travel Guide For All Those Who Love Beaches!
---
Planning your honeymoon but confused about where to go? These honeymoon stories help you find your best honeymoon trip ever!
Real honeymooners. Real stays. Real opinions to help you make the right choice.
---
4. Silhouette Island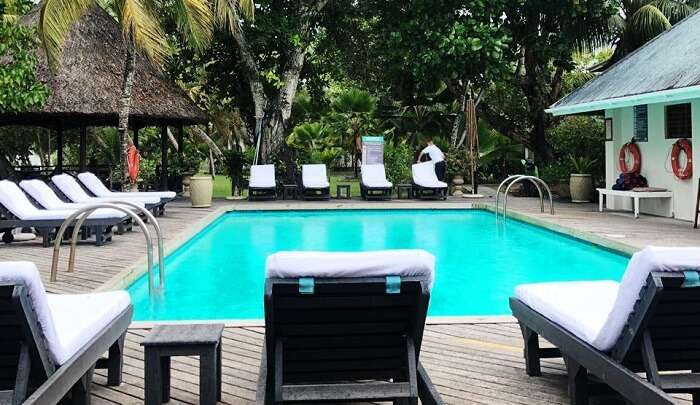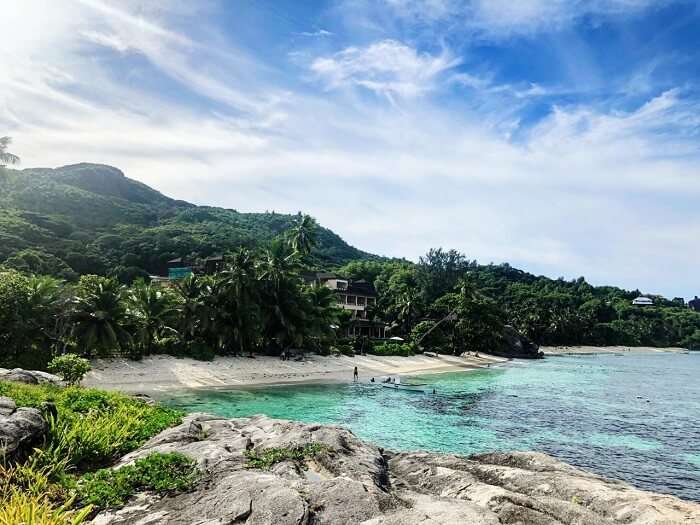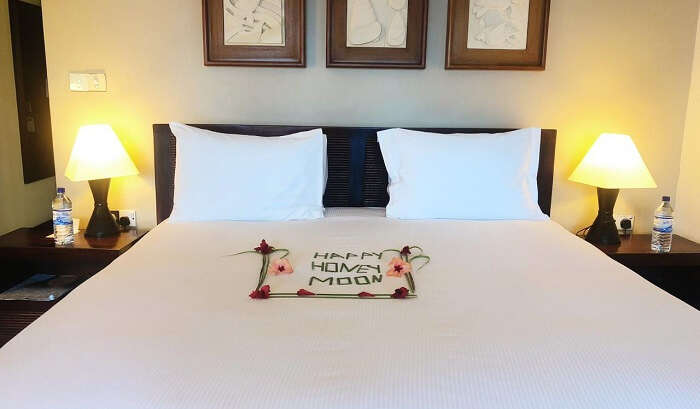 Silhouette Island tour felt out of this world. It was a perfect place in Seychelles for couples because there was not a single person to disturb us on our honeymoon. And, did I tell you about the astounding beauty of the island? This is also where Hilton Resort was located where we had the most amazing time of our honeymoon.
Suggested Read: Silhouette Island: A Pristine & Stunning Isle Of Seychelles
Things To Do In Seychelles In April For Couples
If you are visiting Seychelles in April, then here are some things to do there.
1. La Digue Bike & Boat Tour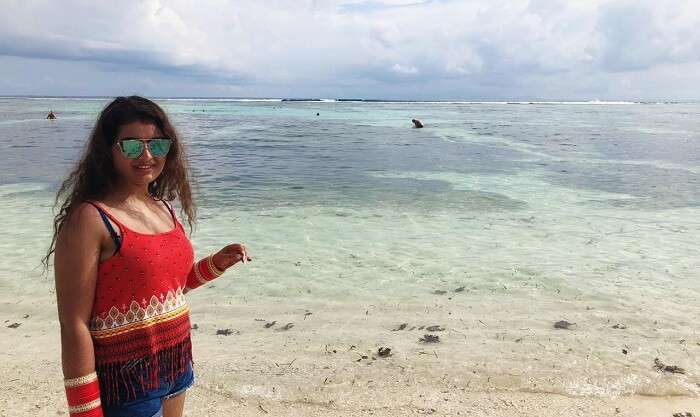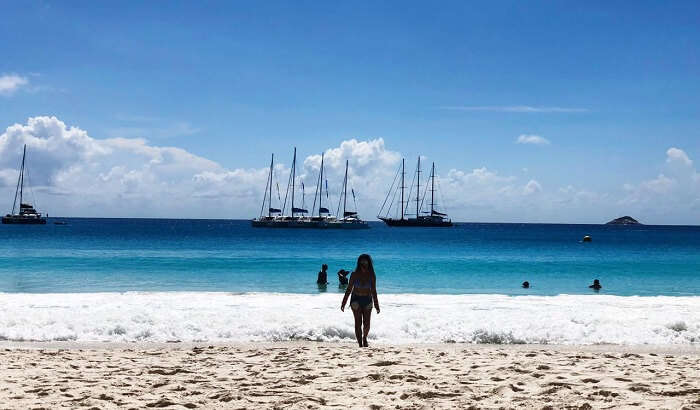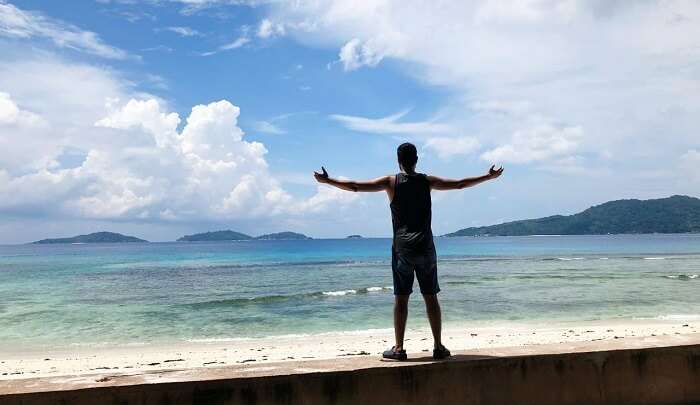 The cycle ride along the ocean on a lonely road was out of the world. Beaches were so beautiful, I still remember them like I visited these places yesterday only.
Suggested Read: Seychelles Visa For Indians: Applications, Requirements And More
2. Jetty Ride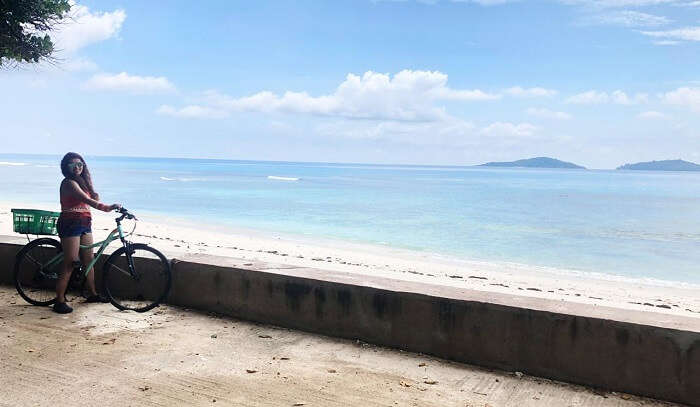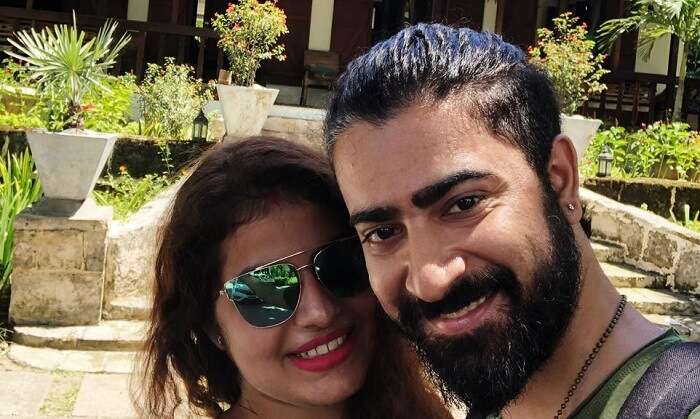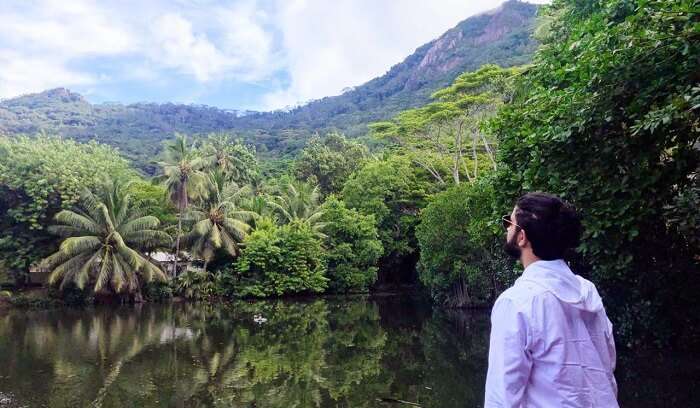 Our jetty ride to Praslin from Mahe in an air-conditioned catamaran is what holidays are made of. Not only was it an amazing experience, but the views on our way were simply astounding. We could not enjoy any water sports activities but, I think, the jetty ride made up more than for it.
3. Laze In The Pool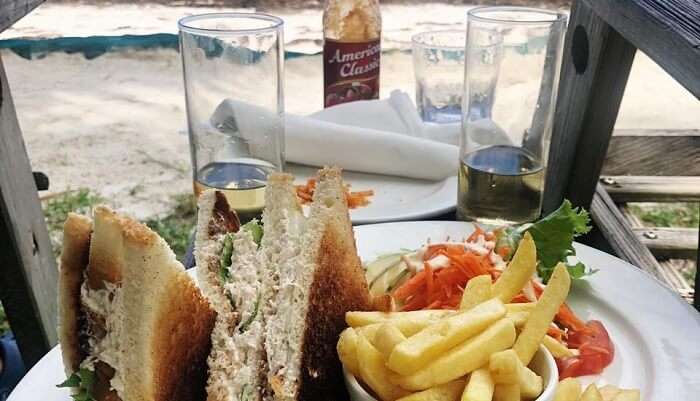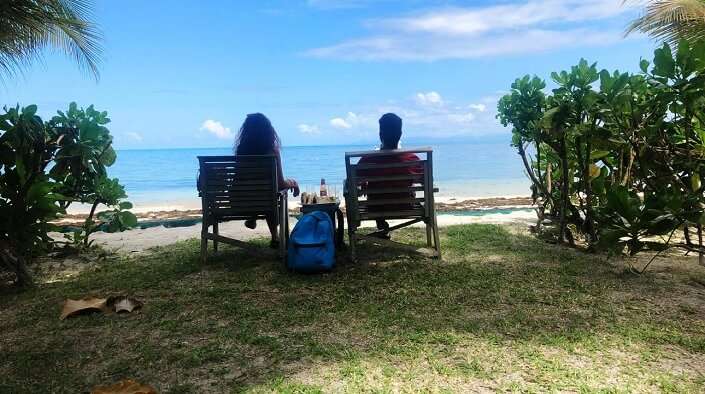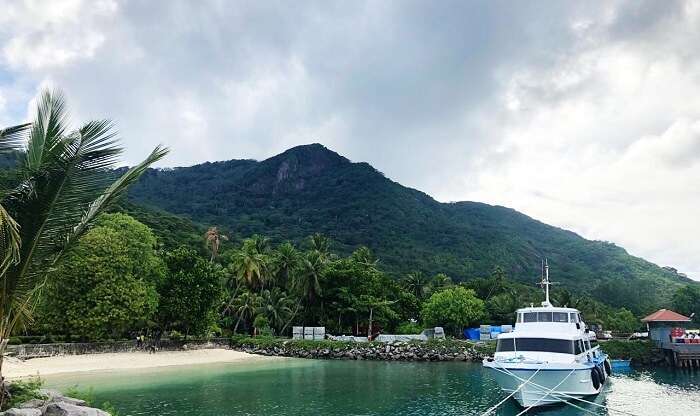 We had an amazing time on our honeymoon at the Hilton Resort. Holidays are all about chillaxing and we did just that. We were lucky to experience rainfall during our stay because the views of the ocean from the property looked even more mesmerizing.
Hotels For Couples On Seychelles Honeymoon
These were the hotels where we enjoyed staying on our honeymoon in Seychelles in April. For couples who are planning to visit here should definitely consider these places to stay.
1. Indian Ocean Lodge – Praslin
Our first stay was at Praslin in Indian Ocean lodge with the ocean view. The room was all in white and blue which gave it a very romantic feel with dim lights and had an open balcony facing the ocean. The staff was pretty helpful and the rooms were cleaned on a daily basis. Vanity kits were well-equipped. There was Indian staff in the kitchen and bar. They provided us with a very different yet soothing cocktail drink, complimentary for the honeymooners. Overall, we had a pleasant stay with good food and good people around.
2. Hilton Allamanda Hotel – Mahe
Our second stay was on Mahe in Hilton Allamanda Hotel which had a very beautiful view of sunrise and sunset from the balcony, a beautiful infinity pool, and access to the private beach. The room had great ambiance although as we reached the AC was not working. With the help of cooperative staff, they were able to fix the problems. They even provided us with a complimentary dinner for all the inconvenience caused. The breakfast buffet was lavish and had had a lot of variety, needless to say, it was delicious too. The on-call first aid support was really good.
Suggested Read: 15 Alluring Resorts In Seychelles For A Luxurious Stay In 2022!
Restaurants To Visit On Seychelles Honeymoon
1. Indian Ocean Lodge's Restaurant
So, for day 1 we had our lunch at the Indian Ocean Lodge's restaurant – chicken sandwich and beef burgers and they both were just so tempting and yummy. It was so tummy-filling that we almost skipped our dinner that day. For the next day, our breakfast was included in our hotel booking and they had a lavish Europian menu. Baked mushrooms were one of our favorites. In the dinner, there was a lavish buffet but we ate chicken curry and herb rice only. At Indian Ocean Lodge, we were offered a cocktail at the hotel bar made a concoction of famous Coco de Mer pulp juice, pineapple juice and the Taka Maka Rum – a must-try! We also enjoyed our dinner at the Pizzeria where we had a thin crust pizza with chicken toppings.
2. Les Palms Restaurant – Hilton Hotel
For the next three days, we stayed at the Hilton which was quite far from the city's hustle-bustle. On Mahe Island, we mostly had food at the Hilton hotel restaurant – Les Palms including breakfast, lunch, and dinner. They had a very beautiful bay to have dinner with fire lamps around the corners giving it an ancient look and feel.
3. The Surfers Beach Restaurant
On Silhouette Island, we had our all-time favorite chicken sandwich with a bottle of sparkling wine (on the house for honeymooners) for lunch. On our last day, we opted to go out for dinner at "The Surfers Beach Restaurant" just outside Hilton Allamanda hotel.
Do's & Don't For Syechelles In April For Couples
1. Pack your bags wisely
2. Carry light-colored and loose clothes.
3. Carry sunscreen and aloe vera gel to protect your skin from harsh sunburn
4. For honeymooners and Indian brides wearing choodah (bangles), please carry talcum powder to protect your bangles from sand, seawater.
5. If you want to carry your own alcohol, you can get it easily at Seychelles airport and the bonus is every person can carry four bottles and is almost of the same price at duty-free in Delhi airport.
6. Must carry a first aid kit.
7. Carry some munchies like chips, biscuits as it is a little costly and satisfy your hunger pangs while traveling on the island.
8. Carry Euros to Seychelles as most of the local shops happily accept them and in return, pay you back in Seychelles rupees. So, there's no need to worry about money changers.
9. Try to spend all your Seychelles rupees or get them converted to Euros before you leave Seychelles as it is illegal to carry Seychelles rupees outside the country and it is not accepted anywhere else. So, it makes sense to burn it all or get it converted.
Visit Source D Argent first when at La Digue and then move to the other side of the island.
10. Do not try out riding a bicycle alone at steep slopes of La Digue if you are not a learned bicycle rider. Ride slowly and enjoy the view.
11. Don't stay in the sun for too long if not on the beach. Even when you're on the beach, try to go in the water often or lie under a tree just to make sure your skin doesn't wear off because of the sunburn.
Tips For Seychelles In April For Couples
1. La Digue tour is mostly done by bicycle ( since you would enjoy one) but take the tour at the end of your trip since La Digue has steep slopes and if you doubt yourself with the bicycle, you may hurt yourself.
2. Praslin is a safe and secure island you can step out at nights
3. Mahe is secure as well but as advised to us by a few locals, don't carry too much money in pockets or wear expensive ornaments at night. You never know 1 out 1000 could get bad intentions
4. We would suggest to give a little break somewhere in between the entire trip to yourself and enjoy time with your spouse or family at the hotel pool or beach. After all, it would be a special time that you would want cherish without getting too much tired.
5. there is wind direction changes in months of April and October due to which you may find seaweeds at a few beaches. so check this before your visit.
6. Don't Instagram/facebook when on vacation. Come back and do whatever you want to on social media, vacations shouldn't be social or you might regret that you remember the places from your phone's screen only, not from your own eyes.
7. On Mahe, self-drive through the island to explore the best of its places at your own pace.
The locals and hospitality there
We took the Sri Lankan airlines from Delhi to Sri Lanka and Sri Lanka to Mahe, Seychelles. On our eight-day trip, we hopped 4 islands and everyone we met was great at heart, cheerful and helpful, making everyone comfortable with a pretty smile on her/his face. As soon as we landed in Mahe, we were heartily welcomed by our chauffeur who transferred us from the airport to the jetty. He was a friendly local and suggested to us the best places to visit and eat. We took our jetty and reached Praslin and people were pretty helpful and cheerful there as well.
One of the best qualities were they were generous since we had a minor accident on the second day of our honeymoon and everyone helped us in whatever way they could like getting water, band-aids, making phone calls for ambulances, etc. Also, they were open to let us know if it was safe enough to travel alone to any of the places at night or not.
The weather there
Seychelles has tropical weather. So, we were expecting that in summers it would be pretty hot but luckily we were visiting the place at the best time of the year. Though it was hot, we had a few rain showers as well. It was a good time go out in the sun to get tanned (what beaches are actually meant for :D ). The days were hot while the nights were cool because of the constant breeze from the ocean.
The shopping experience in Seychelles
We did most of our shopping in Mahe island from the local souvenirs shop and bought Coco de Mer soaps and few scented perfumes of the famous coco de Mer fragrances. You can opt to buy Coco de Mer and Taka Maka Rum, one of the most famous in Seychelles.
The budget for the holiday
We were pretty satisfied with the budget of our holiday, thanks to TravelTriangle for helping us arrange our honeymoon with the places we thought of along with red-letter holidays for getting us all the great deals in our stipulated budget. from private pickup and drop at the airport to the hotel, to jetty transfers and comfortable stay at the places. it was all value for money.
Yes, we missed out on snorkeling and a few trails in Mahe (due to minor injuries that my wife had at La Digue) and also a glass-bottom boat ride (which was a substitute for all the water activities but we couldn't spare out time for the same) but that's something we really don't regret about since we have had all the other fun we have been looking out for.
Further Read: Monsoon In Seychelles: A Handy Guide To Explore The Country In The Rainy Season
If you are not inspired by Kartikay's experience yet, you should go through his experience once again to get inspired and book a cherishing romantic vacation to Seychelles with your spouse. Life is all about experiences and adventures. Make them count with your loved ones.
Commonly Asked Questions By Travelers
How many days do you need in Seychelles?
At least a week, if you want to explore all the best islands of the archipelago and immerse in exhilarating experiences.
Is Seychelles safe for tourists?
Yes, it is safe for tourists. The locals are very nice and hospitable greeting you with a smile and extending their help to travelers in need. However, it is recommended that you do not visit abandoned or dark places in the night if you are carrying too much cash. This is very common for any .
Are food and drink expensive in Seychelles?
It can be expensive if you dine out in the hotels. Local eateries and dining places in Seychelles are cheaper.
How was your overall experience with TravelTriangle and its agent?
The overall experience with TravelTriangle was great. They included all the customizations and built a package which had all the luxuries as well as kept our requirements on top as per our budget.
---
Looking To Book Your Honeymoon Package?
Book memorable honeymoon on TravelTriangle with 650+ verified travel agents for 65+ domestic and international destinations.
---