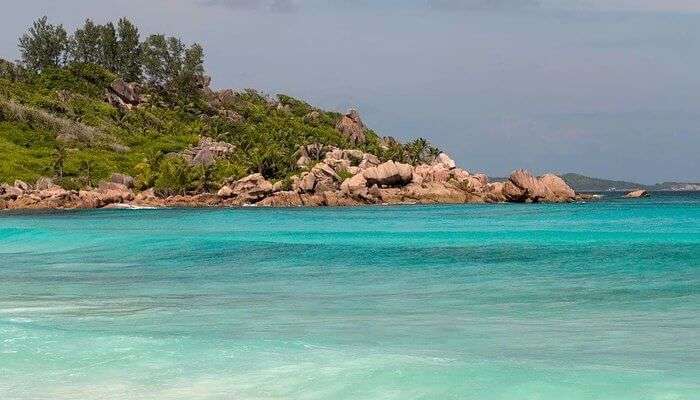 The Republic of Seychelles is an archipelago in the Indian Ocean. Being the conglomeration of 115 islands; it today has an agricultural society. Over time, Seychelles has evolved into a major tourist attraction for international tourists. Tourism has catapulted this tiny island into a nation with the highest national per-capita GDP in Africa.
Seychelles is considered as one of the most beautiful islands in the world. Its white sandy beaches attract millions of tourists round the year. Seychelles in March is a virtual paradise because of ideal weather conditions. Despite being close to the equator, the weather in Seychelles is mostly mild and equitable too.
The temperature in Seychelles in March also does not exceed a maximum of 32 degree celsius. Even in the coldest months of the winter season, the minimum temperature hovers around 22 degree celsius. That is why it is such a cozy place for tourists to visit this emerald island nation at any time of the year.
Northwestern monsoon winds blowing through this region draw to an end in the Seychelles in March. Since the southeast winds arrive only in May, it is ideal for visiting Seychelles in March instead. The daily average temperature hovers around 28 degree celsius with an average relative humidity of 75% in that period.
Best Places To Visit In Seychelles In March
Here are some of the best places to visit in Seychelles in March. Read on to know about them to plan a visit during March and to explore this tiny island nation to its most.
1. Explore the Praslin Islands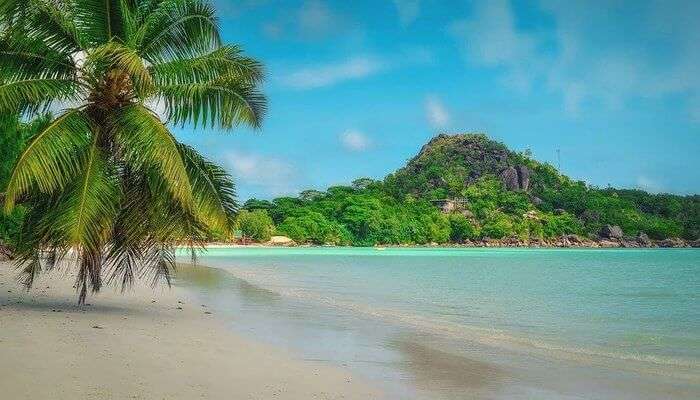 Considered as one of the most pristine and traveled places destinations in Seychelles, Praslin Islands has stunning beaches, emerald waters, lush jungles and great sceneries around. Being a closely-knit island nation in terms of geography, travel between the islands is relatively easy and not too expensive. Praslin Island is well connected by air and ferry from mainland Mahe – an important island.
While the flight time is just about 15 minutes, the ferry takes close to an hour. If you are the type of person who enjoys natural surroundings and loves to travel via water, then the ferry is an ideal option. Entire Praslin Island measures just under15 square miles. Local bus conveyance from one place to another is the most convenient form of local travel. And, the best part is that these buses ply from early morning to night time. Moreover, the local population is adept with English and conversation is not a problem for the tourists here.
Taxi service is efficient and regulated by government authorities. The cab fare is more or less universal therefore no need for haggling with the drivers over fare here. If you are a bike buff, you have a great chance to ride through the streets of the island on a bike. Most hotels give bikes for rent – as Biking will gives you a better view of the places around Praslin Islands. Plan the major things to do in Seychelles in March? Don't miss the Anse Lazio Beach located in the north-west of the island.
How to Reach: 15 minutes' flight time from mainland Mahe while ferry takes approximately one hour.
Best Time to Visit: October to April
Timings: Whole day until late night
Accessibility & Audience: Family Friendly, Group Tours
Must Read: A Guide To Seychelles Island Hopping: Top Places To Visit & More
2. Perfect Retreat at World's Beautiful Beach, Anse Lazio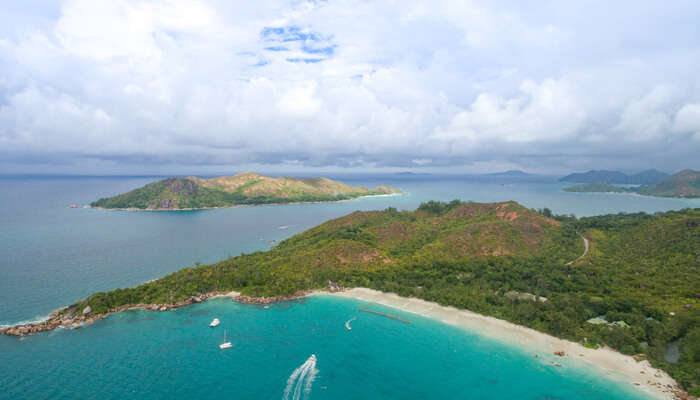 Though ranked as one of the world's most beautiful places, Anse Lazio Beach is an ideal relaxing destination. Tourists would do better to reach this beach a little early at around 11 AM to find some cozy places to stretch out in cool white sand comfortably. Take an extra pair of towels and don't forget your beachwear! For all the adventure-oriented souls, there are lots of boats and ferries for deep-sea fishing.
A real retreat from the ordinary, the inner island provides great value for money and a lifetime full of great experiences. Bask in the lap of nature with a cool beer in hand and a barbeque to boot! Dive under-water for activities like scuba diving or snorkeling. There is no dearth of fun in this pristine Praslin! Some more nearby great beaches on the island include:
Anse Georgette
Anse Volbert
Anse Consolation
Cote d'Or Beach
How to Reach: Take a helicopter ride to get a great view of the islands or ferry whichever you like.
Best Time to Visit: October to April
Timings: 10.00 AM until late night
Accessibility & Audience: Family Friendly, Group Tours
Suggested Read: Seychelles With Kids: To Pamper Your Little Ones In This Enchanting African Land!
3. Mahe Island – Experiencing Closeness to Nature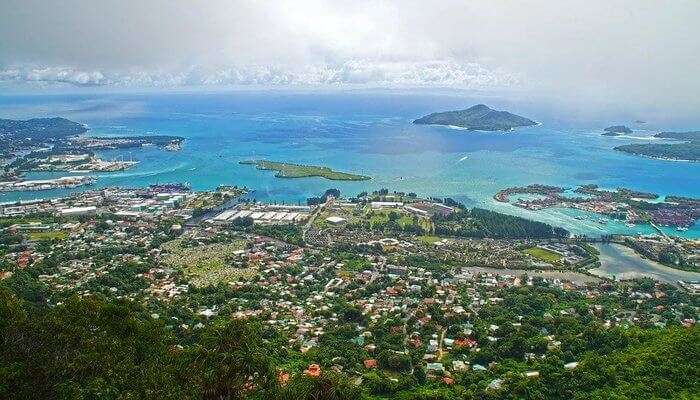 Located in the northeastern part of Seychelles in the Indian Ocean, Mahe Island is the largest island spread over 157 square miles of area. The Capital city Victoria accounts for 86% of the island population. It is 1,000 miles off the east coast of East Africa mainland. Picturesque mountains, white-sand beaches, and lush forests dot this pristine place. It remains a popular place of interest for lovers and honeymoon batches!
Mahe Island is a picture of natural beauty with large coconut plantations surrounded by vibrant beaches and emerald waters. It is a place seen to be believed. Hurry up, pack your bags and head for Mahe today!
How to Reach: Helicopter and ferries, whichever preferred.
Best Time to Visit: October to April
Timings: All year round
Accessibility & Audience: Family Friendly, Group Tours
Suggested Read: Destination Of The Month: Why A Trip To Seychelles In December Is A Fab Idea To End The Year
4. Tour to Victoria City – The Capital City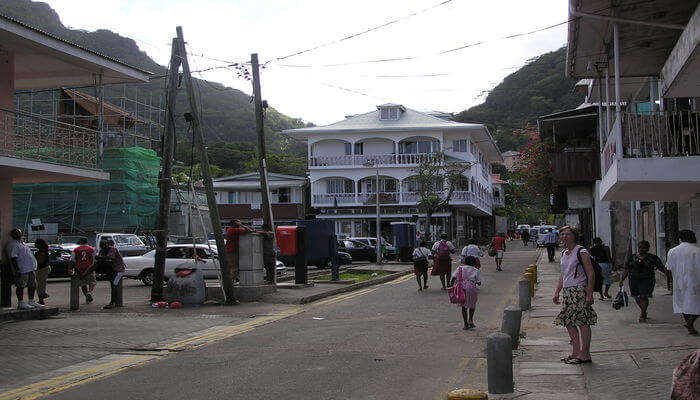 Welcome yourself to Victoria City where large landscapes are common and where the population is highly cosmopolitan with a mix of British settlers, Arab sailors, French colonists, and traders from Tamil Nadu in India.
As such, the place is vibrant with different hues of culture and reverberates to a wide range of influences. With a pleasant weather in Seychelles in March, escape from your daily routine and lounge in the wonderful beaches. The island is full of beaches to explore and sink in the experience. Some other great beaches in Mahe that are easily accessible from Victoria City are: Anse Soliel, Beau Vallon, Anse Royale, and Petite Anse.
Suggested Read: Here Is All You Need To Know About The Jellyfish Tree In Seychelles
Indulging in Adventure Activities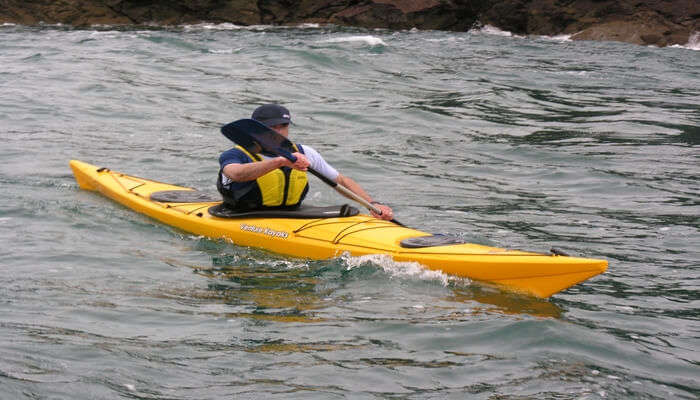 Apart from serene beaches, there are ample avenues to take part in various adventure activities. Scuba diving, cock climbing, and kayaking are some notable activities for you to get involved in. You can find plenty of travel agencies that assist you with a fun-filled tour to provide all the necessary help for ultimate exploration.
If you want to just lay back, relax and savor a bite of freshly caught fish – then you may do so while resting at the beach. If you like to explore nature, there is the Morne Seychellois National Park is a perfect location for you. Hiking is another great adventure in this part of the island which will bring you close to the breathtaking landscapes. All the inhabited islands of Seychelles including Mahe are home to incredible plants and animal diversity.
Another favorite hiking route is the terrain between La Bastille to Beau Vallon Bay. It takes two to three hours of leg stretching to reach the highest point of the route. Or if you are looking for a more adrenaline-pumping activity, hike the Dans Gallas viewpoint. This beautiful, short, and steep tour offers lookout rocks with spectacular panoramic views of Beau Vallon, the northern tip of Mahe.
Further Read: Know Everything About The Aride Island Nature Reserve In Seychelles
Seychelles in March is famed for its surreal, natural beauty and incredible biodiversity, thanks to the overall climatic conditions. Its laid-back lifestyle, typical island living, warmth and hospitality of the locals and a well-knit social life is a welcome relief for tourists. Being blessed with warm weather throughout the year and located outside the cyclone belt, Seychelles is a great escape from daily monotony.
Frequently Asked Questions About Seychelles In March
Q. What is the typical range of hotel accommodation rates in Seychelles?
A. Mahe is the main island in the Seychelles. It offers a wide range of hotel accommodations from budget to five-star hotels. You can stay at as low as INR 1,000 a night to INR 8,000 a night on twin-sharing basis.
Q. What kind of clothing should we pack for Seychelles trip?
A. Being a tropical country and a warm island, woolens are a big NO. Regular cotton and a lot of towels and a good number of beachwear must be carried.
Q. Is the consumption of liquor allowed on the beaches in Seychelles?
A. Though being an open society, the consumption of liquor on beaches is not allowed. You may enjoy a bottle or two of beer at the poolside or on the beach.
Q. Is Seychelles safe enough for tourists?
A. The government of Seychelles through the Tourism Department has strict regulatory control over the activities of travel agencies and guides. The local police are cooperative and the island of Seychelles is relatively crime-free.
People Also Read:
Honeymoon in Seychelles Visiting Mauritius in March South Africa in March
Comments
comments