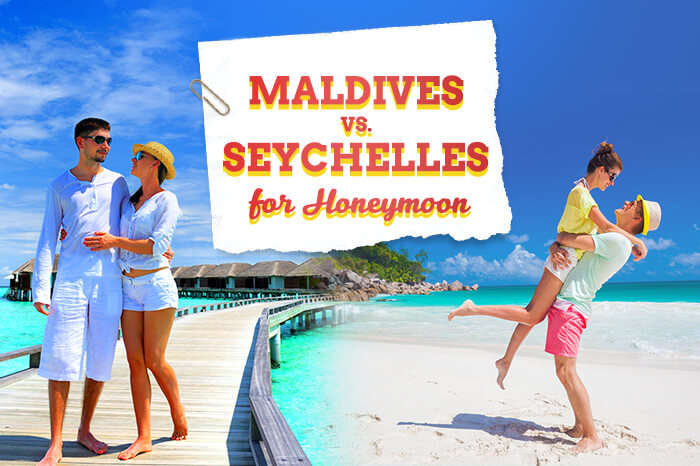 Of course, both! Right? The clash of the two gorgeous destinations – Maldives vs Seychelles for honeymoon – is much like the popular Greek mythological clash between Hera and Aphrodite. It is hard to say for sure as to who, or in this case which destination, is more alluring. And they rightly say, "Beauty lies in the eyes of the beholder." For it has to be your decision, dear readers, to choose Seychelles or Maldives for honeymoon.
To begin with, we have good news. The Indian Ocean islands of Maldives and Seychelles have all the ingredients of a perfect tropical island honeymoon, but each remains to be unique in its own way. And these distinctions are what will be the ones that will help you decide upon a destination for an international honeymoon. Which is better Maldives or Seychelles? Let's find out.
Similarity Between Maldives And Seychelles
But before we go on differentiating between the two, let us quickly scan through the similarities.
Both Maldives & Seychelles Are Located In The Indian Ocean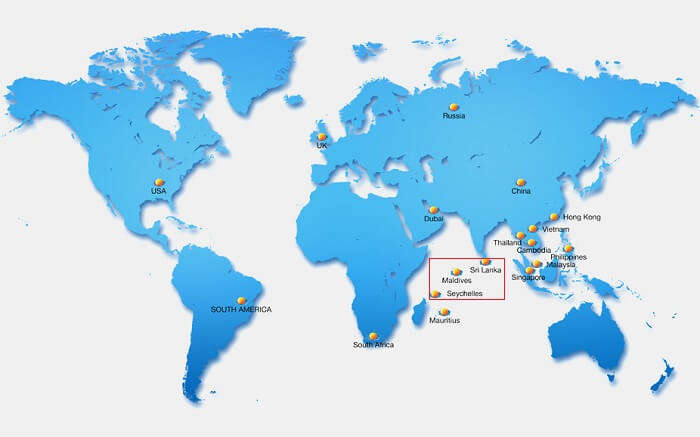 Maldives is located in the Indian Ocean, southwest of India and island nation of Sri Lanka. Seychelles is located further southwest, northeast of Madagascar. So, these destinations are perfect for those traveling from India, other parts of Southeast Asia, Africa, and even Europe as there is not going to be a drastic difference in the time zone.
Must Read: Seychelles In April For Couples: This Is What Dream Honeymoons Are Made Of
---
Maldives Honeymoon Packages On TravelTriangle
---
Both Maldives & Seychelles Enjoy A Tropical Monsoon Climate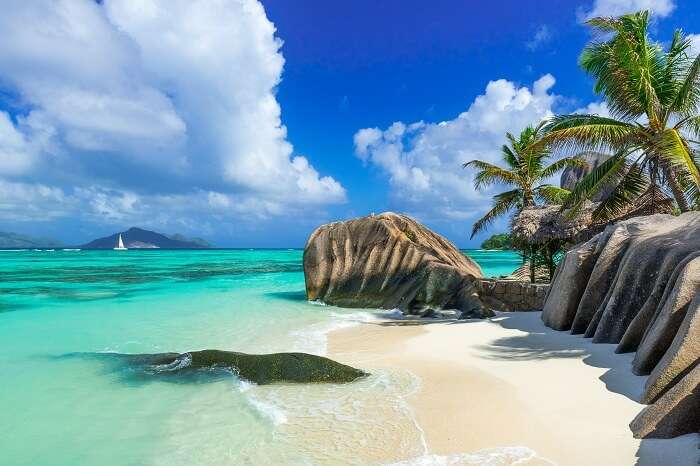 What 'tropical monsoon' typically means is that the year-round average temperature is above 18° C and there is decent amount of rainfall year-round. Since both of them are beach destinations, you can choose either Seychelles or Maldives for honeymoon. However the best time to visit the tropical islands in Africa is from May to October.
Suggested Read: Maldives In February: A Guide To Witness The Beauty Of The Island
Both Maldives & Seychelles Offer 'Free' VISA-On-Arrival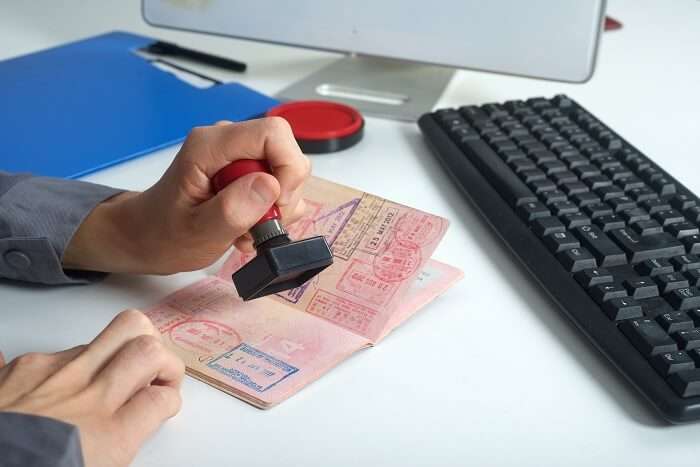 For both the destinations, the tourist VISA is for up to 30 days for all; provided:
They have a valid passport with at least 6-months' validity.
They have a valid return ticket with a date less than 30 days from the day of arrival.
They have enough funds to cover for the expenses during their time of visit.
Suggested Read: Maldives In March: A Handy Guide To Get The Best Of The Island Nation
Both Offer Extreme Levels Of Luxury For The Honeymooners

Both Maldives and Seychelles are downright luxurious. There are lavish accommodations, chic diners, luxurious transfers, and more. But if you also seek an angle of Seychelles vs Maldives cost, here it is. However, the costs of the honeymoon packages in Seychelles and Maldives are almost similar.
How much does a honeymoon in Maldives cost? 1.6 Lacs per couple (5N/6D stay + Flights)
How much does a honeymoon in Seychelles cost? 1.5 Lacs per couple (5N/6D stay + Flights)
And there's not much difference between the currency conversion either.
Maldivian Rufiyaa: 1 MVR = 4.33 INR
Seychellois Rupee: 1 SCR = 4.91 INR
Suggested Read: Top 10 Villas In Seychelles: Plan Your Dream Vacay At Your Private Slice Of Paradise!
Though Maldives and Seychelles are very-much like in other aspects as well, but there are certain distinctions that will help you choose your pick for honeymoon.
Maldives Vs Seychelles For Honeymoon: Make Your Choice
Confused about which is better Seychelles or Maldives? Here are the key differences between the destinatins if you are caught up between which place to go to Maldives Vs Seychelles for honeymoon.
Landscape – The Surreal Surroundings
Best Time – Know The Ideal Temperatures
Attractions – Marvelous Structures
Outdoor Activities – Choose From The Plethora Of Romantic Ones
Accommodation – Luxury, Comfort, And Fun
Nightlife – From Jazz Nights To Club Parties
Beaches – Epitome Of Romance
Shopping – For A Complete Vacation
1. Landscape – The Surreal Surroundings
Choose the landscape and the views that you want to enjoy on your honeymoon before you decide between Maldives Vs Seychelles for honeymoon.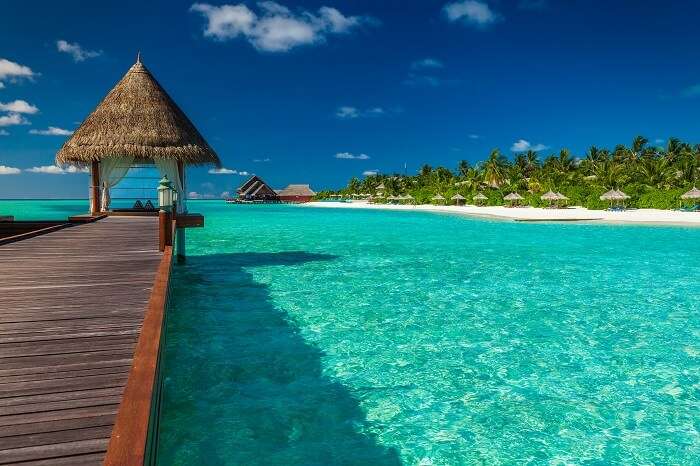 Geography of Maldives
The archipelago of Maldives consists of about 1,190 coral islands grouped in a double-chain of 26 atolls. There are amazing ring-shaped coral reefs and thin sand bars & white sand beaches in Maldives. Though there are no hills in the entire group, some of the islands have sand dunes that can reach up to 2.4 meters above the sea level.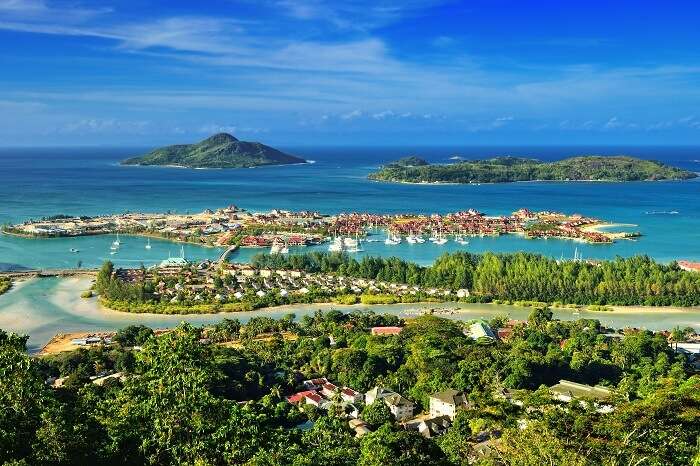 Geography of Seychelles
Seychelles consists of 115 islands that are known for its beaches, coral reefs, natural reserves, and rare wildlife such as giant Aldabra tortoises. There are the inner islands that are granitic in nature that have verdant peaks, forests, and beautiful beaches. The outer islands are coralline in nature and are perfect for watersports.
Suggested Read: 50 Pristine Places To Visit In Maldives For An Amazing Vacay
2. Best Time – Know The Ideal Temperatures
Your choice of destination may vary on your time of visit. Have a look at the temperature before you choose between Maldives Vs Seychelles for honeymoon.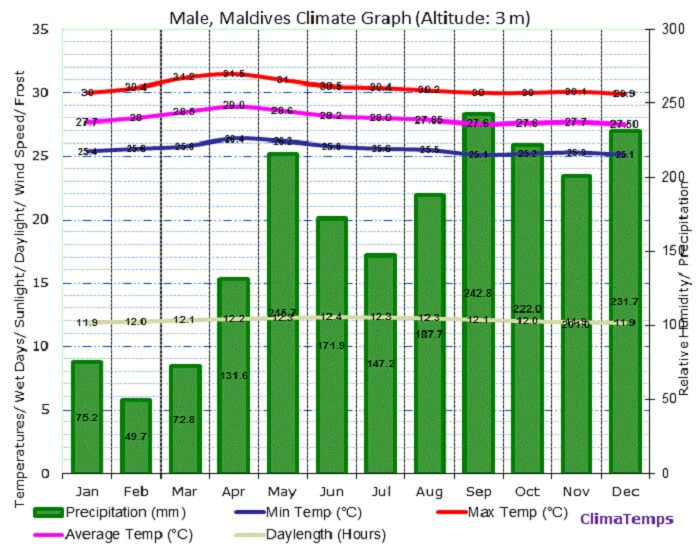 Image Source
Best time to visit Maldives for honeymoon
January to March is the best time to visit Maldives for honeymoon. The months of November, December, and April are also appropriate for a romantic honeymoon in Maldives. The temperatures in these months vary between 25° C and 31° C.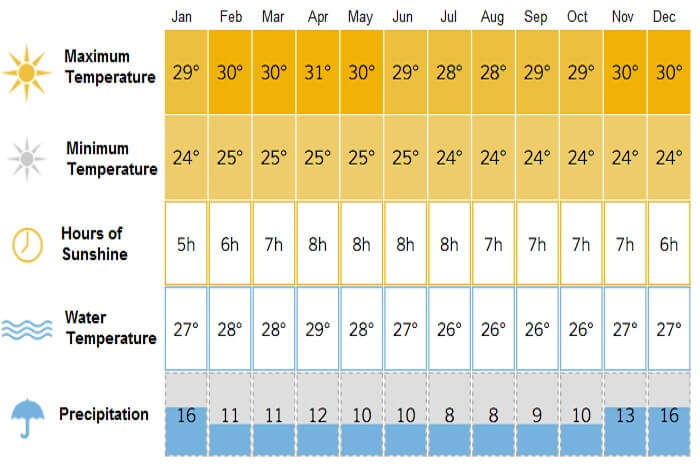 Image Source
Best time to visit Seychelles for honeymoon
Though it is a year-round destination, the best time to visit Seychelles for honeymoon can be decided on basis of the activities you wish to do with your beloved:
Snorkeling and scuba diving: April to May and October to November are the best months to try snorkeling
Surfing: May to September is the best time to try surfing
Bird-watching: Visit Seychelles between April and October for bird watching
Fishing: October to April is perfect for fishing
Suggested Read: A Guide To Seychelles In March: For An Ultimate And Enjoyable Exploration!
3. Attractions – Marvelous Structures
Choose the attractions that you wish to visit. The attractions can be a great option to help choose between Maldives Vs Seychelles for honeymoon.

Places to visit in Maldives on honeymoon
Maldives has islands, beaches, and coral reefs. The sightseeing tours of the places to visit in Maldives also include religious places and historical places.
Islands in Maldives: Alimatha, Rangali, Maafushi, Hulhulé, Hulhumalé island, and Cocoa islands are some of the popular islands in Maldives for honeymoon. Do try island hopping in Maldives!
Historical places in Maldives: Mulee-aage Palace, National Museum of Maldives, Theemuge Palace, Tsunami Monument, and Sultan Park are some the places that couples must visit; especially if they are history buffs.
Religious places in Maldives: Coral mosques of Maldives are in the UNESCO's list of world heritage sites. Of these, the Malé Hukuru Miskiy is the most famous one.
Coral reefs in Maldives: Maldives is known for its atolls and coral reefs. The HP Reef and the Banana Reef are the most popular ones.
Places to visit in Seychelles on honeymoon
Much like that of Maldives, the long list of places to visit in Seychelles includes beaches, islands, and monuments. And then there are forests and other attractions for the nature lovers.
Islands in Seychelles: Mahé, Praslin, La Digue, Cousine, Moyenne, Silhouette, Aldabra, and Fregate islands are best honeymoon destinations in Seychelles.
Tourist attractions in Seychelles for the nature lovers: Nature lovers will enjoy themselves in the UNESCO's world heritage site of Vallée de Mai National Park, Sainte Anne Marine National Park, and Morne Seychellois National Park.
Tourist attractions in Seychelles for history & art lovers: Cathedral of Our Lady of Immaculate Conception, Little Ben Clock Tower, Seychelles Natural History Museum, and Domaine de Val des Prés (Craft Village)are must-visit attractions.
Suggested Read: Maldives Honeymoon: An Guide For An Exquisite Romantic Escapade
4. Outdoor Activities – Choose From The Plethora Of Romantic Ones
The outdoor activities offered could be another selection criterion. Have a look before you choose between Maldives Vs Seychelles for honeymoon.

Romantic things to do in Maldives
The Maldives has a plethora of romantic activities to offer. Couples can go for snorkeling or scuba diving and explore the beautiful coral reefs. For those who are afraid of diving directly, there are submarine tours to explore the depths of the beautiful waters. And that's not all. The list of water sports in Maldives is a never-ending one.
And then there are beaches along which couples can relax, walk, or sunbathe. Night tours of bioluminescent beaches are also very romantic. Furthermore, couples can indulge in romantic couple spa therapies, sunset cruise tours, island hopping tours, and undersea dining at Ithaa Undersea Restaurant. Even the transfers are romantic. Boats, kayaks, cruises, seaplanes (air taxis), and private yachts provide romantic experiences.
---
Planning your honeymoon in Maldives but confused about what to do? These Maldives honeymoon stories help you find your best honeymoon trip ever!
---
Things to do in Seychelles on honeymoon
The list of best things to do in Seychelles is an exhaustive one. For a romantic experience, couples can go island hopping in yachts, sunbathe on the gorgeous beaches, or snorkel through the beautiful waters.
Also, there are nature trails through the Vallee de Mai and Morne National Park. And let's not forget the spa therapies in the resorts and the awesome views from these stay options.
For inter and intra island commuting, there are heli-taxis, catamaran ferries, buses, ox-carts, cabs, and even cycles. And each of these can be romantic modes of commuting within Seychelles.
Suggested Read: 24 Utterly Romantic Things To Do In Maldives On Honeymoon
5. Accommodation – Luxury, Comfort, And Fun
You can also choose between Maldives vs Seychelles for honeymoon based on the stay options.

Places to stay in Maldives for honeymoon
Though budget properties have started opening up in the last few years, but it is the private island resorts and the over water villas in Maldives that offer the best stay experience in the archipelago. These include Gili Lankanfushi, Six Senses Laamu, Conrad, Shangri La's Villingili Resort & Spa, Baros, and Four Seasons Landaa Giraavaru.
Best hotels in Seychelles for honeymoon
There is a vast range of hotels and resorts in Seychelles of all budget sizes and styles. There are beach-facing resorts, guest houses, and lavish cottages that the honeymooners can choose from.
5-star resorts in Seychelles: Four Seasons Resort (Mahé), Enchanted Island Resort (Round Island), and Paradise Sun (Praslin)
4-star resorts in Seychelles: Constance Ephelia Resort (Mahé), Hilton Seychelles Labriz Resort & Spa (Silhouette Island), and Le Domaine de L'Orangeraie (La Digue)
3-star resorts in Seychelles: Valmer Resort (Mahé), Berjaya Beau Vallon Bay Resort & Casino (Mahé), and Acajou Beach Resort (Praslin)
Suggested Read: 24 Best Resorts in Maldives For Honeymoon
6. Nightlife – From Jazz Nights To Club Parties
It also comes down to the vibrant and exciting nightlife these islands have to offer. Have a look to help you choose between Maldives vs Seychelles for honeymoon.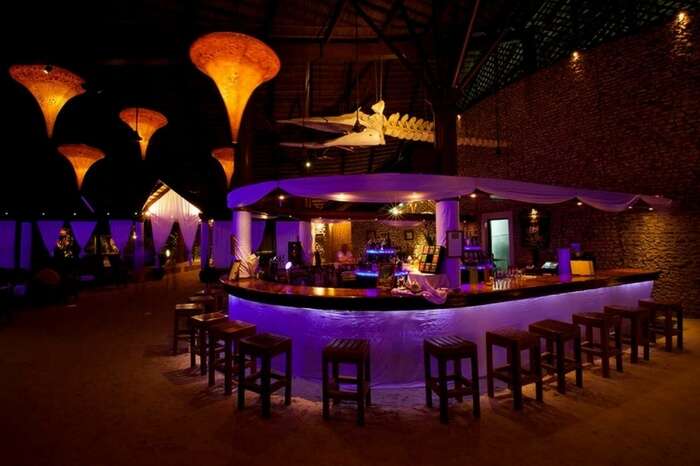 Nighlife in Maldives
There are a number of clubs, pubs, and lounges where you can enjoy drinking and dancing. These places in Maldives offer you the best of nightlife. You can even enjoy gamnling in the casinos of Maldives. Enjoy liveperformances and jazz nights at famous clubs and resorts in Maldives. If you are not in a mood of something wild and crazy, you can just cuddle up with your partner and enjoy watching a movie at Jungle Cinema in Gili Lankanfushi.
Famous bars & nightclubs
Subsix
15 Below
Club Med Kani
Huvafen Fushi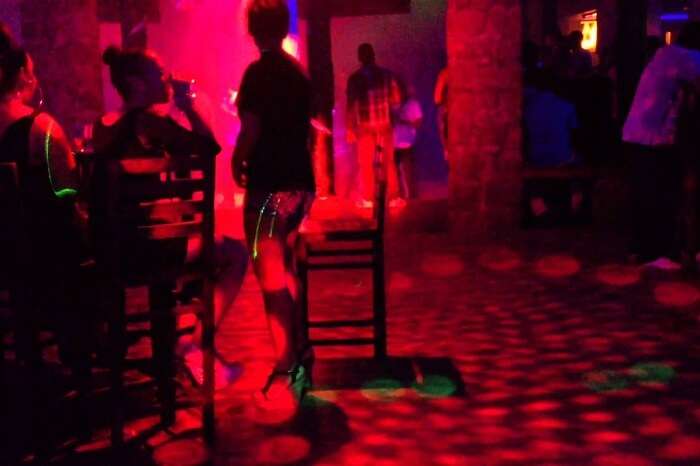 Nighlife in Seychelles
Most of Seychlles nightlife is centered around Mahe and Praslin. It is not as exciting as the pristine beauty of the islands but you can still do may things on the island to enjoy nightlife. From dancing in the clubs all night long to gambling your luck at the casinos, get your wild side out when the sun goes down.
Famous bars & nightclubs
Barrel Nightclub
Rogan's Irish Bar
Katiolo
Lovenut
Suggested Read: Mauritius Vs Maldives Vs Seychelles Infographic: Which Is Your Ideal Holiday Paradise?
7. Beaches – Epitome Of Romance
Both of the destinations- Seychelles vs Maldives being island nations are home to some of the most stunning beaches. Strolling along the shores of clear waters on the sandy beaches with lush green palm trees is something that does not fail to impress.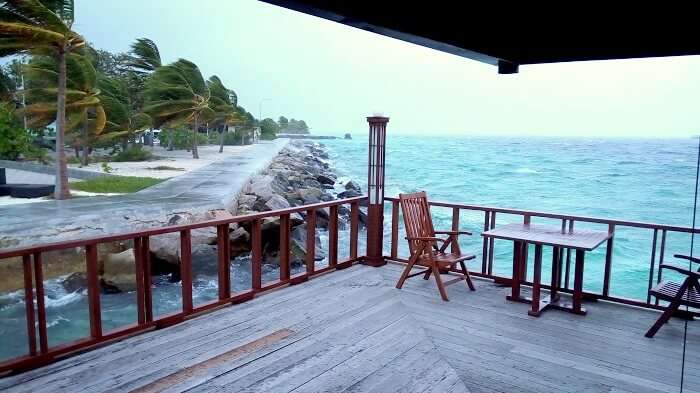 Beaches in Maldives
With Maldives being a conservative nation, beaches in Maldives usually have a few rules and regulations. Despite this, the fun on these beaches is unlimited.
Bikini Beach: As the name suggests, Bikini beach is one of those places where the travelers can have an absolute experience of a beach vacation. Right from swimwear to shorts, you can break some norms at this beach.
Veligandu Island Beach: Be it engaging in water sports or embracing solitude and serenity, Veligandu Island Beach has got it all.
Gulhi Beach: This beach is home to tiny shops and retail houses that sell some of the most beautiful souvenirs to take back home for friends and family. Hence, apart from giving one a chance to relax, it also gives an opportunity to indulge in retail therapy.
Hulhumale Beach: Hulhumale is an ideal beach for those who seek to spend some time with their partners and nature. It is one of the most famous beaches in Maldives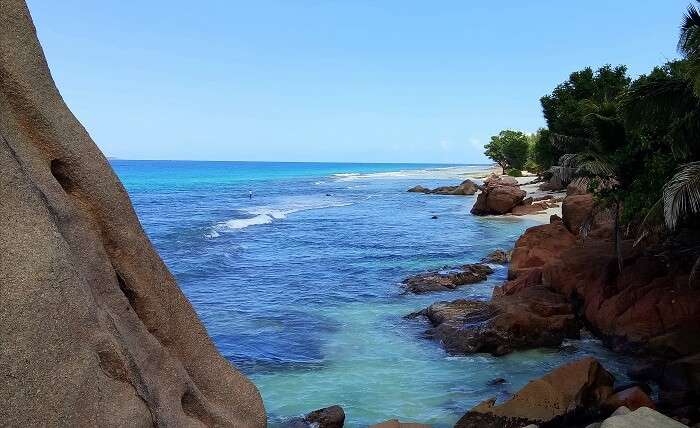 Beaches in Seychelles
Beaches in Seychelles on the other hand are more than just sands and waters. Take a look for yourself!
Beau Vallon: This is situated in Mahé and has plenty to offer. Right from shimmering sands to thrilling water sports, this beach of Seychelles is all about exciting excursions.
Anse Volbert: This beach in Praslin houses some of the most lavish and stunning beach resorts one has ever seen. One can spend some time on the beachfront facades of their rooms and soak in the peace.
Grand Anse: For those who, apart from relaxing and strolling around the beach, also seek to indulge in fighting with waters and surfing, this is your best option. Grand Anse is home to some of the finest waves one has ever seen.
Anse Lazio: One of the famous beaches of Seychelles, Anse Lazio is a beach that would truly bless your Instagram feed with the an extensive number of takamaka and palm trees.
Suggested Read: 25 Maldives Travel Tips You Must Keep In Mind Before You Plan A Trip
8. Shopping – For A Complete Vacation
Indulging in retail therapy while revitalising is never a negative point. Shopping is, in fact, a significant part of a perfect vacation.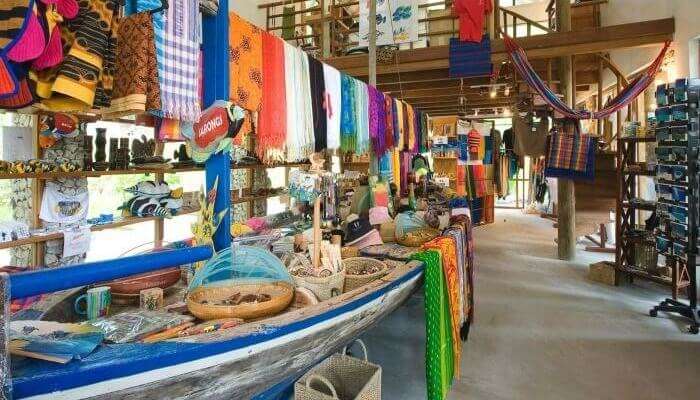 Shopping in Maldives
Right from the local markets to charming boutiques, shopping in Maldives is all about flea and thrift shopping.
Places To Shop: Centro Mall, Le Cute, Nala Boutique, STO Trade Centre. Majeedhee Magu, Chaandhanee Magu
Things To Buy: Perfumes, local jewelry, seashell decor, sweetmeat, dried fried chips, and handicrafts
Souvenirs Of Maldives: Local attire, fridge magnets, handmade necklaces, miniatures of Dhonis, animal statues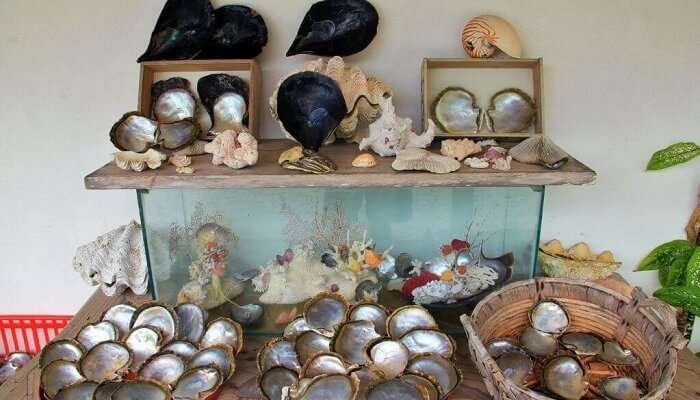 Shopping in Seychelles
Shopping in Seychelles is all about getting a chance to witness various forms of art and labor. Take a look!
Places To Shop: Anse Aux Pins, Antik Colony, Campion Hall, La Kaz, Seypot Factory, Black Peral LTD, Cap Samy Art Gallery
Things To Buy: Oil-scented bath soaps, silk paintings, bags, baskets, clothes, hats
Souvenirs Of Seychelles: Beach bottles with colored sand, handicrafts made from coconut shell, local artwork, handmade ceramic pottery, tea, shark-teeth artifacts, spices
Further Read: 24 Utterly Romantic Things To Do In Maldives On Honeymoon
So, have you decided your honeymoon destination yet? We hope that this Maldives Vs Seychelles for honeymoon blog has helped you in choosing the perfect paradise!vOnce you have done, start planning your honeymoon vacation. Make sure you pack a few extra clothes in case any of these places change your mind and you decide to extend your romantic vacay!
Disclaimer: TravelTriangle claims no credit for images featured on our blog site unless otherwise noted. All visual content is copyrighted to its respectful owners. We try to link back to original sources whenever possible. If you own the rights to any of the images, and do not wish them to appear on TravelTriangle, please contact us and they will be promptly removed. We believe in providing proper attribution to the original author, artist or photographer.
Please Note: Any information published by TravelTriangle in any form of content is not intended to be a substitute for any kind of medical advice, and one must not take any action before consulting a professional medical expert of their own choice.
Frequently Asked Questions About Maldives vs Seychelles For Honeymoon
Which is cheaper Maldives or Seychelles?
If you have to make a comparison between the two islands, the Maldives honeymoon will cost you less than spending your holiday in Seychelles. A week-long honeymoon in Seychelles will cost you a minimum of 150,000 per person without airfare while a 4D/3N vacation in the Maldives starts from INR 76,000 per person.
Is Seychelles near the Maldives?
Both these archipelagos are located in the Indian Ocean but are not really close geographically. While Seychelles is an archipelago located off the east coast of Africa, Maldives is located in the southwest of Sri Lanka in the Arabian Sea.
Which Maldives island is best for a honeymoon?
Maafushi, Hulhulmale, Mirihi, and Komandoo islands are some fo the best places to spend your Maldives honeymoon.
Can you travel from Maldive to Seychelles by boat?
No, there are no boats available to Seychelles from the Maldives as both the nations are located in two different continents altogether. While Seychelles is in Africa, Maldives is situated in South Asia.
Which is better- Maldives or Seychelles?
Well, the answer to this question totally depends on what the traveler is looking for. While temperatures, visa requirements, and vibes remain the same for both of these island nations, the difference lies in the number of places that one can explore. If one wants a destination they can explore more then Seychelles is the answer. But if someone is looking for one large resort town, then heading to the Maldives would definitely be better.
---
People Also Read:
Seychelles In April For Couples Mauritius Honeymoon Guide Luxurious Seychelles Vacation