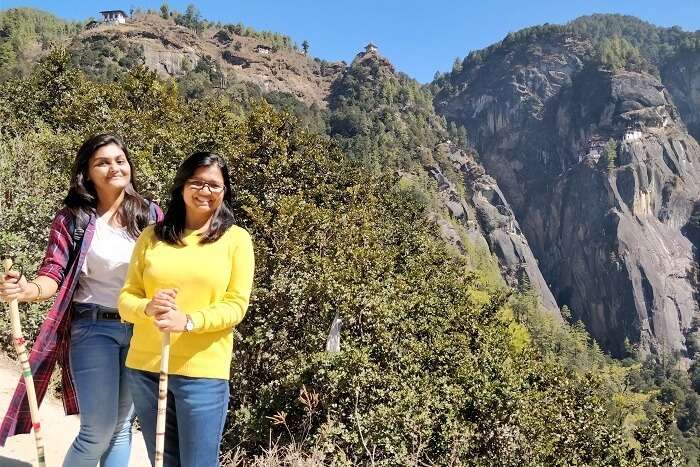 For me traveling is an escape from my monotonous life. The thought of going somewhere excites me so much and also gives me immense happiness. And my trip to Bhutan was all about this and more.

Frankly, I don't consider myself a traveler, I am more of a tourist. Travelers, I must say are brave, they discover new places on their own, they hitchhike, and they couch surf. They are some bold and creative creatures. But I love my way of traveling too, because it gives me peace and at the end, we all are looking for peace whether the person is a tourist or a traveler.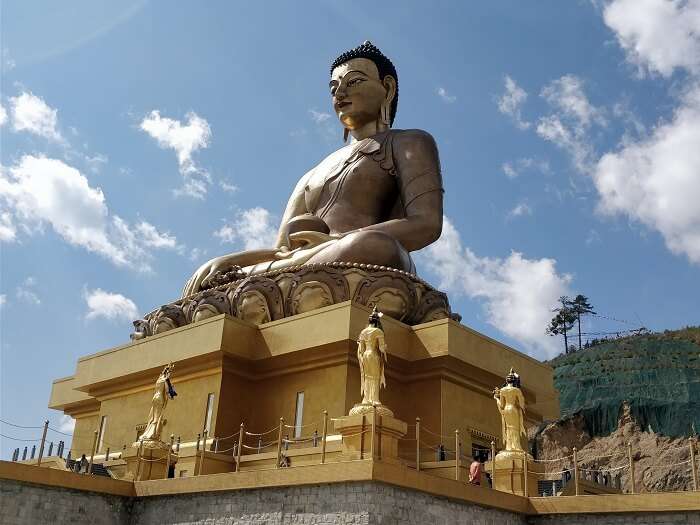 Oh and yes, my friend was accompanying me on this trip and was equally excited about Bhutan as I was. Needless to say, she was the perfect companion!
I had seen Travel Triangle posts many times on my Facebook wall, but I never opened it as I was not in favor of planning a trip through any Travel Company. So first I did a lot of research on myself to make itinerary and to find out what will be the expenses of my trip to Bhutan. Just to find out the difference between what I am expecting and what they are offering, I put my request on Travel Triangle. And Voila! They were offering me a trip on by budget with same itinerary and plus now I did not even had to worry about hotel bookings, rental car, and immigration work.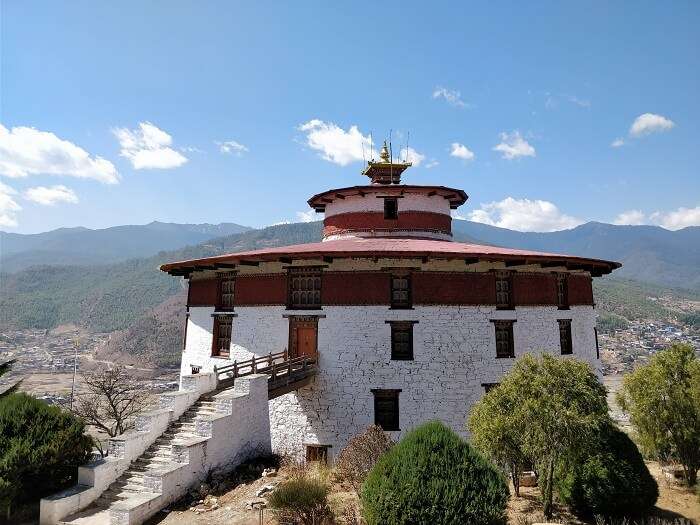 Details of our trip to Bhutan
Trip Type: A getaway to one of the happiest places in the world with my friend
Duration: 6 days
Cost: INR 31000 (for two)
Inclusions: Transfers, Hotels, Sightseeing, and Breakfast
Exclusions: Flights, other meals, and personal expenses
And so after a smooth planning, our trip began!
10 Best Resorts In Bhutan For Luxury And Budget Travelers
Day 1: Towards Bhutan!
We started from Pune on the 2nd of March 2018 and reached Bagdogra airport at 4:30 PM. It was a Friday. We had booked our flight on Friday in excitement, unaware of the fact that immigration office remains closed during the weekend. So thinking of not to waste our weekend, we directly headed to Gangtok during that day and reached there around 8:30. That ride was tough for me and I got scared that the situation will be same for all others days as well, but thankfully our driver for the Bhutan trip was awesome. I didn't feel any motion sickness during all those days.
Day 2: Phuntsholing – Happy people, smiling faces
On Saturday we left for Siliguri to finally meet our dream destination "Bhutan". We entered Phuentsholing by crossing the India-Bhutan Border through a beautifully decorated gate. And this was also the time that gives you a hint that you have entered a colorful, peaceful, and totally different world.
You will not hear any car honks here, see less number of people, and smiling faces. Phuntsholing is a very small town in Bhutan, but you can get everything here.
Day 3: Thimphu – Witnessing the aura of Bhutan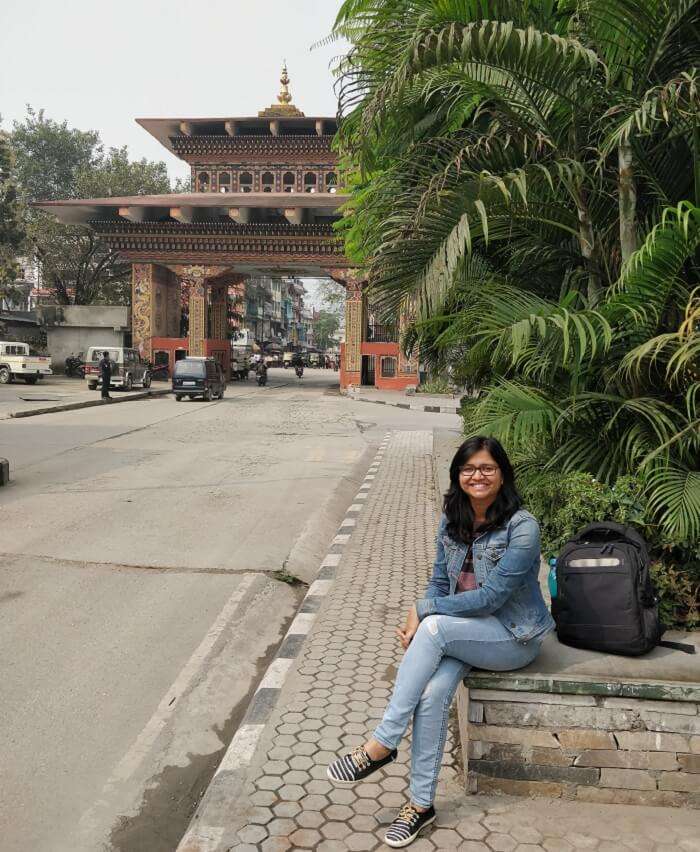 The next day was a day to complete our immigration formalities, and thanks to Travel Triangle, it was completed in less than half an hour. We had also asked our travel agent to arrange Bhutan Sims since the Indian network works within 10 Km range from India-Bhutan border.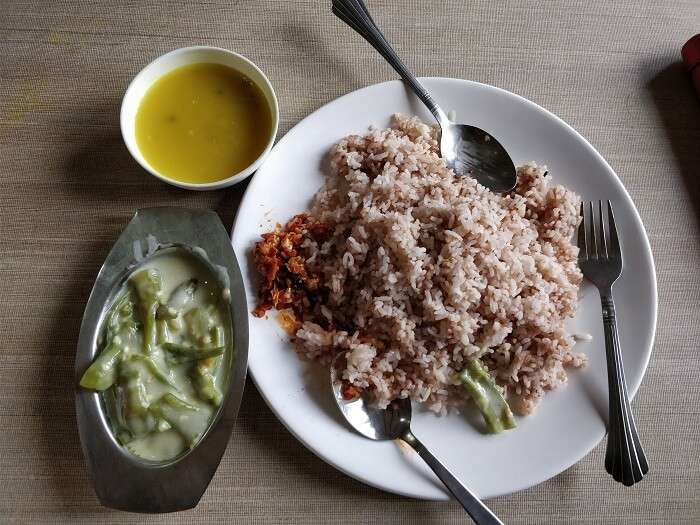 Our driver "David" had asked us to wait in a hotel saying he will pick us in 1-2 hrs. But instead of waiting, we started roaming around the town and visited many shops. Although, to be honest, there were not a lot of things to do in Phuntsholing since it is an entry point for tourists.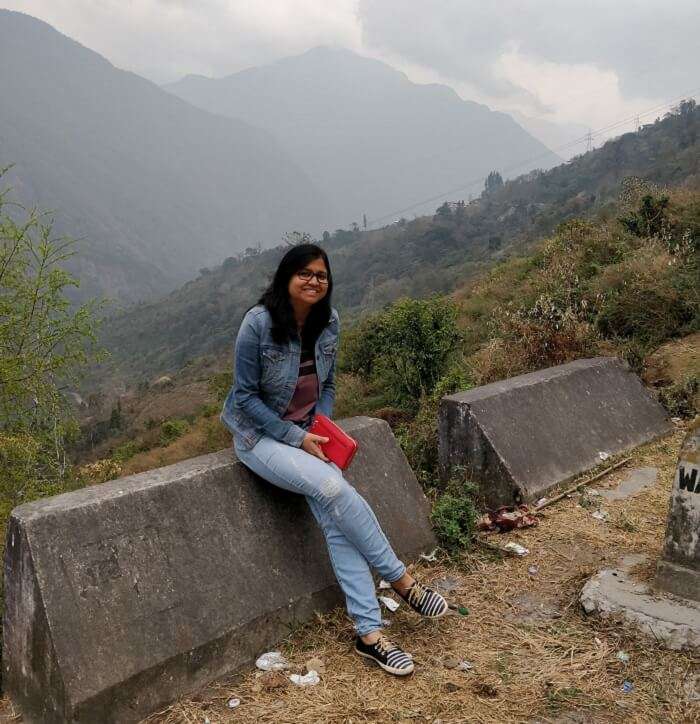 That day we started a little late as David went to his home to pick his stuff and to say bye to his family. Around 2PM we started for Thimpu, our first main destination in Bhutan and since we had started late, we arrived a little late in Thimpu. We eventually decided to eat and sleep and yes, the weather was pretty cold at night there.
Day 4: Thimphu – Exploring the city and more!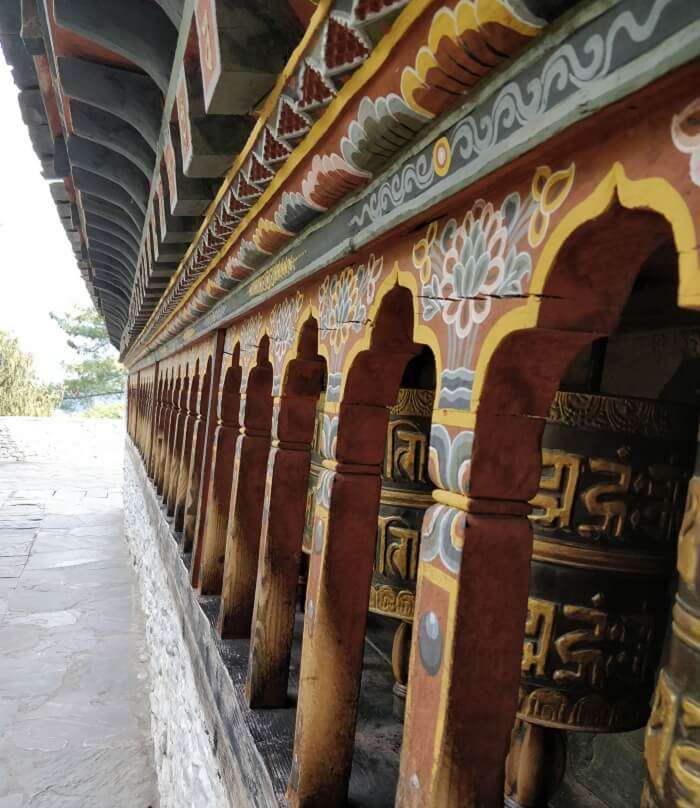 The next morning was beautiful, after breakfast we got ready for the city tour and it started with a visit to Monastery "ChangangKha" which was at a small distance from our hotel.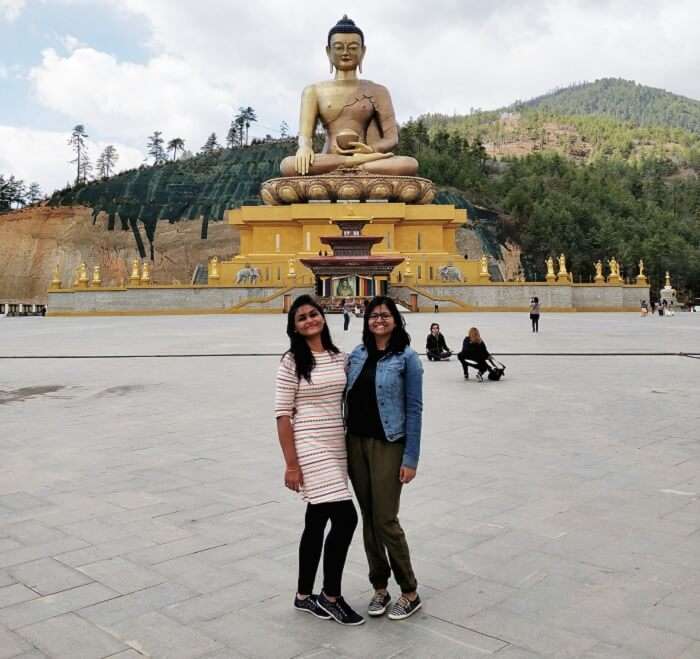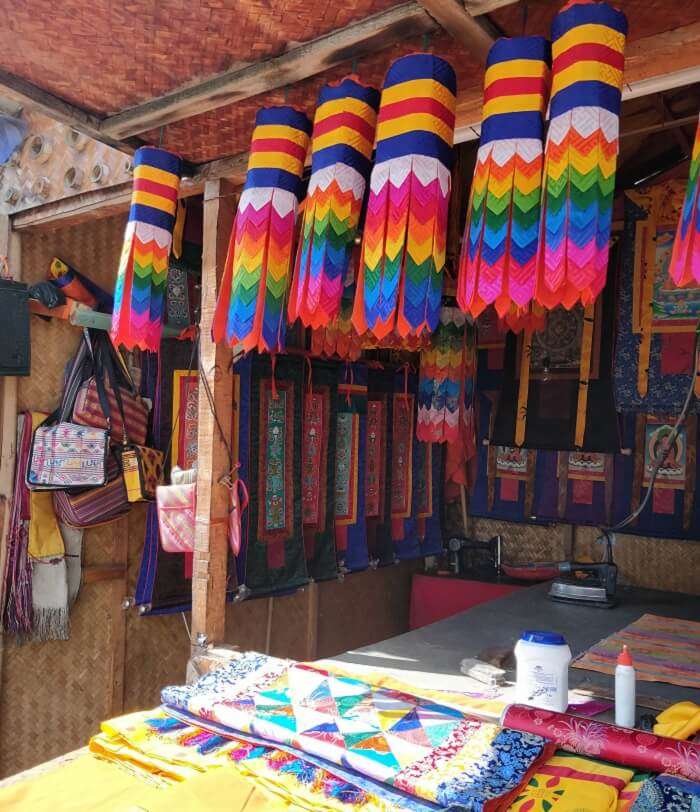 You will have a clear view of the Thimphu City from this place. Next we headed to the famous Buddha point and this huge 51 meter tall Buddha Statue can be seen anywhere in Thimpu. This statue is on a hilltop and the throne on which Buddha is sitting have 125000 small Buddha statues inside it. Photography is not permitted inside but you can take as many photos as you want with this gigantic statue of Buddha.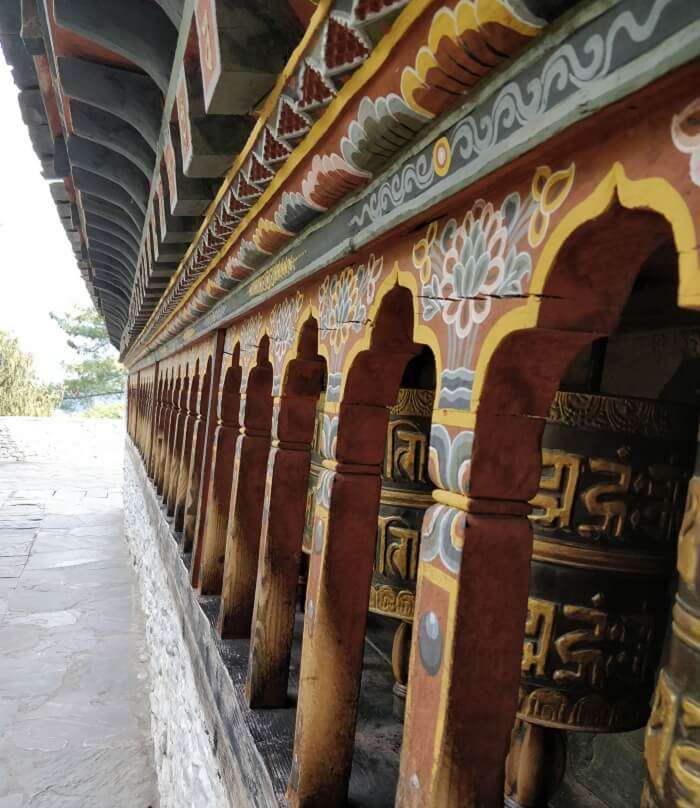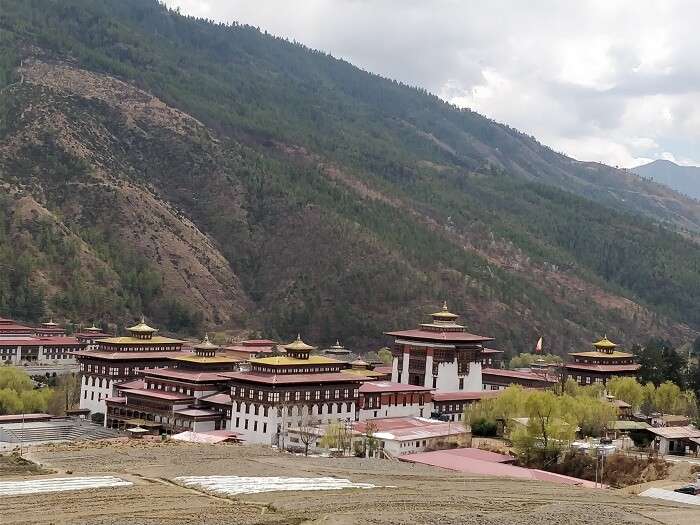 That day we also had Punakha on our to-do list. So after visiting Buddha point we directly headed towards Punakha. On the way to Punakha we passed through a beautiful mountain pass named Dochula Pass. It gave us a 360 degree panoramic view of the Himalayan mountain range. There are 108 Chortens created at Dochula pass in honor of 108 soldiers who died during the 2003 military operation here and after spending a little more time here, we started for the place which I was so excited about, "Chimi Lhakhang" Monastery. To reach here, we had to hike through muddy paddy fields which were surrounded by many souvenir shops and houses having colorful and artistic Phallus decorated on their walls.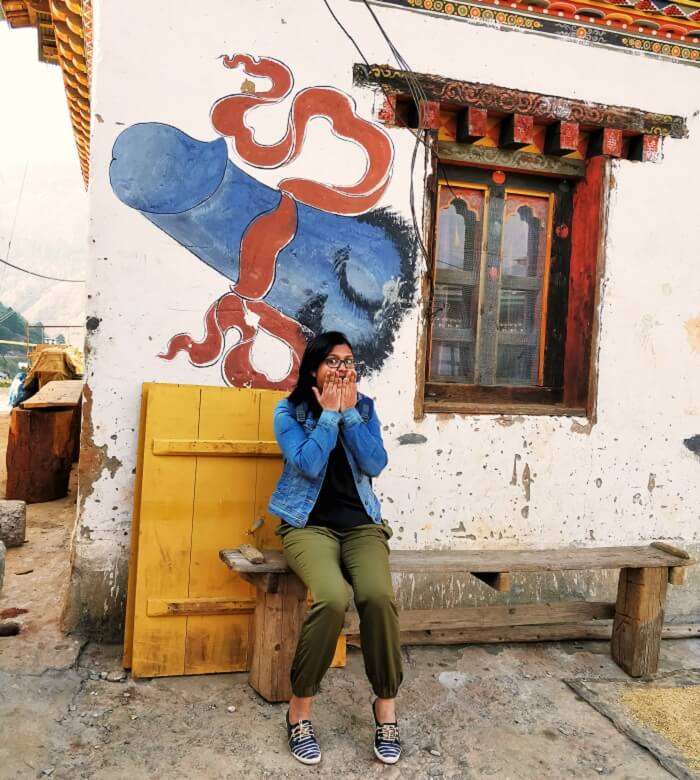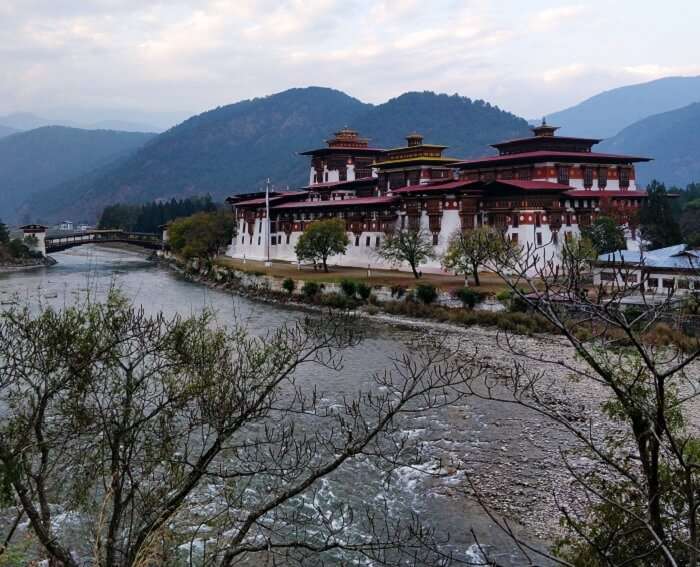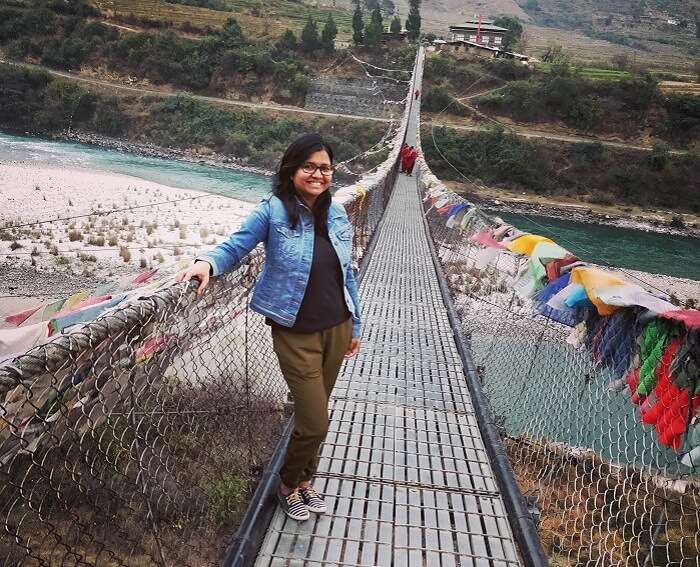 This place is also known as the Fertility temple where people come from all over the world to pray for the survival and good health of their children. This temple is dedicated to "The Divine Madman" who is known for his non-conventional and outrageous way of teaching.
After our lunch we went to Punakha Dzong. This is one of the best and most beautiful Dzong in Bhutan. The Dzong is basically the center of the Administrative and Religious authorities of the city. The entry fee of this place is 300 now.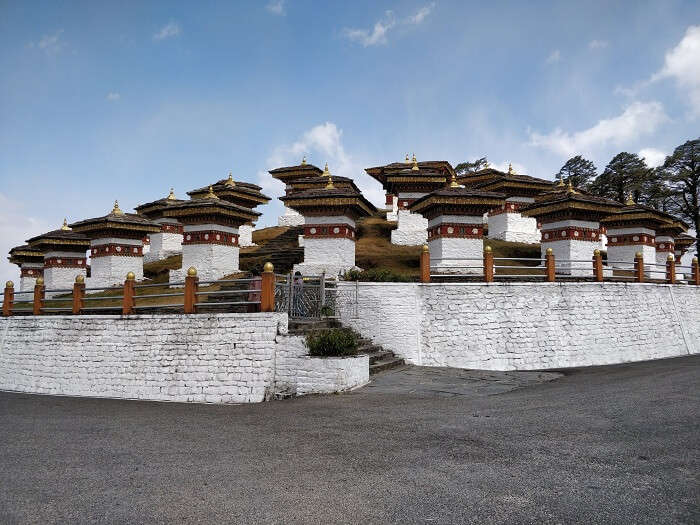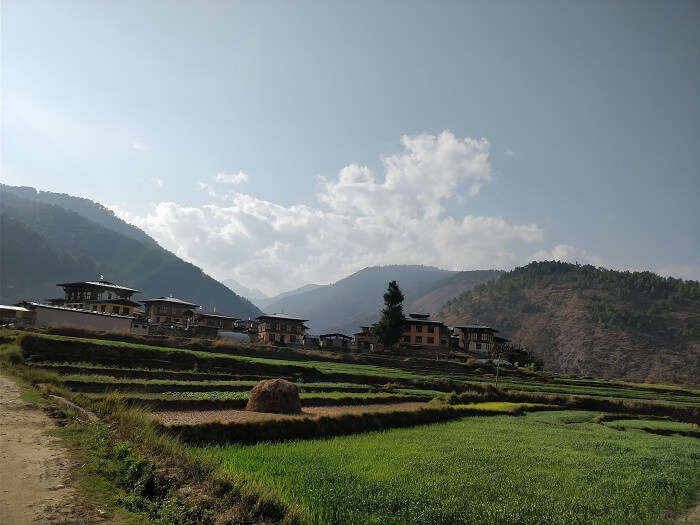 Every main city in Bhutan has Dzong, but this is the most beautiful one. Next up was the Suspension bridge and oh my God! – I had never seen such a huge suspension bridge. It is built over the PO Chu River and we really enjoyed the cool breeze here. Post this, we returned to Thimphu at night to our hotel so that we could get ample rest for the next day – which apparently was going to be very exciting.
Haa Valley: A Sweet Spot Tucked In Bhutan And A Must-Visit On The Northeast Trip!
Day 5: Thimphu – The ultimate Tiger's Nest and trek!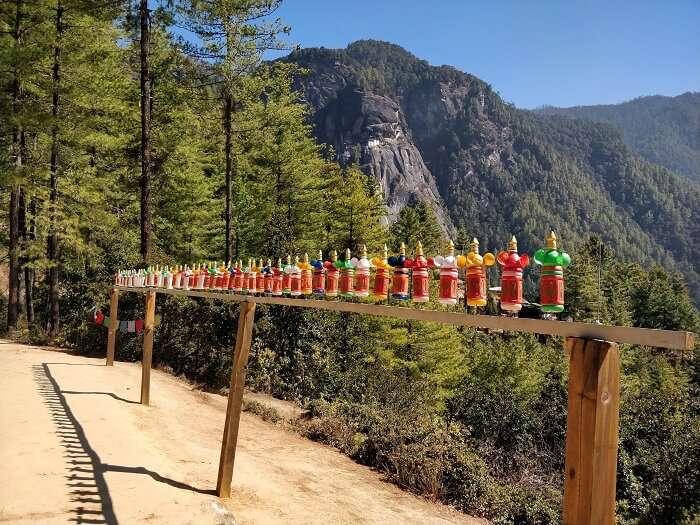 Today early morning, we started for Tigers Nest which I think is the most popular place in Bhutan. We left Thimpu around 7 in the morning and reached the starting point of Tiger's Nest trek at around 8:30. The fee is 500 no.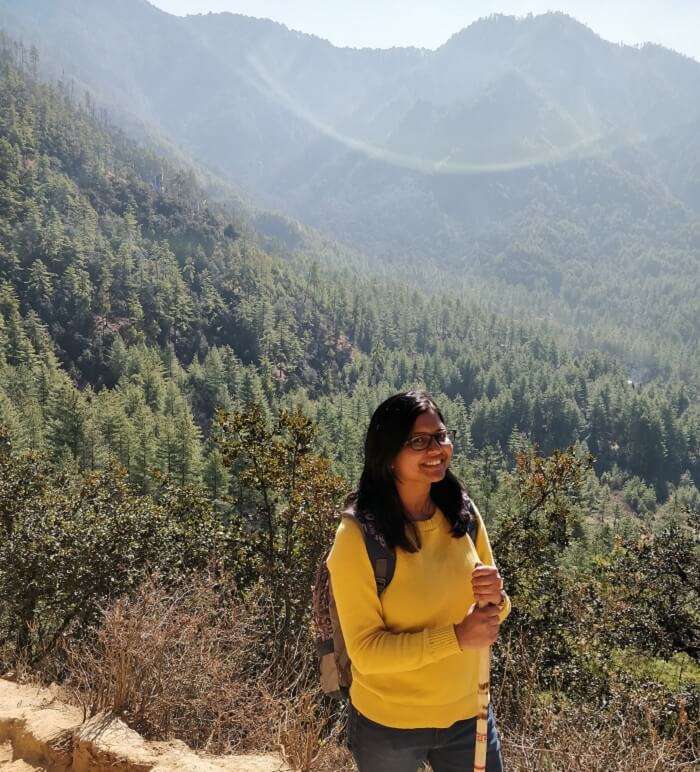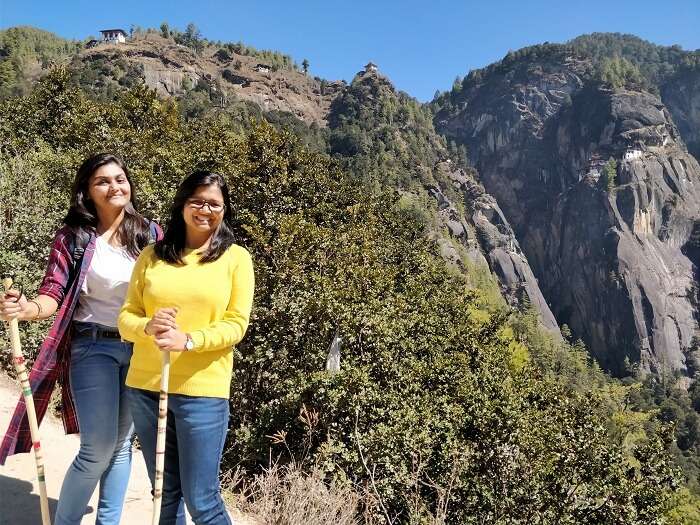 The mountain trek was a little rough but the views and experiences were worth it. One can find many people on the way during the trek and it is better that you stay hydrated and keep eating dry fruits for energy. Needless to say, the views on the way were magnificent and consisted of green valleys. The weather was sometimes making us feel hot while sometimes cold. Finally, after a 2.5 hours trek, we caught a glimpse of Tiger's Nest and were so amazed by the monastery built on the edge of a steep cliff. We took some pictures as we were very excited to see this, but moving on we got even more beautiful views of this place.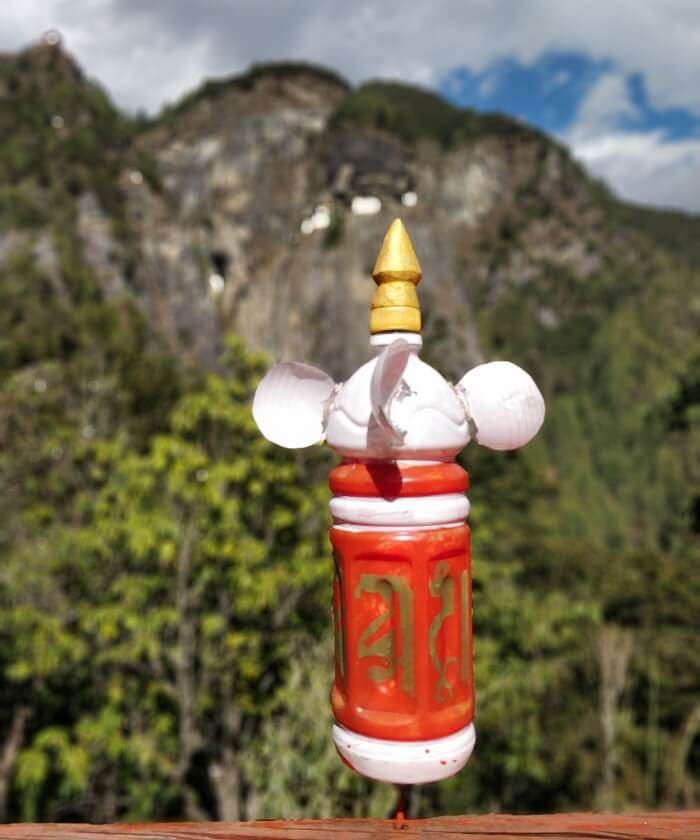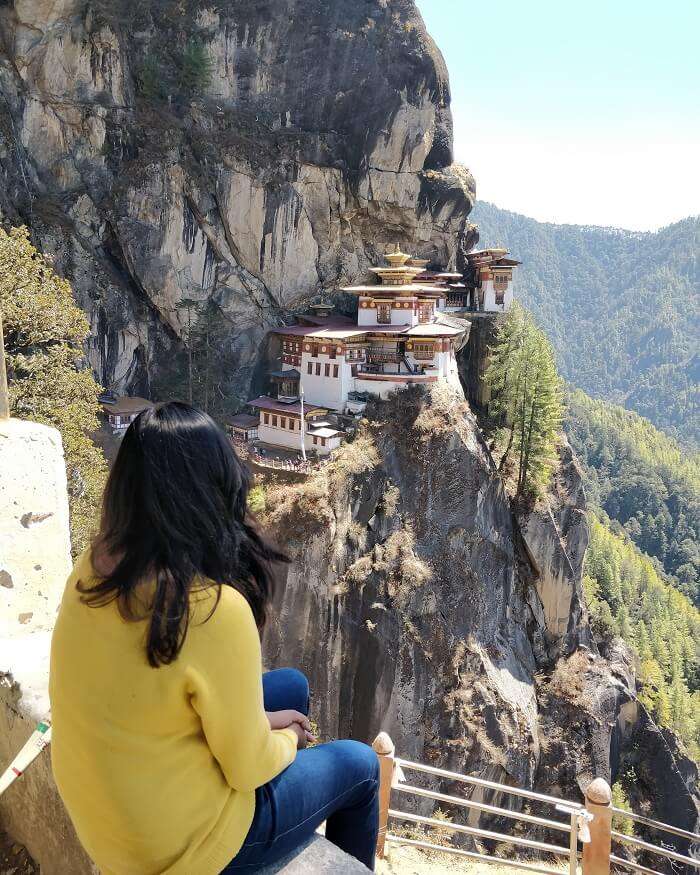 After this point, one has to take the steps and so after 4 hours of journey, we finally reached our destination. We took a guide from here (it was included in our fee) and he really explained everything beautifully.
Overall, we talked to many tourists and locals also while we were on the trek and it was clear that Bhutan is really a very happy place.
Day 6: Back to India
This was our last day and post some local sightseeing, we proceeded back to our home country carrying the sweet memories of Bhutan with us.
Tips for travelers:
Bhutan is one of the best places anyone can visit and everything about it pure. From crystal clear water rivers to friendly locals and delicious food – if you're looking for a peaceful yet adventurous holiday, then Bhutan is the best option you have. So my tip for everyone would be to just go for it.
 Trekking In Bhutan 2022: An Experience Like None Other At 15 Amazing Places!