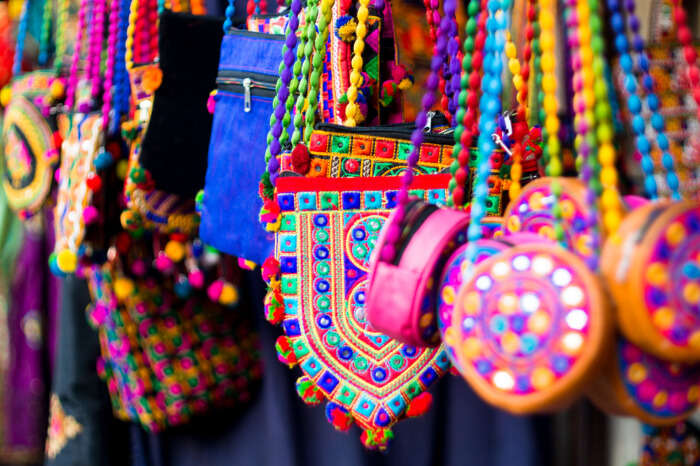 The 'Manchester of the East', Ahmedabad has long been associated with textiles and fabrics in India. In fact, the first textile mill in India was started in Ahmedabad back in 1861. This long history continues today and there are several markets for shopping in Ahmedabad that sell the best fabrics and clothing. However, shopping is not just limited to clothes in Ahmedabad! We have curated an Ahmedabad shopping guide for you to help you pick the best arenas for shopping here. So do not forget to pay a visit to some of these shopping hubs while you're on a trip to Ahmedabad. 
Rani No Hajiro Ahmedabad Cloth Market
Bandhej
Lal Darwaza Market
Sindhi Market
Mangalya Bandhani Sarees
Dhalgarwad Market
Deepkala Silk Heritage
Raipur Gate Market
Asopalav Ratanpole
Kapasi Handicrafts Emporium
Manek Chowk
Fernandes Bridge Book Market
Law Garden Market
CG Road Malls
Falguni Gruh Udyog
Shopping In Ahmedabad: Where To Go & What To Buy
There are some markets in Ahmedabad which will surely fill your empty shopping bags. In this shopping paradise, you will get some of the famous things to buy in Ahemdabad such as sarees, fabrics, colorful skirts, chaniya choli & bandhej. Ahmedabad shopping will not create a hole in your pocket as you can consider some of the wholesale markets. For things to buy in Ahmedabad you must add Kalamkari cotton print to your list. If you are planning to party for the New Year then gear up for some new year party in Ahmedabad and dine in one of the most romantic restaurants in Ahmedabad. Check out the list below to know all about the Ahmedabad shopping places.
1. Rani No Hajiro Ahmedabad Cloth Market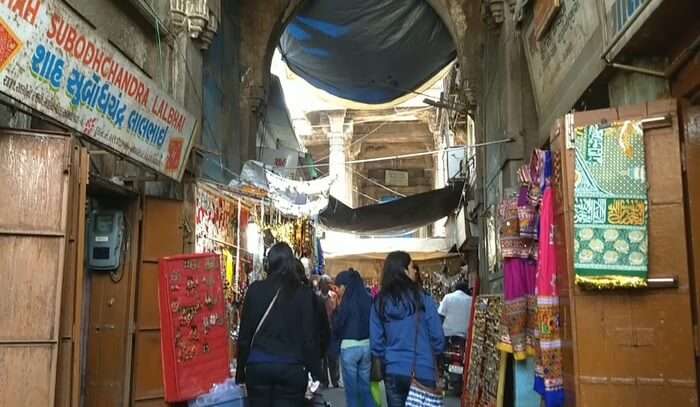 Rani No Hajiro Market is a unique market located near the historic tombs of Ahmed Shah's Queens. Today, the place hosts one of the best Ahmedabad cloth markets with costume jewelry and apparel fit for a queen! The best handloom fabrics like Ikat, Mashrush, and Ajrakh can be found here.
Location: Gandhi Rd, Manek Chowk, Khadia
Timings: 11 AM to 11 PM
Famous For: Intricate jewelry & intricate fabrics
Must Read: 52 Fascinating Tourist Places In Ahmedabad
2. Bandhej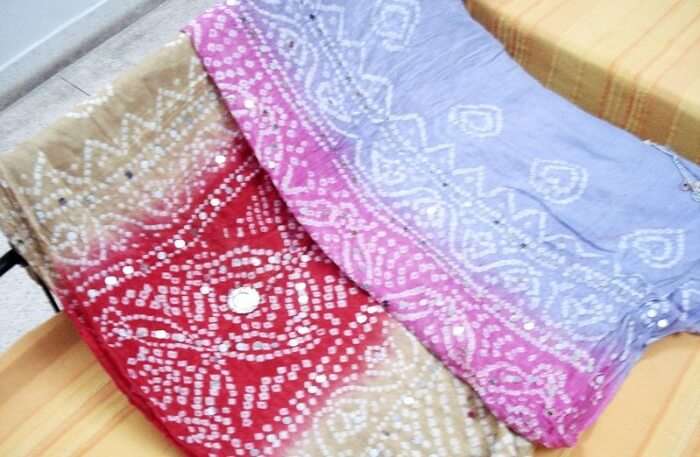 The best place for Bandhani and cotton fabric shopping in Ahmedabad is at Bandhej. Started in 1985 by Archana Shah, Bandhej has become synonymous with sustainable clothing. Its designs are elegant and change with the trends and seasons. Best picks at Bandhej would include kurtas, dupattas and tunic skirts. If you're looking for traditional Gujrati wear, you can explore the best places to shop in Ahmedabad.
Location: Shop 1, Shree Krishna Centre, Netaji Road, Mithakhali, Navrangpura
Timings: 10 AM to 8 PM
Famous For: Bandhani & cotton fabric
Suggested Read: Guest Houses In Ahmedabad: Affordable, Comfortable & Truly Worthy Staying Option
3. Lal Darwaza Market
Witness the ruthless bargaining skills of shoppers at the iconic Lal Darwaza market in Ahmedabad. Synonymous with cheap shopping in Ahmedabad, Lal Darwaza stock everything under the sun. The market gets lively in the evenings with a multitude of food stalls.
Location: Near Lal Darwaza
Timings: 11 AM to 10 PM
Famous For: Sarees, Fabrics, Shoes, Colourful skirts, Chaniya Cholis, Wallets, Second-Hand books, Belts, Garments for men and children, Dupattas
Suggested Read: 20 Things To Do In Ahmedabad For An Extraordinary Experience!
4. Sindhi Market
From traditional saree shops in Ahmedabad to new trendy dress stalls, Sindhi market has every shopping need covered. A relatively older Ahmedabad market for clothes, Sindhi market is frequented by local Amdavadis for all their clothing and shopping needs. The best part – it's sold at dirt cheap rates!
Location: Revdi Bazar, Kalupur
Timings: 11 AM to 10 PM
Famous For: Bedsheets, curtains, pillow covers, handicrafts, sarees, dress materials, handicrafts, footwear
Suggested Read: Shopping In Udaipur: 13 Popular Places To Pick Rajasthan Specials
5. Mangalya Bandhani Sarees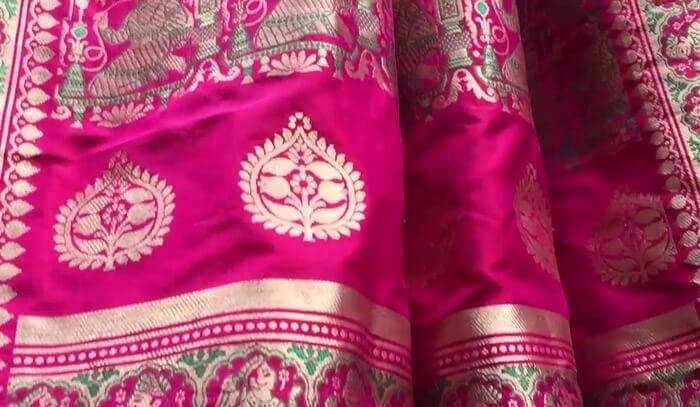 Every woman searching for the best Bandhani saree shops in Ahmedabad has found her way to the Mangalya Bandhani Sarees. While many shops have tried to copy this iconic Ahmedabad shopping specialty, no one has been able to beat the quality and make of the original – Mangalya Bandhani Sarees!
Location: 21, Abhishree Complex, Opp.Star India Bazar, Satellite Road
Timings: 10 AM to 8 PM
Famous For: Saree collection
Suggested Read: Top 12 Surreal And Romantic Places Near Ahmedabad Where The Love Birds Flock!
6. Dhalgarwad Market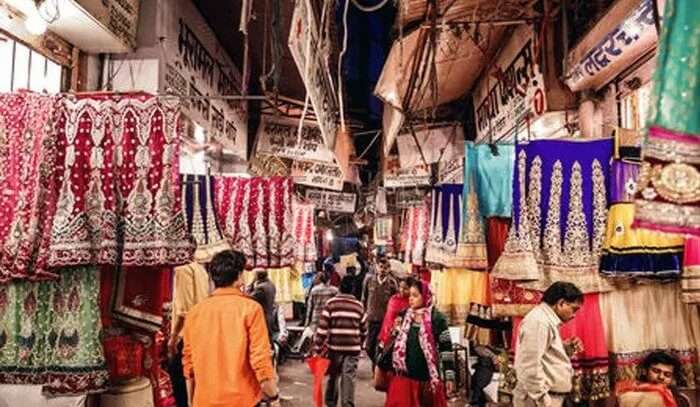 Come wedding season, families' beeline to the Dhalgarwad Market which has the best options for sarees shopping in Ahmedabad. The shops sell traditional clothing like chaniya choli, kurta pyjama and even traditional sarees like Mangalgiri, South Cotton, and Jaipur Prints. Dhalgarwad is one of the most famous markets in Ahmedabad. 
Location: Dhalgarwad, Khadia
Timings: 11 AM to 10 PM
Famous For: Bandhej, Silk Patola saris, Cotton prints like Mangalgiri, Kalamkari, Jaipuri cotton, South cotton, bedsheet material,  salwar suits Chaniya cholis and a fair share of silver jewellery.
Suggested Read: Picnic Spots In Ahmedabad For An Exciting Time OnYour Vacation In 2022
7. Deepkala Silk Heritage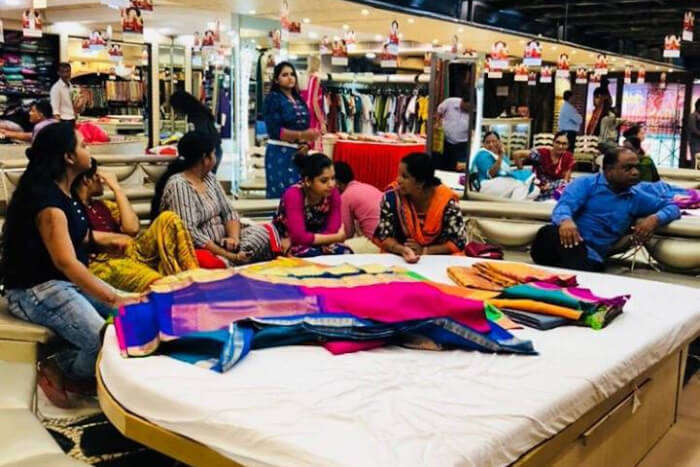 Deepkala Silk Heritage is one of the premier shops in Ahmedabad and favoured by the top families of Ahmedabad. It has a rich variety of ghagras and sarees with a special Bridal collection and curated collections. They also have bespoke tailoring along with an online shopping portal.
Location: Deepkala House, Beside Citi Bank C.G Road, Navrangpura
Timings: 10 AM to 8:30 PM
Famous For: Bridal wear collection
Suggested Read: 20 Amazing Resorts Near Ahmedabad: Guide To Your Next Vacation Hotspots
8. Raipur Gate Market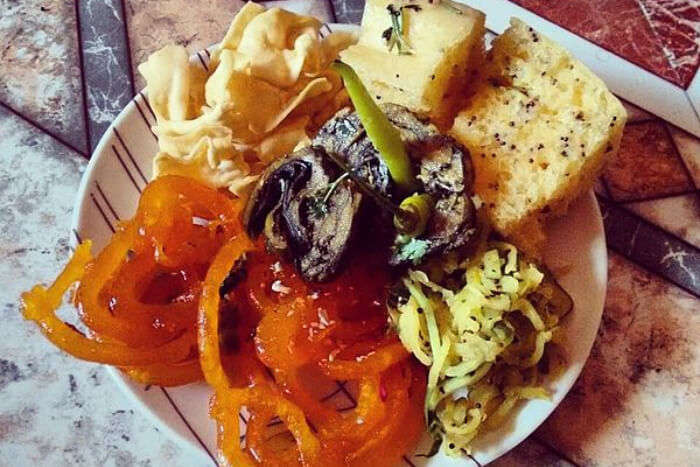 Street shopping in Ahmedabad is incomplete without tasting the popular farsaans or savoury snacks. Raipur Gate is an old Ahmedabad market that offers a variety of snacks including dhokla, khandvi, fafda, jalebi! These snacks also double up as the best souvenirs for friends and family. This is among the most vibrant places to shop in Ahmedabad on a shoestring budget. 
Location: Anandshankar Dhurav Rd, Khadia
Timings: 7 AM to 3 AM
Famous For: Dhokla, khakra, fafda, jalebi, khandvi,
Suggested Read: Our Rann Of Kutch Travel Experience Was The Major Highlight Of Our Ahmedabad Trip
9. Asopalav Ratanpole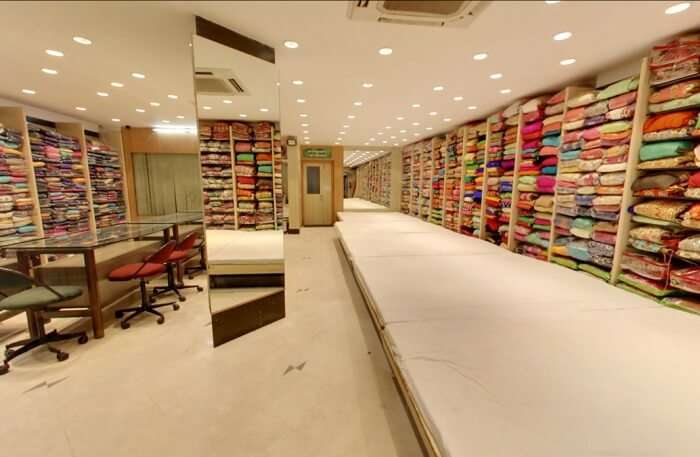 Asopalav is an exclusive destination for shopping in Ahmedabad. Started in 1975, this store sells designer sarees and dresses. It's such a hit that NRI families settled abroad visit Asopalav for all their shopping needs. They also provide you with an exclusive shopper to assist with your shopping.
Location: Ratanpole
Timings: 10 AM to 8 PM
Famous For: Sarees & dresses
Suggested Read: 15 Romantic Restaurants In Ahmedabad That'll Fill Your Next Dinner Date With Love & Life!
10. Kapasi Handicrafts Emporium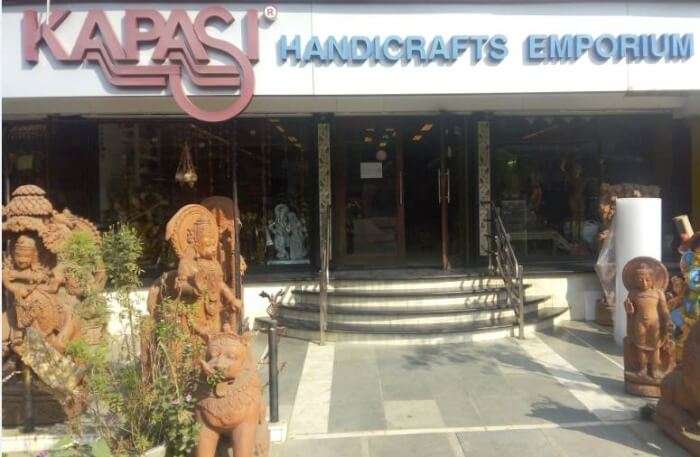 Kapasi is a pioneer among shops in Ahmedabad that sell handicrafts. The huge showroom has a mind-boggling collection of paintings, idols, statues, home mandirs, brass, and marble collection. Ideal for shopping for friends or colleagues, Kapasi has everything handmade and purposeful.
Location: Jitendra Chambers, New R.B. I. Lane Income Tax,Ashram Rd
Timings: 10 AM to 8 PM
Famous For: Arts & handicrafts
Suggested Read: Street Food In Ahmedabad 2022: 19 Best Food Spots That You Need To Add To Your List!
11. Manek Chowk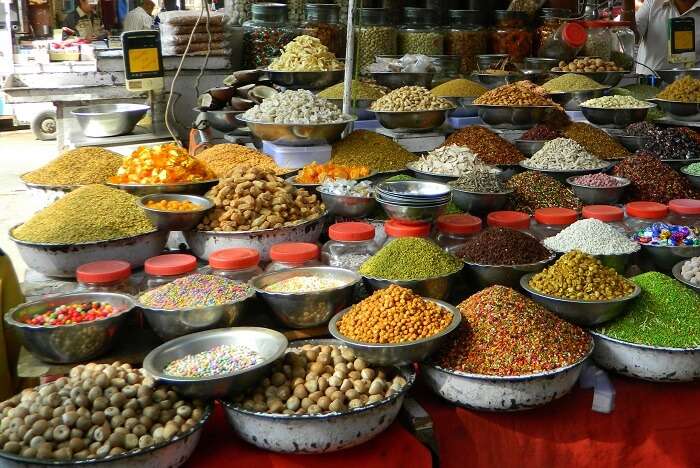 One of the street markets in Ahmedabad, Manek Chowk is the Ahmedabad cloth market where the entire city comes to shop! From exclusive designer showrooms to cheap shopping in Ahmedabad, this market has everything. It has a traditional bazaar vibe and stalls selling food, vegetables, and clothes all beside each other.
Location: Manek Chowk
Timings: 11 AM to 11 PM
Famous For: Gold, block print fabric, Garba attire, traditional Gujarati material, bandini
Suggested Read: 12 Hill Stations Near Ahmedabad To Escape For A Chilling Getaway This Summer!
12. Fernandes Bridge Book Market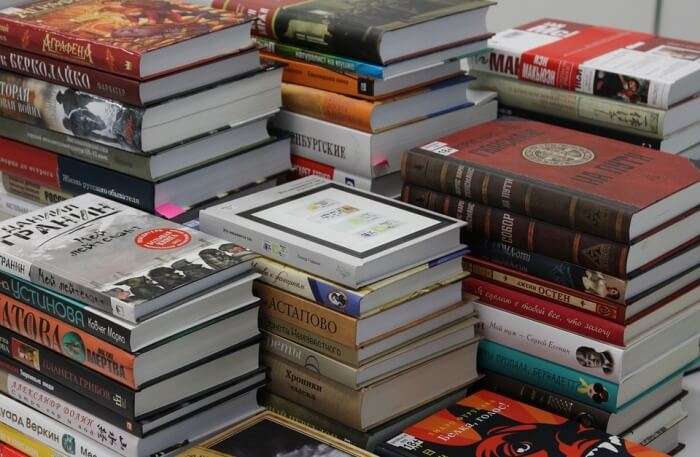 Not just the clothes crazy, even bookworms get to satisfy their craving for shopping in Ahmedabad. The street market for books under the Fernandes Bridge is open all through the week and sells both new and old books. Visitors can find some unique gems among the heaps of books.
Location: Fernandes Bridge, Tankshal, Khadia
Timings: 11 AM to 11 PM
Famous For: Print books, rare books, collectables
Suggested Read: 7 Wedding Venues In Ahmedabad That Will Make Your Day Grand In Every Way!
13. Law Garden Market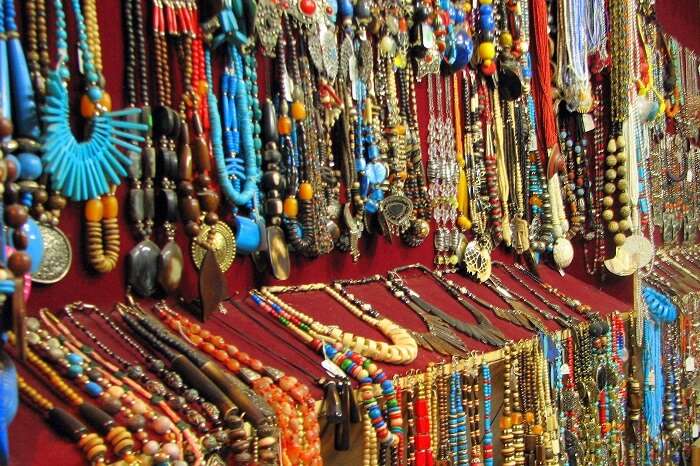 Everyone heads to the Law Garden market in the garbha season. This Ahmedabad market has the most colorful and latest costumes for all garbha parties along with accessories and costume jewellery to go with these dresses. The stalls also sell great appliqué work and embroidered bedsheets and dresses. If you're interested in some street shopping in Ahmedabad, this is the place for you. 
Location: Netaji Road, Ellisbridge
Timings: 5:30 AM to 10:30 AM
Famous For: Cholis, Chaniyas, embroidered wall hangings, costume jewellery, handicrafts, bags, bedsheets, dress material, western wear
Suggested Read: 16 Playful Picnic Spots Near Ahmedabad
14. CG Road Malls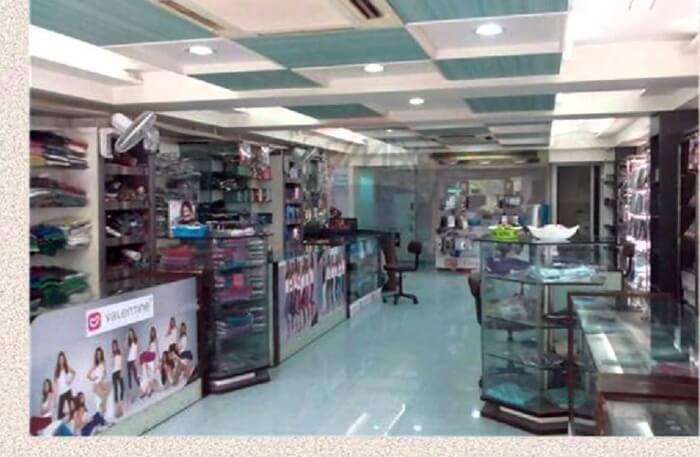 CG Road or Chimanlal Girdharlal Road has some of the best shopping places in Ahmedabad. This shopping mall in Ahmedabad the best malls like CG Square Mall, Super Mall, Shail's Mall, and Iscon Arcade with international and national brand showrooms. It's surely the best place to combine an evening of shopping and entertainment!
Location: CG Road
Timings: 11 AM to 10 PM
Famous For: Shopping Malls, Branded stores
Suggested Read: Gear Up For A New Year Party In Ahmedabad 2022: A Celebration Like Never Before!
15. Falguni Gruh Udyog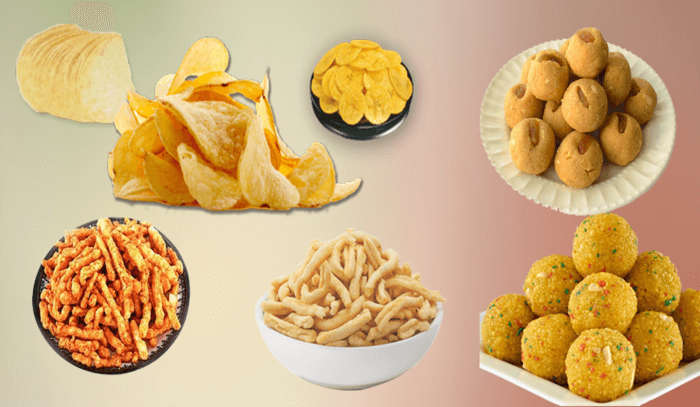 Generations of Gujaratis swear by the snacks at Falguni Gruh Udyog. One of the best shopping places in Ahmedabad, a package of mixed snacks from this place is a must-buy before leaving Ahmedabad. Try their Dosa Khakra, Sukhwani, Bhakari, Sev, and Chivda.
Location: Shop No 1, Hirak Complex, Opposite Shakti Enclave, Nehru Park, Vastrapur
Timings: 9:30 AM to 9 PM
Famous For: Namkeen for locals and other people from Ahmedabad.
Further Read: Ahmedabad To Mumbai In Just 2 Hours: See What's Making It Possible!
Phew! That's a lot of places for shopping in Ahmedabad that would surely require some extra days on your Ahmedabad itinerary. Book your Ahmedabad trip right away for a crazy shopping spree right away!
Frequently Asked Questions About Shopping In Ahmedabad
What is famous in Ahmedabad for shopping?
Some of the most famous things to buy from Ahmedabad include: 1. Tie and dye fabrics (Bandhani) 2. Wood carved furniture 3. Precious antique jewellery 4. Wood and brass home decor products 5. Patola Silk 6. Gujarati snacks
What is famous in Gujarat for shopping?
Some of the famous things to buy from Gujarat are: 1. Patola Silk Sarees 2. Khadi apparels and products 3. Handloom products 4. Embroidered dress materials, bags, footwear and other products 5. Bangles and other ornaments 6. Traditional Gujarati snacks 7. Bandhani dress materials' 8. Traditional Ghagra - choli
Which are the famous shopping places in Ahmedabad?
The most famous places for shopping in Ahmedabad are: 1. Lal Darwaja 2. Rani No Hajiro 3. Darwaja Market 4. Dhalgarwad market 5. Fernandes Bridge 6. Asopalav Silk Museum 7. Law Garden's Night Market 8. Alpha One Mall 9. Radhe Shopping Mall
Which are the famous shopping places in Gujarat?
Some of the best shopping places in Gujarat include: 1. Law Garden Market, Ahmedabad 2. Lal Darwaja, Ahmedabad 3. Rander Road, Surat 4. New Textiles, Surat 5. Bangadi Bazaar, Rajkot 6. Sindhi Market, Ahmedabad 7. Teen Darwaja / Dhalgarwad, Ahmedabad 8. Ring Road, Surat 9. Gandhinagar Ravivar Market 10. Jamnagar
Who is the owner of Alpha One Mall in Gujarat?
Alpha One Mall in Gujarat was owned by Alpha G: Corp but later it was acquired by Blackstone, a big private equity player. This shopping mall in Ahmedabad has also been renamed from Aqua One to Ahmedabad One. This is one of the biggest malls in Gujarat.
How large is Ahmedabad One?
Located in Vastrapur city, Ahmedabad One is a shopping mall in Gujarat. Opened in 2011, it is India's 19th largest shopping mall by size. Ahmedabad One is spread across 706,000 sq ft. The mall was called Alpha One but the name was later changed to Ahmedabad One. It is a 3-floor mall and is open from 10am to 10 pm everyday.
Which are the best wedding shopping places in Ahmedabad?
The best designer boutiques in Ahmedabad are: 1. Shyamal & Bhumika 2. Siyaahi by Poonam Sanghani and Rohit Dubey 3. Aryans by Sujata Agrawal 4. Rishita & Mitali
What is the speciality of Lal Darwaja market?
Lal Darwaja market is special for clothes, shoes and bags shopping. It is one of the most busiest shopping areas in Ahmedabad.
What is Sindhi market famous for?
Sindhi market is famous for clothes and traditional items. You can get all the products at this one market place at reasonable prices.
When is the best time to visit Ahmedabad?
Considering the weather conditions, the best time to visit Ahmedabad is during the winter season, that is, from November to February.
---
---
People Also Read:
Shopping In Gujarat Shopping In Vadodara Shopping In RajkotShopping In Kasauli