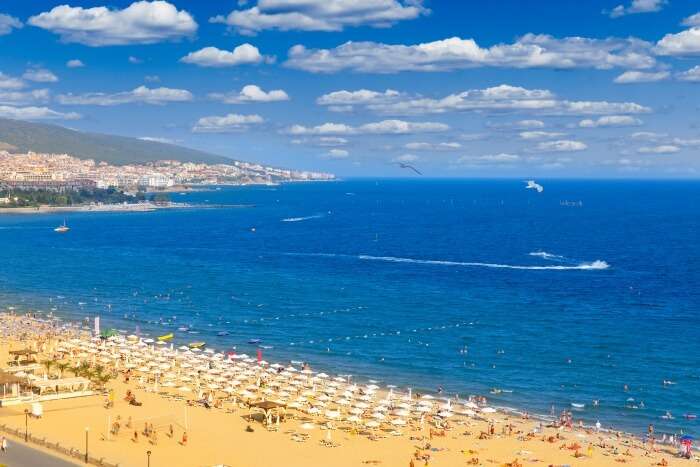 If you want a summer vacation at a decent cost which have more to give than just the seaside, Bulgaria is your place. The weather crosses the 30's in terms of temperature with plenty of sunlight, so Bulgaria is a wonderful place if you are looking for a different European destination for your summer vacation! You might not have thought about splurging your summer on coasts in Bulgaria, but once you've been, we guarantee you'll likely stay forever! Bulgaria's Black Sea coastline stretches from north to south with a multitude of beaches, some family-friendly, some infamous for their festivals and some completely wild. Bulgaria is renowned for its mystical coasts and some of them are amongst the most impressive in Europe.
13 Best Beaches In Bulgaria, Sofia
However, the most lovely and tidy beaches are too alienated and you will need a vehicle, some additional details, and a GPS. Do you want to enjoy Bulgaria beach holidays? Here is where you should come:
Sunny Beach
Golden Sands
Albena
Ahtopol
Irakli Beach
Sozopol
Silistar Beach
The Bear's Cove: Arkutino
Pasha Dere
Krapets
Alepu
Sunny Beach Bulgaria
Sinemorets Veleka Beach
1. Sunny Beach

Perhaps the most renowned of all the coasts in Bulgaria, Sunny Beach is the largest and most lively resort in the nation. With an 8 km long stretch of fine sandy beaches, Sunny really lives up to its name, with average sunlight between May and October of 1700 hours. Packed with multi-storey resorts, billions of eateries, water sports, hired tents and some of the country's weirdest nightclubs, this coast also possesses a slightly different, underappreciated wildlife species: most of the coast's last natural dunes and rare plant species find a home in it. Sunny beach is just across the bay from Nesebăr 's historical town.
Must Read: Bulgaria In Winter: 10 Things To Do To Make Your Vacation Memorable
2. Golden Sands

Golden Sands Beach in Bulgaria doesn't believe in misleading marketing, actually has golden sand; many believe it's the finest sand in Europe. Just over 20 km from the ancient roman town –and resort of Varna–Golden Sands is less salty than Sunny Beach, but comes second in terms of super-resorts and night life (its main drag-of-debauchery is called ' Party Street'). One of the top beaches in Bulgaria, it is boxed by the thickly forested Golden Sands Nature Park; healing water from the park's hot mineral springs is also used in regional spas.
3. Albena

Albena is a kid-friendly of the Bulgaria beaches on the coast and has water parks, bowling alleys, mini-golf courses and theme parks to prove it; that miniature-trains are one of the main modes of transport on the beach is another bit of a clue about just who governs the fiefdom. The long, pollution free white sand dips into tranquil, clear waters, which also seem to be designed for kiddos: even at 150 meters from the shoreline, the sea is no more than 1.6 meters deep. Albena 's appeal is increased by a free beach library. Nightlife is aimed at parents hopefully getting a moment.
Suggested Read: 21 Beautiful Places To Visit In Bulgaria In 2022 That Are A Treat To Your Eyes
4. Ahtopol

Not far from the Turkish border, rustic Ahtopol–the southernmost town on the coast of Bulgaria–is a nod to the Bulgarian seafront of old. The rocky foreshore is dotted by a lighthouse and ancient wooden houses (as opposed to pubs and T – shirt shops) and you are more likely to see rickety trawlers than cruise liners floating along its dazzling water. What the coast lacks in the vast mottled sands(and mobs) of the northern lodges is more than made up for in an atmosphere and history; Ahtopol–the name means " the city of love" –is situated in an early Thracian settlement.
Suggested Read: Top 12 Bulgarian Restaurants That Will Leave You Spoilt For Choice
5. Irakli Beach

Have you forgotten your togs? Get yourself to Irakli! One of the last surviving untamed beaches in Bulgaria, the naturist Irakli is a favorite getaway for anyone who wants a bronze tan. Your credit card will appreciate the fact that free camping is mainstream here; your body will appreciate the soft sand on the coast. Irakli, with its lovely lagoon, tortoises and birdlife, is more than just a beach for campaigners, naturists and poets who enjoy its isolation: it is an emblem of the power of the people, having prevailed over great development. Many happy hipsters go down on Irakli every 30 June or ' July Morning,' which commemorates the sun rising above the Black Sea.
Suggested Read: Museums In Austria: 8 Amazing Storehouse Of History And Art In The Heart Of Europe
6. Sozopol

Sozopol was established by seafaring Greeks in the 7th century BC; thanks to an utterly amazing stretch of shoreline echoing of their homeland–no stranger in the department of 'beautiful Bulgaria beaches,' they chose to stay. The former Apollonia is home to the broad Harmani Beach and the tinier town Beach; campers and sunbathers will prefer the Golden Fish and Kavatsi Beaches just a few kilometers from the city centre. Can't decide? Walk along the centuries – old southern walls of Sozopol for views of all of them.
Suggested Read: Paragliding in Austria: Head to these amazing destinations in the heart of europe!
7. Silistar Beach

Silistar is one of few beaches in Bulgaria to relish the ' protected ' designation of a beach that defies superlatives. It's not easy to get there–it's deep in the faraway Strandzha National Park–but there's a lot to its elegance: you're extremely unlikely to see someone in a luminescent mankini doing rakija laybacks here However, you will clap your eyes on owls, vultures and deer. The waters of Silistar are vapid and ludicrously clear, making it a favourite for swimmers; the small beach, though rocky at its ends, has fine, soft sand. Wild camping is permitted.
8. The Bear's Cove: Arkutino

Arkutino is an enormous and extraordinarily vibrant beach north of the beautiful mouth of the Ropotamo River, between the Arkutino Swamp and the sea. Christened after the Greek word ' bear,' this untouched Black Sea region has incredible sand dunes, flourishing sand lilies and an awesome view of the tiny Snake Island off its coast. Although the small island off Arkutino is not populated by snakes, it is the only wild cactus colony in Bulgaria, which was installed on royal orders in the 1930s.
9. Pasha Dere

An untamed beach just south of the coastal capital of Bulgaria, Pasha Dere is a favorite place for the Varna people. The broad sandy coast of Pasha Dere is completely bereft of any human meddling. and no surprise, because this beach nirvana can only be reached by a narrow, partly potholed road. Pasha Dere is toured by many young folks who seek a quiet and calming environment to the livelier Bulgaria beaches of the mainstream. It is also a prevalent campsite. And in the vicinity is Chernomorets, yet another lovely seaside area with precipitous rocky coasts lined with small sandy beaches.
Suggested Read: Sweden In March: 10 Eye-Catchingly Beautiful Places To Visit In Europe's Svedala
10. Krapets

Located in the northern part of the Black Sea coast of Bulgaria, Krapets is the very last coastal town in front of the Romanian border. And Krapets ' untouched beach is unquestionably one of the finest and longest in the region. Krapets, a small fishing village located on the northernmost part of Cape Shabla with its scenic lighthouse and southeast of Lake Durankulak, touts a tranquil and comprehensive sandy coastline with a smooth and enjoyable seabed. You can frequent the southernmost beach town of Romania just across the border –VamaVeche, an idol of Romanian counter – culture!
11. Alepu

Alepu is an untamed beach in the south of Sozopol, perched between the sea and the marshy lagoon of its name. The name of the region means' fox' in Greek, although you are unlikely to see foxes–only a long, untouched shoreline with high dunes that separate it from the lagoon. Alepu is neatly situated off the principal coastal road, so you really can't miss it. Just park your car and enjoy your day on the beach!
12. Sunny Beach Bulgaria

Image Source
An address for all the summer beach parties in Bulgaria, Sunny beach is an eventful place. Whether you are visiting this beach in the day or at night, you will always find some activity buzzing around this place. There are so many vibrant and exciting nightclubs on the beach where the young crowd of Bulgaria comes to party. Even world-class DJs come to perform here. You can enjoy a variety of watersports on the beach during the day. It is one of the top beaches in Bulgaria.
13. Sinemorets Veleka Beach

Image Source
Sinemorets is a small coastal village in Bulgaria which has been a famous holiday base for families for years now. This is beacuse of its laid-back atmosphere, serene environ, and obviously lot of beaches. Butamyata is the main beach of the city followed by Velveka where the river by the same name falls into the ocean. It is a part nudist beach and has no basic amenities. But if you are looking for seclusion, then you must come here. It is one of the quiet beaches in Bulgaria
Bulgaria Beaches Map
Further Read: 7 Days In Spain: Witness The Splendid Sceneries Of The Second Largest European Country!
These beautiful, some fo them secluded, Bulgaria beaches are perfect to have a laid-back time and fun under the sun. Get a [erfect summer tan on your trip to this part of the world and flaunt it to your friends when you are back from the vacation. Bulgaria is known for its Black sea pirates and the stories surrounding them, and the folks as well the beach reflect so. If you want a day of relaxation combined with a flair of history, then go for a vacation in Bulgaria.
---
Looking To Book An International Honeymoon?
Book memorable honeymoon on TravelTriangle with 650+ verified travel agents for 65+ domestic and international destinations.
---