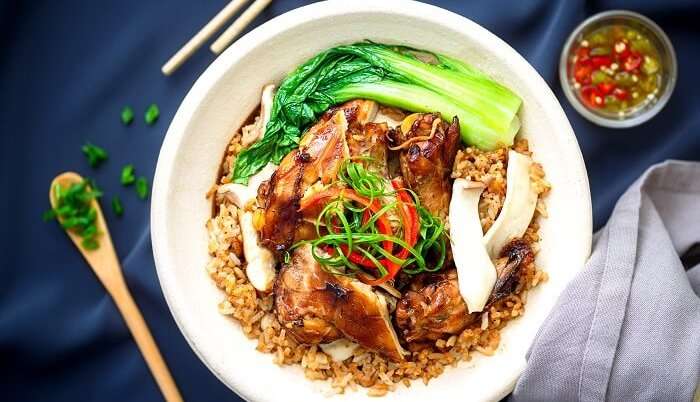 The country of the Merlion is a fantasy land for both adventure lovers and nature admirers alike. But, when it comes to food, it is a true paradise! The Singapore street food has everything from the sweet appetizers to spicy sweets, which is perfect for pleasing your taste buds and letting the foodie in you have the most exemplary treat.
Be it fish or noodles, the culinary art masters in the country have left no stone unturned in introducing the best of delights at all the places to eat in Singapore. And since, a trip to any place without good food is not worth a dime at all, here's a handy guide to make sure that on your next holiday, you indulge in the hawker food as much as possible!
15 Best Street Foods In Singapore For Treating Your Taste Buds
1. Bak Kut Teh (Pork ribs soup)
Cooked in a broth, Bak Kut Teh is a pork rib dish, which has been a famous Singapore street food ever since the country started to develop. Most of the times, it is made with a pepper variety and with a mild use of herbs like star anise. It is naturally too delectable in taste, and we can vouch that if you love pork, you'll love this delicacy!
Best places to eat: Ya Hua Bak Kut Teh, Song Fa Bak Kut Teh, Ng Ah Sio Pork Ribs Soup, and Leong Kee (Klang) Bak Kut Teh
---
Singapore Holiday Packages On TravelTriangle
Go on a luxurious Singapore holiday and visit Universal Studios, Singapore flyer, Gardens by the Bay, Marina Life Park, and Marina Bay Sands. Packages Inclusive of airport transfer, 4 star hotel stay, breakfast, visa, sightseeing, & more at unbelievably affordable rates!
---
2. Dian Xin (Dim sums)
Suggested Read: Here's Why Singapore Cruise Tour Is An Ideal Way To Explore The Lion City On Budget!
Thanks to the world-famous and everyone's favorite Dimsums, you'd never feel a dearth of good food in Singapore. And though this cuisine is actually Hong Kong & Shanghai-inspired, its variety in the Merlion land will leave you craving for more, which is why you have to try these here. Some of the popular dim sum dishes that you can indulge in are BBQ Pork Buns, Xiao Long Bao, Siew Mai, and Chee Cheong Fun.
Best places to eat: Swee Choon Tim Sum, Tim Ho Wan, and Wen Dao Shi
3. Bak Chor Mee (Minced meat noodles)
Popularly known as 'Bak Chor Mee' amongst the locals, which is a noodle dish topped with minced pork, liver, meat or fish balls, fish cake slices, and a classy vinegar braised sauce, this is a must-have in Singapore. From choosing the type of noodles to the type of sauce, you can get this street food as customized as you want according to your taste.
Best places to eat: Tai Hwa Pork Noodle, 58 Minced Meat Mee, Seng Hiang Food Stall, and Seng Kee Mushroom Minced Pork Noodles
4. Orh Luak (Oyster omelette)
Must Read: Best Of Nightlife In Singapore: 15 Attractions You Mustn't Miss
Another famous Singapore street food and a must-have is Orh Luak aka Oyster Omelettes. They are popular across all the hawker centres in the country, and are deeply loved by the locals for its exceptional taste and cooking style that uses a lot of eggs and a special vinegar chilli. So you know what to have for breakfast now!
Best places to eat: Simon Road Oyster Omelette, Ang Sa Lee Oyster Omelette, Bedok 85 Fried Oyster Omelette, and Ah Hock Fried Oyster Hougang
5. Hokkien Prawn Mee (Fried noodles with seafood and egg)
If Singapore noodles have been your favorite for a long time, you cannot afford to miss the famous Hokkien Mee when you're actually holidaying in the country. Unlike the usual ones that you might have had before, the Hokkien Prawn Mee is an amalgamation of fried egg noodles & rice noodles with prawn, fried pork fat, fish cake, and squids. So, you'll actually get to taste a lot of varieties whole at once!
Best places to eat: Eng Ho Fried Hokkien Prawn Mee, Ah Hock Fried Hokkien Noodles, and Chia Keng Fried Hokkien Mee
6. Satay (Grilled meat)
Must Read: Best Indian Restaurants In Singapore: Because A Good Vacation Deserves Great Food
This Singapore street food is what you ought to have if you love meat. A dish commonly prepared with skewered, turmeric-marinated meat grilled on an open fire, Satay is served with a spicy peanut dip & sides like a rice cake, onions, and cucumbers, and has a lip-smacking taste. Some of the meats that you can find in the hawker centres are chicken, beef, mutton, and pork.
Best places to eat: Kwong Satay
7. Chwee Kueh (Water rice cake)
Another popular food in Singaporethat most of the hawkers sell is a water rice cake, which can mostly be found between the breakfast and lunch hours. It is prepared by mixing rice flour and water and then steamed into saucers for making it look like a bowl. Though what enhances its taste is the chai poh (preserved radish) and chilli.
Best places to eat: Ghim Moh Chwee Kueh, Bedok Chwee Kueh, and Jian Bo Shui Kueh
8. Nasi Lemak (Coconut rice)
Suggested Read: Why Should Boys Have All The Fun? An Exciting All Ladies Vacation To Singapore!
A very versatile cuisine, Nasi Lemak is a dish you can savour at any time of the day. The rice is steamed with coconut cream for making it taste sweet, then wrapped in banana leaves, and accompanied with Ikan Bilis (fried anchovies), peanuts, egg, and sambal (chilli paste). However, this Singapore traditional food has gotten so famous now that you'll also find a lot additional ingredients in it like chicken drumsticks and meat.
Best places to eat: Ponggol Nasi Lemak, Selera Rasa Nasi Lemak, and Chong Pang Nasi Lemak
9. Curry Puff
If you love munching or snacking while you're on the go, then a curry puff is what you need to pick from any of the top places to eat in Singapore. It is a small baked pie enclosed in a puff pastry and mostly has a filling of curry gravy, chicken, potato, and egg. If not anything else, this common local snack will surely win your heart!
Best places to eat: Tip Top Curry Puff, 1A Curry Puff, and Amk Curry Puff
10. Popiah (Thin Wafers)
Of all the variety of street food in Singapore, a very unique cuisine that you must taste is Popiah, which is a thin paper-like wheat crepe filled with ingredients like small prawns, boiled egg, Chinese sausage, lettuce, bean sprouts, and carrot & turnip strips within a sweet sauce called hoisin. This Singaporean delicacy is easy to savour and quite a filling appetiser!
Best places to eat: Glory Catering and Jit It Thai San Popiah
11. Kaya Toast
Suggested Read: Gurpreet's Family Trip To Singapore And Malaysia Will Unleash The Child In You!
Also known as Singapore's staple breakfast, Kaya Toast served with soft boiled eggs is a perfect dish to have if you're hungry and do not want to experiment much. The bread is grilled and lathered with either coconut or or egg kaya, and then with a thin slice of butter. This classic food option will surely please your taste buds and wouldn't disappoint you at all!
Best places to eat: Killiney Kopitiam, Chin Mee Chin Confectionery, Good Morning Nanyang Cafe, and Ya Kun Kaya Toast
12. Goreng Pisang (Banana fritters)
Since anything deep-fried is mostly delicious and loved by everyone, the Goreng Pisang in Singapore cannot go missing from your list. The ripened bananas drenched within batter and fried till they look golden brown will make you feel like you have never tasted the goodness of the fruit before. So, don't think much and grab a plate right when you see it.
Best places to eat: Lucky Pisang, Clementi Goreng Pisang, and Kopi Tiam
13. Fish Balls
Further Read: This Couples Trip To Singapore & Malaysia Was A Sweet Dose Of Adventure, Fun, & Excitement
Pretty much eaten everyday either as a meal or a snack, the fish balls are another popular Singapore street food to have if you're fond of fish. From fried to steamed, they are often served in a skewered form all across the hawker centres and restaurants. If you do not wish to have them as a snack, you can also get them accompanied with noodles soup or rice.
Best places to eat: The Fishball Story, Li Xin Teochew Fishball Noodles, and Song Kee Fishball Noodle.
14. Durian
Renowned as the 'King of Fruits' in Southeast Asia and being the national fruit of Singapore, a variety of durian cuisines can be found all across the country. From desserts to shakes, you can try anything that has it if you do not like the original smell of the fruit.
Best places to eat: 818 Durians & Pastries, Combat Durian, and Durian Kaki
15. Ngoh Hiang (Deep fried meat rolls)
Further Read: Shopping In Singapore: 19 Places For Buying The Best Handbags, Electronics & More
Also known as Lor Bak, this is one street food in Singapore that you will love to have time and again. The meat or vegetable roll is marinated with a five-spice powder and then filled with crushed chestnuts, making it crunchy and juicy enough so that you can savour it till the last bite.
Best places to eat: Eight Signatures Seafood Restaurant, Sin Sin Ngo Hiang, and Xin Sheng Ngoh Hiang Prawn Crackers
With so many different varieties of hawker food in the country, we are sure that the foodie in you will dance with joy. But to make sure you have enough time for indulging in these cuisines and also witnessing all the other attractions, don't forget to customize your Singapore holiday itinerary with TravelTriangle!
---
Looking To Book An International Holiday?
Book memorable holidays on TravelTriangle with 650+ verified travel agents for 65+ domestic and international destinations.
---