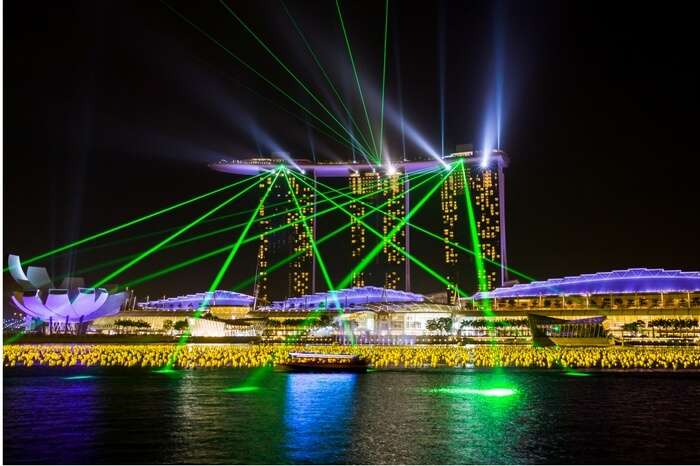 Singapore is a land of glamor and graces. The majestic structures, vibrant amusements, ultra-posh shopping malls, and bustling streets enhance the magic of this happening island city-state. The classy and swanky pubs, nightclubs, and bars, along with mesmerizing light & sound shows build up the cocktail of stunning nightlife in Singapore.
The ultimate guide to Singapore nightlife lists some of the enticing and ritzy hotspots- everyone should check out. Take a look and decide your picks.
15 Best Nightlife Experiences in Singapore
There will be a lot of options to choose from if you are planning to enjoy the nightlife experiences in Singapore. The popular ones are as discussed below to let know the details about some of the happening spots. Let's take a close look at it.  
1. Singapore Night Safari – Live the nocturnal thrill
Image Source
Night Safari in Singapore entices tourists to experience the thrill of wildlife post sunset. It is the first night safari in the world, and one of the most thrilling hotspots of Singapore nightlife.
The safari takes place in a well-protected tram ride where you can see wild animals like Himalayan Tahr, Sloth Bear, Gir Lion, Striped Hyena, Oryxes, Cape Giraffes, Red Dholes, Bearded Pigs, Asian Rhinoceros, and Axis Deer.
What's special: You are welcomed by fireworks by tribal people, wildcat trail, leopard trail, and Wallaby trail. Do not miss to hang out in the wide range of restaurants, such as Bongo Burgers, Casa Italia, Chang Chawang Bar and Ulu Ulu Safari Restaurant.
Opening hours: Everyday from 7:15 pm to 12 am. Tickets are available till 11:15 pm.
Entry charges: S$37.8 for adults and S$25 for children
Must Read: Night Safari In Singapore: Experience The Adventure!
2. Gardens By The Way – Revel in shimmering night sky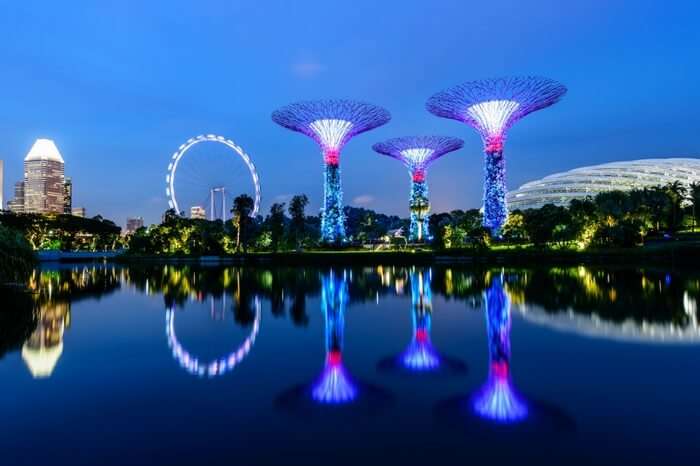 Gardens By the Way, is a sprawling stretch of urban garden over 100 hectares of land. Located adjacent to Marina Reservoir, this stunning garden offers the most breathtaking waterfront view. The sparkling waterfront along with dashingly illuminated tree-like structures add up to the awesome experience of Singapore nightlife.
What's special: Stroll on the suspended walkway for a mesmerizing view and the sky show of choreographed lights and sound
Opening hours: 5 am – 2 am
Entry charges: Free for outdoor gardens. For conservatories, S$28 for adults and S$15 for children. For OCBC Skyway, S$8 for adults and S$5 for children
Suggested Read: Know What Makes Bugis Street In Singapore Every Shopaholic's Delight In 2022
3. Clarke Quay – Wine & dine by the waterside
Clarke Quay is one of the most fascinating scenes of the nightlife in Singapore. The former waterside commercial centre is popular for its stylish restaurants, classy pubs, waterfront recreation, trolley kiosks, and the best Singapore nightclubs.
What's special: G-Max reverse bungee, Cannery anchor tenants, River cabs, GX-5 Extreme Swing, and Cruise in the river. For an unforgettable nightlife experience, go bar hopping in Trace Club, Crazy Elephant, Attica, Beer Market etc
Suggested Read: 10 Handpicked Day Trips For Couples In Kuala Lumpur To Have An Unforgettable Holiday In 2022
4. Laser & Fountain at Marina Bay – Get mesmerized by a spectacular evening show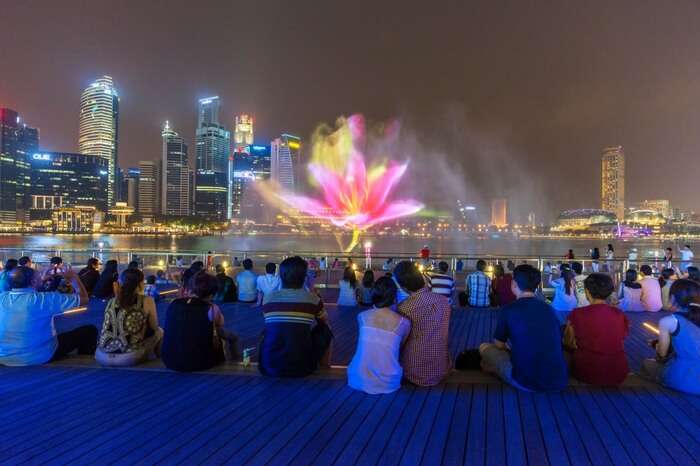 The Wonder Full light & water show attracts hundreds of tourists and locals each day. This mesmerizing and well-coordinated show lights up the Marina Bay Sands and the Art Science Museum with wonderful colors. Undeniably, this is one of the most technologically advanced night shows, which boasts incredible laser flashes and sparkling water fountains.
What's special: The bubble machines create a glistening cloud up in the sky and one can see the impressive images of Singaporean children projected on the surface
Opening hours:
Sunday to Thursday – 8-8:15 pm and 9:30-9:45 pm
Fridays and Saturdays – 8 pm, 9:30 pm, and 11 pm
Entry charges: S$ 23 for adults, S$ 20 for seniors, and S$ 17 for children
Suggested Read: Nitin's Singapore Travel Experience Will Give You Every Tip You Need To Plan A Trip With Kids!
5. Pub Crawl – Unleash the party animal in you
Pub Crawl is a one of its kind nightlife experience in Singapore. This is a walking tour to explore the most popular pubs and nightclubs in Singapore. This tour includes free entry to 4 bars and one nightclub, plus discos and complimentary shots. Book a Pub Crawl tour to enjoy the most happening parties in the town.
What's special: 4 alcoholics shots, free entries and visit to the most happening discos, including Canvas, F Club or Le Noir. All within the package
Opening hours: 10 am to 11 pm
Entry charges: There are various categories of tickets. Visit Pub Crawl's official website for more info
6. Wings Of Time – Enjoy a marvellous outdoor night show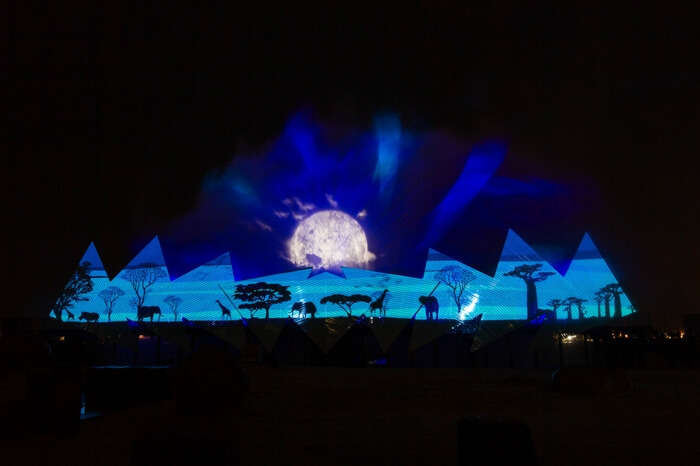 Wings of Time is an award winning outdoor night show. Set against a gigantic water screen, this visual extravaganza depicts a story of bravery and magical wonders. Watching the show is one of the most enthralling experiences of Singapore nightlife adorned with dashing laser shows, fire effects, and music.
What's special: 3D projection mapping, technologically advanced lasers, water fountains, and magnificent water jets
Opening hours: 7.40 pm and 8.40 pm daily
Entry charges: $23 for premium tickets and $18 for normal tickets
7. Zouk Club – Enjoy fun-filled Mambo nights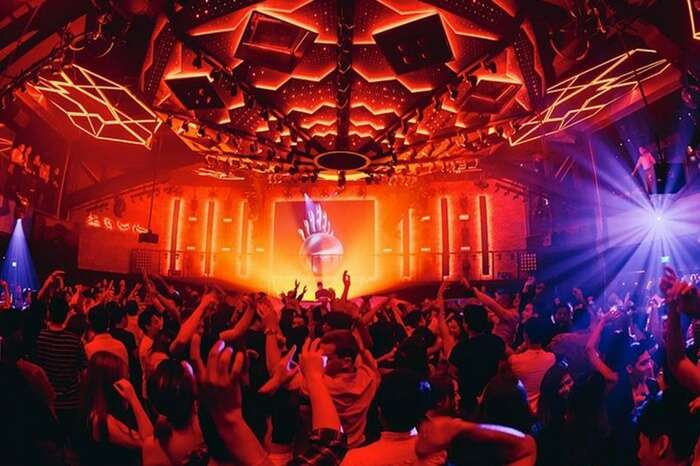 If you love music and cannot resist dance with it, then Zouk Club is the place for you. Zouk is one of the oldest and most popular nightclubs of Singapore; it's one of the best places to experience Singapore nightlife. The best way to hang out in this dazzling Singapore nightclub is to grab a glass of chilled beer or your favorite cocktail, get engrossed in the live music, stay tuned with the DJs, and finally land up on the dance floor.
What's special: Along with the Zouk Club, do visit Velvet Underground, Phuture, and Zouk Wine Bar- managed by the same authority. Everywhere the music played varies, you just need to pick your taste. Do not miss the Mambo Jambo night on every Wednesday when the club stirs in techno flavor.
Opening hours: 9 pm to 3 am on weekdays and 9 pm to 4 am on weekends
8. Crane Dance – Witness the stunning lights & water effects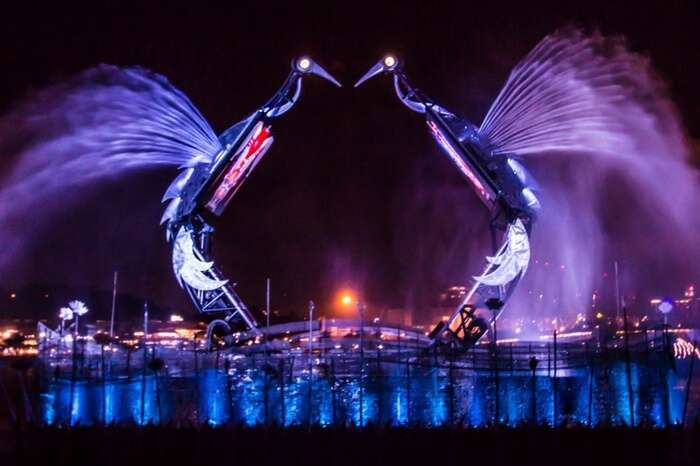 Crane dance is one of the most awe inspiring audio visual shows in the waterfront area of Sentosa. This seamless blend of technology, music, and special effects very artistically presents a story of love between two mechanical cranes.
What's special: Laser effects, superb music, and well-choreographed movements.
Opening hours: 8 pm to 8:30 pm
Entry charges: None
9. Marina Bay Sands Casino – Gamble the night away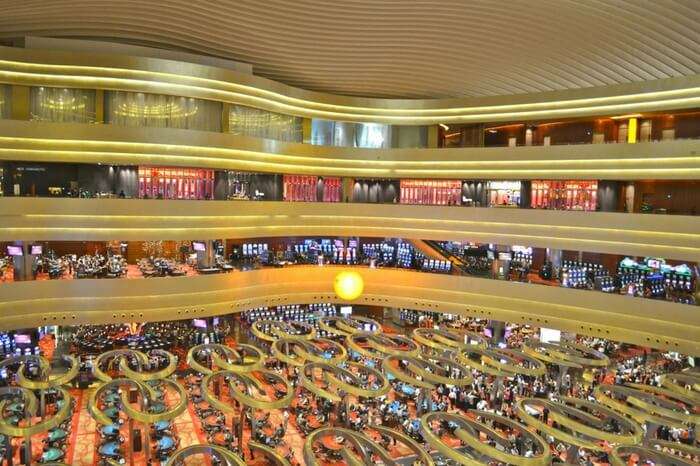 Marina Bay Sands Casino is a cool place with a chilled out ambiance. This has a 15,000 square meters of gaming space spread over 4 levels, exotic dining options, warm hospitality, and superb location. This is certainly one of the most spectacular places to go in Singapore, especially on weekends.
What's special:More than 1500 slots, 600 table games, 30 private gaming rooms, and the world's largest Swarovski crystal chandeliers
Opening hours: Round-the-clock
Entry charges: S$100 per person
10. Altitude Bar – Get high in world's highest rooftop bar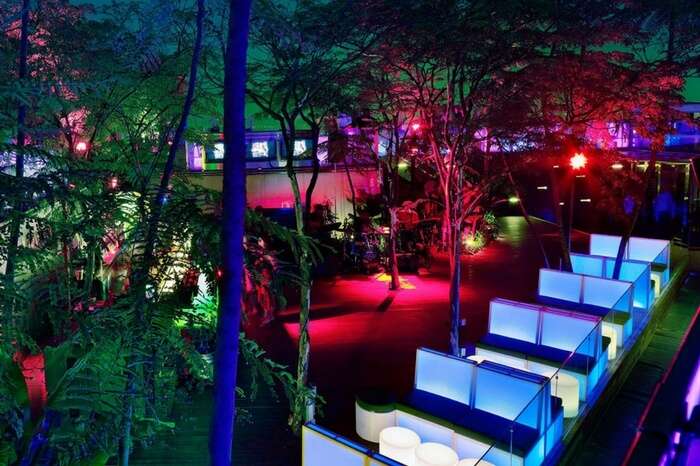 1 Altitude Bar has the highest and most stunning 360-degree views and is one of the not-to-miss nightclubs in Singapore. Located on the 63rd floor of One Raffles Place, this is the world's highest open air bar. It boasts of hosting some of the best international and local DJs, stirring the bar with groovy mixes. This is one of the exhilarating scenes of nightlife in Singapore.
What's special: Exotic food and beverage menu, jaw-dropping view, glass neon floor and awesome range of cocktails. Try Zen Breeze- the perfect combination of vodka, green tea, mint, and lemongrass.
Opening hours: 6 pm to 3 am on weekdays and 6 pm to 4 am on weekends
Entry charges: None
Suggested Read: 20 Romantic Places To Visit In Singapore For Honeymoon In 2022
11. Screening Room – Have a unique movie & dining experience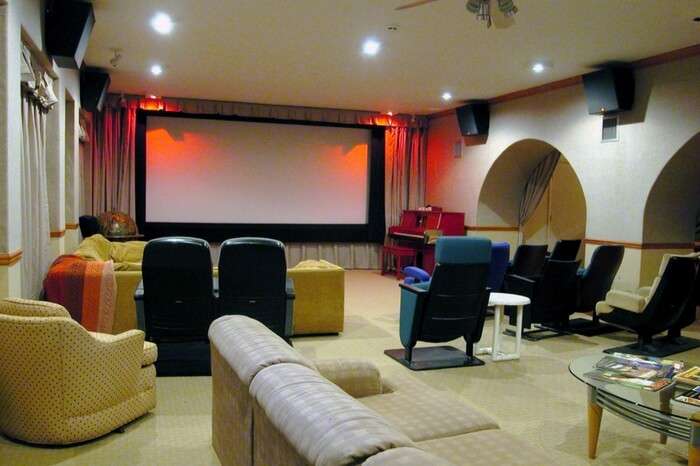 Screening Room is a state-of-the-art recreation and entertainment venue where people can chill out. This is going to be a unique experience where the house chefs pair the menu with the film. One can relax on a super cozy sofa while enjoying a timeless film with delicious food.
What's special: Heritage Rooftop Bar – offering the best in town cocktails and food, The Studio for private parties & corporate functions, and a film theater.
Opening hours: 6 pm to 1 am
Entry charges: Visit Screen Room's official website for tickets and movie screening schedules.
12. Chinatown Street Market – Spoil the shopaholic and foodie in you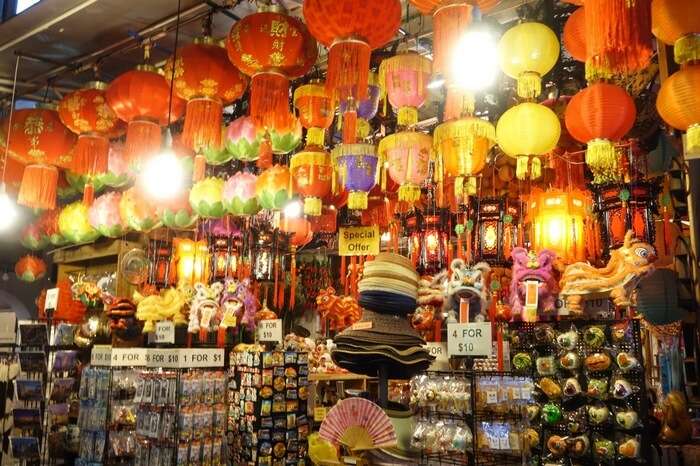 Chinatown offers a mesmerising experience of the night market in Singapore. Pagoda Street, Club Street, Trengganu Street, and Sago Streets are the popular nightlife areas of Chinatown. It is known for its bustling shops,kiosks, and Chinese other Asian cuisine restaurants.
What's special: 24 hours open Food Street to taste the finger licking dim sums, crispy ducks, and other oriental flavors
Opening hours: 11 am to 11 pm
Suggested Read: 10 Best Dishes Of Singapore Cuisine To Turn Food Blues Into A Riot Of Flavors
13. Tanjong Beach Club – Let loose with beach parties and lip-smacking food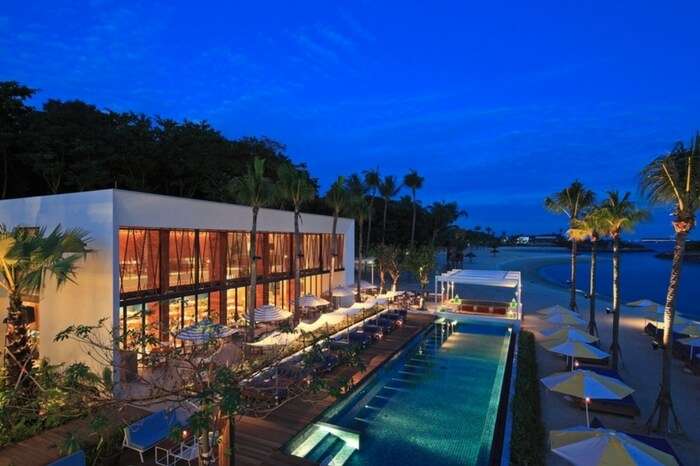 Tanjong Beach Club is a fascinating hangout place and one of the most buzzing days and nightclubs in Singapore. Famed for the full moonlit beach parties, live DJs, slurpy food, and drinks – this is surely a place to rock the nightlife in Singapore.
What's special: Beach Parties, Beach Barbeque, and the mouth-watering coastal cuisine as exotic as Octopus Salad and Lobster Bun
Opening hours: 11 am to 10 pm The bar is closed on Mondays.
Entry charges: Visit Tanjong Beach Club's official website for more info
14. Pangea Club – Dance the night away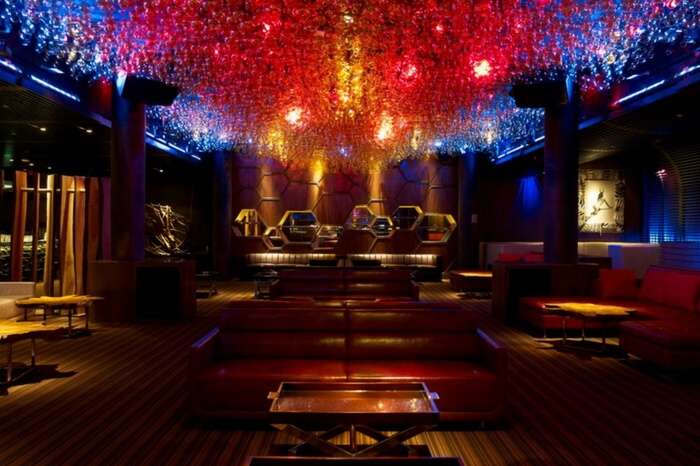 Pangea is one of the premium nightclubs in Singapore. This is a show-stopper of Marina Bay Sands, and the superbly classy ambiance and crowd pull the classiest tourists in the town. This ultra luxurious dance club boasts of its ritzy and chic interior, animal skinned couches, shimmering granite dance floors, and the most exclusive cocktail menu.
What's special: Jewel of Pangaea cocktail at an eye-watering $S32, 000 (it does come with a diamond). Drink to believe it.
Opening hours:10 pm to 3 am
Entry Charges:S$40 per person
15. Holland Village – Hop into Singapore's coolest pubs, restaurants, & cafes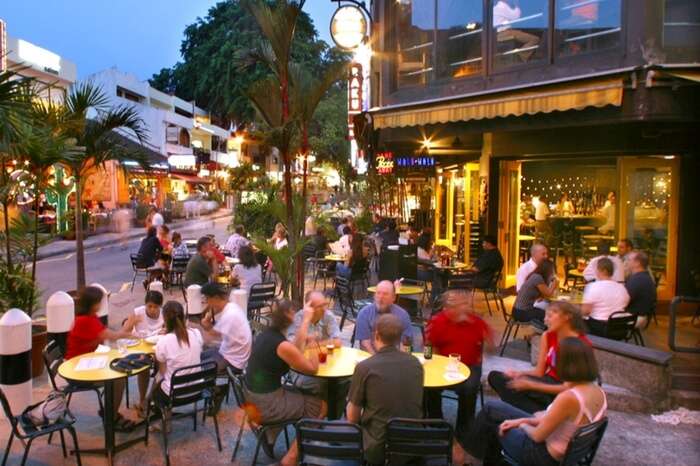 Holland Village is one of the most enticing places to go in Singapore. The place is sprinkled with the coolest restaurants, bars, and nightclubs, such as Hacienda, Harry's, Tawandang, and White Rabbit that entice and pull fun loving tourists round the year. This is surely one of the glamorous options to experience the happening nightlife of Singapore.
What's special: Fresh beer, sumptuous coastal delicacies, and awesome live gigs
Further Read: 54 Remarkable Places To Visit In Singapore In 2022 Where A Wandering Heart Finds Peace
This was your little guide to the nightlife in Singapore. Do not miss these incredible places if you want to have the time of your life. Plan a trip to Singapore now!
For our editorial codes of conduct and copyright disclaimer, please click here.
Frequently Asked Questions About Nightlife In Singapore
When is the best time to visit Singapore?
Though Singapore is an all-year destination, the best time to visit Singapore weather-wise is between February and April. You can enjoy comfortable weather and an amazing display of nature during this time.
Which are the free things to do in Singapore?
A few exciting and free things to do in Singapore for a memorable vacation are:
1. Live Music At Esplanade
2. Singapore Festivals
3. Explore Gardens By The Bay
4. Attend the Singapore Symphony Orchestra
5. Enjoy a beautiful night at Marina Bay
Is Singapore safe for solo female?
Singapore is quite a safe place for solo travelers especially females. Though there is a slight risk of petty crimes such as pickpocketing.
What is the opening hours for nightclubs in Singapore?
Most of the night clubs open as early as 8 pm and remains open till early mornings. You can also find a lot of places that remain open all 24 hrs a day.
Are drinks expensive in Singapore?
Drinks can be slightly more expensive in Singapore as the price is added up with 10% service charge and 7% Goods & Services Tax (GST)
Which is the best place to enjoy live music in Singapore?
Some of the best night music bars in Singapore are:
1. Timber @ The Substation
2. Crazy Elephant Bar
3. Cool Cats
4. Wala Wala Cafe Bar
5. Hero's
What can you do in Singapore at night?
A few amazing things you can do at night only in Singapore are:
1. Gourmet Bus Dinner Tour
2. Bugis Night Market Exploration
3. Ketong Food Tour
4. Science Center Stargazing & Omni-Theater
5. Clubbing at Clarke Quay.
Is there a dress code for entry to Night Clubs in Singapore?
Though there is no formal dress code to nightclubs, most places expect their guests to dress in smart casuals.
---
Looking To Book An International Holiday?
---
Comments
comments