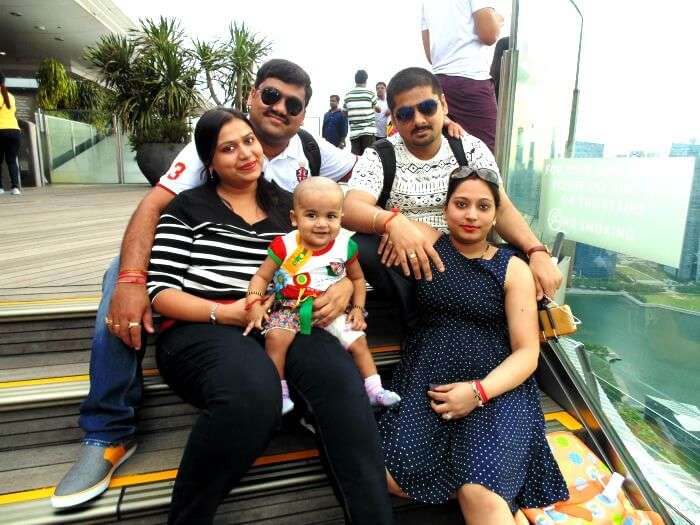 A perfect mix of excitement, enthusiasm, and eagerness led Rohit Aggarwal to take a vacation to the modern yet cultural lands of Singapore and Malaysia. He presents a detailed account of his fantastic trip that he took along with his wife, kid, and another couple. His 6 night/7 day package was booked via TravelTriangle and it included their flights, transfers, breakfast, and sightseeing for a cost of INR 330000. Read his splendid story.
Feeling discontented with the mundanity of life, I decided to take a break from the monotonous routine and go on a holiday with my friends and family. Hunting for several options over the internet, we decided to plan a trip to Dubai since it was an amazing destination and had a good mix of the old and new. However, a friend suggested me to avoid visiting Dubai at this time for it would be very congested due to the Ramzan season.
Soon, with a couple of suggestions from the closed ones, we chose Singapore as our holiday destination. All that was needed now was a travel package and that was resolved soon.
I was sure about booking my package to Singapore and Malaysia from TravelTriangle since my younger brother had a great experience with the company when he went to Bali for his vacation.
TravelTriangle connected us to multiple agents for competitive quotes, itineraries, and customization. And, we chose the best one that fitted our requirements.
Day 1: Rocking our first night in Singapore!

Soon the day of travel came and we boarded our flight from Delhi. We reached Singapore in the morning at 9 AM via a connecting flight from Malaysia. Upon our arrival at the airport, we could easily spot the driver for our cab since he was standing there with a placard.
Soon enough, we arrived at the hotel and were informed that we had to wait for a few hours since we had reached the hotel earlier (around 11 AM) than usual. We were not able to get an early check in due to non-availability of rooms.
In the meantime, we explored various other locations around the hotel and went to a local market to get a feel of the city.
We later returned to our hotel and were allocated our rooms as per the schedule. We settled down, freshened up and took some rest to refresh our senses.
Shortly, around 5 PM, our cab came and the driver took us to the Marina Bay Sands, a 5-star hotel, famous for its amazing ambience and activities. There were a lot of options for tourists at this place to opt from. However, we went to the Infinity Pool which was located at the Sky Park. We did not have to buy any tickets for the pool since they were already made available for us by the agent.

Suggested Read: 25 Free Things To Do In Singapore We Bet You Didn't Know About
The Infinity Pool was on the 57th level and we all felt as if we were swimming on the top of the world. Also, the weather here was pleasant and enriched our experience to a great extent. We spent a lot of time at this lavish pool and all of us enjoyed it.
As the night grew, we proceeded to visit a popular attraction of Singapore – Gardens By the Bay. This was a nature park which consisted of waterfront gardens- flower dome and cloud forest. Flowers and trees from different parts of the world were preserved in an indoor setting here! And, the garden had a miraculous architecture.
We were completely spellbound by the fact that a modern city had built such a natural masterpiece with great emphasis on greenery and flora.

Afterwards, we even took out some time to see the Singapore flyer for we wanted to explore more of the city. This was a place where one could get a view of the entire island city. We experienced the ultimate pleasure of witnessing the panoramic and breathtaking views of the city from here.
Later on, we took a cab to the hotel since the previous one was only available till 8:30 PM.
Day 2: The Glorious Tour Of Singapore City

We started off our morning with an early breakfast and then proceeded on for a tour to of the Sentosa Island in a private cab. At Sentosa, the driver dropped us at a point from where we could board a cable car for checking out numerous places, conveniently.
We stopped by to take a ride at the Tiger Sky Tower. The ride itself lasted for around 10 minutes and it was one of the enjoyable things that we did! Post the ride, we went to a nice restaurant and had lunch!

Singapore Flyer was the next stop on our list. However, we spent a very limited time here this time since we had already been here on the first day. Nonetheless, we were happy to explore it once again.
Thereafter, we proceeded for an Exciting river cruise which showcased the heritage of Singapore river and its famous quays. We had a very calming and relaxing ride here and loved the whole cruising ambience.

Sentosa Island was truly a paradise for tourists for it offered countless uplifting activities to choose from.
Later in the evening at 7 PM, we were picked up by our driver and who dropped us back to the hotel. Post a delicious dinner, we called it a night since we had to wake up early in the morning.
Day 3: Exploring the pride of Sentosa Island – Universal Studios

Suggested Read: Reasons Not To Miss Sentosa Underwater World On Your Singapore Trip
This was the day we were to visit the pride of Sentosa Island – Universal Studios.  We woke up in the morning excited about visiting the theme park and post a delectable dinner, were picked up by the driver for our transfer.
Universal Studios was included in our package and we reached there on time.

We enjoyed many rides at Universal Studios like the roller coaster, Transformer ride and the Madagascar ride among many. Some of the rides were so exciting and thrilling that we could not resist ourselves to try them for the second time. And the screams emanating from riders could be heard throughout the park which made our experience more cheerful and entertaining.

Post this thrilling experience, we returned to our hotel with cherishable memories from our last day in Singapore.
Day 4 : Sightseeing in Malaysia

Suggested Read: 15 Best Resorts In Malaysia So Alluring You Can't Stop Planning A Vacation
We bid adieu to the magnificent Singapore in the morning and took our flight to Malaysia. Upon landing at the airport, we soon got in touch with our driver, who was waiting for us already. He transferred us to the hotel – Citrus Hotel and luckily, we did not have to wait for rooms this time.
Later, we explored the property on our own and were spellbound by its beautiful decor. After rejuvenating ourselves, we got ready for the city tour.
The driver took us to Kuala Lumpur city tour for sightseeing activities where we witnessed several amazing attractions including Petronas Tower, Chocolate Factory, and Kuala Lumpur tower. It was a great experience for all of us.

In the night, we went to the Chinatown, which is one of the famous tourist attractions in Malaysia. The first thing that we noticed about this bright place was that it had a very oriental culture. Also, we loved the lively and vibrant vibes that were part of this place.
This was a street that had various shops of clothing items, handicrafts, shoes, and many other interesting things. One could buy a lot of amazing stuff from this place at a good price.
Tired but happy, we returned to our hotel and called it a night.
Day 5: Exciting full day tour of Sunway Lagoon Theme Park

This day was reserved for a full day tour of a theme park in Kuala Lumpur. So, we got ready quickly and grabbed a delicious breakfast before getting into the cab for the park. We reached our destination shortly and it was a bright sunny day.
The theme park – Sunway Lagoon, had a variety of adventures including thrilling water rides and plenty of other activities too. However, having taken an irrevocable pleasure at the Universal Studios, we did not find this adventurous park that exciting for its whole ambience and rides were more suited for kids.
We spent the entire day at this theme park and in the evening at 6 PM, a private cab took us back to the hotel.
After filling up our stomachs with a sumptuous dinner, we called it a night.
Day 6: Next stop- Genting Highlands

Suggested Read: You'd Be Sorry If You Miss These Awesome Malaysia Tourist Attractions
Our next stop of our trip was the Genting Highlands. We stayed at a grand resort here called the Fist World Hotel Plaza. This was a grand resort which was built on a mountain and we were awestruck by the vastness of this resort!
Finally, we began to explore this property and went to the Snow Park that was part of the property. This park was a good experience and we had a great time here.
One more thing that we wanted was to explore in a proper manner were the Batu Caves that came on our way to Genting Highlands. But since there was a shortage of time, we couldn't explore much.
So, we wrapped up our day, returned to our hotel, and had one last dinner in Malaysia.
Day 7: Flying back to India

After spending the best of our days in Singapore and Malaysia, we were now ready to bid farewell to an amazing vacation. Post breakfast, we packed up our stuff and checked out from the hotel for the airport.
Our trip to Singapore and Malaysia was a mix of fun, adventure, nature, and lifestyle. It was the perfect vacation, especially for couples since it gave us a lot of time to spend quality time with our spouses.
High Points:
Singapore was indeed the best of the experiences for us. From the Marina Bay Sands to Sentosa Island to Singapore Flyer, everything was perfect!
We loved the whole calming and soothing experience of river cruise in Singapore.
Low Points:
We could not explore the Batu Caves, due to shortage of time.
Tips for future travelers: Choose to spend more days in Singapore for it offers better exciting activities than Malaysia. If one wants to explore Malaysia then book a separate package for it.
Feel the modern vibe of luxury on a trip to Singapore and Malaysia! Spend a vacation having fun and adventure with your loved ones! Book your package to amazing Singapore now!
---
Looking To Book An International Holiday?
Book memorable holidays on TravelTriangle with 650+ verified travel agents for 65+ domestic and international destinations.
---