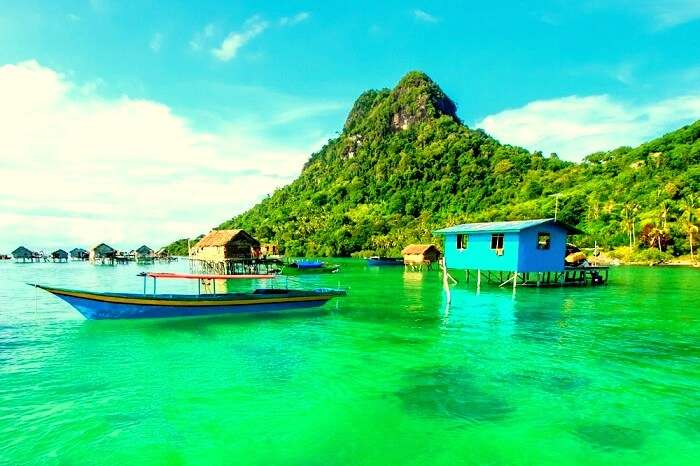 The iconic Sipadan Island is a home to many species of the marine life. Renown among the most beautiful diving spots, Sipadan is considered as one of those places where the population of turtles is quite densely concentrated. Located along the east coast of the state of Sabah, Malaysia, Sipadan island arose from the corals which are grown beautifully on the top of an extinct volcano, in the Celebes Sea.
About Sipadan Island

Having a diverse marine life, Sipadan Island is an abode of natural beauty and stunning landscapes. Apart from being the most common diving spot, Sipadan regularly features in the world's top 10 diving spots, bringing up the competition with the famous Galapagos Islands of Ecuador.
This rich ecosystem has voluminous species of fishes, aquatic animals, and coral reefs. Although Sipadan, allures the people to visit, is not easily accessible for tourist visits. Only if you get a diving permit, then you are all good to visit this captivating world. However, if you fail to visit Sipadan, then the surrounding islands of Mabul and Kapalai (of Malaysia) stands up as the alternative destination. Sipadan is some 45-50 minutes boat ride from these two islands.
The permit for your trip to Sipadan can be cataloged into 2 main classifications – one being a diver's permit, while the other being a non-diver's permit. Diver's permit might be hard to get since there is a limit to have only 120 divers per day diving in the waters of Sipadan. The other permit, however, might be obtainable, which will keep in mind of your stay at the island. The longer you wish you to stay, more is the chance to get a permit.
How To Reach Sipadan Island?
It is very much necessary to keep a track of your travel plans. Nothing is different with Sipadan. In fact, we suggest you to be more watchful. The nearest airport from the Sipadan Island is the Tawau Airport, located in Sabah, Malaysia. Having provisions of immigration checks for International flights, this airport is the nearest major transport hub for the tourists. The other airport, Kota Kinabalu International Airport is another option you have in hand but will cost you some 1 – 1.5 hours more.
From either of these two airports, you are to travel to Semporna Island. With buses, minivans, and personal cabs waiting for your arrival at the airports, a drive to Semporna island will take up 90 minutes from Tawau Airport. From Semporna Island, you have a changeover to ferry boats that will get you to the Mabul islands.
Suggested Read: Crocker Range National Park: A Guide To Explore The Diverse Ecosystem Of This Malaysian Paradise!
Things To Do At Sipadan Island
Sipadan Island brings to you a plethora of adventure activities, especially water sports, that you can indulge in. To enjoy a stress-free vacation, here is what you can discover in the majestic Sipadan Island:
1. Scuba Diving

As mentioned earlier regarding the credibility of Sipadan island being at par with the famous Galapago Islands, scuba diving in the waters nearby the Sipadan island offers you to witness a marine life that you have never seen before. Life under these enchanting waters will take you to the herds of Eagle Rays, Leopard Sharks, White Trevallies and the Hawksbill turtles.
2. Birdwatching

A 30 minute is just what is needed to tour the whole of Sipadan. But the floral and faunal exoticness encounter will leave you awestruck. While exploring the nook and corner of this island, peak into the Sea Eagles, Kingfishers, and the Sunbirds resting and nesting in this abode of greenery. The island was declared as a bird sanctuary way back in 1933, by the government of North Borneo.
Must Read: 6 Best Things To Do In Taiping On Your Next Fun-Filled Vacation In Malaysia
3. The Sipadan Liveaboard

Your island holiday is incomplete if fun cruising isn't a part of it. This specialized yacht lets you discover the island through its short cruise. The M/V Celebes Explorer, equipped with all the basic amenities of food and beverages, lets you explore the island in better and different way.
4. Snorkeling

Scuba diving might not be everyone's cup of tea, but you can be David of there's a Goliath. Snorkeling in the waters nearby the Sipadan is as fun as scuba diving deep into the sea. Explore an array of reefs and corals, and if lucky enough, you shall get to watch the tiny harmless sharks and turtles, loitering around you.
Suggested Read: Turtle Island National Park: A Guide To Explore The Best Of Wildlife In Malaysia
Where To Stay?
Island vacations are experienced the best when you compliment it with your stay in a resort. Here is the list of resorts which are famous for their remarkable hospitality. Pick the one you feel is right for you.
1. Sipadan Mabul Resort

The iconic resort so far has provisions of water bungalows and duplex chalets. Well equipped to satisfy every tourist, the resort has an eye-catching ambiance and decors. The wooden bungalows are much better than the duplex chalets in terms of space and view of the surroundings.
Suggested Read: Sarawak Gawai Festival: Witness The Zeal And Vigour Of This Local Malaysian Event
2. Sipadan Water Village

Image Source
Having elegant chalets, with luxurious beds and private spa pools, the resort is a quintessence of class and extravagance. Spending some day here will leave you with some soothing memories. This is the best place to unwind and calm your senses.
Suggested Read: Hiking In Malaysia: 10 Best Places That'll Add More Thrill & Adventure To Your Experience
3. Seaventures Dive Resort

A converted oil rig some far away from the Mabul island, the resort offers some of the best diving areas. It does a great job in offering delicacies, even though the other amenities are not as good as the rest, but, it does have a well-equipped dive centre. Pygmy seahorses are often seen around the corals surrounding the rig.
Website
Further Read: Loagan Bunut National Park Guide: Explore The Realms Of Malaysian Wildlife
Sipadan Island experience will be etched forever, once you visit it. Adventures listing right from the famous sea diving to the showcase of the local traditions, a trip to this isle is worth of every penny you spend on it. So, pack your bags and book your next trip to Malaysia with TravelTriangle and have an amazing vacation.
---
Looking To Book An International Honeymoon?
Book memorable honeymoon on TravelTriangle with 650+ verified travel agents for 65+ domestic and international destinations.
---