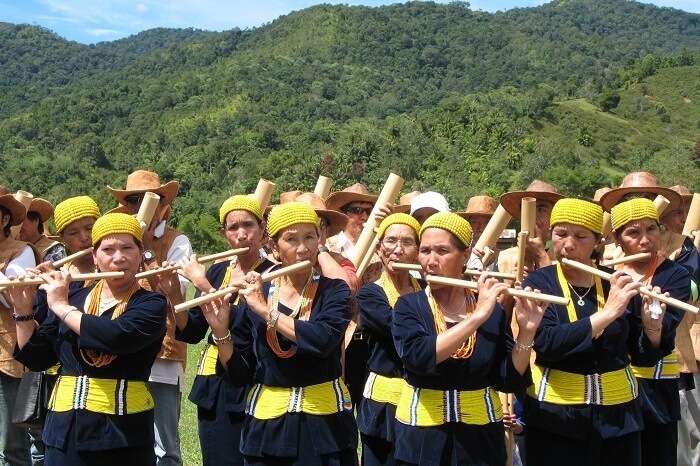 The etymology says the word 'GAWAI' means festival and 'DAYAK' refers to the society of aboriginals of the areas of Sarawak, Kalimantan and interior regions of the island of Borneo. Gawai Dayak is the festival celebrating the existence of this section of people in Malaysia. Their population estimate is around 2-4 million people. Two radio producers, Tan Kingsley and Owen Liang, were the ones who originally initiated this festival which was later on carried forward by the Dayak community. Later in the year of 1962 it received recognition by the then British government.
About Sarawak Gawai Festival

On 1 June 1963, Datuk Michael Buma was the one who hosted the first ever celebrations of the Gawai Dayak at his home at Siol Kandis, Kuching. Gawai Dayak is a multiple days fest which is celebrated every year starting on first day of the month of June. with great pomp and show. Today this festival has become a denotation of their togetherness, and also as their mark of gratitude god and nature for the productive harvest as well as prayer for a peaceful and prosperous future.
14 Top Festivals In Malaysia In 2022 To Witness Its Vibrant Culture & Rich Traditions
Customs Of Sarawak Gawai Festival

The festival begins with disposing of all negativity and cleansing oneself and surroundings. For the same, two people carry a basket around and people throw away things that they consider are negative or of bad omen. After sun set every family conducts a ritual of sacrifice or offering. Gothic ceramic containers are filled with food and other offerings to be given to their god. These offerings are placed at the four locations for the blessings to spread across everywhere. Following the completion of the offering services the head seeks for blessings and guidance to goodness in the future and waves a cock over the offerings in circles and is sacrificed to the deities by slitting the neck portion and its feathers are plucked out and rubbed over the blood of the dead cockerel.
Dressing Code

'NGEPAN' is the traditional costume that is worn for welcoming guests to the houses on this day. Men wear drapes of animal skins also called as Gagong, loin cloth called cawat or sirat, crowns made of peacock feathers, necklaces, armlets and anklets. Men wear tattoos symbolizing tribal ethnicity and a significant anecdote. Ladies drape a handmade cloth around their waist, a corset and a piece of clothing over their shoulder. A bead chain and fancy comb. Earlier it was made mandatory for the women to have their breasts naked to showcase and symbolize beauty and naturality.
Malaysian Cuisine: 10 Delicacies Which Will Let You Taste The Authentic Flavors Of Malaysia!
Dance Traditions

The NGAJAT dance form is a traditional dance performed unitedly by the men and women. The performance comprises of occasional shouts and loud cries. There are many branching types of this dance form, each with a different mood such as harvest joy, warrior rhymes, ritual cloth dance..etc. the men show their courage , heroism and strength and often copy the mannerisms of hornbill which is considered as the king of birds. A traditional band joins the dance troop giving life to the dance with their vibrant beats and tunes, playing the traditional folklore.
Apart from dances, sword dances and performances exhibiting various stunts of martial arts are also done. Contests are held in order to crown the 'king' and 'queen' of the fest for that year. Other games are organized whose winner is awarded a coconut symbolically a skull. Another attractive event of the fest is the recitation of their traditional ancient poetries including pantun, ramban. etc. other than the mentioned activities there are various other games and mini sports such as arm wrestling and log pulling. Cockfighting is also another star attraction of the event.
Ngabang

The custom of having guests over at home is called as the custom of 'NGABANG'. Mostly this is arranged on the first day of the month of June, every year. For more convenience these days NGOs and other Dayak Associations organize open houses accommodating guests who are attending the fest.
7 Haunted Places In Malaysia That Will Scare The Hell Out Of You!
Food And Beverages

On the eve of the Gawai Dayak, extracts called Sago is collected from the pith of palm trees and coconut palm extracts and are used in making soup for the next day. The other dishes famous from the fest are 'Pansoh', its made out of meat that is cooked in bamboo logs, 'Tuak' is served with animal heads roasted hot on an open fire. Rice is cooked on tradition mud utensils and hearths. After the offerings, the dinner is arranged which mainly comprises of the Makai Rami or the festival meal.
How To Reach There
Since Kuching isn't well connected to the world, one can reach here by taking a flight of one and a half an hour from Kuala Lumpur.
Where To Stay
1. Hilton Kuching Hotelli

The most recommended stay is the Hilton Kuching Hotel which offers 6 dining options and has an extravagant outdoor pool and is located at the Kuching waterfront.
Location: Jalan Tunku Abdul Rahman, 93100 Kuching, Sarawak, Malaysia
Hiking In Malaysia: 10 Best Places That'll Add More Thrill To Your Vacay In 2022
2. Pullman Kuching

This is another most resorted option with fantastic view, set up above the Hills Shopping mall and is close to the waterfronts of Kuching.
Location: 1A Jalan Mathies, 93100 Kuching, Sarawak, Malaysia
6 Best Things To Do In Taiping On Your Next Fun-Filled Vacation In Malaysia
3. Hornbill Residence Kuching

It is the most recommended homey accommodation at Kuching. It can accommodate up to five guests. Very relaxing ambience with complimentary features such as jacuzzi and sauna. A must try!
Location: A7-05, Jazz Suites 4 Vivacity Megamall 7Th Floor, Kuching, Malaysia, 93350
4. Imperial Suites Kuching

Yet another totally doable option, this place is a luxury 3-bedroom serviced apartment located at the heart of the city.
Location: Taman Seng Goon, 93250 Kuching, Sarawak, Malaysian
8 Places Every Backpacker Must See On Their Trip To Malaysia
Tips For Sarawak Gawai Festival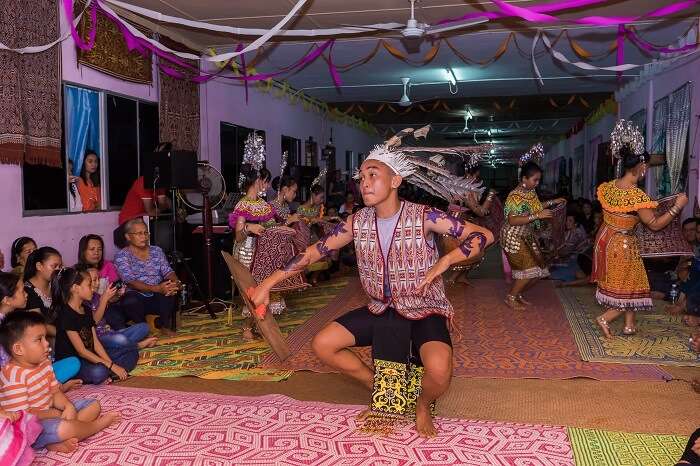 Sarawak, the Malaysian state on the Borneo island witnesses the most gala celebrations of the Gawai Dayak festival.
The fest vibes can be felt in the capital Kuching, a week prior to the day of festival.
There are parades and processions in relation with the fest beginning a couple of days before the festival.
Make sure you visit the Skrang River, the Lemanak River, the Batang Ai, and Annah Rais.
The average fare is about INR 5000 per person.
8 Serene Lakes In Malaysia Which Cannot Be Missed On Your Next Getaway!
The gala celebrations of Gawai Dayak and the city of Kuching will for sure not disappoint you is definitely a fill bill deal. If you don't want to miss the best travel deals, then book your exotic Malaysian holiday package with TravelTriangle and check out this space for information on more such cool places.
---
Looking To Book An International Holiday?
Book memorable holidays on TravelTriangle with 650+ verified travel agents for 65+ domestic and international destinations.
---