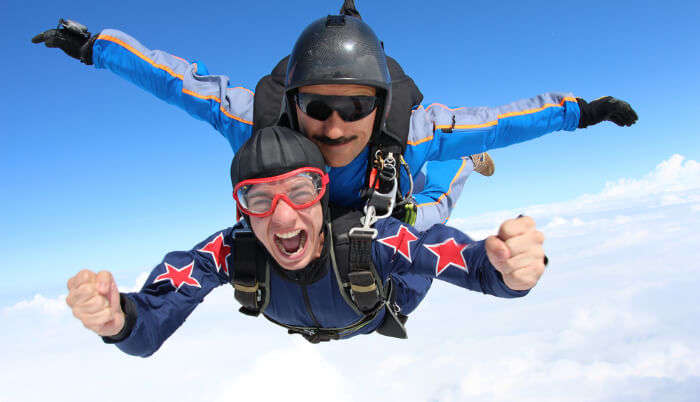 There is no doubt that Australia is home to some of the boldest people in the world. Saying that the country ranked 2nd for the most adventurous individuals per capita in the whole world and grabbed the 1st position for skydiving, surfing, and rock climbing. Aussies are always ready to jump out of the helicopter and experience the beauty of the Great Ocean Road upside down or to take a plunge deep into the sea and witness the Great Barrier Reef. If you want to plan the biggest leap of faith and want to indulge in some of the most thrilling activities in the world then without giving it the second thought, head to Australia and witness some of the most magical landscapes. For your convenience, we have rounded up a list of the best places to go skydiving in Australia, take a look at them and choose your pick.
7 Best Places For Skydiving In Australia
There is a lot to explore in Australia and what could be better than exploring it from a birds-eye view? Nothing! So, hold your breath and check out this list of some of the best places to skydive in Australia.
1. Sydney

There is no dearth of dropzones in Australia but we insist you to consider Sydney as your skydiving location as it boasts of some stunning views and a breathtaking skyline that will leave you in awe. It gives a gorgeous backdrop of the Wollongong Beach and Newcastle Beach which will make you realize that you have been living under a rock till now. You will feel the adrenaline rush of 60 seconds after jumping out of the plane at a height of up to 15,000 feet and before the parachute unfolds and glides you to the earth smoothly.
Must Read: 10 Australia Travel Tips To Swear By For A Smooth Vacay
2. Cairns

Another amazing place for skydiving in Australia is Cairns which offers some beautiful tropical landscapes. You get to witness the beauty of The World Heritage Rainforest, the Great Barrier Reef, and Trinity Inlet. So, if you want to catch a panoramic view of all of these places then head to Cairns and dive from a height of 14,000 feet with an instructor.
Suggested Read: 14 Things To Buy In Australia: Best Souvenirs To Get In 2022!
3. Melbourne

Being the coastal capital of Australia, Melbourne is blessed with ample natural beauty. From a height of 15,000 feet, the sprawling shores of the Bass Strait and Port Philip Bay look even more spectacular than you could have imagined. There are three locations in Melbourne where you can opt for skydiving – St. Kilda, Great Ocean Road, and Yarra Valley.
Suggested Read: Australia In September: 7 Best Places To Visit To Embrace The Springtime!
4. Brisbane

Not far in the list of top skydiving places in Australia is Brisbane, also known as Brizzie. Choose this place if you want to land on the golden beaches of Brisbane and lay down with your gang for some time after the activity. You will catch sweeping views of Bribie Islands and Moreton Bay which are so beautiful that you would want to go for a dive once more. So, if Brisbane had been in your bucket list for quite some time now then make sure that you opt for this location for your skydiving.
Suggested Read: 10 Museums In Australia To Visit In 2022 That Tell The Tales Of The Country's Past
5. York

Counted among the top places to skydive in Australia, York offers some of the most beautiful views that you may have not seen before. The historic town, York, is located just 90 minutes away from Perth. Some agencies provide transfer services from Perth which you can opt for. You get a fully-equipped suit for the jump from a height of 14,000 feet. Enjoy the eagle's view of York from up before landing safely on the land.
Suggested Read: 27 Most Beautiful Beaches In Australia To Pamper The Beach Baby In You
6. Byron Bay

Want to get the ultimate adrenaline rush in Australia? Head to Byron Bay where you and your gang can opt for a spectacular skydiving experience. You will be dropping at a rate of 200 km per hour and then sway in the sky where you can enjoy some of the most commendable sky views and stunning scenery. The activity ends in a time span of one hour in which you get to the video of 5-7 minutes and around 40 photos.
Suggested Read: Top 21 Things To Do In Australia: Scuba, Skydiving, And More
7. Rockingham

Looking for the closest location for skydiving near Perth? Then, get ready to soar above the skies of Rockingham and marvel at the splendid views of Shoalwater Islands Marine Park, Cockburn Sound, Penguin Island, Rottnest Island as well as Garden Island. Experience an adrenaline rush like never before by freefalling from a height of 14,000 feet before you touch down in beautiful beachside Rockingham Naval Memorial Park.
Suggested Read: Australia Tourist Attractions: Do You Dare To Visit All These 49 Places On Your 2022 Aussie Trip?
Age Restrictions
The minimum age required for skydiving in Australia is 12 years as per the law. Moreover, participants under 18 years of age require the presence of a parent or a legal guardian on the day of the jump.
Weight Limitations
Participants with less than 95 kg can perform the activity without any surcharge, however, participants with more than 95 kg weight have to pay the surcharge also. Apart from this, people who weigh above 110 kg will be subjected to Safety Officer approval after which either you will be allowed or denied to skydive.
Suggested Read: Australia Visa For Indians: How To Apply, Requirements And Tips
What To Wear
This is an important factor while skydiving so make sure that you do not skip this section. The perfect Skydive attire is a casual and comfortable t-shirt and pants couples with a pair of sneakers. Avoid wearing boots or heels as they are strictly prohibited. Moreover, you will have to wear a custom jumpsuit over your clothes.
Points To Remember
Be attentive during your briefing and always follow the instructions.
Make sure that your attire is intact with no tear to confirm your safety.
Check the harness and pieces of equipment but do not fiddle with them.
Skydiving is totally dependent on the weather so if the weather is not conducive during the time then your activity might postpone.
You must not be under any drug at least for 8 hours preceding your dive and refrain from scuba diving 24 hours before the skydive.
Further Read: Paragliding In Australia: 10 Best Places For Touring The Australian Sky
So, are you ready to take the leap of faith and fall from a height of almost 15,000 feet? If yes, then make no delays and head to Australia to catch the best views of the country. Make sure that you include one of these places for skydiving in Australia and write back to us with your experience. Wait no more and plan a perfect vacation to Australia with your gang and experience the adrenaline rush like never before.
People Also Read: