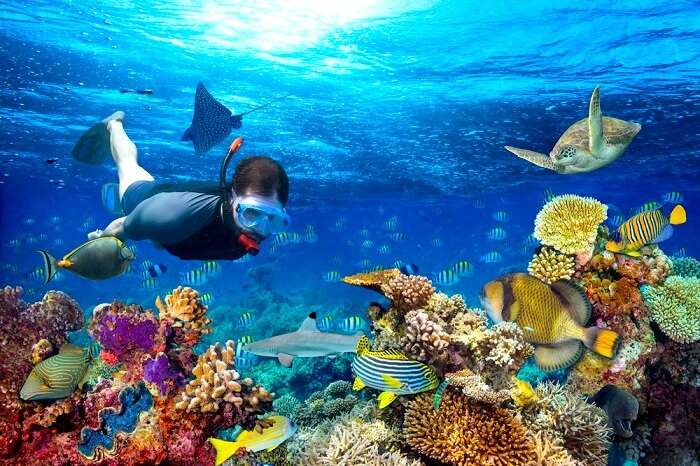 Even if you aren't a great fan of the Hobbit's series, you'll know that New Zealand is one of the world's most incredibly scenic and beautiful countries. Among the several dozen things you can do in New Zealand on your vacation, add a dose of snorkeling to top up your splendid getaway. There are truly amazing  spots for snorkeling in New Zealand, where the waters are as clear as can get with massive swarms of colorful fish and coral. So, much so that you will be overwhelmed as to where to begin from.
Best Time To Visit New Zealand For Snorkeling
The best time to visit New Zealand depends on what are your interests. If you like sunny and warm days then you should plan your visit from December to March and if you are a lover of snowfall then you should visit from June to September. As far as the best time for Snorkeling in New Zealand is considered, you should plan your vacation in the summer months. December and January are the best months for snorkeling.
6 Best Places For Snorkeling In New Zealand
Take a look at the best places to go snorkeling in New Zealand for a thrilling experience in the beautiful country while holidaying there!
1. Goat Island
Looking for places to snorkel in Auckland? Find your way to Goat Island. as it is one of the best places to snorkel in New Zealand. Also known as Cape Rodney, this is a fabulous snorkeling spot for beginners and experts alike. Every summer, several hundred tourists head to this marine reserve to enjoy goat island snorkeling among sting rays, king fish, kahawai, jack mackerel, and huge snappers. And, for those who dislike getting wet, there are a number of glass bottom boat tours as well!
The marine life is colorful and plentiful in Goat Island. In fact, it is known to be one of the first underwater reserves in New Zealand. On a lucky day you may spot seals and dolphins too! Drop by the Discovery center after a swim with the fish. The center is just a short walk from the beach and is a great way to get acquainted with marine life in the area.
Location: Auckland, New Zealand
Must Read: Paragliding In New Zealand: 5 Best Places That Let You Soar High
2. Poor Knights Islands Marine Reserve
For those of you who fear scuba diving, snorkeling is the next best option. Snorkeling in New Zealand bay of islands is a fun way to explore the mind-blowing amount of marine life at close quarters. Poor Knight Island Marine Reserve is a popular snorkeling destination just half an hour from Whangarei. The blue ocean at the reserve is home to kelp gardens and beautiful coral fields. It also boasts of a great diversity of not just fish, but also stingrays, dolphins, and eels among other varied marine mammals and plants.
Snorkel your way through the Blue Mao Mao Arch to be welcomed by huge schools of the Blue Mao Mao swimming merrily. This reserve is the best place to go snorkeling north island New Zealand. You will find this one of its kind marine reserves on any New Zealand coral reef map. It is also known to house the largest ever sea cave in all of the Southern hemisphere, the Riko Riko Cave. You will absolutely love swimming in. Sing your favorite song and listen to it echo back to you!
Location: Poor Knights Islands Marine Reserve, Matapouri, New Zealand
Suggested Read: 15 Haunted Places In New Zealand That'll Give You Shivers
3. Tonga Island Marine Reserve
There is no dearth of spots to go snorkeling in New Zealand. Tonga Island certainly features itself in the top snorkeling spots on the island. This spectacular reserve runs right by the side of Abel Tasman – a national park famous for its great weather, intimate coves, and golden-brown sand. The best place to go snorkeling on this reserve is between Foul Point and Tonga Quarry.
Here visitors can take a dip to view tumbled rock and reefs that are swarming with a number of grazing invertebrates. Though there is seaweed in the waters, it is confined to a narrow band and makes it easy to see turban shells and kina on the very bottom. Abel Tasman has a number of sheltered bays and fun activities to indulge in apart from just snorkeling.
Location: South Island of New Zealand
Suggested Read: 15 Lakes In New Zealand That'll Make You Believe In Heaven
4. Cathedral Cove
While this reserve is far from the city center, it is easily accessible by both cars as well as the boat. Hahei is the nearest settlement from where you can kayak to the reserve or enjoy a 30-minute scenic walk to the cove. Cathedral Cove is not as crowded as other snorkeling spots and is a fun place to relax, unwind or have a blast. The primary spot to snorkel in the cove is Gemstone bay. It has a huge population of fish of all sizes, colors, and shapes that can be easily spotted from the surface. This snorkeling spot is easily accessible from the shore, but using a boat will give you access to several other beautiful spots to snorkel.
Location: Coromandel Peninsula, New Zealand
Suggested Read: 14 Scrumptious New Zealand Cuisine One Must Devour On Their Trip
5. Te Tapuwae O Rongokako Marine Reserve
Drive down 15 km to the north of Gisborne, and you will reach this beautiful marine reserve. Once you get to the car park, a massive tidal platform awaits you just 50 meters away. This snorkeling platform may be accessed by crossing a lovely stretch of white sand beach. This is a great place to enjoy some quality snorkeling Auckland. The best time to explore the waters is 2-3 hours before low tide, so you can walk around the platform and gaze in marvel at the vast array of marine biodiversity. You will get to see eagle rays, octopi, crayfish, and brightly colored triple fins as you snorkel around. Do not be surprised to find some friendly triple fins swim right up to your mask!
Location: Pouawa 4073, New Zealand
Suggested Read: 15 Waterfalls In New Zealand That'll Leave You Speechless
6. Taputeranga Marine Reserve
Just over 6 km from Wellington on the south coast is yet another marine reserve that is known for the best snorkeling in New Zealand. This reserve is easy to access and is replete with marine life and varied habitats. If numbers were to be believed, the marine is home to over 180 species of fish. You will get to see rock lobsters, octopus, anemones, seahorses, and starfish in hundreds, literally! Simply don your snorkel and wetsuit and set out on the Island Bay Snorkel Trail for a once in a life experience. The best time to go snorkeling in this reserve is at half to the full tide. An education center on the shores is a great place to spend an hour learning more about these fascinating sea animals.
 Location: Fitzroy Bay 6023, New Zealand
Tips For Snorkeling In New Zealand
Here are some tips that you must take a look at to have an adventurous vacation in New Zealand.
Carry your snorkeling gear or rent one
Read all about the gear and snorkeling
Listen to the instructions of the trainers carefully and follow them
Stay relaxed and don't panic
Get yourself medically checked before you try snorkeling and discuss your queries with the instructor
Further Read: 10 Best Places For New Zealand Water Sports That All Adventure Junkies Must Try
Snorkeling in New Zealand, may not be the first thing to come to your mind on a trip to the island. However, it is a rewarding and memorable activity that you will simply love. The prices are quite affordable, hence making it an adventure activity you must try! So, plan a holiday in New Zealand with TravelTriangle and go snorkeling!
---
Looking To Book A Holiday Package?
---