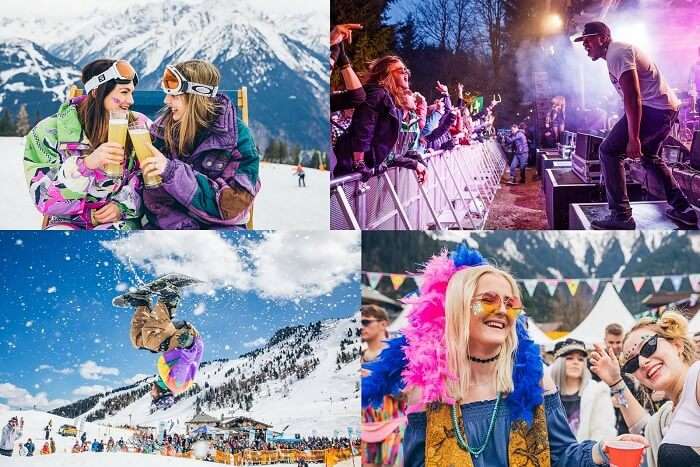 The Greatest Show on Snow", Europe's Snowbombing is an exhilarating whirlwind of fun, music, food, partying, and adventure that goes on for an entire week. Initially started to showcase a wide range of music lineup on the famed slopes of Austria's Mayrhofen ski resort in the month of April each year, Snowbombing in Austria has now evolved into one of the most thrilling and awaited festivals in the world. And word is, this year's Snowbombing is going to be the craziest ever!
With a big fat list of their 2022 lineup, SB19, or Snowbombing festival 2022 will feature the best artists on the stage from every corner of the world. With outstanding bands, world-class DJs, yoga sessions, skiing adventures, bizarre activities, food and booze, igloo raves, crazy street parties, and night concerts in enchanted forests, this 6-days long extravaganza has on offer all the fun you can ever have!
What makes it all the more irresistible is the location! Set in the fairytale Alps of the Zillertal Valley in Mayrhofen, Austria, this festival provides you with the perfect snowy backdrop to enjoy this fun-filled fiesta.
Snowbombing In Austria Basic Information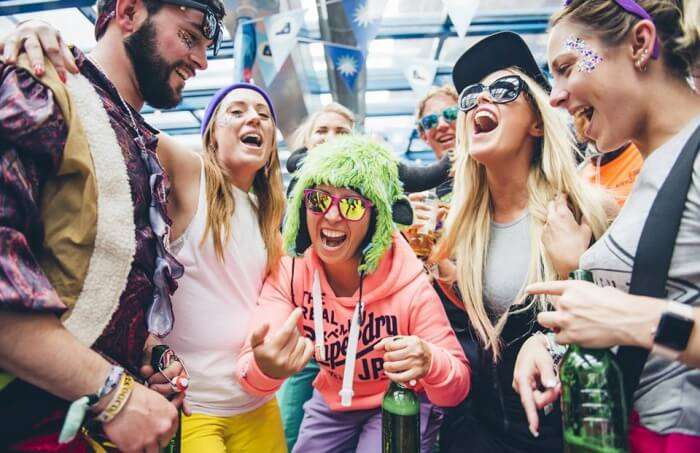 If you wish to know more about this charming snow festival and gather more information before making further plans, the following information like Snowbombing Austria 2022 dates will surely help you!
Location: Mayrhofen Ski Resort, Mayrhofen, 6290, Austria
Dates: 5th April to 10th April
Website | Facebook Page
Snowbombing In Austria 2022 Tickets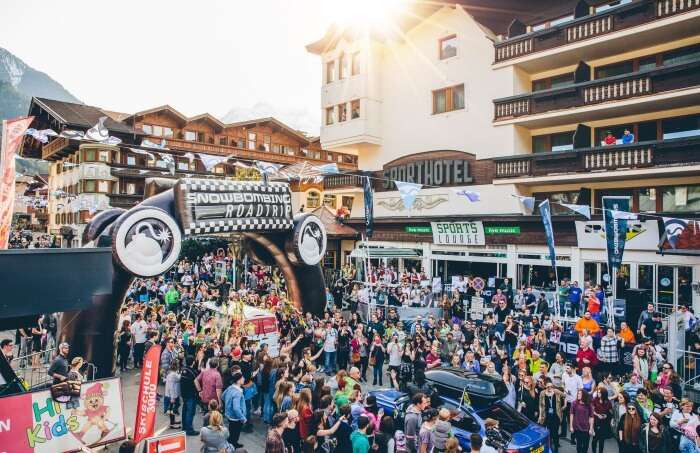 The ticket pricing of Snowbombing is usually based on the 'Ticket + Accommodation' structure. The system of Early Bird is followed and the accommodation keeps getting pricier when beds are sold. Since SB19 is merely days away, you must book your spot ASAP!
You can simply book your tickets on their official website right here.
Snowbombing Austria 2022 Lineup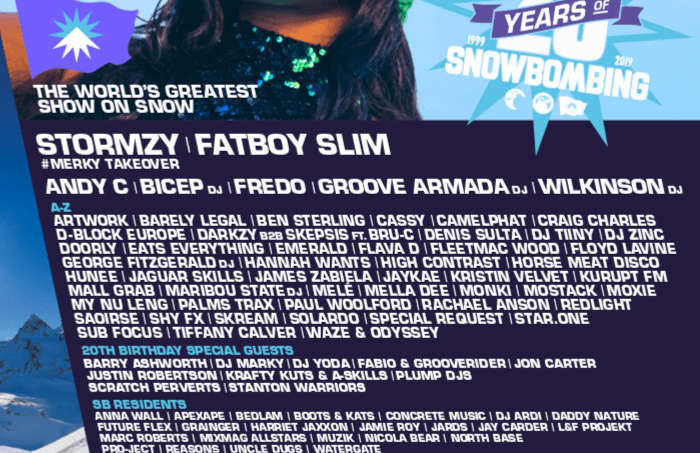 This year, Snowbombing has got some of the biggest and brightest stars to burn the stage! With over 100+ smashing acts world-renowned artists coming your way, there's no way you would want to miss this phenomenal carnival.
Some of the prominent names in Austria's Snowbombing 2022 lineup include Stormzy, Fatboy Slim, Camelphat, Mall Grab, George Fitzgerald, Sub Focus, High Contrast, Flava D, Andy C, Barely Legal, DJ Zinc, Groove Armada [DJ set], Hunee, Maribou State [DJ set], Mella Dee, Skream, Waze & Odyssey, DJ Yoda, Horse Meat Disco, Antarctic Monkeys, Mr. Motivator, Fat Buddha Yoga, and many more. See their official poster for the full line-up and get ready to enjoy Snowbombing Austria festival on your next trip!
Highlights Of Snowbombing In Austria 2022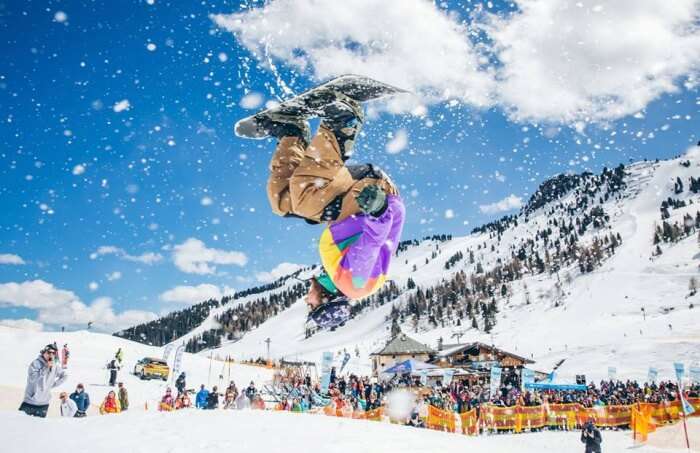 But what makes this year's Snowbombing festival so darn special? Well, here's what all is making the world go gaga over 2022's special Snowbombing event:
20th Birthday Of SB19: They're celebrating 20 years of some amazing memories and milestone moments they've made since the inception of this mega event 2 decades ago.
More Smashing Acts Than Ever Before: And by ever before we mean they have more acts than probably any other such event in history. Their lineup list itself is longer than the Burj Khalifa!
Enjoy More Than Just Music & Skiing: This festival is also about relaxing and unwinding with your closest pals and kins with activities like yoga, spa, sauna, rooftop jacuzzi, the famous Austrian beer, and sumptuous restaurants.
Things To Do At Snowbombing In Austria 2022
Snowbombing festival 2022 is overflowing with energy and enthusiasm. You'll be spoilt for choice with the endless activities you can indulge in. The amount of fun you'll have in that one week will leave you wishing the party never ended! Here's what all you'll get to enjoy at SB19:
1. Saunas And Spas
Mayrhofen happens to be the home of some of the most luxurious spas in the Austrian Alps. Rejuvenate your senses in roof-top hot tubs while gazing at panoramic views of the majestic peaks. Take a dip in balmy Moroccan themed pools set in cozy relaxation rooms. If skiing is not your cuppa tea, you can simply book yourself in for pure relaxation and forget about the rest of the world.
Must Read: 8 Amazingly Gratifying Places You Would Surely Love To Go For Shopping In Austria
2. Alpine Yoga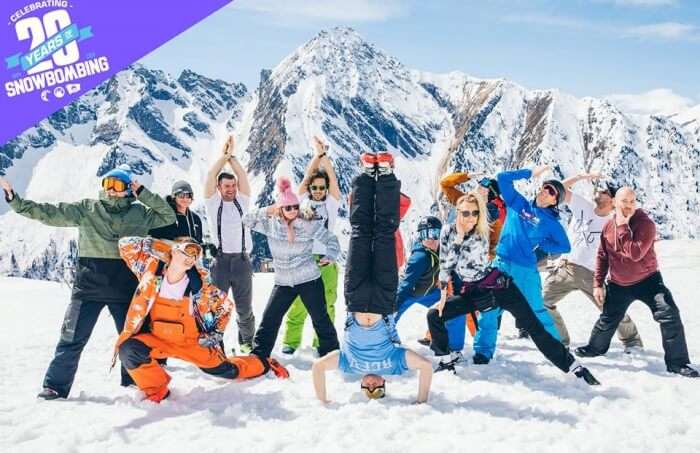 Tired of all the noise and frenzy? Relax and stretch in completely calm and natural surroundings on the mountain top. Book one of the special sunshine sessions with Snowga at Snowbombing 2022 that will help you increase your flexibility and boost confidence. It's, in fact, a great thing to try if you plan to go skiing later.
3. Binge And Booze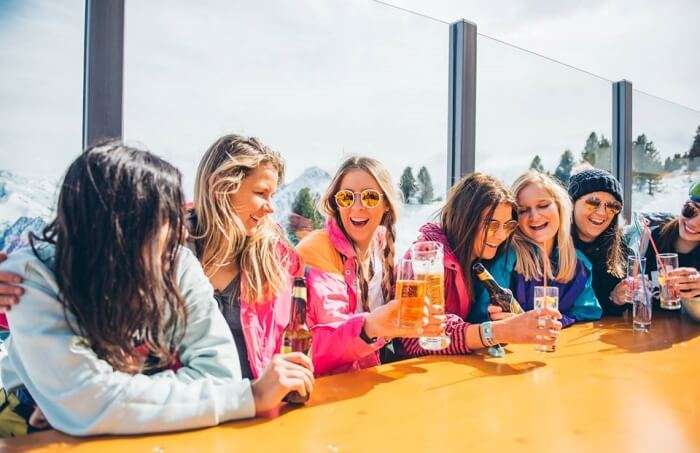 Austrian cuisine among the most delicious in the world. And Mayrhofen is actually home to some of the best restaurants in this country. From mountain-top fondues, crisp and sizzling schnitzels, juicy steaks, and treacle-tarred alpine apfelstrudel, Mayrhofen will make sure the foodie in you has the best time of their lives! And that ain't it. Be sure to wash down with a glass or two of sparkling red wine straight from the cellar, or gulp down an entire mug of freshly brewed draught beer.
Suggested Read: Paragliding in Austria: Head to these amazing destinations in the heart of europe!
4. Music And Entertainment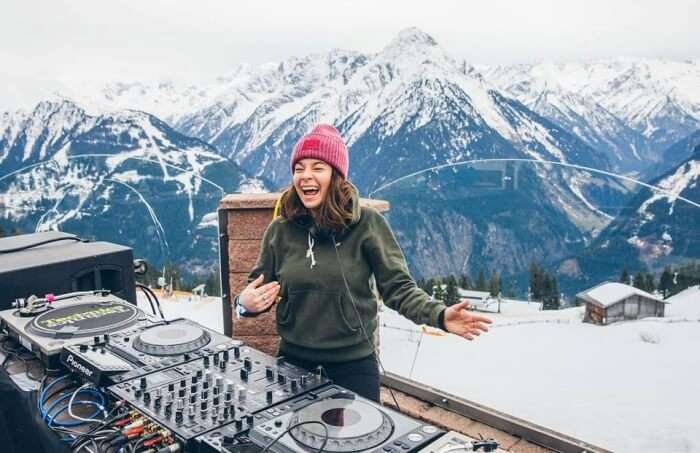 Now, what's Snowbombing in Austria without some fine music, dance, and laughter! With the world's greatest artists like Stormzy, Fatboy Slim, George Fitzgerald, Sub Focus, High Contrast, and Flava D rocking the stage, you'll never want this fiesta to end. From mountain tops, street roads, glitzy nightclubs, to enchanting forests, they'll be performing live at the best venues in town that will make you want to stay there forever!
5. Chairlift Speed Dating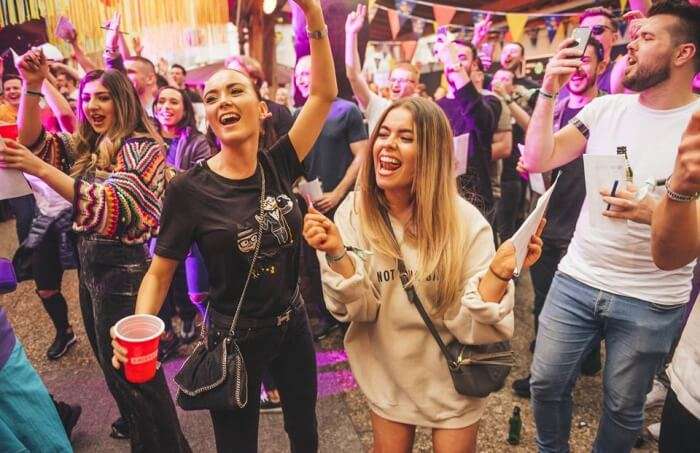 Believe us, it's funkier than it sounds! Transforming the mountain tops of the dreamy Austrian Alps into the ultimate dating platform, SB19 matchmakers will bring you the best pick-up lines and mischievous dating tips to set you up. Get ready to romance on the most scenic speed date of your life where both your date and the heady altitude will get your adrenaline rushing!
Suggested Read: Museums In Austria: 8 Amazing Storehouse Of History And Art In The Heart Of Europe
6. The SB Road Trip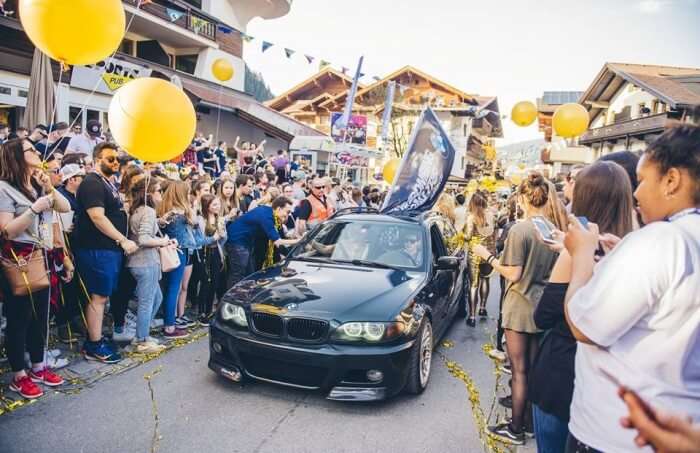 Have you ever wished to tune into your crazy self without a worry of what the world would say? Well, here's your chance! Be a part of Europe's silliest and most exhilarating car rally that will span a whopping 4 countries giving you an epic adventure like never before. You get to tame the road for two whole days in the wackiest road trip, all thanks to Snowbombing!
7. Snowlympics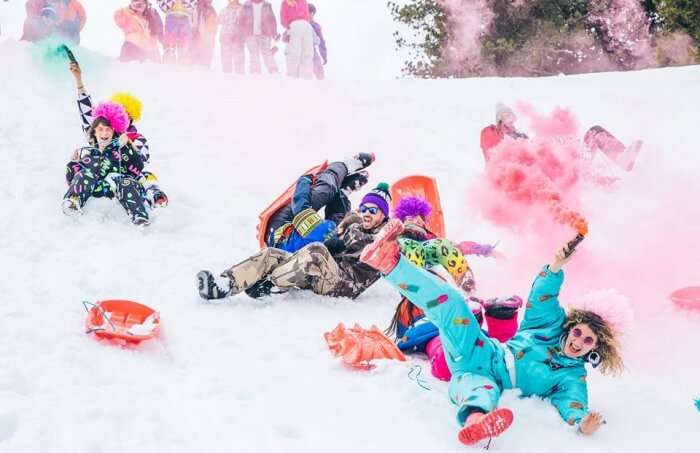 Every year, SB19 draws out some courageous (and egoistic!) Snowbombers and sets them against each other in the most entertaining battles like sled races, tug of wars, snowball fights, and even sumo wrestling. Spectators and competitors both love to witness these jovial combats called Snowlympics that sets the spirit of Snowbombing.
Suggested Read: Waterfalls In Austria: For A Tour Through The Most Extravagant Sceneries Of This Land!
8. Paragliding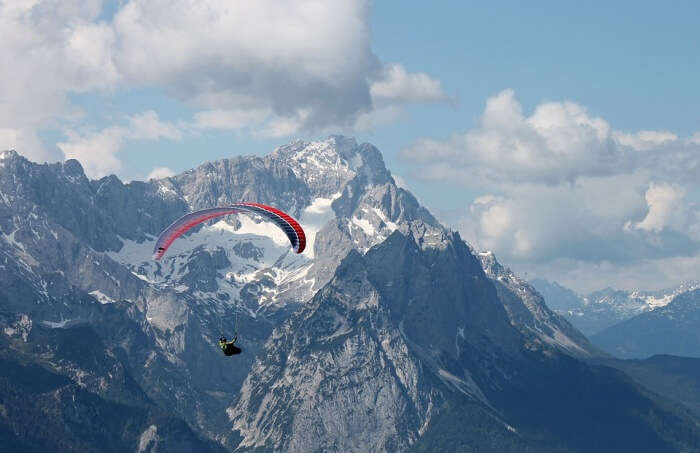 If you'd rather be soaring high up in the skies than whirling down the snow, then boy does Snowbombing 2022 has something for you! Grab yourself a glider and fly over the Austrian Alps like a free bird. More than a great sport for adrenaline junkies coming to SB19, it's a once-in-a-lifetime opportunity for you to get unique aerial views of the Alps across the Zillertal Valley, all for a lesser price than it would normally take.
9. Skiing And Snowboarding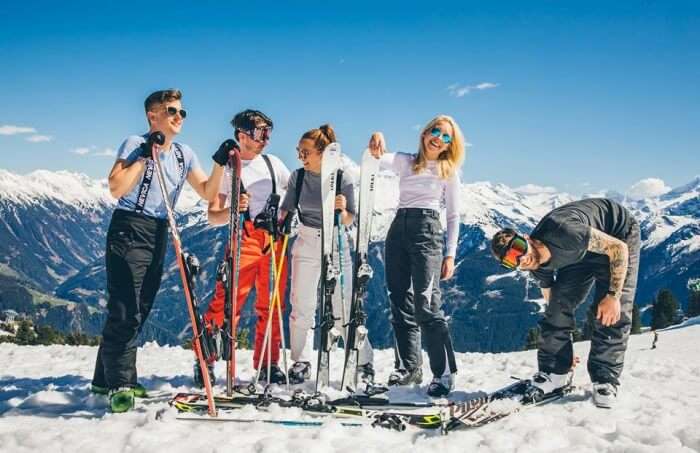 Ride & Seek at SB19 aims to give skiers and snowboarders an unbeatable platform to showcase their mind-blowing gravity-defying antics in ski & boardercross races. It's a three-day competition of true grit and willpower in over a 650 km stretch of some of Europe's steepest inclines, including the fearsome Harikiri. The highlights of this activity will include a Super Ski Pass, cable car rides, 20 km cross-country skiing, Vans Penken Snowpark, and more.
Not a pro skier? Fret not. They also have special ski lessons and easy terrains for beginners so that they can enjoy this triple-day snowsports extravaganza like all others! Other than lessons, you'll also be given lift passes to skiing points and equipment on rent.
Suggested Read: Austria In December: Welcome The New Year Amidst Snow, Wine, And Unlimited Fun!
10. Water Splash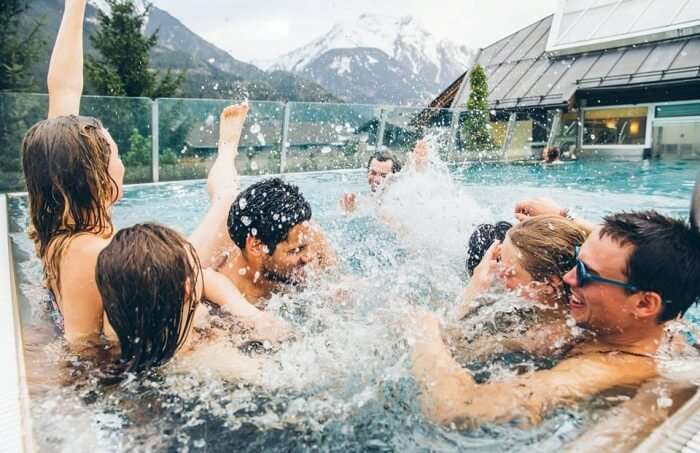 Marking an end to the week-long music madness and adventure riot, the Water Splash is every snowbomber's favorite part of the fest. Get ready for this absolutely thrilling wet 'n' wild conclusion to the Snowbombing festival 2022 where you sip margaritas by the poolside while watching some brave souls take on the icy challenge. You can also take part in this chaos instead of just watching from your cozy corner.
That's not all folks. There's a lot more on offers like Mr. Motivator's Daily Warm Down, Glitter Gondolas, Fancy Dress, and much more.
The Venues At Snowbombing Festival 2022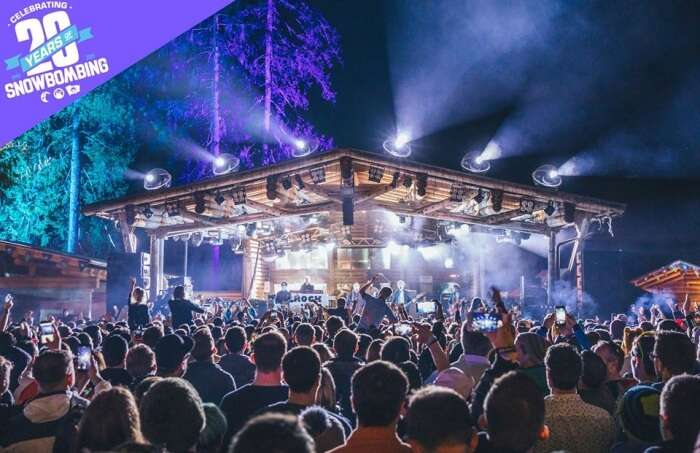 Mayrhofen is one such place on the planet that will let you party in a variety of bizarre and fun locations that will have your euphoria soaring through the roof. From 5 star resorts, pop-up parties, to fancy igloos, forest raves, and pretty streets, there's no end to the magic Snowbombing in Austria is going to weave this year.
SB19 boasts some of the world's most incredible live music venues and party spots. Some of these include the following:
Forest Stage – A groovy spot set inside a lush jungle
Street Party – Mayhem on the streets of Mayrhofen
Racket Club – A rave club for artists and music lovers
Smirnoff Arctic Disco – To dance the night away
Bruck'n Stadl – The underground alpine music mecca!
Arena Nightclub – Your late night den for hardcore music and dance
Snow Park Terrace – Beer and pizza in Austria's largest snow park
Mountain Stage – Dance on the top of a snowy mountain
Rompa's Reggae Shack – Drink, unwind, make new friends
Fun Haus – A star-lit Bavarian bier garden
Hans The Butcher – Everything your foodie soul desires
Road Trip Arrival Procession – a colorful, chaotic Sunday afternoon parade
Mo's Bar, Sports Bar, & Ice Bar – beer lovers will be spoilt for choice!
How To Reach Snowbombing Festival 2022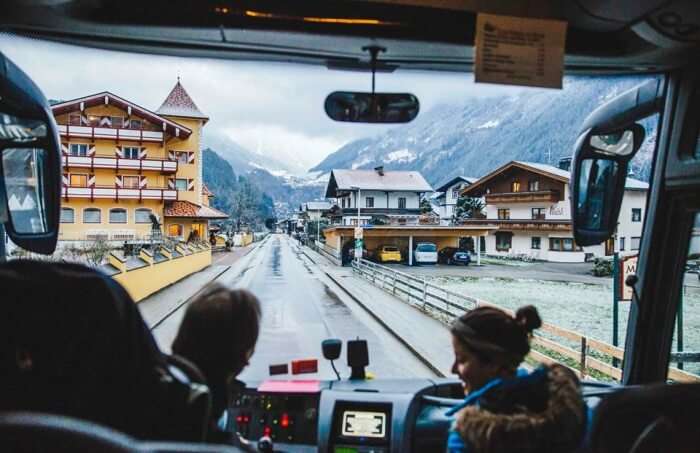 It's super easy to get to the venue. Here are some ways you can reach SB19. Make sure you plan your trip to Austria accordingly to make it more convenient, comfortable and also save a few bucks on your while you're at it!
By Air: Get to Innsbruck Airport which is a mere 1.5 hours away from Mayrhofen. Direct airport transfers are available from here to Mayrhofen. The next closest airport is the Munich Airport located a 2.5 hours drive away, followed by the Salzburg Airport 2.5 hours away.
By SB19 Coach: If you are traveling from somewhere in the UK, you can avail Snowbombing's special coach service from various cities like London, Dover, Bristol, Birmingham, Nottingham, Leeds, Newcastle, Sheffield, Liverpool, Leicester, Swindon, Reading, and Glasgow.
By Car: Join your fellow festival-goers in an epic road trip all the way to the festival venue. Needless to say, Mayrhofen is well connected to major cities and towns via its road network, allowing visitors to drive down in style while giving them breathtaking views on the way. The best part – you will be welcomed into the city with a grand procession that will make you feel like a celebrity!
Further Read: Austria In Winter: A Memorable Holiday To The Land Of Beauty And Music
So, what's the hold-up? Don't wait another long year to be a part of the most bizarre and exciting carnival of the world where your adrenaline will be through the roof at all times! With so much to see, do, and experience, Snowbombing in Austria 2022 is the best way to be spending that particular week in April. Now get off the couch and plan your Austrian getaway via TravelTriangle at once!
Frequently Asked Questions About Snowbombing In Austria 2022
Want more info on the fest? See if any of these help you solve your queries:
Is Mayrhofen a good place for skiing and snowboarding?
'Good' is a gross understatement. Mayrhofen is one of the best areas in the world for light to extreme skiing and snowboarding feats. With the piste spanning over 605 km, Europe's steepest slope, the Vans Penken Snowpark, 20 km of cross-country skiing, as well as access to the mighty Hintertux Glacier, you're in for the best experience of snowsports in your entire life!
Can one hire equipment at the ski resort itself?
Yes, you can rent equipment at the venue itself once you arrive at the festival.
What is the minimum age for taking part in the Snowbombing festival?
The minimum age for being able to attend this fest is 18. You will be asked by the security to produce a valid ID proof while booking online as well as when you arrive at the venue.
Looking To Book An International Holiday?
Book memorable holidays on TravelTriangle with 650+ verified travel agents for 65+ domestic and international destinations.
---
Comments
comments