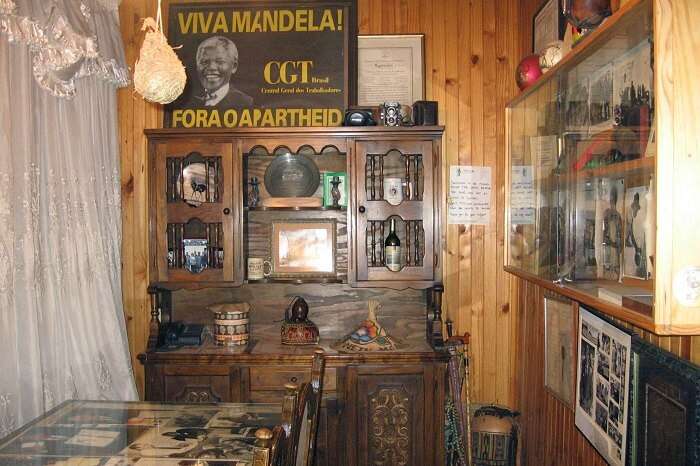 Soweto is a city in Gauteng, South Africa. It is basically the second largest city in Gauteng with a population of 1.6 million. There are a lot of things to do in Soweto. From visiting the local market places to the magnificent art galleries and archaic museums, Soweto has it all. It is one of the best places for travelers who like to get lost in the world of rich art and culture. This place has had gone through some really tough times, like slavery and what not. But there have been some legends in the past that helped the people of this land to outdo the evil. And in the memory of them, the people of this place have built scenic Soweto museums.
Top 12 Soweto Museums
The Soweto Museums reflect the rich cultural heritage of this place. These museums not only pay a tribute to the leaders and fighters form the past but also remind them of their freedom struggles and the victories. We've shortlisted 12 museums you must visit:
1. Hector Pieterson Museum

The Hector Pieterson Museum is a museum located in Orlando, Soweto, South Africa. It is one of the first museums that opened in Soweto. It was opened in 16 June 2002 in the honor of a person named Hector Pieterson, who was shot and killed during the Soweto uprising on 16 June 1976. There was a protest led by black school kids, who were protesting the enforcement of teaching in Afrikaans. During the protest, Hector was the first and the youngest victim who died. Although there were almost 500 people who died during this protest, only 59 were reported to have died during the remonstration. The museum was unveiled by Mr. Nelson Mandela.
Location: 8287 Khumalo Rd, Orlando West, Johannesburg, 1804, South Africa
Must Read: Your Guide To A Tryst With Boulders Beach In South Africa
2. Credo Mutwa Cultural Village

This is a museum-cum outdoor exhibition. It showcases the sculptures and building created by the various African artists. This place is one of the major attractions for the visitors coming to Gauteng. These buildings and sculptors were created by an African artist Credo Mutwa. He was a traditional healer and was believed to have the powers to predict the future. A visit to this museum is more alike journey through the life and thought process of this artist.
Location: 991 Bochabela St, Jabavu, Soweto, 1809, South Africa
3. Kliptown museum

This museum is housed in an old hardware store. It basically reflects the right to freedom of the people of this place. The museum narrates the story of the freedom charter and the historic congress of the people. This museum has several photographs and video clippings which gives a vivid idea of the difficult situations that the people of this place had to go through during 1950s. There are also narrations and songs being played in the background which lets people dive in the aura of that place. There are portrays of people like professor ZK Matthews who were involved in creating the history that we learn about in today's date. These arts can be seen on both the inside and the outside walls of the museums.
Location: Walter Sisulu Square of Dedication, Corner Union Avenue and Main Road, Kliptown, Soweto, 1811.
Suggested Read: Best Waterparks In South Africa – Get A Little Splashy & Live The Childhood Dream!
4. Apartheid museum

This is a museum present in Johannesburg, South Africa. It depicts info about the apartheid and the history of South Africa during the 20th century. This museum was opened for the first time in November 2001. It is a part of the gold reef city complex. This museum lets the visitor experience the difficulties that the people had to go through during the apartheid. It talks about racial segregation.
Location: Northern Park Way and Gold Reef Rd, Johannesburg, 2001, South Africa
5. Lindfield Victorian House Museum

The walls of this museum tell the stories of the changes that Johannesburg went through with time. It reflects the evolution of a city through an entire era. This museum tells the story of how the city of Johannesburg shaped itself into an urban landform that it is today. It reflects the family life, high culture, social etiquettes. The visitors get to experience the cultural history of this place.
Location: 72 Richmond Avenue, Entrance Greenlands Road, Johannesburg 2092, South Africa
Suggested Read: 5 Enchanting Castles In South Africa You Will Not Want To Leave From
6. Origin centre Museum

This museum provides visitors with the knowledge of the Africa's rich cultural heritage. This museum has rocks from ancient times and lets the visitors see some of the first paintings made by humans. It takes the visitors on a ride of the beginning of a mankind's journey, down to the present day human world. It also has a collection of ancient tools and artifacts of spiritual significance which dates back to the prehistoric period.
Location: Corner Yale and Enoch Sontonga Roads, Johannesburg 2050, South Africa
---
Planning your holiday but confused about where to go? These travel stories help you find your best trip ever!
Real travel stories. Real stays. Handy tips to help you make the right choice.
---
7. Sci-Bono Discovery Centre

It has something to learn for all age group, and not just the kids. For all science enthusiasts, this is the perfect place to visit. This museum provides the facility of demonstrating different scientific theory through various exhibits. One such exhibit is the dawn of art. They play TV programs explaining the art. Also, there are several life like exhibits based on rocks for all the rock lovers out there.
Location: Corner of Miriam Makeba & President Street, Newtown, Johannesburg 2107, South Africa
Suggested Read: 7 Most Popular Airports In South Africa That Are Boosting The Nation's Tourism Industry
8. SAB World of Beer

It is basically an interactive multimedia museum in South Africa. This museum lets the visitors experience a fun guided tour. It provides them knowledge about the history of beer and its connection with South Africa. The highly informative tour guides the visitors through the history of the beer culture in Africa. Along with this, people also get to experience the taste of the oldest African beers and smell the different types of barley.
Location: Entrance on Becker St. 15 President Street , Newton Cultural Precinct, Johannesburg 2001, South Africa
9. Rand Society of Model Engineers

This is the kind of museum highly recommended for families to visit with their children. This museum is basically run by a group of steam engine enthusiasts. This is made open to public twice every month. One can get to experience the various models of locomotives and to gain more knowledge about the trains and the steam engines. It has train tracks of 1 km long and it offers rides at a very affordable rate.
Location: Golf Club Terrace Street, Roodepoort 1709, South Africa
10. Wozobona Cultural House

It is a cultural heritage dedicated to the history of old times. It honors the essence of history that they have received as a heritage from their ancestors. It pays honor to the heroes of the times nearly one or two decade back when things were difficult in this country. This is run by a family, led by a lady named Mama Lindy. It lets the visitors experience the South African homes for what they looked or felt like one or two decades back.
Location: 976 Phiela Street, Soweto, Johannesburg 1804, South Africa
Suggested Read: Don't Miss These Food Festivals In South Africa If You Call Yourself A Foodie
11. Oppenheimer Gardens

It is a historic park present in Soweto. It has an open air museum. This place is basically a perfect blend of Africa's historical art and culture. The visitors get to know about the sculpture and folklore of Africa right in the midst of nature. The park has a diverse range of trees, plants and birds. Some of these plants are herbs which are used for several herbal purposes. This park also has sculpture of African God and Goddesses. There is also a statue of a king named Shaka Zulu. In general, for all the lovers of nature and history, this place is the perfect place to come.
Location: 991 Majoring Street Corner of Majoring and Ntsane streets Central Western Jabavu, Soweto
12. Mandela House Museum

It is located at the same place where Nelson Mandela lived from 1946 to 1962. This house was initially donated by Mandela on 1 September 1997 to a trust which he owned. This trust was named as Soweto Heritage trust. It was donated so that it could be run as a museum. This museum depicts the life of Mandela and his family. People also get to learn more about the life of Mandela both when he was in his own house and when he was facing the world. This is a single storey house built in 1945. The house has memorabilia, honorary doctorates that Mr. Mandela received from various universities, paintings, family portraits and arts and craft from all over the world.
Location: Vilakazi Street, Orlando west, Johannesburg.
Further Read: 15 Best South African Cuisines That'll Add A Variety Of Delicious Flavors To Your Next Holiday
These Soweto museums were built for the purpose of reminding everyone about those great fighters who sacrificed their lives for the wellbeing of their town. And in this way, these legends will remain in the hearts of people of the future generation to come. They tell the tales of people who fought for this land, for their rights and for the people of this place. Why not revisit the heroes of Soweto while you're on a trip to South Africa, to pay your regards?
---
Looking To Book A Holiday Package?
Book memorable holidays on TravelTriangle with 650+ verified travel agents for 65+ domestic and international destinations.
---