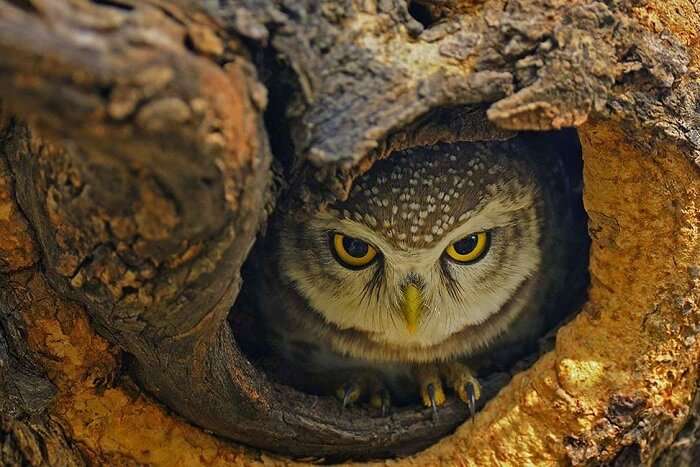 Home to an enormous share of India's aviaries, the Sultanpur Bird Sanctuary is every birdwatcher and photographer's retreat in the National Capital Region. Recently declared a National Park, this verdant bird sanctuary in India is the perfect place to hang out with your buddies and spend some time amid pristine nature. Surround yourself with the sweet calls of different birds while you sit on the banks of a picture-perfect lake in the middle of the park. Intrigued? Let us help you plan your trip to Sultanpur National Park.
Quick Links To Navigate Sultanpur Bird Sanctuary
Best Time To Visit Sultanpur Bird Sanctuary

Image Source
The best time to visit Sultanpur Bird Sanctuary is the winter months from January to the first week of March. During this time, one can spot a large number of the park's resident and migratory birds. This is the time when most birds start their northward journey for the coming summer months. Passing through India, they stop at the various lush and marshy areas for respite and breeding. The various wetlands of northern India thus turn into a hub of colourful and peculiar looking aviaries in great numbers. The average temperature in Sultanpur park at this time remains around 20°C.
Must Read: 20 Interesting Museums In Delhi 2022: Explore History, Culture And Modern Trends
Sultanpur Bird Sanctuary Basic Information

Image Source
Area: 1.43 km sq
Location: Gurgaon Farukh Nagar Road, Sultanpur, Gurugram, Haryana 122006
Latitude: 28.4614° N | Longitude: 76.8908° E
Geography: Wetland and lake carved out of the land of Sadhrana, Chandu, Sultanpur and Saidpur villages
Timings: The park is open for tourists every day from 7 AM to 4:30 PM (closed on Tuesdays). If one wishes to venture into the park before 7 AM they need to acquire special permission from the Divisional Wildlife Officer's Office at least 2 days before their planned date of visit.
Entry Charges:
Entry Fee For Indian Nationals: INR 5/- per person
Entry Fee For Foreign Visitors: INR 40/- per person
Still Camera Charges: INR 25/- per camera
Video Camera Charges: INR 500/- per camera
Parking Charges: One is not allowed to take any vehicle inside the sanctuary. You can park your vehicle at the designated parking space outside the entrance. Parking charges apply for the same.
Tip: Don't forget to carry a valid ID card of yours, without which you may not be granted entry into the park premises.
Sultanpur Bird Sanctuary Website | Yala TripAdvisor Reviews
Suggested Read: 20 Hidden Places Of 2022 In Delhi That Have Aged Gracefully Without Losing Their Charm!
Top 3 Things To Do At The Sultanpur Bird Sanctuary
There are various activities one can indulge in inside the Sultanpur bird reserve.
1. Photography: Click Different Varieties Of Birds

A heaven for birdwatchers, the Sultanpur National Park receives a great influx of bird photographers in the winter months. It's a great place for sighting and photographing some of India's most prominent bird species, including the migratory ones. A visit to Sultanpur bird reserve is the perfect location to get great clicks of colourful, queer looking birds for your Instagram feed.
Suggested Read: 55 Hill Stations Near Delhi One Must Visit In 2022 For A Peaceful Getaway!
2. Watch Sunset: Visit The Banks Of The Sultanpur Lake

The Sultanpur Bird Sanctuary is a serene place to relax and watch the birds. One can spot plenty of rare and migratory species of birds near the lake, especially water birds like Darters, Egrets, Shovellers, Cormorants, Kingfishers, Spoon Bills, and Lapwings. Surround yourselves with lush greens and the sounds of different calls of birds while the setting sun paints beautiful colours in the sky right before you.
Suggested Read: An All-In-One Guide To Delhi's Jantar Mantar For First-Time Visitors In 2022!
3. Machans: Behold Panoramic Views Of The Sanctuary  

The Machans, or watch towers inside the Sultanpur Bird Sanctuary, are great spots to catch up on panoramic views of the entire reserve area and to spot birds perched high up in the trees. The four watchtowers within the park offer excellent views of the rich avian population of the park.
Suggested Read: 21 Best Places To Visit Near Delhi In March Which Will Definitely Make The Perfect Road Trip Moment!
Wildlife Of Sultanpur Bird Sanctuary
The park is home to a diverse variety of resident (native) and migratory bird species. One can easily spot most of them on an early morning visit to the park during the winter season. You can also visit the park during summers, but then you won't be able to spot migratory birds during that time.
1. Resident Birds

Image Credits: Shahin Olakara for Wikimedia Commons
These include the common hoopoe, paddyfield pipit, purple sunbird, little cormorant, Indian cormorant, common spoonbill, gray francolin, black francolin, Indian roller, white-throated kingfisher, spotbill, painted stork, black-necked stork, white ibis, black-headed ibis, little egret, great egret, cattle egret, crested lark, red-vented bulbul, rose-ringed parakeet, red-wattled lapwing, shikra, Eurasian collared dove, red-collared dove, laughing dove, spotted owlet, rock pigeon, magpie robin, greater coucal, weaver bird, bank mynah, common mynah, and green bee-eater.
Suggested Read: Visit 14 Churches In Delhi In 2022 That Add Wonders To The Capital City
2. Migratory Birds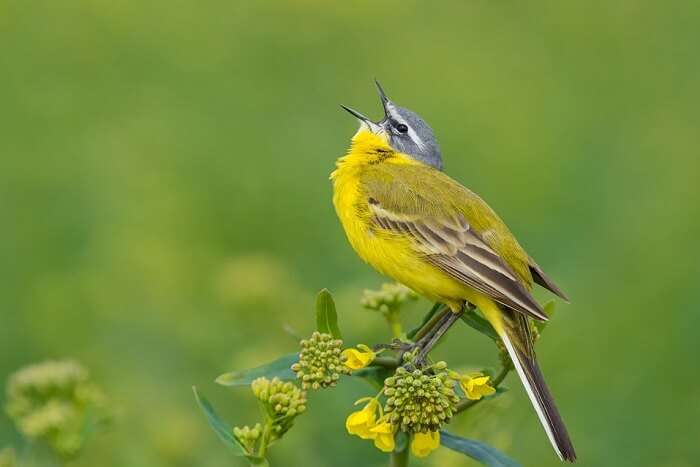 Image Courtesy: Rafal Szozda
These include the Siberian crane, greater flamingo, ruff, black-winged stilt, common teal, common greenshank, northern pintail, yellow wagtail, white wagtail, northern shoveller, rosy pelican, spot-billed pelican, gadwall, wood sandpiper, spotted sandpiper, Eurasian wigeon, black-tailed godwit, spotted redshank, starling, bluethroat and long-billed pipit. In summer about 11 species of migratory birds such as Asian koel, black-crowned night heron, grey heron, Indian golden oriole, knob-billed duck, blue-cheeked bee-eater, blue-tailed bee-eater, and cuckoos.
It might surprise you to know that:
Out of around 1,800 migratory bird species out of the total 10,000 species of birds in the world, 370 species migrate to India every year during the winter season to rest, feed, and breed.
Sultanpur National Park receives over 250 species of birds each year out of that!
Suggested Read: 19 Offbeat Destinations Near Delhi That You Ought To Check Out In 2022
3. Flora

Plant species that you can spot here include Dhok, Khair, Tendu, Ber, Jamun, Banyan, Neem, Berberis, Acacia, and various exotic grasses.
Suggested Read: 6 Walking Tours In Delhi To Let You Experience The True Essence Of Rajdhani
4. Fauna

Animals such as Blue Bull (Nilgai), Blackbuck, Hog Deer, Sambar, Wild Dog, Caracal, Wild Cat, Hedgehog, Mongoose, Striped Hyena, Indian Porcupine, Honey Badger, and even Leopards can be spotted here.
Suggested Read: Top 15 Things To Do In Delhi In Summer In 2022 To Beat The Heat
Average Budget For A Trip To Sultanpur Bird Sanctuary
Find below a breakdown of the estimated average per-person cost for a trip to Sultanpur National Park. The budget given below includes major aspects like transfers, accommodation, and food so that you can plan a hassle-free trip to Sultanpur park.

Avg Flight Rate (round trip): INR 1,880/-
Avg Accommodation: INR 3,500/-
Transfers: INR 1,000/-
Meals: INR 600/-
Miscellaneous: INR 200/-
Note:
Flight rates are not included in the budget given above as they may vary on the traveler's destination and time of booking
Flight rates given above are average current round trip airfares from Indian cities like Delhi, Jaipur, and Mumbai
'Transfers' here indicate transportation from cities like Delhi, Jaipur, and Lucknow to Sultanpur park (either by train or road)
Suggested Read: Mughal Garden: A Proof That Delhi Is No Less Than A Fairyland!
Sultanpur Bird Sanctuary Hotels And Resorts

Image Source
There are plenty of hotels and resorts near Sultanpur National Park. The following are some of the best accommodation options near the reserve starting from the budget ones.
Sultanpur Bird Sanctuary Tourist Complex Guest House (4 star): Starting at INR 300/-
Aapno Ghar Resort (4 star): Starting at INR 1,809/-
Ginger Hotel, Manesar (4 star): Starting at INR 3,359/-
Hyatt Regency Gurgaon (4.5): Starting at INR 5,878/-
Heritage Village Resort & Spa, Manesar (4 star): Starting at INR 6,588/-
Suggested Read: 20 Top Breweries In Gurgaon To Raise A Toast To Happier Times
How To Reach Sultanpur Bird Sanctuary

By Air: The nearest airport to Sultanpur National Park is the Indira Gandhi International Airport followed by the Palam Domestic Airport, both in Delhi (located 35 km away). Cabs are readily available at these airports to take you to Sultanpur Bird Sanctuary. Or you can simply board the metro and get down at Sultanpur Metro Station for a more economical travel route.
By Rail: The Gurgaon Railway Station is the nearest railway station (located 14 km away) that is connected to major cities like Delhi, Rajasthan, and other places in Haryana. Taxis and auto rickshaws can easily be hired from this point to take you onward to Sultanpur park.
By Road: With a strong road network, the park is well connected with Delhi and Gurgaon, the district headquarters of NCR. It's not difficult at all to drive down to Sultanpur Bird Sanctuary from all the nearby (as well as far away) places like Delhi, Gurgaon, Rajasthan, UP, and more. Cabs and other modes of transport are readily available at all train stations and airports in this area. One can also travel by state-run buses and shared taxis.
By Metro: The most economical means to reach Sultanpur Bird Sanctuary from Delhi, Faridabad, Noida, and Gurgaon is by the metro. The interconnected Delhi Metro Rail Corporation and Rapid Metro provide a smooth network for effortless traveling to and fro these 4 regions. The Sultanpur National Park is located a mere 36 km from the Sultanpur Metro Station and can be reached via auto rickshaws and taxis readily available at the station.
Nearest metro station to Sultanpur Bird Sanctuary: Sultanpur Metro Station
Nearest metro station to IGI Airport: IGI Airport Station Terminal 3 and Delhi AeroCity
Nearest metro station to New Delhi Railway Station: New Delhi Station
Nearest metro station to Sarai Rohilla Railway Station: Pratap Nagar
Here are the distances between Sultanpur park and some nearby cities to help you plan your trip well:
Distance from Delhi to Sultanpur Bird Sanctuary: 42 km
Travel time: 1 hour 40 minutes
Distance from Gurgaon city center to Sultanpur Bird Sanctuary: 14.4 km
Travel time: 35 minutes
Distance from Jaipur to Sultanpur Bird Sanctuary: 245 km
Travel time: 4 hours 40 minutes
Distance from Lucknow to Sultanpur Bird Sanctuary: 573 km
Travel time: 7 hours 30 minutes
Further Read: 10 Most Haunted Places In Gurgaon That Reveal The Paranormal Side Of Life In 2022!
Greet these winged beauties at Sultanpur Bird Sanctuary this winter. Take your camera and binoculars, and whiz away to this lush abode when going on a vacation to Uttar Pradesh. Got any more important information to add to this Sultanpur Bird Sanctuary guide? Pop it in the comments below.
Disclaimer: TravelTriangle claims no credit for images featured on our blog site unless otherwise noted. All visual content is copyrighted to its respectful owners. We try to link back to original sources whenever possible. If you own rights to any of the images and do not wish them to appear on TravelTriangle, please contact us and they will be promptly removed. We believe in providing proper attribution to the original author, artist or photographer.
Frequently Asked Questions About Sultanpur Bird Sanctuary
Q. Which wildlife sanctuary is famous for birding?
Other than Sultanpur National Park, there are several other bird sanctuaries in different parts of India: Bharatpur Bird Sanctuary, Rajasthan Salim Ali Bird Sanctuary, Goa Kumarakom Bird Sanctuary, Kerala Ranganathittu Bird Sanctuary, Karnataka Vedanthangal Bird Sanctuary, Tamil Nadu Kaundinya Bird Sanctuary, Andhra Pradesh Chilka Lake Bird Sanctuary, Orissa Mayani Bird Sanctuary, Maharashtra Nal Sarovar Bird Sanctuary, Gujarat
What are the best places to visit in Gurgaon?
Kingdom of Dreams, Sultanpur Bird Sanctuary, Leisure Valley Park, Sheetla Mata Mandir Gurgaon, Aravalli Biodiversity Park, and Museum Of Folk Of Tribal Art are some of the best places to visit in Gurgaon.
What wildlife can you find at Sultanpur Bird Sanctuary?
There are plenty of bird species, flora, and fauna that you can find residing in the premises of the sanctuary. Some most observed species include white-throated kingfisher, spot bill, painted stork, black-necked stork, white ibis, black-headed ibis, Blackbuck, Hog Deer, Sambar, Wild Dog, Caracal, Wild Cat, Hedgehog, Mongoose, Striped Hyena, and many more.
What is the best time to visit Sultanpur Bird Sanctuary?
The best time to visit the Sultanpur National Park is the winter months from January to the first week of March.
Where is Sultanpur Bird Sanctuary located?
Sultanpur Bird Sanctuary is located in the city of Gurgaon/Gurugram in Haryana.
How do I reach Sultanpur Bird Sanctuary?
After reaching Delhi via flight, you can either visit the sanctuary by road using the cab services or board a metro that will drop you till Sultanpur directly.
---
Looking To Book An International Holiday?
---