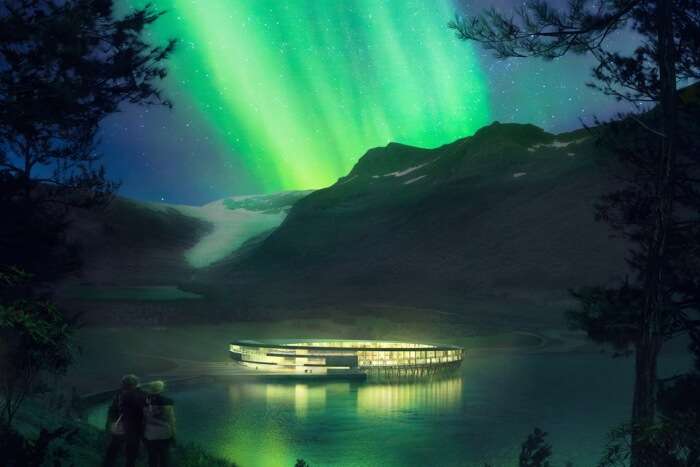 The view of Aurora Borealis or Northern Lights is about to get more rewarding topped with luxury; thanks to the upcoming Svart Hotel allowing a 360 degrees perspective of this intriguing phenomenon. The hotel will be built on the Halondsfjorden Fjord, known for providing access to the Svartisen Glacier (the most visited glacier in Norway) to the tourists. Svart is going to be a savior from freezing cold, offering world class amenities and sustainability.

The design is inspired by local architecture, with wooden stilts that will help building the structure above water. The authorities claim that the property has sustainability as a priority as it will be using 85 percent less energy and resources, as compared to any other hotel. The circular design of Svart allows the solar panels to absorb optimum sunlight, regardless of the season. Further, the massive windows in the rooms let the thermal energy of Sun prevail. In fact, the boardwalk isn't merely a boardwalk, it also serves as a storage space for boats; not harming the landscape with additional space for the same.

Well, looks like the glass-igloo resort in Finland has a competition! We're glad this is coming, as now Europe tour packages will be taken up a notch.
Further Read: Cabin Vindheim In Norway In 2022 Is A Divine Stay Peeking Out Of Tons Of Snow