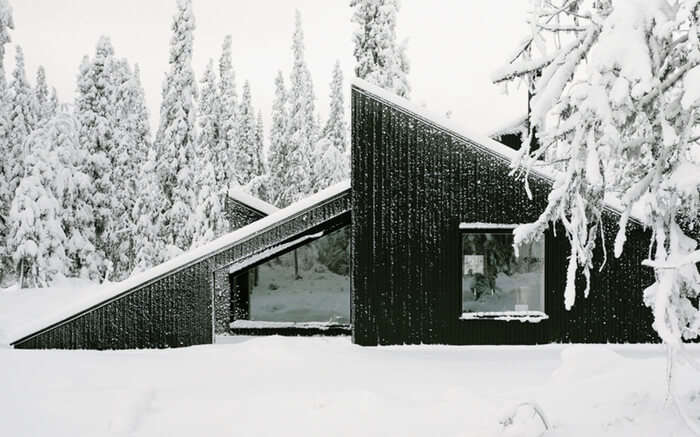 How do you like the idea of a stay in a snuggly cottage draped and planted in snow and alpine? Sounds cool! Cabin Vindheim in Norway located in the alpine town Lillehammer looks straight out of a picture-postcard and completely resembles your musings. A stunning ski resort town, Lillehammer, for most of the year, lies in the deep slumber because of extreme snowfall and winter turns the entire town into a fairy world.
There, tucked in the vast alpine, lies Cabin Vindheim – a hidden stay bulging out of snow, having the look of an avalanche survivor.

Leave alone the stunning outdoors, Cabin Vindheim is also a fine display of architecture that's meant to withstand the extreme conditions. While classic motifs adorn the cabins, its roof is definitely noteworthy, connecting the entire space. The conical shape of the roof protrudes through the snow resembling a shark swimming in the vastness of an ocean.
As you book a stay here you can't feel more accomplished for finding this magical hideout far away from the civilization. Certainly, the best gift to present to your wanderlust soul! Look at the drool-worthy pictures of the cabin and fall in love with it right away.
Highlights of Cabin Vindheim In Norway

Perfect place to go ski jumping, take a toboggan ride, and plan other snow activities
Stargazing & Northern Lights views from the bedroom and mezzanine
Lengthy window and clear views make you feel like you are sleeping in a cabin atop a tree
There's a large living room, a bedroom, a ski preparation room and a utility room all made out of black-stained ore pine
The stay has a lighter interior, all covered in waxed poplar veneer

More information about Cabin Vindheim:
Contact number: +47 951 88 215
Email: post@vardehaugen.no
Facebook | Instagram

All the images on the blog have been taken from the official website of Cabin Vindheim
Should you wish to plan a stay in the gorgeous Norwegian outdoors, this is the place to be!
Further Read: 10 Romantic Things To Do In Norway For Couples