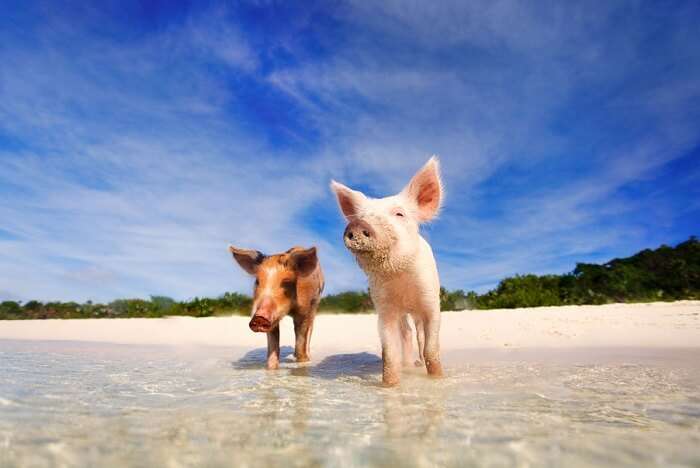 The Bahamas is a coral-based country in the Caribbean and is known for the exotic aquatic waters with different varieties of tropical fish, dolphins, and sea turtles. One is sure to have a unique and interesting experience while exploring the turquoise clear waters here. One unique activity which all the travelers and explorers must try is swimming with pigs in Bahamas. When one travels towards the Big Major Cay from the white sandy beaches on Exumas they can find a rather eye-catching and surprising sight with pigs snorting and paddling through the waters. This article speaks about what to expect when one plans a trip to the Bahamas to indulge in this interesting activity.
Table of Content
About The Pigs In Bahamas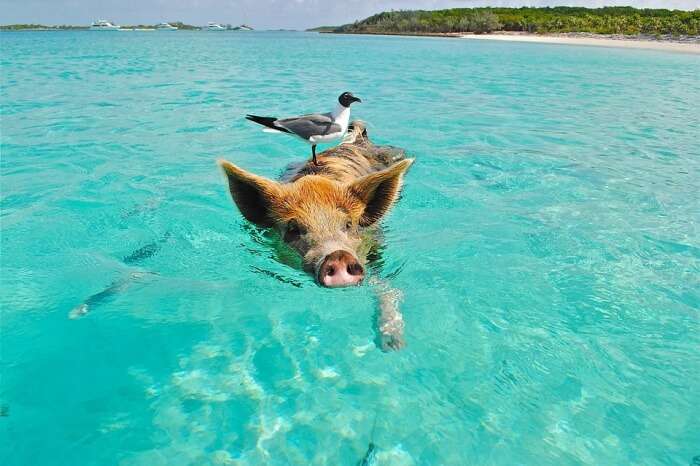 Big Major Cay is one of the 365 islands in Exuma which is a district in the Bahamas. The paddling pigs can be found in this Pig Beach and one can witness more than 20 pigs and piglets here. Big Major Cay is not inhabited by any humans.
Till date, it is a mystery as to why are there pigs in the Bahamas Big Major Cay. Some of the locals believe that the pigs ended up here due to a shipwreck and some say that they were dropped off by some hungry pirates but the pigs were lucky as the pirates could not make it back to indulge in their meal.
A man named Wayde Nixon along with his business partner claim that they got the first pigs here in the year 1990 with an intention of starting a pig farm. They did this as a part of preparing for steady food supply in case the Y2K computer meltdown occurred. As the pigs grew in number, they broke out of their confined pen and started paddling around the beach.
Regardless of how these pigs came to this beach, they are now a major part of the ecotourism in Bahamas and people from every nook and corner of the world visit here to experience this unique adventure of swimming with the pigs in Bahamas.
10 Best Places To Visit In Bahamas For An Ultra-Luxurious Holiday
Feeding The Pigs In The Pig Island

For now, the visitors are welcome to feed the pigs in Big Major Cay, but the government is working on some new rules and regulations after many untimely deaths of pigs were reported in this area.
While enjoying the activity of swimming with wild pigs in Bahamas, one should take care of the type of food which they are feeding the pigs on this island. One should limit the snacks to vegetables and fruits and should avoid feeding them when they are on the sand to avoid sand ingestion. One can even attempt to feed the pigs some fresh water as fresh water supply to this island is limited. Another thing which the visitors must be careful about is that the if they have any food item with them the pigs will chase them and some of the pigs very large in size and it can be quite scary.
Best Time To Try Swimming With Pigs In Bahamas

One can visit and experience swimming with wild pigs in Bahamas any time of the year. But, during the months which fall between June and November, this area is susceptible to experience hurricane and during an incoming dangerous storm, these pigs are generally taken in by a local shelter.
13 Best Places For Snorkeling In Bahamas For All The Water – Babies
Timings Of The Activity

Most of the tours to Pig Beach in Bahamas start as early as 09:00 AM in the morning until the sunset. If one plans to take their own boat to the island, they can plan their tour during this time. The best time to visit the pigs would be in the mornings as by late afternoon the pigs are fed and they would be relaxing and lounging on the sand and hardly any pigs would be in the water swimming.
7 Hostels in Bahamas That Are A Perfect Blend Of Luxury And Comfort
How To Reach Pig Beach

To reach Exumas, if visiting Pig Beach is number one on the list, it is recommended to fly-off to the tiny airports on Black Point, Staniel Cay or Farmer's Cay. One can reach Nassau or Great Exuma this way and the average cost for traveling till here would be around INR 14,000 which will vary according to one's choice in airlines. From Nassau and Great Exuma, one can choose from the many daily tours to Pig Beach. It is important to note that traveling to Pig Beach from these destinations would take up an entire day.
The only way one can reach the Pig Beach is by boat. A personal boat can be hired or one can sign up for one of the many local guided tours to Pig Beach in Bahamas. The local guided tour companies offer a full-day tour which involves a visit to the Pig Beach to meet the pigs, a swim in the waters with nurse sharks, sighting and meeting the iguanas, sandbar picnic and snorkeling in the well known Thunderball Grotto.
The price for these guided tours come close to INR 12,000 per person. If one wishes to rent a boat and venture out into the waters on their own, it would cost them around INR 18,000 for a full day and for an additional fee, they can even include a guide. Many hotels nearby like the Fowl Cay Resort offer the complimentary rental boat daily if one has booked a stay there.
Best Places To Stay
For the best experience of touring this island and total comfort, you should consider staying at either of these places:
1. Fowl Cay Resort

One of the most popular places to stay when you plan a trip to the Bahamas to swim with the pigs is Fowl Cay Resort. This is a quiet and secluded resort which sits on its own private island and is just minutes away from the Pig Beach. The resort houses several waterfront villas which offer an impeccable view of the ocean and surrounding tropical area.
They have some of the top-notch amenities which include private paths to secluded areas of the beach, rocking chairs placed on the seaside, and pantries stocked up with all the essentials. The whole place has an incredible tropical island vibe with the friendly and helpful staff and regular visitors indulging in delicious food and karaoke nights.
Average price: INR 1,20,000 (the cost includes drinks and meals, transfer to the airport via private boats as well as boat and bicycle rentals
Top 5 Bahamas Cruise From Miami That Are Worth Every Penny That You Spend
2. Staniel Cay Yacht Club

Staniel Cay has the most accessible airport and there are many options to stay near this place as well. One of the best places to stay near Staniel Cay is the private bungalows of Staniel Cay Yacht Club. These bungalows are steps away from the yacht club's beach bar and are perched over the marina. For the best seafood delicacies nearby, one should definitely swing by Hill House Restaurant which offers an array of lip-smacking freshly prepared seafood and interesting cocktails and other beverages. So if you are wondering where to stay to swim with pigs in Bahamas, Staniel Cay Yacht Club is the place to be.
Average price: INR 13,000
Tip: If one wants a more affordable stay and save some cash, they can opt for staying at the Isles Inn which is located above the Isles General Store. The rates at this hotel start from INR 9,000.
Other Things To Do Nearby

Even though this area is known for the activity of swimming with the pigs, there are many other things which one can indulge themselves in. There are many other animals in the surrounding area waiting to be explored. Some of them are mentioned below.
Compass Cay is a region which is known for housing many nurse sharks and swimming with these exotic aquatic creatures makes for a unique experience.
Bitter Guana Cay is another place which accommodates the endangered species of exotic iguanas. One can witness several iguanas running up to them when they visit this place.
Cocoplum Beach is very popular for the many sand dollars which can be easily spotted on the sandbars when there is low tide.
At Little Farmer's Cay, one can swim along with the shy sea turtles and even feed conch to these beautiful animals.
Snorkeling is the most famous activity in and around this area through which one can witness many colorful and lively aquatic animals.
10 Best Bahamas Nightlife Experiences That You Must Not Miss Out On
Experience swimming with the pigs in Bahamas and indulge in many other activities by booking a trip to the Bahamas. Book your trip to the Bahamas right away and enjoy exciting deals and discounts along with utter comfort on your holiday. And when you're back, don't forget to write to us about your fabulous experience!
For our editorial codes of conduct and copyright disclaimer please click here.
Frequently Asked Questions About Swimming With Pigs In Bahamas
Why is Pig Beach in Bahamas famous?

Positioned on Big Major Cay, Pig Beach is an uninhabited island in Exuma, the Bahamas. The island is home to a colony of feral pigs living on the island. It has become a tourist attraction in modern times. You can swim with pigs, feed them, and also enjoy other adventurous activities on the island.

Can I visit the Bahamas during the current Covid situation?

Yes, you can plan a visit to the Bahamas during the current Covid situation. However, make sure that you are completely vaccinated and always carry your vaccination certificate. Besides this, you need to follow government protocols that include wearing a mask when in public, sanitizing hands at certain intervals, and maintaining social distance.

How many days are enough for exploring the Bahamas?

A trip of 3-4 days would be enough to witness the best of the Bahamas. To enjoy your vacation, you can go sightseeing and indulge in outdoor activities.
---
Looking To Book A Holiday Package?
Book memorable holidays on TravelTriangle with 650+ verified travel agents for 65+ domestic and international destinations.
---