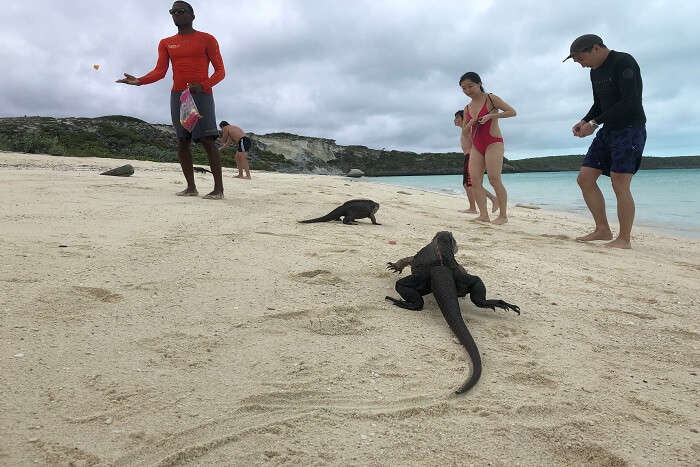 Bahamas, the land of dreams. The land of beauty and hope. Radiating warmth on the white as snow long stretches of beaches, the sparkling water, slow and graceful and the exotic wildlife that these islands offer will take your breath away. These seven hundred islands, each being pieces of a kaleidoscope, vibrant and mind blowing. They are gorgeous and picturesque, with beaches that remind you of heaven, finger licking good food, locals that welcome you like family and an overall wonderful experience. Activities that get you deep into the very nadir of the unfathomable ocean and get you adrenaline junkies high, high enough to see paradise! Alluring and enchanting in totality, these islands have a deep and wide variety of wildlife. From rich marine life and insects to wondrous forest life, ones that add to the value of this amazing place.
12 Types Of Wildlife In Bahamas
The flora and fauna of the Bahamas are quite out there. Myriad of species of different animals and insects and fish, all spread across these seven hundred islands, treats to the eyes, essential to the growth and existence of the place.
Let's have a thorough look at them, now shall we:
1. Exumas Pigs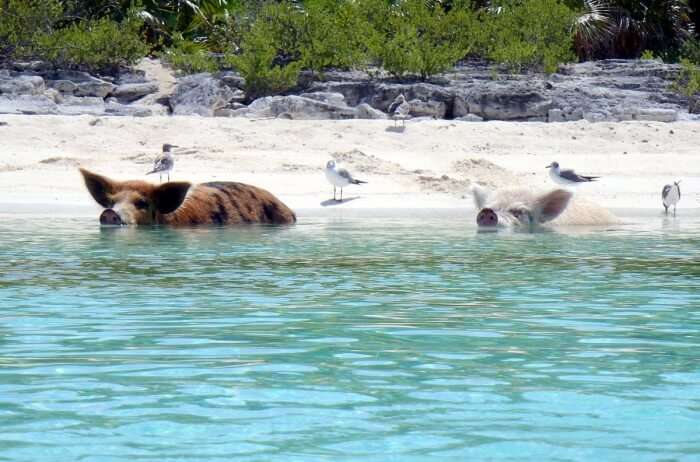 Pigs really aren't the most attractive creatures, but when they lounge under the Bahamian sun on the seaside (instead of just reveling in the dirt), they can seem almost cute. Why would they not? Also, while you're at it, spend a bit of time with a litter of hogs in different sizes and colors splashing and waddling along a picturesque pristine white sand beach upon their own private island of pigs, flanked by the electric turquoise waters of the Caribbean, living high on the hog. The phenomenon known as the Exumas swimming hogs is a bit of a wild life mystery, as these creatures are not native to the Bahamas. But they gladly embraced the sun – drenched Exuma beaches as their home, and we cannot blame them for that. Who wouldn't want the Bahamas as their home?
Theories revolving their journey to these islands involve a lot of pirates and nasty feasting, so let's just leave it out for now.
2. Sandy Cay Iguanas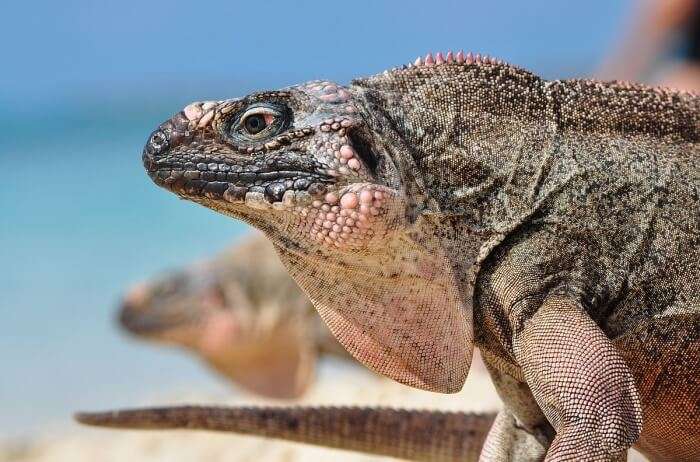 The familiar sound of boats approaching, tourists armed with bananas and grapes and the camera constantly taking them in, is the reptilian army of iguanas' mundane routine. Although its huge and unspoiled beaches are the source of the beauty of this island (the coral white of the sand shines all the way to the horizon in some directions), the resident rock iguanas offer it its allure. Although the iguanas of Sandy Cay live a guarded life in their national park sanctuary, the island is the location of a geopolitical war between two Bahamian islands. The Exumas claimed that the cay was the southernmost in its chain, while Long Island insists that this iguana sanctuary is within its territory. They are eager to be fed and hence don't seem to complain about the number of cameras pointed their way or strange people staring at them with wonder. They just care about their food (Can't really blame them now, can you?)Some will grab the food and, prefer to eat their meal in solitude. Others will host their liberal visitors by posturing for photographs with slight grins frozen on their faces.
Must Read: 10 Best Places To Visit In Bahamas For An Ultra-Luxurious Holiday
3. Inagua Flamingos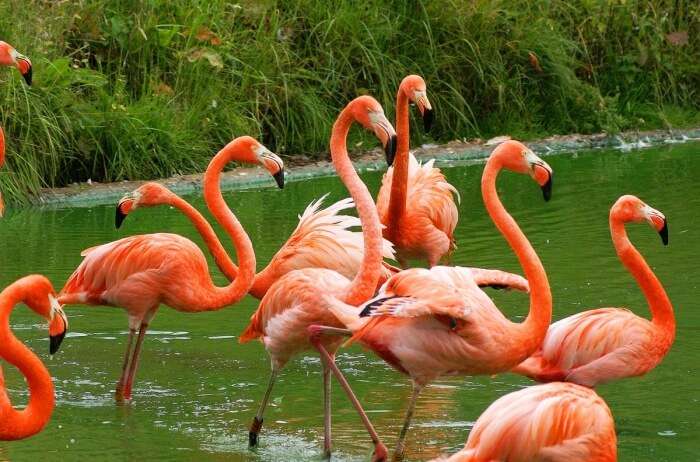 Inagua lives up to its moniker as the Bahamas birding capital. You won't see flamingos waddling around the city, but it only takes a short drive to the Lake Rosa salt pans to see swarms wading shin-deep in formidable brine. These crimson-fed water birds spend their whole lives on their feet outside the nesting season — preening, feeding, and even napping upright. Beautiful and vibrant, this species is extraordinary in nature. With certain poise and characteristics that just stand out, coming to the Bahamas and not taking time to come see them will just be such a shame. Pink and flamboyant, these beauties await you.
4. Bimini Dolphins

Lucky boaters will gloat that once they sailed in the Bahamas with a pod of wild dolphins. The stories are true; dolphins often play here in the midst of boats and cruise alongside them until something else grabs their fancy in their aquatic underworld. Fortunately, in Bimini you don't have to be a fortunate boatman to meet a wild dolphin. Even unfortunate people find salvation on a wild dolphin excursion in Bimini. Friendly and warm, smiles on their face might literally light up your day. They are joyful, and instantly just change the entire vibe of the place. Positivity and fun should be their tag lines. Come and enjoy quality time with them, to keep you mind, body and soul content and young for making a few new friends might not be so bad after all.
Suggested Read: 7 Hostels in Bahamas That Are A Perfect Blend Of Luxury And Comfort
---
Planning your holiday but confused about where to go? These travel stories help you find your best trip ever!
Real travel stories. Real stays. Handy tips to help you make the right choice.
---
5. Eleuthera Turtles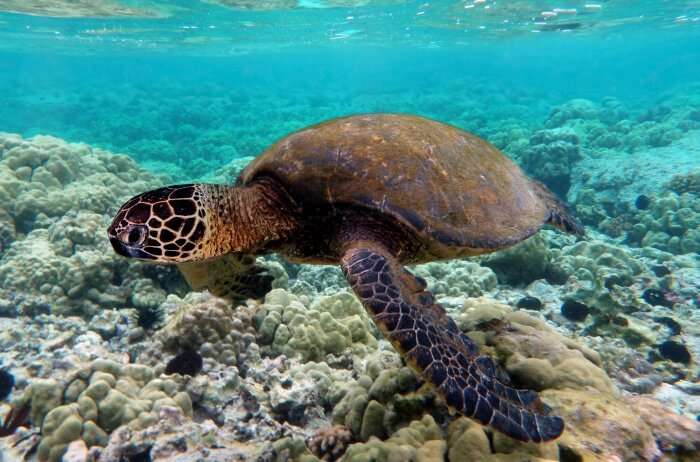 On Eleuthera, the mangrove-lined creeks of Winding Bay offer a calm refuge for sea turtles of different ages. At High tide, kayak through the canal that connects Winding Bay to Half Sound and you can float close enough to really reach and touch them (but don't). There are many private holiday properties lining the nearly two – mile stretch of Winding Bay beach that deliver solace and opulence; living at one is a great idea if you want to explore the region.
6. Sharks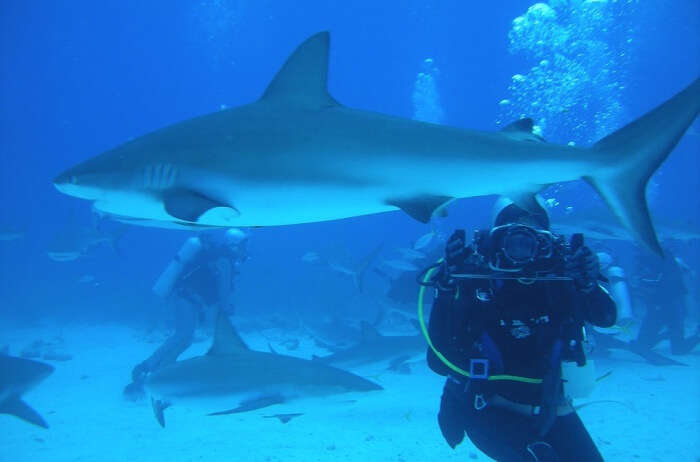 Dorsal fin, vacant eyes, and sharp teeth! At the Compass Cay marina, nurse sharks gather in the shallows where free food is sprinkled from the top. These beautiful creatures are rare sights and yet a treat in their territory. In the feeding zone, the water is littered with chum and holidaymakers are encouraged to enter the spawning area, most of them timidly sliding into the water at first, but slowly becoming more comfortable after seeing that the sharks are somewhere else. Their teeth are discernible but tiny, and visitors would be smart to keep their hands out of the water, to ensure that the shark is petted on the back to prevent an accidental nibble.
The sharks are scary and yet move with a certain grace and appeal that makes you want to keep staring. Terrifying they are, fascinating would be a more suitable adjective. For the way they move and their mannerisms, their responses to the crowd that gathers around for them are truly priceless to see in person. A sight not every country, every island might offer, an animal not one for the cameras, here in flesh and bone only for you. The Bahamas truly do have it all.
Suggested Read: Bahamas Islands: A Guide To The Most Sought-After Vacation On Earth
7. Conch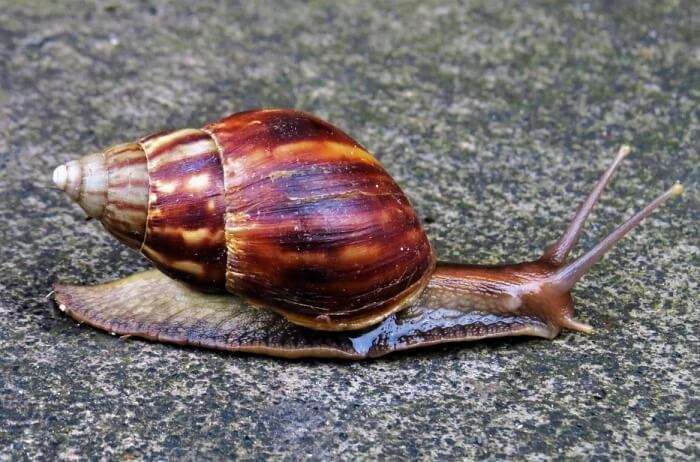 The most famous seabed inhabitant and a staple of Bahamian cuisine, the Queen Conch (called "konk"), is an ocean snail thriving in the sparkling blue waters of this region. Many boat tours include a meal with a conch. Sometimes a tour guide doubles as an seasoned conch hunter and anchors the boat over the shallows where the legions of molluscs flourish. A bounty of conch is obtained by diving in and out of the water. The conch is timid and after face – to – face examination it falls into its shell. The conch is blended with limes, oranges, onions and habañeros shortly after harvest to create a raw and tasty conch salad. Conch shells are distinctive in looks and can be discovered on many beaches in Bahami. A large, spiny exterior is rolled to show a smooth, bright rose opening. The conch is often used as an island home decoration, as a percussion instrument, or as a home for coral or algae attached to the exterior of the shell. Weirdly wonderful some old say, come take a look!
Suggested Read: 12 Cottages In Bahamas Where You Should Plan Your Stay
8. Spider crab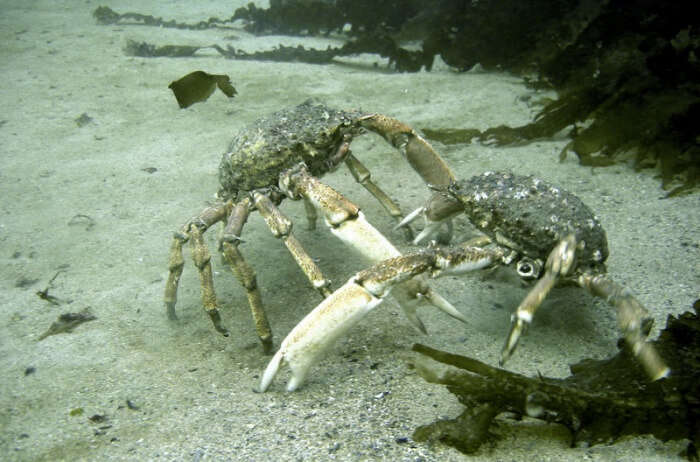 Crabs roam all over the Bahamas, especially on Andros Island, known as the "The Land of the Crabs." The island is home to the biggest population of land crabs in the Bahamas, many of which are endangered by urban sprawl. All crabs, whether in the land or in the sea, are affected by the cycles of the ocean. Land crabs living in the meadow must commute to the sea to hatch their eggs. This migration is full of dangers and the administration has formed the Land Crab National Park in Central Andros.
Suggested Read: Top 5 Bahamas Cruise From Miami That Are Worth Every Penny That You Spend
9. Sea Stars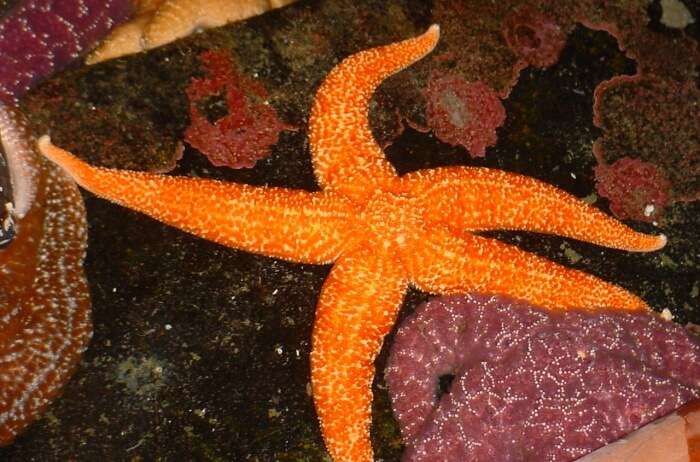 Sea stars thrive along the coral reefs and in seagrasses around the islands and have many intriguing characteristics that are very unusual in most animals, such as the ability to regenerate lost or shed body parts. Most sea stars can produce new limbs, while some species can magically create a new center body from just one arm piece. Stars are carnivores, although they don't seem to be the most frightening of hunters at first glance. Thanks to their limited mobility, their meals include more static prey like shellfish or oysters. The center of the star contains the heart and the stomach, and if the prey is too big, the stomach unfolds from the body of the star of the sea, regurgitates the prey on the outside and, when finished, retracts inside. Beautiful exteriors hiding devious interiors! Despite it all, they are extraordinary and deserve to be seen, at least once in a lifetime.
10. Fish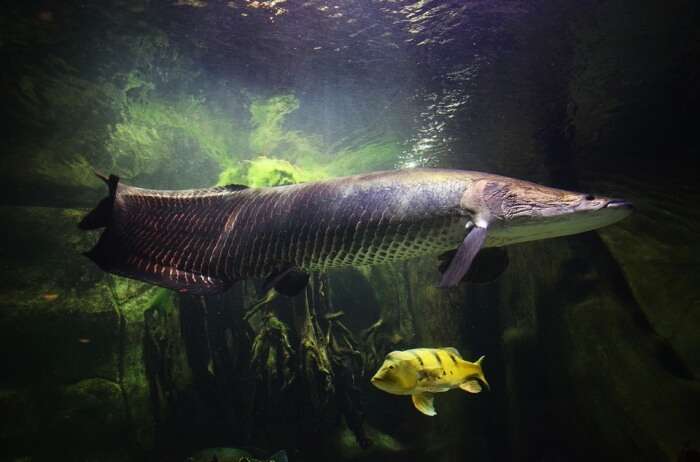 Snorkel the caves and coral reefs of the Thunderball Grotto for an immersive experience. What seems to be a not very intriguing rock is a system of small caves where lively, colorful coral reefs and many colorful tropical fish are found. Surrounded by carnivorous rocks, these schools of fish are strangely colourful and a wonderful sight to feast upon. Low tide is easier to police because there are five entrances accessible only by underwater diving and two entrances accessible above water. Light streams enter the cave, revealing the calm blue water and the wildlife in and out of the reefs on the shallow sea floor. Find some of the best of the Bahamas, such as rock beauty, triggerfish, snappers, angelfish and sergeant majors. Something is fishy here, I suggest you go check it out!
Suggested Read: 10 Best Restaurants In Bahamas To Taste The Exquisite Island Cuisines Of The Nation!
11. Abaco Parrot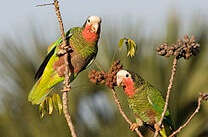 The white headed parrot from the amazons is quite the spectacle. Patches of red feathers, hidden, only in sight while in flight are quite the unique feature. They are recognised to be the only species of parrots nesting in the ground throughout the Caribbean islands. This functions against them, however, because they become exposed to predators like wild cats, crabs, wild boars and snakes, and torrential rains can engulf nest holes during their nesting period, killing young chicks. The 3,000 or so birds remaining here are in protected and secure environments, for them to thrive. Take a detour and Coke visit these gorgeous birds in their comfort zones and serene habitats.
12. Bats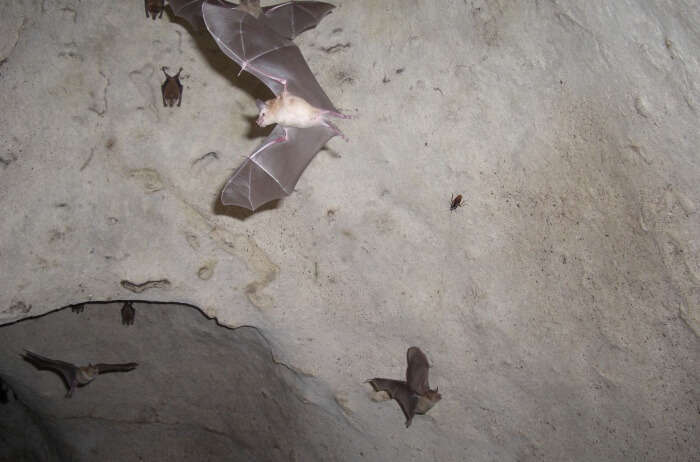 Saved the weirdest for last. Bats, if you will. Limestone is the foundation of most of the Bahamas, resulting in blue holes, caves and other phenomenal geographical features. You can climb to caves that serve as gates to one of the longest charted underground cave systems in the world. During the summer, one of the caves has nesting bats that you see dangling upside down on the moist ceiling of the cave during the daytime. These birds might not be quite monsters you make them out to be. They do add to the strange variety of wildlife here in the Bahamas, so why not just give them a chance, eh.
These being the primary wildlife, you have a lot of exploration waiting to be undertaken. Keep yourself anchored in this place long enough and you'll start to like these exotic and lovely creatures that have set abode in these beautiful islands. So get to making plans to visit the deep seas and parks for a lot of animals await you. Or perhaps just the food! Might I add, some of them have taken quite the liking towards the camera? These animals deserve to be protected and cared for at all costs. Much of them, find it difficult to be so far away from home and through endless torture and under are these animals need to suffer. They deserve all the love and affection and importance, much like anybody else. Be respectful and honourable towards them and I'm sure they'll reciprocate, in their own loving way. Let these animals make your day a little brighter, your heart a little lighter.
Further Read: 10 Best Bahamas Nightlife Experiences That You Must Not Miss Out On
Smiles and happiness you'll be leaving with, that's for sure. Well unless one of the Sharks attack you let's just leave that open to interpretation. So don't just wait around, grab your camera and let's get exploring Bahamas vacation!
Disclaimer: TravelTriangle claims no credit for images featured on our blog site unless otherwise noted. All visual content is copyrighted to its respectful owners. We try to link back to original sources whenever possible. If you own the rights to any of the images, and do not wish them to appear on TravelTriangle, please contact us and they will be promptly removed. We believe in providing proper attribution to the original author, artist or photographer.
Please Note: Any information published by TravelTriangle in any form of content is not intended to be a substitute for any kind of medical advice, and one must not take any action before consulting a professional medical expert of their own choice.
Frequently Asked Questions About Wildlife In Bahamas
Where to stay in the Bahamas?
The Grand Bahamas and Paradise Island have many hotels, resorts, and homestays to accommodate the tourists visiting here to see the wildlife in the Bahamas. You can find a budget to luxury stay here.
Is Iguanas in the Bahamas dangerous for tourists?
No, Iguanas are human-friendly pet reptiles. If the tourists are to check out the wildlife in Bahamas, then they must not try to harm them. Iguana usually runs away if any tourists try to threaten them. They are bothered about their food and not tourists.
Is it good to eat pork while in the Bahamas tour?
Yes, it is great to eat pork-related dishes in the Bahamas. One can find out how good these look while in the beachfront.
Is it safe to be with Bimini Dolphins once in the Bahamas marine tour?
Yes, Bimini Dolphins are human-friendly. If you know how to swim in seawater, you can play with them underwaters with safety vests and swimming gear.
What do the Bahamas have for bird lovers?
The Abaco Parrot is endangered and an extant bird in the Bahamas. It will be a delight to look at those colorful parrots in the Bahamas for bird lovers. They are biome of Bahamas only.
How many National Parks are there to see the wildlife in the Bahamas?
There are 32 National Parks in the Bahamas. They are classified according to their species like birds, reptiles, and marine life. The National Parks in the Bahamas occupy 2- million acres of island territories.
Is it safe for a solo woman to take a wildlife tour in the Bahamas?
Yes, Bahamas-is a tourist-friendly island nation in the Caribbean. It is equally safe for women to indulge in a wildlife tour in Bahamas. Just being vigilant and slightly cautious is advised.
---
Looking To Book A Holiday Package?
Book memorable holidays on TravelTriangle with 650+ verified travel agents for 65+ domestic and international destinations.
---