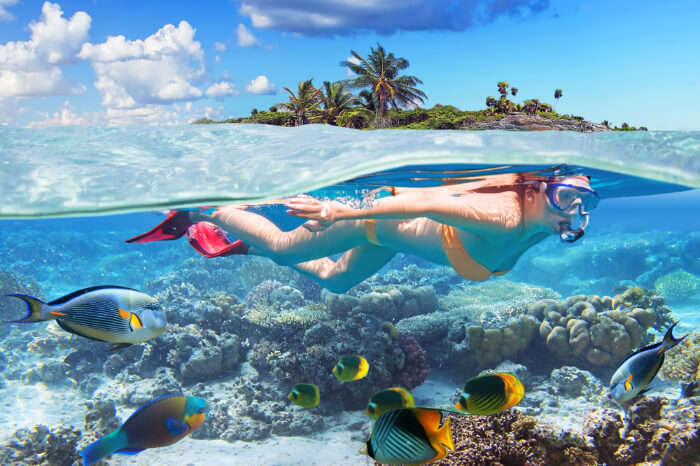 Snorkeling in Bahamas is the perfect journey for travelers looking for a true underwater adventure. This string of more than 700 islands contains turquoise waters, colorful reefs, loads of tropical fish and other aquatic animals. With so many islands ranging from small to large and packed with resorts and tourists, it can be mind-numbing to know how to organize your snorkeling trip. Water is an inescapable part of the island people, Bahamians.
Top 13 Places For Snorkeling In Bahamas
However, in order to pay tribute to the abundance of the ocean, you must savor it from above and from below. Colorful reefs with purple ocean fans, turquoise corals and orange sponges brimming with tropical fish are introduced. You can even spot an octopus, sea turtle, or moray eel if you are lucky. If unlucky well you might encounter a shark, but let's not touch upon that for now. So, submit yourself to the oceanic kingdom: find a mask and snorkel and check out one of my twelve top snorkeling spots.
Stuart Cove's Dive Bahamas
Exumas Cays Land And Sea Park
Rose Island Reef
Sapona
Bimini Or Atlantis Road
Eleuthera
Grand Bahamas Island
Dean's Blue Hole
Elbow Cay
Andros
Stocking Island
Bonaire
San Salvador
1. Stuart Cove's Dive Bahamas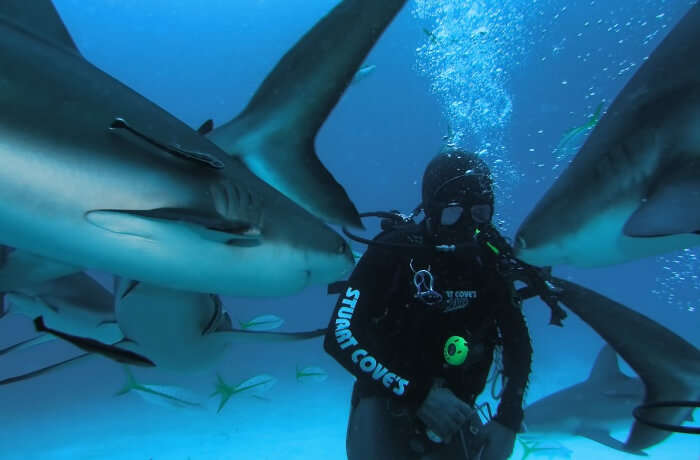 Much like every other site here, this place is exceptional as well. Perfect for first-timers and trained snorkelers alike, crystal clear water and wondrous collection of reefs and shells and marine life for you to lay your eyes upon! Another interesting fact is the probability to just casually run into some Caribbean Reef sharks. I know I know, it seems dangerous but since you'll be with a trained team, it'll all be perfectly safe and secure. With the snorkeling tours here, you will be able to get the most out of your experience, potentially seeing the sharks in a very safe environment as well as numerous shipwrecks. Moreover, snorkel tours are also educational, and can provide some cool insight into the area, especially when it comes to exploring the marine environment!
Must Read: 10 Best Places To Visit In Bahamas For An Ultra-Luxurious Holiday In 2022!
2. Exumas Cays Land And Sea Park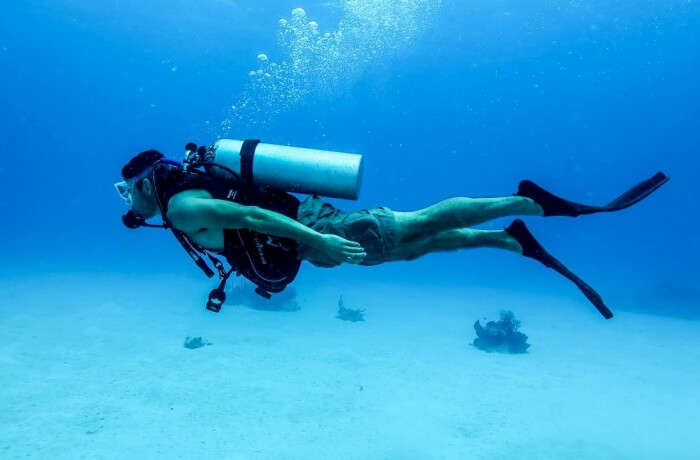 Yet another great location here in Nassau, located between Compass Cay and Norman's cay, this place is a little deep into the ocean hence can be accessed to via seaplanes or boats, and while this might seem in overnight for some, the best part of it, in fact, is that it is remote and secluded, assuring a peaceful and refreshing experience. The marine life isn't only contained to the ocean either. At Exumas Cay's land and Sea Park, you can also explore freshwater springs as well as land and sea caves. This can be considered a reliable snorkeling area, as there's always tons to explore, all of which offer amazing exploration!
3. Rose Island Reef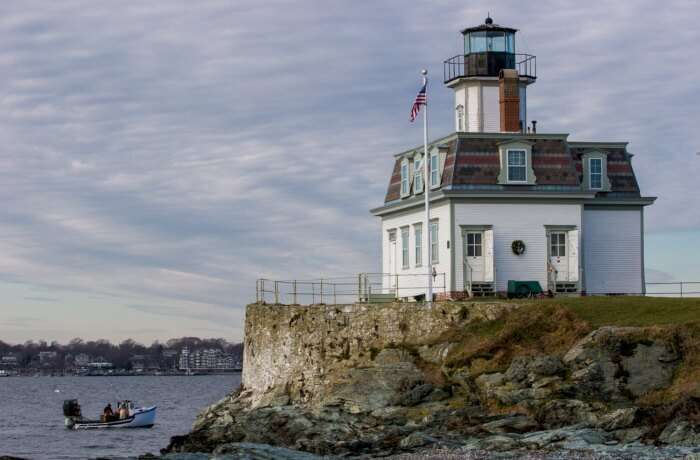 The waters being shallow, the clarity being exceptional, this experience will be like none other. One of the primary locations for snorkeling, it's paradise in totality. In addition to the beautiful, expansive, natural reef environment, there are also two large shipwrecks that are fun to explore and offer even more shelter for the beautiful marine life. It's not uncommon to see large schools of tropical fish in this area, as well as lots of other colorful fish, plants, and coral. Something that is common across most snorkeling spots, even with cloud cover or rain, the water will be crystal clear, the vibrancy of colours and intricacy of the reefs and sand, all for you to treat your eyes to.
Suggested Read: 7 Hostels in Bahamas That Are A Perfect Blend Of Luxury And Comfort
4. Sapona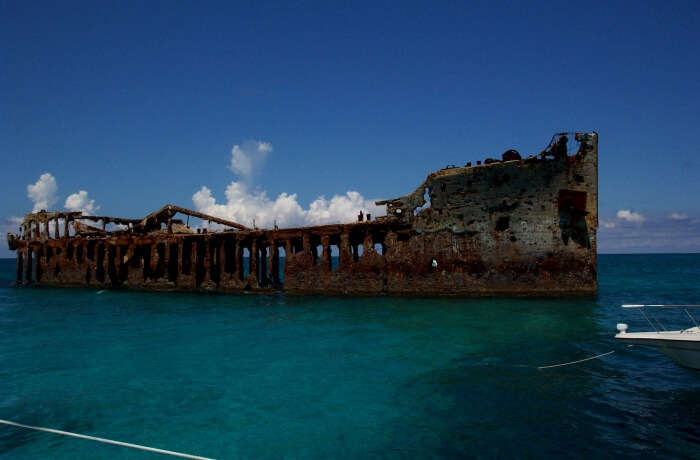 Sapona, named after a ship that was constructed by Henry Ford which after the war, was used by rumrunners, but it's exact function and purpose is still not well understood. In any case, a hurricane forced it to drift into shallow waters and it became lodged. Since then, this partially submerged shipwreck has provided an incredibly unique location to snorkel. Since its initial grounding, the shipwreck has been exposed to many different storms and hurricanes, offering a very intricate, yet accessible, habitat for marine life. Delicate and strong altogether, home to the most exotic, it's quite the unique place for the chosen undertaking. Common sea life that you can expect to see at Sapona includes triggerfish, lobsters, and grunts.
5. Bimini Or Atlantis Road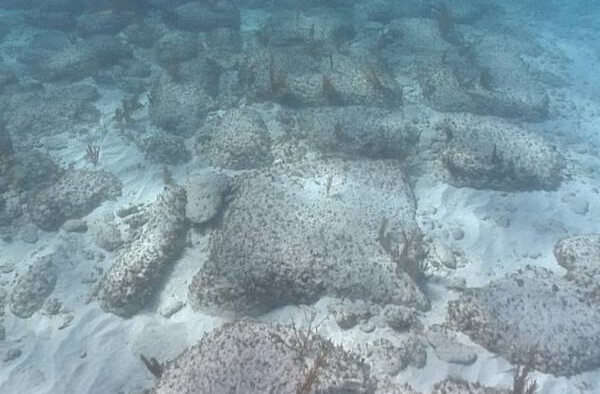 Bimini Road is an incredible spot to snorkel. It's located just offshore of North Bimini Island, it's also known as "Atlantis Road" because of an array of limestone blocks that appear to be organized to form a road. This road is believed by some to be a road to the lost city of Atlantis, the now ruined underwater city, making the place an absolutely fantastic and completely worthy place to snorkel in. The limestone blocks are located at a depth of about 15-20 feet. Regardless of whether or not these are actually part of the ancient Atlantis, they provide a unique surrounding to snorkel in. Furthermore, Bimini Road is a host to a vast array of marine life, including, but not limited to different types of sharks, turtles, dolphins, seahorses, rays, and even whales if it's the right time of year. And let us tell you the cost of snorkeling in Bahamas starts from INR 15000.
Suggested Read: Top 5 Bahamas Cruise From Miami That Are Worth Every Penny That You Spend
---
Planning your holiday but confused about where to go? These travel stories help you find your best trip ever!
Real travel stories. Real stays. Handy tips to help you make the right choice.
---
6. Eleuthera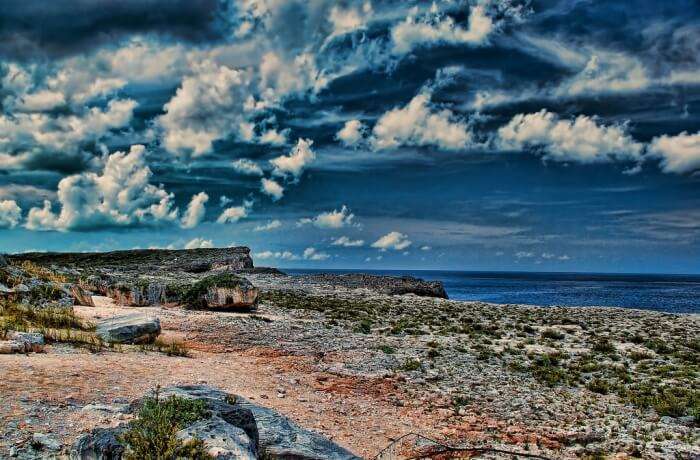 The island of Eleuthera is about 80 km from Nassau. The pink sandy beaches of Eleuthera sync with many snorkeling hotspots in the Bahamas, including these three famous sites: Devil's Backbone, Current Cut and Pineapple Dock, all of them, offering spectacular submerged shipwreck experiences and underwater "roller coaster" rides.
7. Grand Bahamas Island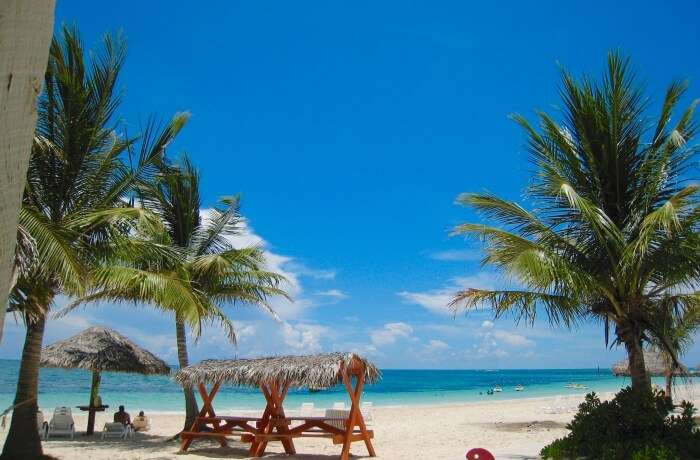 A Grand spectacle for you, to dive into the depths and go explore the Bens cave, a stunning part of the Lucayan caves or treat your eyes to the lovely and breathtaking Silverpoint reef or gold rock coral reefs. A calming and serene experience, the cool and calm waters, clear as the day, marine life all around you, a peek into the ocean life, if you will. Don't miss your chance and make sure your hotel hooks you up with the best tour or service provider for this location. It's a must go to place trust me, you'll thank me later. Say hello to the Dolphins, turtles and Ray's from my side!
Suggested Read: 10 Best Restaurants In Bahamas To Taste The Exquisite Island Cuisines Of The Nation!
8. Dean's Blue Hole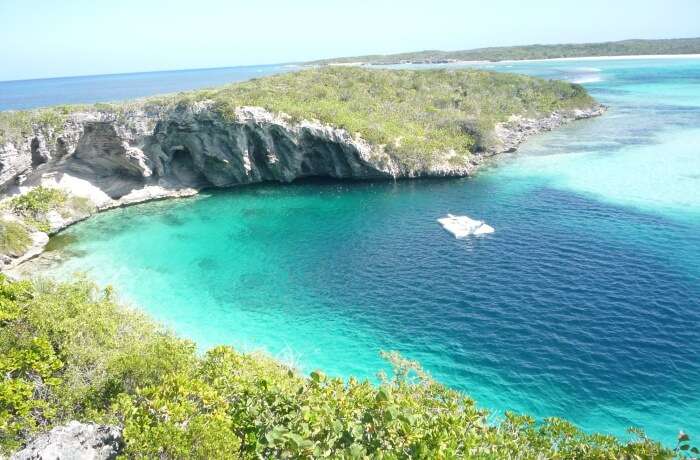 Be bold, be brave, be adventurous. A natural rock amphitheater surrounding the beaches, it's quite the ideal spot for snorkeling. In fact, the word 'ideal' is an understatement. Turquoise lagoons and white sands, it has a mind blowing spectacular, an experience you definitely cannot miss out on. The Bahamas offer various places to take on this activity, and the deans blue hole is the best of the best. Go ahead and swim around with some of most exotic and fun marine life! This is one of the best place for snorkeling in Bahamas.
9. Elbow Cay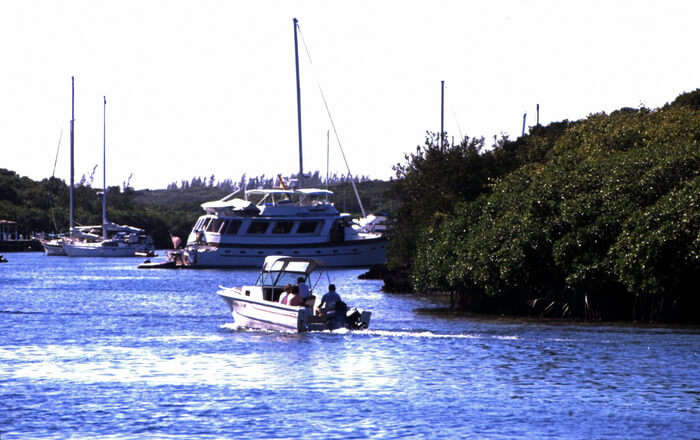 Located in the Northwest parts of the islands, a little harder to access as compared to the others, the elbow cay is most popular in the Abacos region. Endless breathtaking exploration customized for you. You'll have most of the subaquatic world to yourself, free and calming, this experience will be elevating, peaceful and definitely give you a different perspective on everything. So don't wait around, book it now!
10. Andros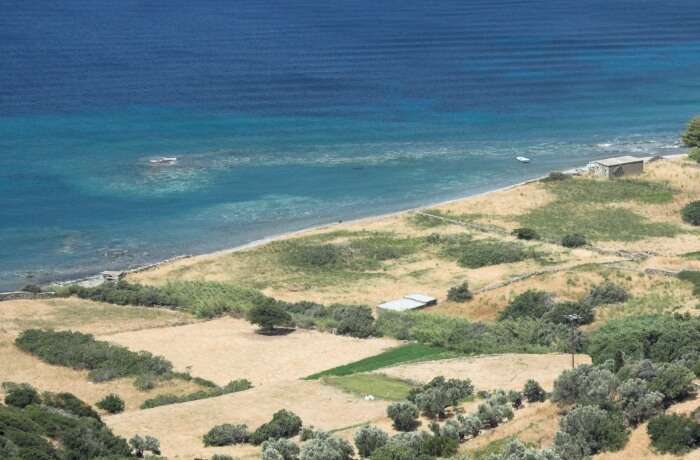 Islets and days endless to the eye, connected by mangrove estuaries and tidal swamplands, Andros is truly spectacular. Exhilarating tropical fish, strong coral formations, and plentiful marine life await you here. Take a journey to explore the blue holes of South Andros, with an intricate cave system underneath the ocean floor, exploration at its best. Enchanting you with its charm, minute by minute! It is a once in a lifetime opportunity for you to grab. So don't miss it!
Suggested Read: Bahamas Islands: A Guide To The Most Sought-After Vacation On Earth
11. Stocking Island

Beneath the blue at this beautiful Exumas preserve you will find some of the most vibrant reefs in the Bahamas, all concentrated in one area. It is the oldest park in the Bahamas and the world's first land and maritime park. Highly colored, mature and juvenile tropical fish school around the reefs, where sea turtles, lobsters, stingrays, barracudas and occasional sharks coexist. You have the best chances to see everything here.
Suggested Read: 10 Bahamas Travel Tips That Will Come In Handy To Travel Enthusiasts
12. Bonaire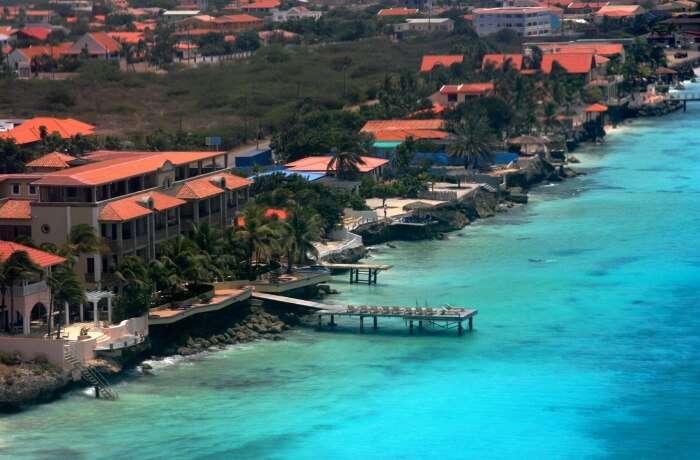 Enticing. Alluring. One of the best snorkeling places. You'll thoroughly enjoy your time here. Despite the reefs having being damaged by the storms, they still choose to stand out and are absolute treats to the eyes. Given the depths at which the site sits, it's actually a great spot for snorkelers of all skill levels, as it's easy for beginners to navigate, yet interesting enough for an advanced snorkeler to have a great time as well.
13. San Salvador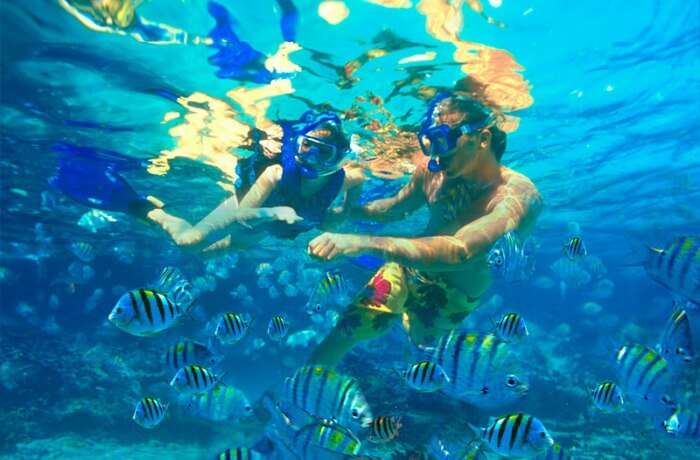 After Columbus, snorkelers found a rich utopia on this relatively unexplored island, with its pristine, uninhabited miles of beaches perfect for swimming, shelling and snorkeling. Sandy point and Grotto Bay being primary locations for the activity, a week's stay is sufficient for you to try it out (Also repeat it because well you'll definitely want to). Take your trip to another level by indulging into this fabulous visit to the underwater world! [The Riding rock resort and Marina might be able to help you out.
Further Read: 10 Best Bahamas Nightlife Experiences That You Must Not Miss Out On
Before going out on your snorkel escapade, make sure your equipment should fit you perfectly, choosing the right type of mask, especially, is important. Don't be afraid to buy or rent more expensive pieces of equipment; it will probably be better. Practice your breathing in advance so that you feel comfortable in the water and can savor your snorkeling excursion to the utmost and never feel the pressure to do anything that you are uncomfortable with. Plan a trip to Bahamas because thrilling adventures, countless explorations, and enchanting experience await you here!
---
Looking To Book A Holiday Package?
Book memorable holidays on TravelTriangle with 650+ verified travel agents for 65+ domestic and international destinations.
---