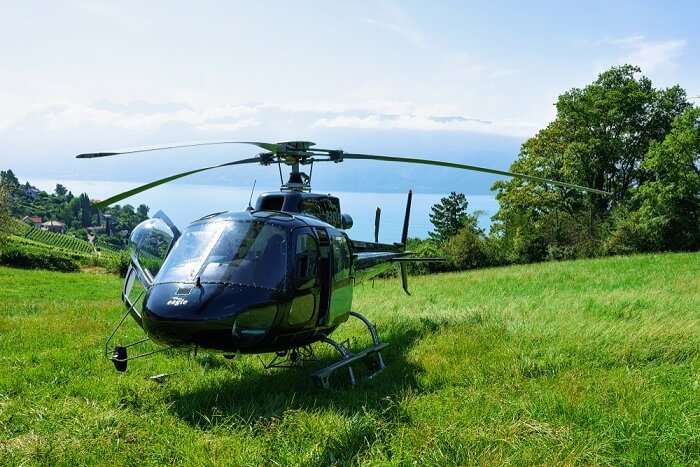 The gorgeous landscapes of Switzerland have so much in store that you'll keep coming back for more. From hiking on these narrow trails of alpines to going around for extravagant boating rides on Swiss lakes, one can soak in all the positive ambience to revive their soul. One such must-have experience includes the Safaris in this scenic land of bliss and wonder. Switzerland's blissful Alpine Safaris, offer the highest of adventures upon this planet. If you are planning for a Switzerland trip, pack light and don't forget to pack a hiking kit. Go for the guided Switzerland safaris. They are the deal!
Switzerland Safaris: Why Are They Best?
Well, why not! When there are at least six of them. Pick your pick. Choose wisely! There is Ski Safari then Heli-Ski Safari, there is Snow-Board Safari and Heli-Snow-Board Safari, and then there is Hike Safari and Heli-Hike Safari. Each and every Safari will take you on an adventure high that you could never forget. There are many experienced helicopter pilots and skilled guides who collaborate with the local safari guides and if you plan for your Swiss trip beforehand you can book it all well in advance. The Swiss Alpine travel is now more tangible than it has ever been.
1. Switzerland Ski Safari: Ski all the way to Swiss Alps
Image Source
The Iconic Switzerland Ski Safari in the European Alps is nothing short of remote and long runs through the vast and vigorously white valleys, skiing through the glacier, and soon tree skiing and then crossing the national borders. And you won't believe— all in one day! Ski across Alps, ski from resort to resort, ski across countries! It's exhilarating, isn't it?
Must Read: Hiking In Switzerland: A Guide For Embarking On An Adventurous Journey With Splendid Views
2. Heli-Ski: Embark on an adventure
Image Source
Here's the only way, Helicopter Skiing, through which you get the best of in the Alps! Heli-skiing is nothing short of a fly to the freedom palace you get start from your charming private chalet or a lavish hotel and after you finish you perfect meal the mountain hut you are ready to explore the famous slopes in Europe. You get to experience the very remote areas and they can soon become intimidating!
Suggested Read: Top 6 Cottages In Switzerland For The Luxury And Peace Seekers
3. Swiss Snowboard Safari: Go Safari on Snowboards
Image Source
If you are looking for a respite here is your chance to explore magical Alps locations in its authentic flavor and warmth! A snowboarding Switzerland Safari across the mountain slopes is going to be unique from anything else, anything that you have experienced on a mountain so far! It's going to be magical to spend nights in distant charmingly small locations! What's more is you don't have to compromise on the comfort or safety of your Safari here, never!
Suggested Read: 6 Best Churches In Switzerland That Are An Epitome Of Glorious Architecture
4. Heli-Snowboard Safari in Switzerland
Image Source
Heli-Boarding in Europe between Switzerland, Italy, & France or even more—A tempting combination of Relaxing isolation and adrenaline rushing adventures. Your amazing Snowboarding Safari in Switzerland will be complemented with unique highlights of comfy accommodations and lavish restaurants.
Suggested Read: 7 Exciting Water Sports In Switzerland For A Fun Vacation
5. Switzerland Hike Safari: Rock It Like The Swiss
Image Source
Explore stunning alpine scenery and enjoy the exploits of luxury. It's all up to you, wherever you want to go, just go for it, express your wishes and the organizers will get your wishes all granted. It's what a complete world class guided tour looks like. If you are in for a trip where you get to challenge your mind and body on a guided hiking trip through the Alps!
Suggested Read: 8 Magnificent Hill Stations In Switzerland You Ought To Explore Before You Die
6. Heli-Hike Safari: Something Unique In The Alps
If you are one of the brave few, be the one on the Heli-Hike Trip across Switzerland. Don't worry, it's absolutely guided and it will land you in places and summits that you have only seen in dreams, amidst snow-topped peaks of the European Alps! You will get to view the blossoming wild mountain flowers and soak in the best of waterfalls. So, what are you waiting for?
Further Read: 10 Exotic Wildlife In Switzerland You Can Easily Spot On Your Trip!
Switzerland Alps doesn't come fitted and adored in one Swiss Safari alone. Come prepared and get the most of Swiss Safaris on a trip to Switzerland with your friends and family.
---
Looking To Book An International Holiday?
Book memorable holidays on TravelTriangle with 650+ verified travel agents for 65+ domestic and international destinations.
---