Located in Europe, Switzerland is a mountainous country. Being small in size and scarcely populated, Switzerland is one of the wealthiest countries in the world. The major population of the country lives in the plateau region as it is difficult to live in Swiss Alps because these mountains are always covered with snow and presence of wildlife also makes the place difficult to live. The Swiss Alps are the home of the wildlife in Switzerland. These wild animals and birds are an important part of the country's tourism and reflect the landscape diversity of a place.
The Peculiar Wildlife In Switzerland
So, here is a list of wild animals one should definitely witness in Switzerland. Which ones of these have you seen already on your wildlife safaris?
1. Chamois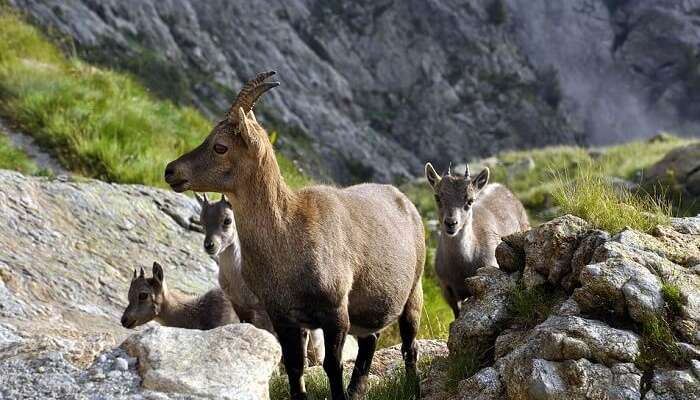 Chamois is usually found in mountain forests due to the presence of enough food and shelter. Chamois are horned animals as their name suggests "made of horn". The hoofs of these animals contribute greatly to its agility while moving around as they tend to provide them with good gripping ability. The male Chamois tends to live in solitary and in the same region throughout the year and female Chamois lives in a herd with their young ones throughout the year.
---
Europe Holiday Packages On TravelTriangle
Explore the most beautiful places to visit in Europe, from Paris to the Venice canals and from the Greek islands to the Swiss alps. Book customized packages by expert agents on TravelTriangle. Inclusive of airport transfers, cab, resort, sightseeing and meals. Best holiday experience Guaranteed. Book Now
---
2. Ptarmigan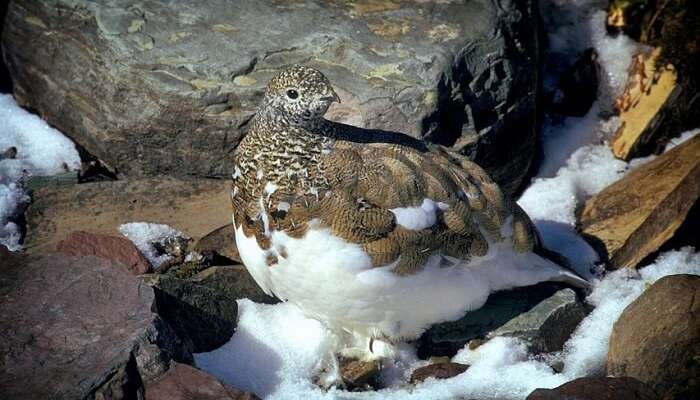 Ptarmigan is the only animal/bird among the Wildlife in Switzerland with an ability to live above the tree line in wintry weather. Ptarmigan is a lightweight bird and with its legs covered with feathers completely. The birds are a rare sight due to their innate ability to overcome the energy loss issue. These birds eat a huge amount of buds, shoots of berries, bushes, seeds or leaves in a short period of time and then later take rest in the shelter of a snow hollow.
Must Read: 8 Magnificent Hill Stations In Switzerland You Ought To Explore Before You Die
3. Ibex
Ibex is an extremely astonishing animal with about one meter long horns on each side of their head. The horns of Ibex have a tendency to grow in length every year by a few centimetres. The weight of Ibex is as much as 90 kilograms but with such amount of weight, they are sure-footed with a great sense of balance and ability to be an extremely agile climber. The female Ibex just like Chamois lives in a herd with their newborn. The female Ibex can live up to 24 years of age even in such scary habitat.
4. Marmot
Found in alpine meadows and subalpine grassland in the Alps mountain of Switzerland in an open terrain is a steppe animal. The Marmot uses 20m long and 3m deep underground burrows to protect them from any danger. Marmots make use of their Scent glands in their cheeks to recognize each other; hence social contact plays a crucial role in their lives. Marmot has a family culture among them with one adult male and one female and several young ones. During hibernation, the bodily functions of Marmots slow down drastically.
Suggested Read: Treat Your Taste Buds With Luxury At The Best Restaurants In Switzerland
5. Golden Eagle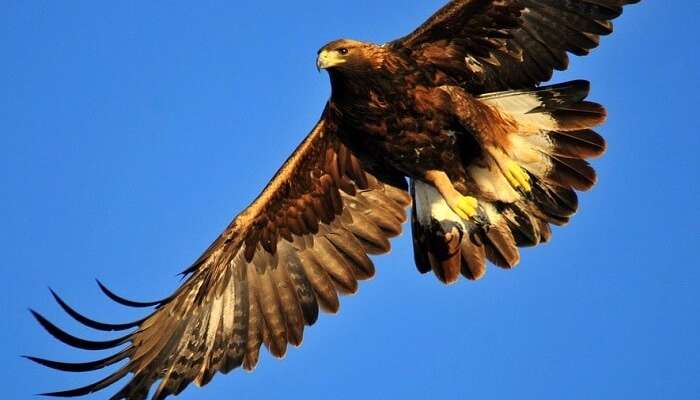 The Golden eagle is a highly impressive creature with a wingspan of about 2.2m. Currently, you can find six golden eagle pairs living partially and harmoniously in the national parks of Switzerland. These creatures have nearly escaped extinction. The Golden eagle is considered to be the "king of the air". Golden eagles feed on marmots in summer and in winter they feed both on marmots as well as ungulate carcasses available to them. Golden eagles are extremely territorial in nature.
Suggested Read: Hiking In Switzerland: A Guide For Embarking On An Adventurous Journey With Splendid Views
6. Bearded Vulture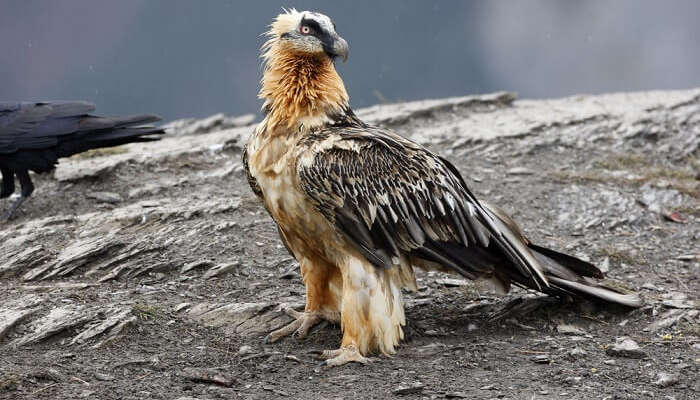 You must have heard and seen vultures before but have you ever seen or heard about Bearded vulture. Bearded vulture is has a wingspan of about 3m which makes it extremely eye-pleasing and scary. These birds are virtually extinct in the Alps during the 19th century. It is said from the year 1991 to 2007, there were about 26 young captive-bred bearded vultures were flown into the air in the Stabelchod valley region of Swiss National Park. But no one is certain about the availability of these bearded vultures existence.
Suggested Read: Shopping In Switzerland: A Handy Guide On What To Buy & From Where
7. Snow Vole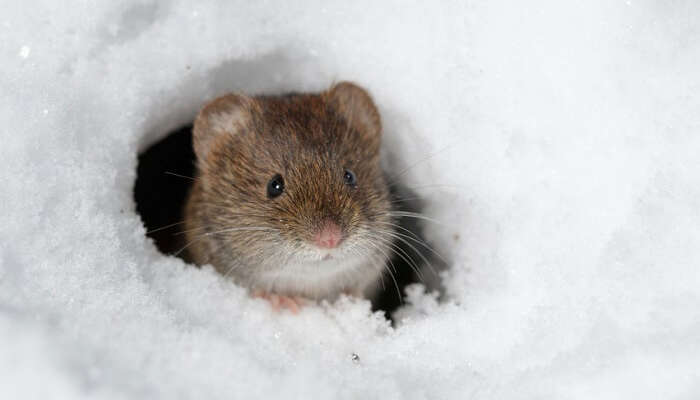 The survival is difficult at higher altitudes but not for these Snow voles, they are real survivors of the region. The snow voles are found above 1000m altitude. There are moments when Snow voles are seen as higher as 4000m altitude and above. Found in rock crevices, between the boulders and among the loose rocks. The snow voles usually live below the snow in Switzerland which provides them with good insulation properties. The snow cover also provides them protection against danger. Snow voles move their habitats with great cleverness.
Suggested Read: 8 Enticing Festivals In Switzerland For Mirth And Merriment!
8. Mountain Hare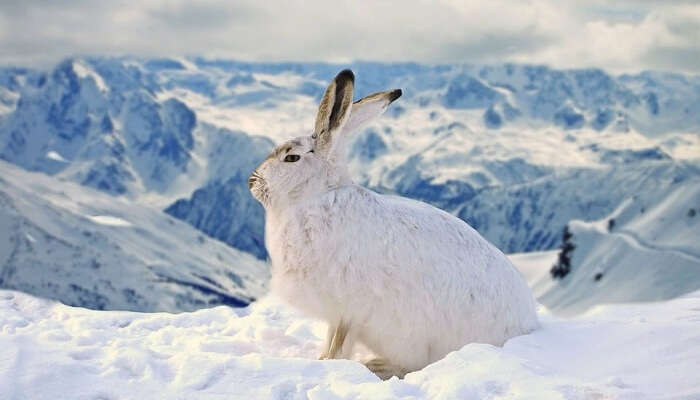 The Mountain hare are found in the forest or amongst the reclining mountain pines and boulders. These hares are unlike hares found commonly. The Mountain hare is more like of alpine animals. Therefore, they have many of characteristics of alpine animals such as broad hind limbs, stocky build and small ears. The presence of Mountain hare can be detected by its tracks in the snow. The broader hind limbs of these hares are wide apart and smaller forelimbs are close to each other which make it easier to detect their tracks via imprints.
Suggested Read: 10 Surreal Lakes In Switzerland That Are Absolute Natural Wonders
9. Fox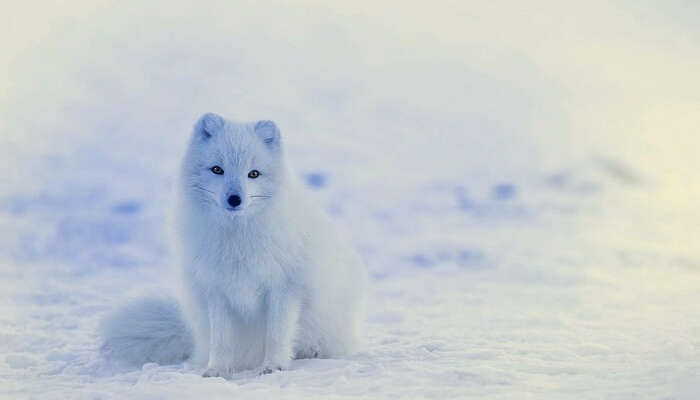 Fox is the largest predator of the Swiss National Park after the almost complete disappearance of wolf, lynx, and bear. They are well-adapted and are widely found in the region. Fox feeds on mice, ungulate carcasses, marmots and worms. The European red fox is the most common species of fox in Switzerland and is found typically in the forests of the Swiss Alps.
10. Hedgehog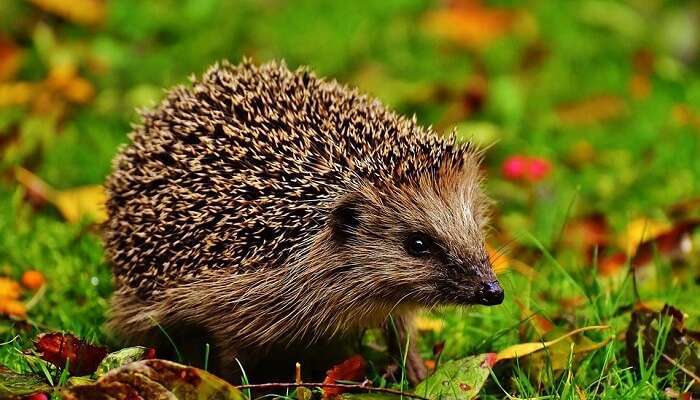 Hedgehogs are found in abundance in the wilderness. They can adapt themselves to any habitat. They prefer eating pests, making them a top favorite in Swiss gardens. They are largely nocturnal and solitary by nature. Their diet includes diet includes slugs, earthworms, beetles, caterpillars, and other insects. Some fruits and mushrooms may supplement their diet.
Further Read: 12 Switzerland Travel Tips For A Fantastical & Flawless Vacation
Now when you plan to watch the wildlife in Switzerland, all you need is grab your binoculars, look for a good vantage point, and wait patiently for an extremely thrilling experience! So, when are your booking your Switzerland vacation?
People Also Read:
Trip To Switzerland 9 Days In Switzerland Wildlife In France
---
Looking To Book An International Holiday?
Book memorable holidays on TravelTriangle with 650+ verified travel agents for 65+ domestic and international destinations.
---
Comments
comments