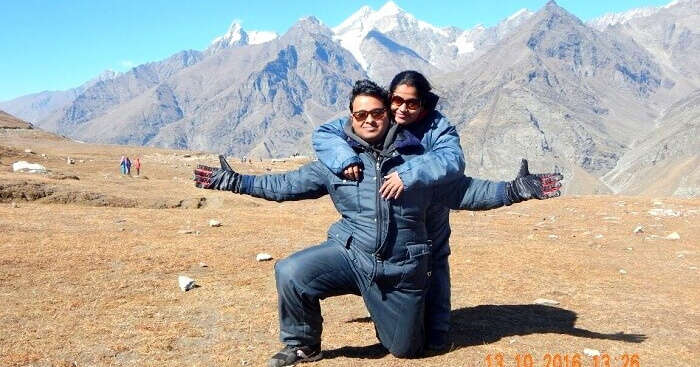 Himachal brings an opportunity for the mountain lovers to bask in the Himalayan ambience and that is exactly what Tapan and his wife did. Their romantic trip to the hills cost them INR 22,500 and included their transfers, accommodation, sightseeing, and meals.
My wife and I were looking for a romantic holiday where we would feel close and connected to nature. To find a perfect package for such a trip, we  searched the internet and it was here that we came across TravelTriangle.
TravelTriangle provided travelers with the option of customizing the package according to their needs. I found this feature really traveler friendly and thus decided to go with this website for our travel package. So I submitted a query and was soon contacted by a travel representative from the same.
He understood the requirements for my vacation and promptly connected me to different agents for quotes.  Finally, I selected the best package given to me by 'Hamara Travel' agency and was now all sorted with our trip and its planning.
I couldn't wait to spend time with my wife in nature's lap.
Day 1: Flying into the capital city
The trip started with a flight from our home city Bhubaneswar at 6.30 pm. A few hours later, we arrived in Delhi and the taxi driver was present to receive us. At 11 pm, we straightaway began our journey to Himachal.
A few hours into the journey, late into the night, the driver stopped us at this beautiful hotel called Haveli. We were hungry and the driver felt a bit sleepy. After taking a short break, we resumed the journey for Himachal at 4am.
Day 2: Storming through the rapids in Kullu
Suggested Read: Honeymoon Trip To Manali: Experience The Real Charm Of North India
Having seen the landscape change around us ever so drastically, we reached the Kullu Valley in Himachal at 3 pm. Upon arrival, we immediately proceeded to take part in the thrill of whitewater rafting.
Being a thrill seeker myself, it was an experience filled with adrenaline. As the raft went whistling in the river, every giant splash of water in the rafting course felt like a thrust from the river. It was an amazing activity for people who are looking to deviate from the usual tourist activities.
After finishing rafting, we left for Manali and then checked into the hotel at 8 pm. With tired legs and overworked arms, we decided to call it a night.
Day 3: Surreal landscape at Solang Valley
The next morning, we got ready to explore Solang Valley. Post breakfast, at 9 am, our driver was present to drive us to the ropeway. The view from the ropeway was memorable. We could see several mountains in the distance capped with snow adding to the beauty of the landscape.
Later on, we proceeded towards an amusement park called- Him Valley. Over there, we witnessed a colorful and vibrant cultural dance show from Punjab and Himachal Pradesh. Post lunch, we took blessings from the almighty at Vashishta and Hadimba Temple.
As the sun set on an enjoyable day in Solang Valley, we returned to the hotel in Manali. The night was pretty cold and windy, which gave us the perfect excuse to stay tucked in our blankets for the rest of the night.
Day 4: Snow, wind, and high altitude at Rohtang Pass
Suggested Read: Top 12 Hotels In Manali For Honeymoon
The next day we woke up and treated ourselves to a sumptuous breakfast. Afterwards, we had to hire a local permit car to take us to Rohtang Pass. If last night was cold, this day was colder.
We arrived at Rohtang Pass at noon. Upon reaching there I realized, that like us, none of the tourists seem fazed by the weather. In fact, we all were enjoying the change in atmosphere. Having a constant wind blowing in our faces provided us a glimpse of the tough conditions that prevail here in the winters. We were advised by our driver to move back to Manali as it was getting tougher to breath at the top.
We arrived back in Manali at 5 pm with an adventurous experience at Rohtang Pass. We asked the driver to drop us at the mall road so we could do some shopping. Afterwards, we returned to the hotel at 8 pm, had dinner and rested for the night.
Day 5&6 : Rediscovering Shimla and its rustic charm
The next day, after breakfast, we checked out of Manali at 8 am. Onward we traveled towards the queen of the hills- Shimla. I feel a trip to Himachal is incomplete without stopping by at the evergreen Shimla. We stopped midway at a local dhaba for delicious north indian style lunch. We finally arrived in Shimla at 6 pm. After checking into the hotel, we had dinner at a local restaurant and called it a night.
The following day began early for us with breakfast and getting ready for a sightseeing tour. We started the day with a visit to the Sankat Mochan Temple. Moving on, we proceeded towards the quaint and offbeat town of Naldehra which was an hour away from our hotel.
Naldehra is the absolute opposite of Shimla. Green, quiet, unexplored, and untouched. It was a pleasant few hours walking around the apple orchards and golf grounds. Post lunch, we visited the small ski destination of Kufri.
It wasn't ski season yet, so we decided to do horse riding. We took the horses up to the Mount view and Bollywood shooting locations. Coming to all of these charming hill stations around Shimla made us realize that, tourists might be better off staying in places like Naldehra and Kufri. To wind up, we put on the traditional himachali dress in Kufri, clicked pictures and proceeded back to Shimla.
We had dinner at the hotel at 8 pm and decided to sleep early on our final night in Himachal.
Day 7&8 : Farewell Himachal and Dilli Darshan
We checked out of Shimla and proceeded for Delhi at 7 am. As the crisp morning sun followed us through the journey, we reached Delhi at 2 pm. Post lunch, we visited the magnificent Akshardham Temple. We stayed there till late evening to catch a glimpse of the light and sound show.
At 8 pm, we proceeded to check into the hotel in Delhi. After having dinner at a local restaurant, we retired for the night.
The final day of our romantic trip to Himachal was upon us. Since our flight wasn't until 6 pm, we took a half day sightseeing tour in Delhi. The tour started with a visit to Rashtrapati Bhavan, Parliament, and India Gate. To wind up, we visited Humayun's Tomb and Qutub Minar- the Mughal monuments that add to the vibrant culture of New Delhi.
As we took the flight to Bhubaneswar at 6 pm, all the moments of our trip to Himachal were flashing in my mind. My wife and I were lucky to see the extremes in Himachal; both in terms of beauty and landscape. A place that definitely has a lasting impact on your heart and makes you want to return for more of the same.
High Points:
Visiting Manali was an absolutely charming experience.
Low Points:
Driver wasn't very cooperative as many places we had to push him to get things done.
Tips to Travelers:
It is preferable to stay in Kufri and Naldehra instead of crowded Shimla
Embrace the nature and culture in Himachal!  Book your package to Manali and experience the hills like never before!