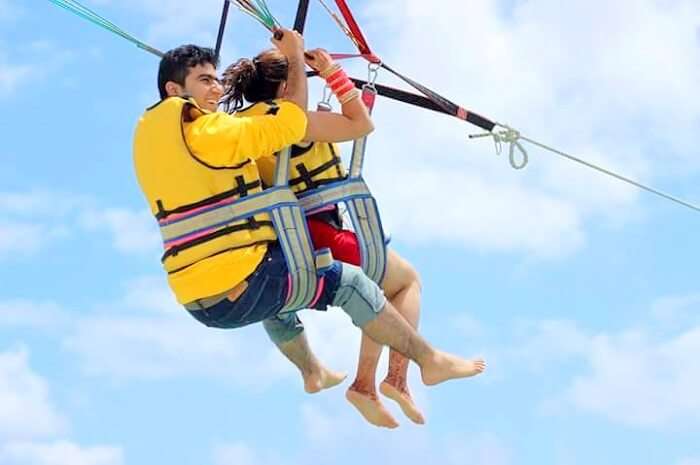 Tarun Dudeja talks about his honeymoon trip to Mauritius. He describes the fun and adventure that took place over there. His 7-day package was booked through TravelTriangle and it included his hotel, flights, and sightseeing all for INR 137,000. He shares his experience on the exotic island country with us.
The honeymoon period was an ideal time for me to get to know my partner in a better way. Therefore, it was logical for me to make it a wonderful experience for her. To make that happen, I needed a destination that was away from all the hustle and bustle of the daily life but at the same time offered us the convenience and luxuries that we cannot live without.
So when my friends described Mauritius as the perfect combination of adventure, nature, and serenity, my choice was made.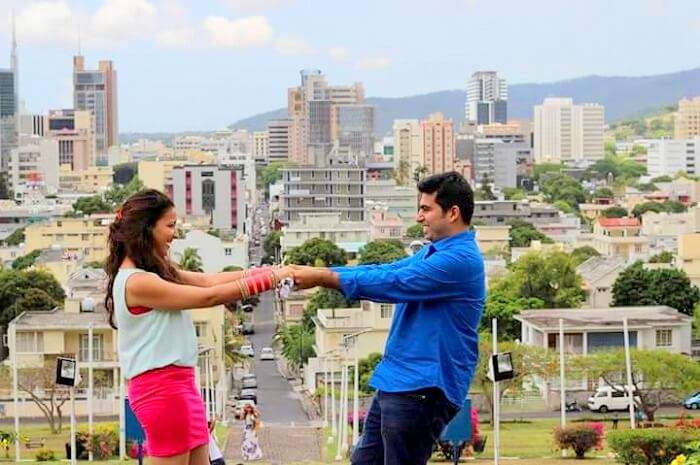 Now all that was left was a Mauritius honeymoon package. Luckily my problem was solved through TravelTriangle, an online travel portal that connects you to local travel agents of the destination for personalised experiences. I chose Verma Global Travel Services as their agent Mohit got me the best quotation and itinerary as per my needs.
Day 1 – Mauritius begins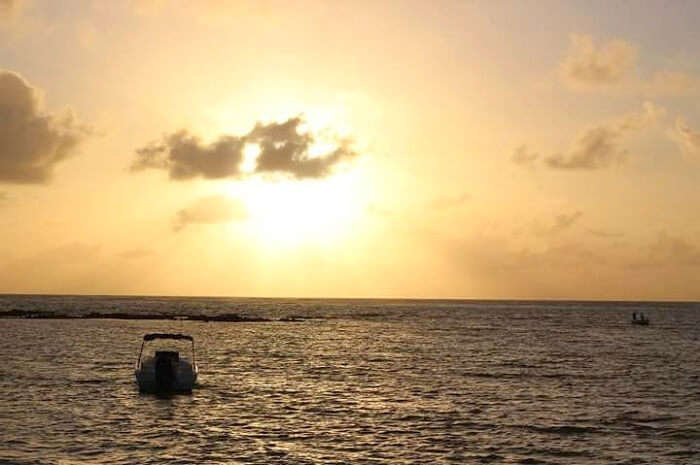 We landed in Mauritius from Delhi at around 2:30 PM and on arrival I was informed that my hotel booking has been changed and that we were to stay at another hotel. I immediately contacted my local agent 'Mohit' from Verma Global Travel Services and he assured me that he would take care of it. I had to wait an hour before I got a confirmation that I was going stay in the same hotel that I was promised, 'Tropical Attitude'.
To make up for my lost time, Mohit was kind enough to get me free lunches and drinks for all days, apart from the breakfast and dinner that was already included.
Tropical Attitude Mauritius turned out to be a beautiful property as expected and I was pleased to find that we were given the sea facing room.
Later at the hotel, there was a cocktail party organised for all the guests which we thoroughly enjoyed.
Monsoon In Mauritius: A Handy Guide To Gather Experiences Like Never Before!
Day 2: South Island Tour – Sightseeing in Mauritius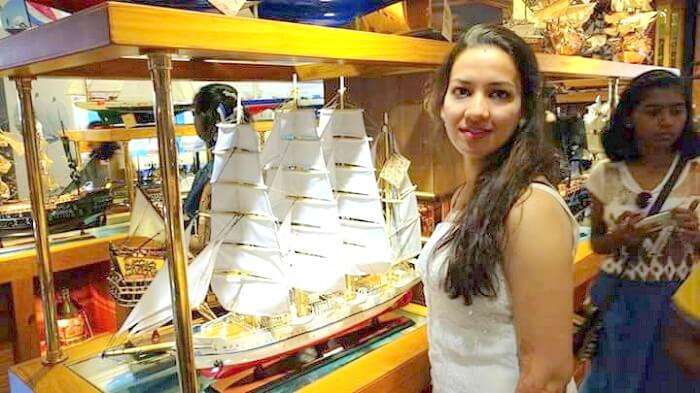 The second day after breakfast, we were taken to a ship building factory and it was fascinating to watch the workers craftily working on the various portions of the ship.
Apart from the factory, there was also a retail shop beside it for all those who wanted to buy miniature handmade wooden models of the ships. These models were extremely well crafted and looked quite appealing to the eye.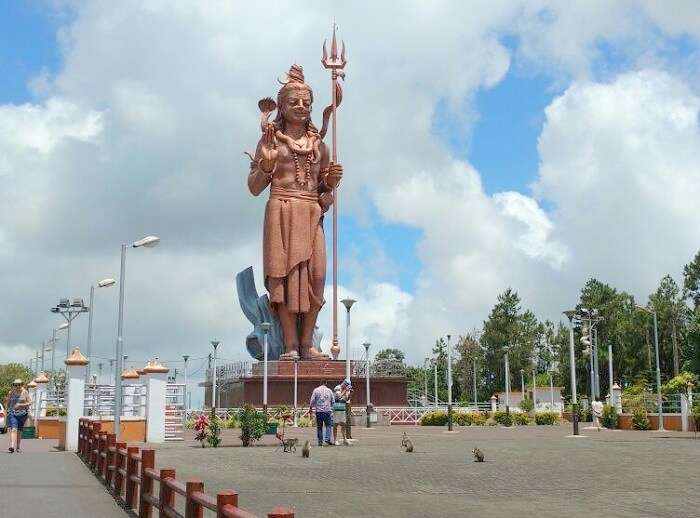 Next was the diamond industry where we saw how diamonds are processed and polished. This was a duty-free place and we could buy anything without the fear of paying custom charges.
My wife and I both the enjoyed the diamond factory as it gave us a good insight of the industry.
We also visited a beautiful Shiv Mandir that had a huge idol of Lord Shiva. It was a positive experience for us since we felt that our journey was now blessed!
10 Seafood Restaurants In Mauritius To Enjoy The Best That The Sea Offers
Day 3: Ile Aux Cerfs Tour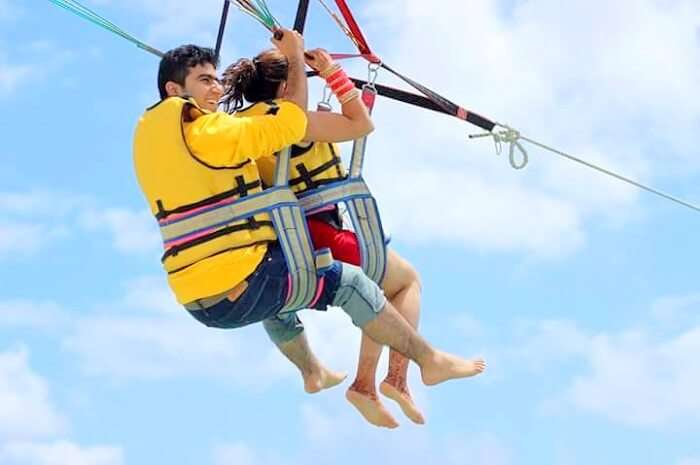 The best day from our trip since watersports was one of our primary things to do in Mauritius. We were taken to an island on a speedboat and there inside the Ile Aux Cerfs office, were asked to choose the water activities that we wanted to do. We chose parasailing and speedboat ride.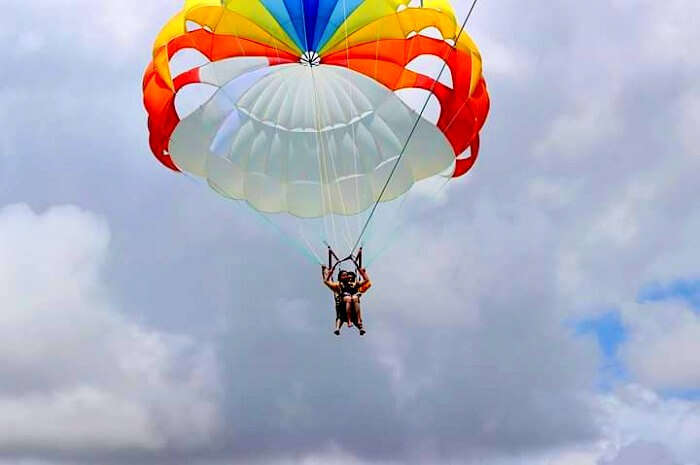 Parasailing
This was literally the highest point of our trip. We were taken to the middle of the ocean waters and were harnessed to the speedboat through a rope. As soon as the boat took off, we slowly started going up in the air and in no time were on the top. The whole view of the island from there was awesome. It was an exhilarating moment for me and my wife and the experience of floating around in air cannot be described in words. During parasailing, our speedboat driver intentionally slowed down so that our feet could touch the ocean waters for a few seconds. It was a mind blowing experience and I am glad that we overcame our fear and did this.
Although this would not have been possible had the locals not encouraged us to do it in their broken Hindi.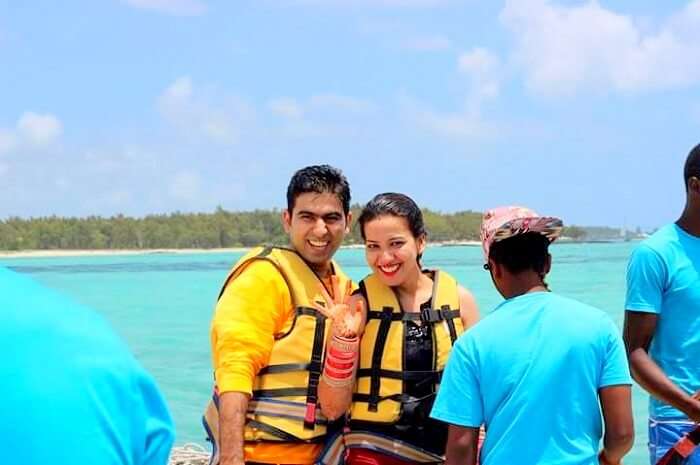 Speedboat ride to the waterfalls
This 15-20-minute ride to the waterfall was amazing. The driver did a lot of stunts on it on our way and it was an amazing feeling to skim through the blue waters at so much speed.
Witnessing the blue ocean and all its beautiful fishes reminded me of the "The Little Mermaid" cartoon that I used to watch when I was a kid. Everything was so beautiful.
A 5 Day Honeymoon Trip To Mauritius: Our Sweet Tale Of Romance, Luxury, And Adventure
Day 4 – Taking the day off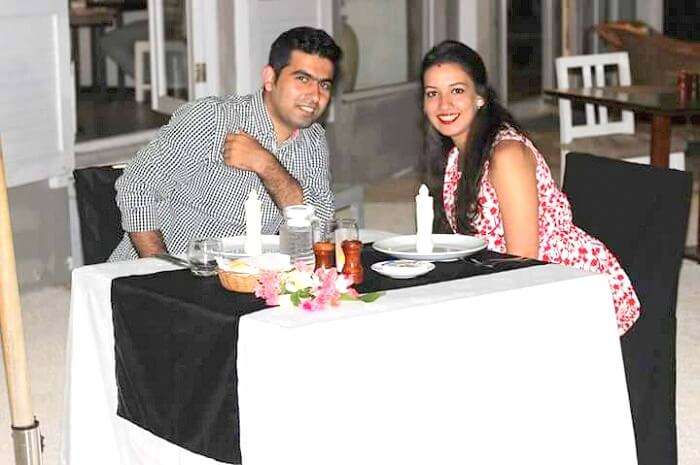 We roamed around and relaxed in the hotel on the fourth day. There were a lot of indoor games available like chess, billiards, snooker, etc. and we indulged ourselves in those and more. Later, we also went to the local market for shopping and overall the whole was a soothing and calm experience.
Day 5: Port Louis North Island Tour – Exploring the capital city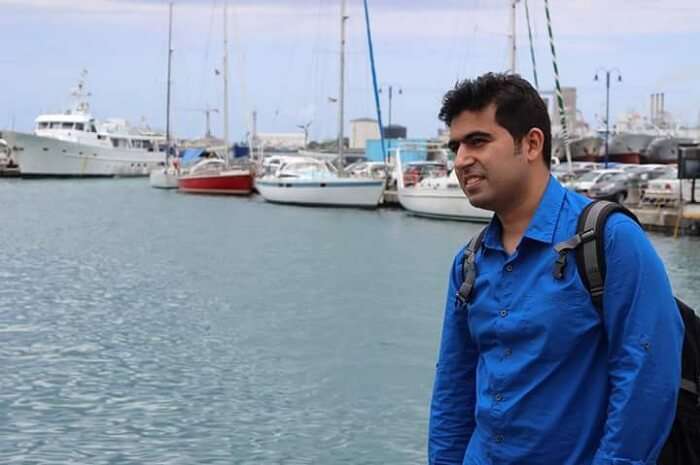 We reached Port Louis for the north tour after a 2 hour journey from our hotel. This capital city of Mauritius was beautiful and I now understood why so many Bollywood films were shot here including the one that played a big factor for me in choosing this destination – Roy.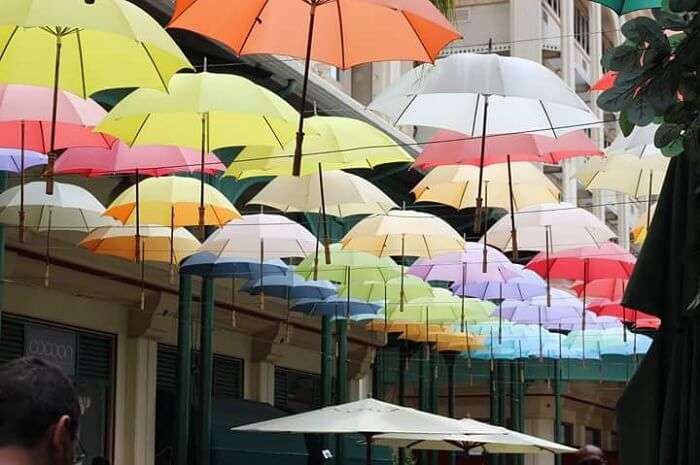 Our sightseeing in Mauritius included a point from where we could see the whole city, race course, Formula 1 track and a general tour of the diplomatic area. The city is divided into left and right side, the left one being a posh area since it houses all the embassies, IT companies and other points of interest while the right side having the residential area, the local markets and Chinatown (Spare part market).
The Brabant street on the left side also had Mcdonalds and it was way cheaper than the one that we have in India.
Blue Safari Submarines In Mauritius: A Guide For Exploring The Local Attraction
Day 6 – Blue Safari – Underwater Sea Walk in Mauritius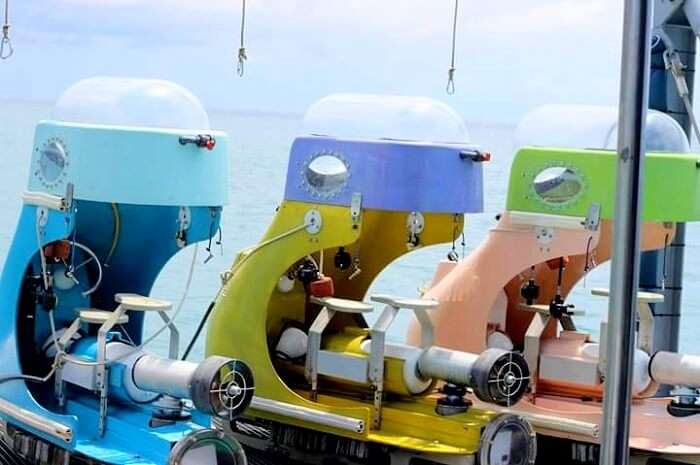 The sixth day was reserved for the famous Mauritius underwater sea walk that was organised by a company called Blue Safari. Although we used a sub scooter for doing this, it was an awesome experience nonetheless. But this is not for the fainthearted, as a certain degree of courage is required to allow yourself be submerged in deep waters. It was a once in a lifetime experience, and we will always be glad for doing it, unlike many couples who gave up before experiencing it.
After coming back to the hotel, we had a proper head massage since we felt quite tired after an eventful day. Taking a shower is also recommended since the water is salty and you can easily catch a tan.
10 Best Temples In Mauritius That'll Help You Uncover Its Secrets In 2022
Day 7 – Saying goodbye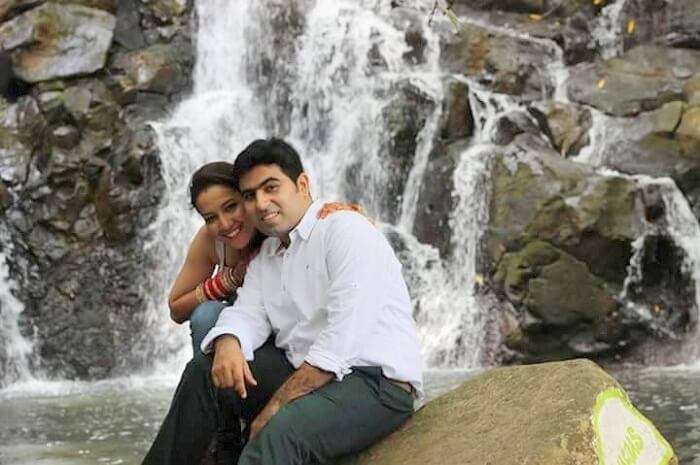 This was the last day and we checked out at around 12 Noon. Our cab was due for pick up at 5 PM and we were apprehensive as to what we would do for the rest of the day. However, it turned out that we were only to leave the room and the rest of the facilities were free to use like before. So after having few drinks and enjoying the free wifi, we left the for the airport.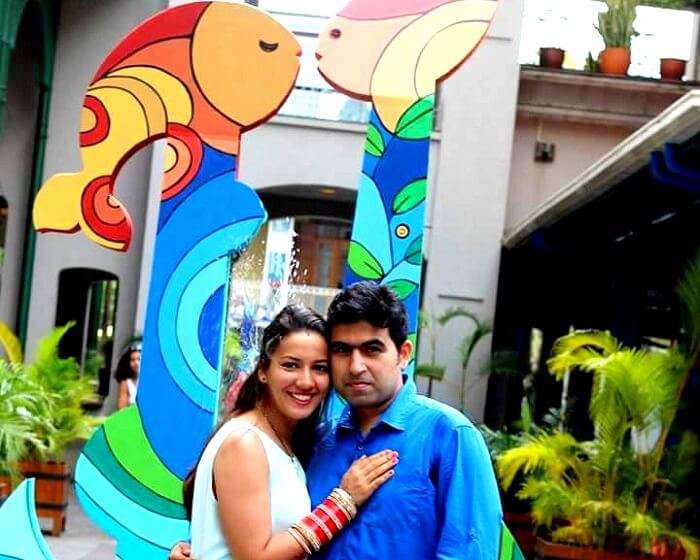 My honeymoon trip to Mauritius was a delightful experience. My wife and I got to spend some quality time with each other and doing this in the background of a picturesque island was a dream come true. Everything about Mauritius excited me, the watersports, nature, people, culture, and the serenity. I found it to be a perfect destination for all those looking for a change from the usual life and wanting to focus on relationships and themselves.
A perfect trip for a perfect beginning!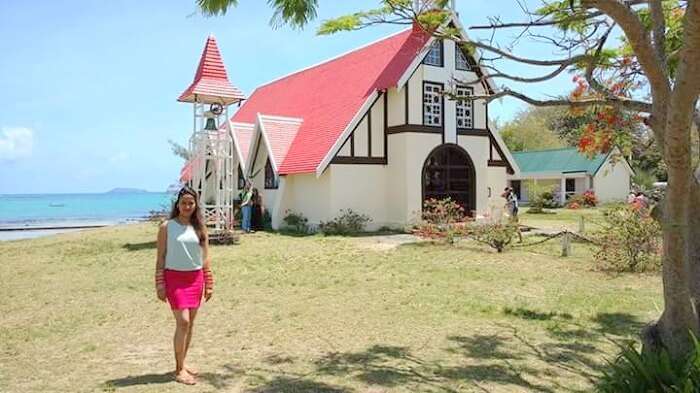 High Points – Tropical Attitude Hotel is an amazing property, our local travel agent Mohit was very helpful, the ship building factory, the Shiv Mandir in South Tour, incredible experience in Ile Aux Cerfs with all its water sport activities, parasailing, speedboat ride, Port Louis and the sightseeing, Underwater sea walking through Blue Safari, cordial and hospitable environment both inside and outside the hotel.
Low Points – Landing in Mauritius and not being able to get a proper hotel confirmation led to an apprehension, shops around South Tour overcharge the tourists for everything, the lunch at food stalls is expensive, swimming costumes at ile Aux Cerfs were expensive.
Tips to future travelers –
Purchase food and water from the local market of the place instead of shops near tourist attractions.
Always carry swimming costume and sunscreen.
Eat from joints like KFC, and Mcdonalds since they are cheap and nice.
Limited choice for vegetarians.
This is a perfect place for honeymooners since it has an attractive mix of leisure, calm, sightseeing, and shopping.
Planning A Vacation With Kid? Preeta & Dilon's Family Trip To Mauritius Will Give You Fun Ideas
The island nation of Mauritius makes anyone fall in love with it easily. Pristine blue waters, magnificent coral reefs, fierce lush greens, and thrilling activities allow one to enjoy an action-packed honeymoon to Mauritius. Head over to this island nation and explore the beauty of Mauritius with your loved ones.

---
Looking To Book An International Honeymoon?
Book memorable honeymoon on TravelTriangle with 650+ verified travel agents for 65+ domestic and international destinations.
---